Rock En Seine 2016 : premières confirmations !
Comme prévu, le festival du Domaine National De Saint-Cloud (92) dévoile enfin une partie de son line up !
Retrouvez du 26 au 28 août prochain : The Last Shadow Puppets, Massive Attack, Foals, Iggy Pop, Sigur Rós, Sum 41, Bring Me The Horizon, Cassius, Two Door Cinema Club, Edward Sharpe And The Magnetic Zeros, Damian "Jr Gong" Marley, Sharon Jones And The Dap-Kings, Birdy Nam Nam, Eagles Of Death Metal, Caravan Palace, Casseurs Flowters, Breakbot, Ghinzu, Chvrches, Wolfmother, Anderson .Paak, Clutch, Grand Blanc, Royal Republic et Wakrat. Mise en vente des pass trois jours et des billets jour à partir de ce jeudi 24 mars à 10h dans les points de vente habituels. Toutes les infos sur www.rockenseine.com.
Répartition actuelle de la programmation par jour :
Vendredi 26 août
The Last Shadow Puppets, Two Door Cinema Club, Birdy Nam Nam, Eagles Of Death Metal, Caravan Palace, Damian "Jr Gong" Marley,  Anderson .Paak, Breakbot, Clutch, Royal Republic, Wakrat…
Samedi 27 août
Massive Attack, Edward Shape & The Magnetic Zeros, Sigur Rós, Bring Me The Horizon, Wolfmother, Sharon Jones And The Dap-Kings, Casseurs Flowters, Grand Blanc…
Dimanche 28 août
Foals, Iggy Pop, Sum 41, Cassius, Ghinzu, Gregory Porter, Chvrches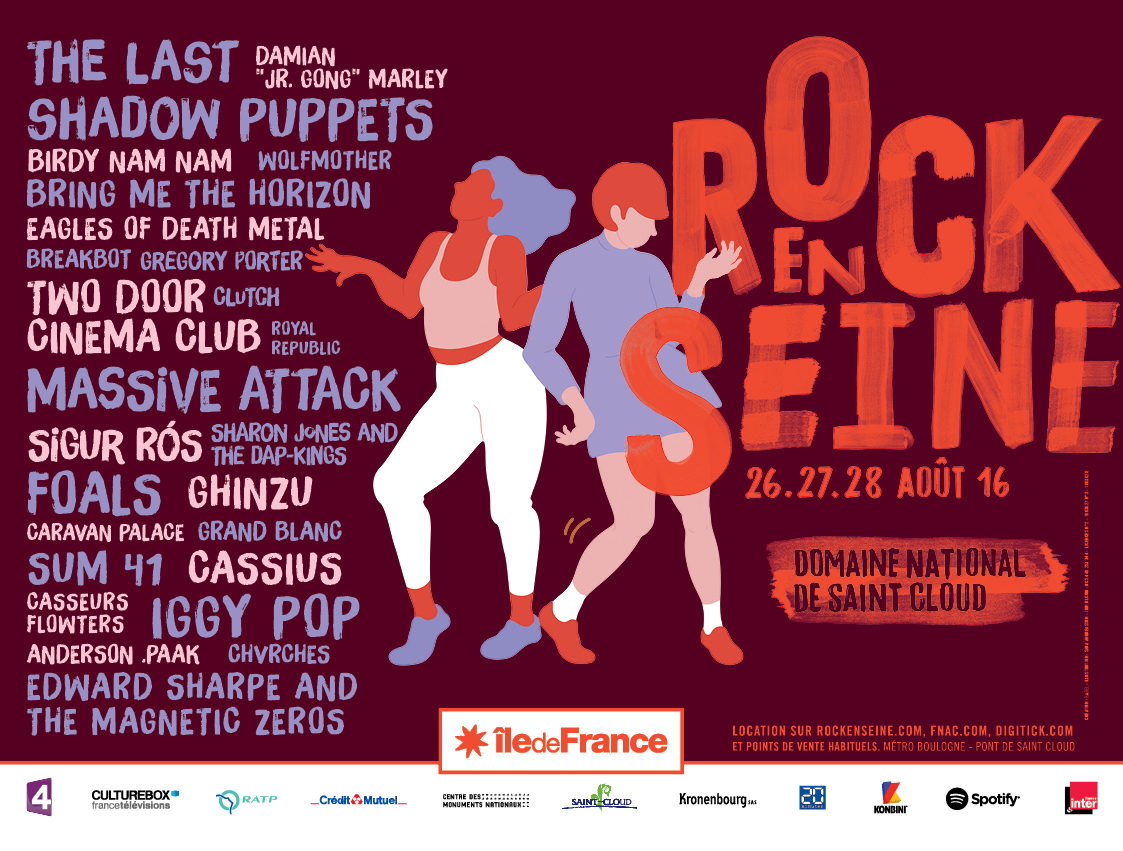 Tags :
Anderson .Paak
Birdy Nam Nam
Breakbot
Breakout
Bring Me The Horizon
Caravan Palace
Casseurs Flowters
Cassius
CHVRCHES
Clutch
Damian Jr Gong Marley
Eagles Of Death Metal
Edward Sharpe And The Magnetic Zeros
festival
Foals
Ghinzu
Grand Blanc
Iggy Pop
Massive Attack
Rock En Seine
Royal Republic
Sharon Jones And The Dap-Kings
Sigur Ros
sum 41
the last shadow puppets
two door cinema club
Wakrat
Wolfmother