Rock En Seine 2016 : la programmation complète !
Le festival du Domaine National De Saint-Cloud (92) livre ses derniers noms !
The Shins, The Brian Jonestown Massacre, Flavien Berger, Imarhan, Bombino, Kevin Morby, Little Simz, The Strumbellas, Beach Slang, JoyCut, Einleit, DjeuhDjoah & Lieutenant Nicholson, Rendez-Vous, Tim Dup, Nusky & Vaati, The Psychotic Monks, Tiwayo, Pogo Car Crash Control et JP Manova rejoignent donc Iggy Pop ou encore Blues Pills du 26 au 28 août prochain. Info et résa : www.rockenseine.com.
Répartition de l'affiche complète par jour :
Vendredi 26 août
The Last Shadow Puppets, Two Door Cinema Club, Birdy Nam Nam, Caravan Palace, Damian "Jr Gong" Marley, Anderson .Paak, Breakbot, Clutch, Royal Republic, Adrien Soleiman, Jack Garratt, Logic, Slaves, Theo Lawrence And The Hearts, Bombino, DjeuhDjoah & Lieutenant Nicholson, Einleit, Flavien Berger, Rendez-Vous, The Strumbellas
Samedi 27 août
Massive Attack, Edward Shape & The Magnetic Zeros, Sigur Rós, Bring Me The Horizon, Wolfmother, Sharon Jones And The Dap-Kings, Casseurs Flowters, Grand Blanc, Beau, Dua Lipa, Kaviar Special, L7, La Femme, O, The Temper Trap, The Underachievers, Beach Slang, Nusky & Vaati, The Psychotic Monks, The Shins, Tim Dup, JoyCut
Dimanche 28 août
Foals, Iggy Pop, Sum 41, Cassius, Ghinzu, Gregory Porter, Chvrches, Aurora, Bibi Bourelly, Blues Pills, Editors, Killason, Maestro, Miike Snow, Peaches, Soulwax, Imarhan, JP Manova, Kevin Morby, Little Simz, Pogo Car Crash Control, Tiwayo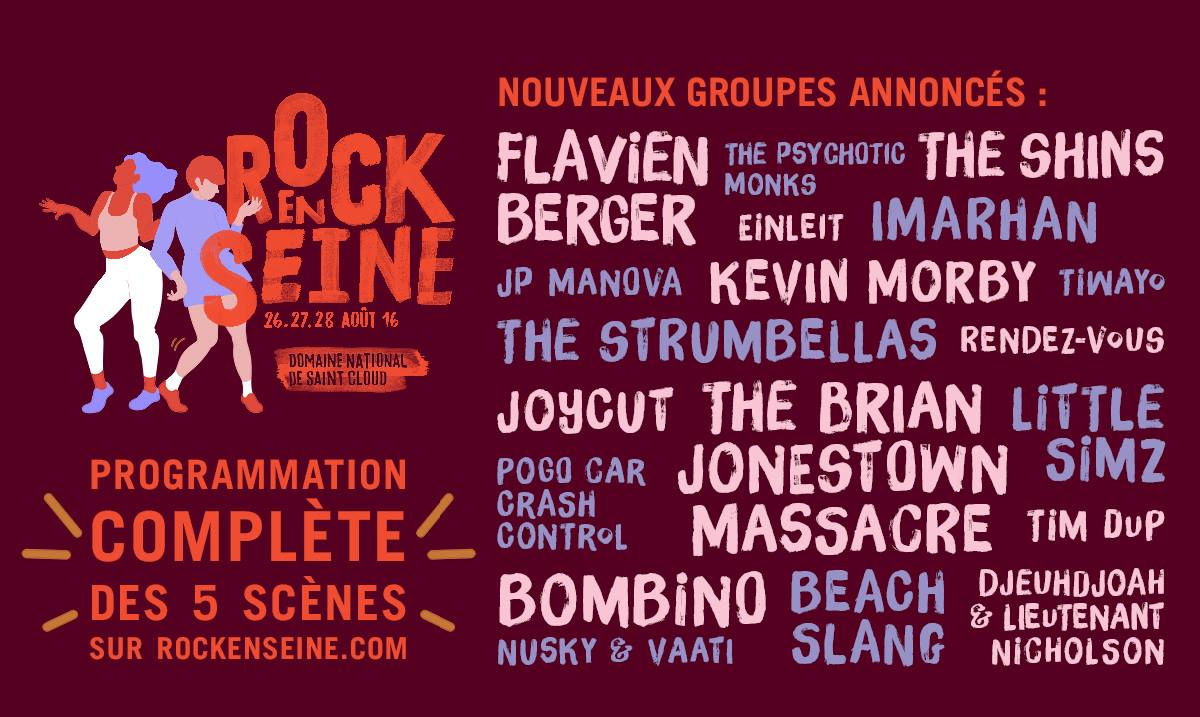 Tags :
Beach Slang
Bombino
DjeuhDjoah & Lieutenant Nicholson
Domaine National De Saint-Cloud
Einleit
festival
Flavien Berger
Imarhan
Joycut
JP Manova
Kevin Morby
Little Simz
Nusky & Vaati
Pogo Car Crash Control
Rendez-Vous
Rock En Seine
The Brian Jonestown Massacre
The Psychotic Monks
The Shins
The Strumbellas
Tim Dup
Tiwayo