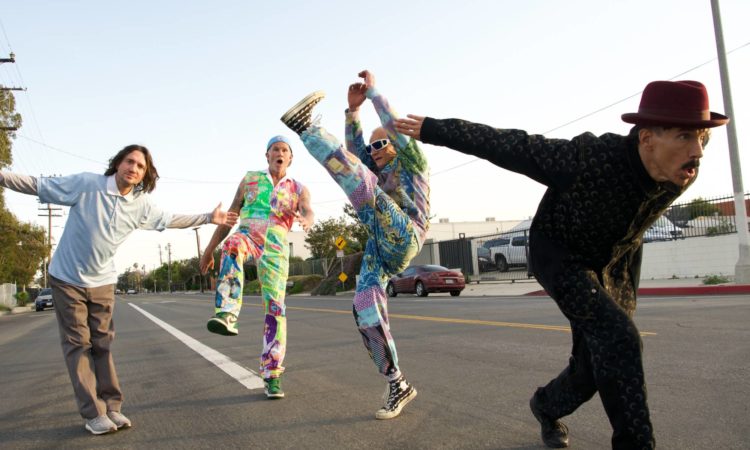 Surprise : Red Hot Chili Peppers voit double pour le successeur de Unlimited Love à paraître cet automne !
Quelques mois après la sortie de leur dernier disque, RHCP revient d'ores et déjà avec un nouvel album studio baptisé Return Of The Dream Canteen prévu pour le 14 octobre prochain.
Le treizième disque a été produit par Rick Rubin, qui a également travaillé sur Unlimited Love.
"Nous sommes partis à la recherche de nous-mêmes en tant que groupe que nous avons en quelque sorte toujours été. Juste pour le plaisir, nous avons jammé et appris de vieilles chansons. Avant longtemps, nous avons commencé le mystérieux processus de construction de nouvelles chansons. Un beau morceau de chimie qui s'est mêlé à nous des centaines de fois en cours de route. Une fois que nous avons trouvé ce courant de son et de vision, nous avons continué à creuser. Le temps s'étant transformé en une ceinture élastique de sous-vêtements trop grands, nous n'avions aucune raison d'arrêter d'écrire et de jouer. C'était comme un rêve. Quand tout a été dit et fait, notre amour lunatique l'un pour l'autre et la magie de la musique nous ont donné plus de chansons que nous ne savions quoi en faire. On a trouvé une solution. 2 doubles albums sortis coup sur coup. Le second est facilement aussi significatif que le premier, ou plutôt inversé. "Return Of The Dream Canteen" est tout ce que nous sommes et avons toujours rêvé d'être. C'est emballé. Fait avec le sang de nos cœurs, vos serviteurs, Red Hot Chili Peppers.", dixit le quatuor américain rock via un communique de presse à propos de Return Of The Dream Canteen
Unlimited Love était le premier album de Red Hot Chili Peppers depuis The Gateway (2016) mais aussi le premier avec le guitariste John Frusciante depuis Stadium Arcadium (2006).
Pochette de Return Of The Dream Canteen