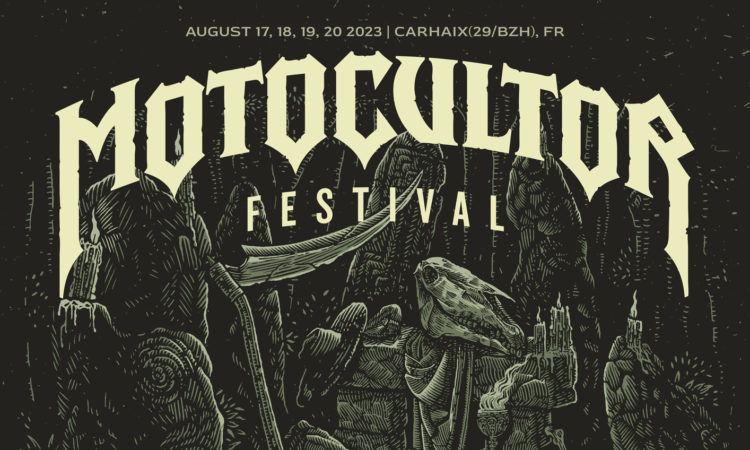 Le Motocultor Festival s'agrandit et passe à quatre scènes par jour pour sa 14ème édition !
Sur les cent-dix groupes, viennent s'ajouter trente-deux nouveaux noms du 17 au 20 août à Carhaix- Plouguer (29) :
Jeudi : A.A Williams, Angelus Apatrida, Burning Witches, Hatebreed, Royal Republic, Ugly Kid Joe, Warbringer, Wolfmother
Vendredi : Arka'n Asrafokor, Boisson Divine, Esthesis, Haken, Health, Luc Arbogast, Napalm Death, Uuhai, Vio-lence
Samedi : Brutal Sphincter, Bullet For My Valentine, Pénitence Onirique, Sylvaine, The Toy Dolls
Dimanche : Cave In, Church of Misery, Crowbar, Dieth, Elder, Heart Attack, Kabbalah, Nostromo, Orpheum Black, Soen
A noter que pour des raisons d'organisation du Motocultor Festival, le concert exclusif de Wardruna est déplacé au vendredi 18 août 2023 et l'annulation de Frog Leap.
Plus d'infos : www.motocultor-festival.com.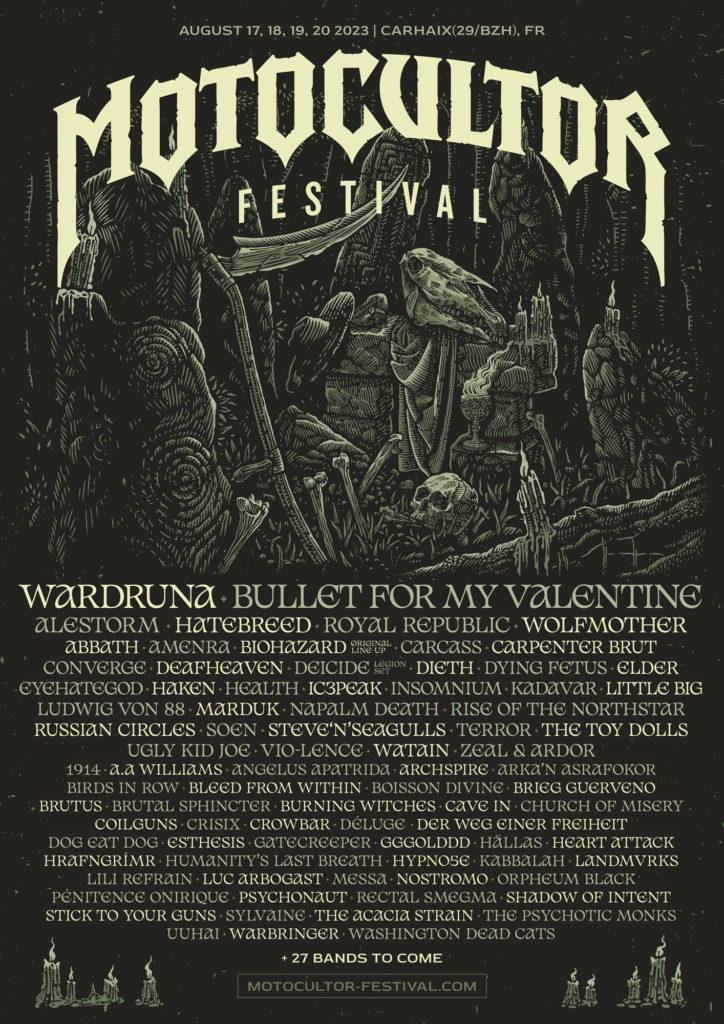 Programmation par jour
Jeudi 17 août
A.A Williams, Angelus Apatrida, Burning Witches, Deafheaven, Hällas, Hatebreed, Kadavar, Royal Republic, Steve'n'Seagulls, The Psychotic Monks, Ugly Kid Joe, Warbringer, Wolfmother, Zeal & Ardor + TBA 
Vendredi 18 août
Arka'n Asrafokor, Boisson Divine, Brieg Guerveno, Carcass, Crisix, Deicide (Legion set), Déluge, Esthesis, GGGOLDDD, Haken, Health, Hrafngrímr, Humanity's Last Breath, Hypno5e, IC3PEAK, Insomnium, Lili Refrain, Luc Arbogast, Marduk, Napalm Death, Psychonaut, Terror, Uuhai, Vio-lence, Wardruna + TBA 
Samedi 19 août 2023
Amenra, Birds in Row, Bleed From Within, Brutal Sphincter, Brutus, Bullet For My Valentine, Coilguns, Der Weg Einer Freheit, Dog Eat Dog, Gatecreeper, Little Big, Ludwig von 88, Pénitence Onirique, Rectal Smegma, Russian Circles, Sylvaine, The Acacia Strain, The Toy Dolls, Washington Dead Cats, Watain + TBA