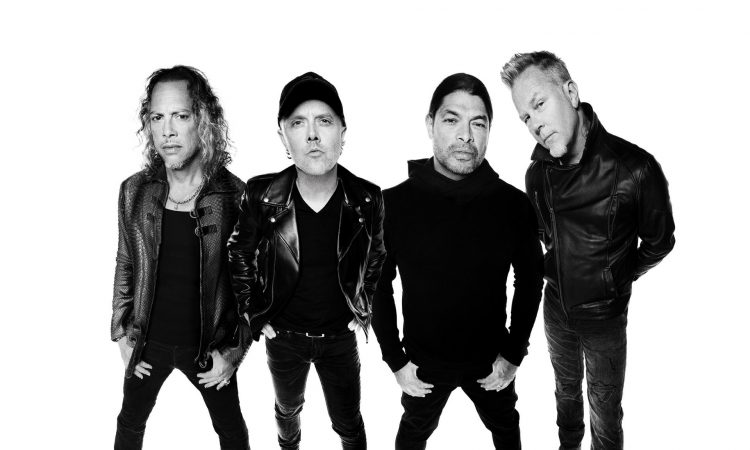 Metallica sortira "The Black Album (Remastered)" et "The Metallica Blacklist" le 10 septembre prochain !
Le "Black Album" est l'un des disques les plus vendus et les plus acclamées de tous les temps. Sa sortie en 1991 avec les singles cultes "Enter Sandman", "The Unforgiven", "Nothing Else Matters" et "Wherever I May Roam" a confédéré Metallica son statut de groupe mythique à dimension internationale. Son impact et sa pertinence n'ont cessé de croitre : le "Black Album" reste l'album le plus vendu de l'histoire des charts d'Amérique du Nord.
The Black Album (Remastered)
Pour commémorer son 30ème anniversaire, le "Black Album" a désormais sa réédition. Remasterisé pour une qualité sonore ultime, le groupe a aussi plongé dans ses archives pour nous offrir de nombreux enregistrements et captations vidéo inédits à ce jour. Ces témoignages rendent compte de la vie du groupe en studio à l'époque de l'enregistrement du disque mais également de leur incroyable présence scénique.
Le "Black Album" sera disponible dans de nombreux formats, dont une boxset deluxe en édition limitée contenant l'album remastérisé en 2LP 180g, un picture-disc, trois LP live, 14 CD (contenant des mix d'origine, des démos, des interviews, des live), 6 DVD (contenant des prises inédites, des images de coulisses, des clips et des concerts entiers), un livre relié de 120 pages, des lithographies et bien d'autres choses.
The Metallica Blacklist
En complément du "Black Album" et bien plus qu'un hommage, "The Metallica Blacklist" célèbre l'influence durable de ce monument musical avec l'un des projets les plus ambitieux jamais conçus par l'équipe de Metallica : plus de 50 artistes venant de tous les genres, générations, cultures, continents apportant une réinterprétation unique de leur morceau préféré du "Black Album". Parmi eux, J. Balvin, Miley Cyrus, The Neptunes, Biffy Clyro, Phoebe Bridgers, Izïa, Weezer, St. Vincent, Dermot Kennedy, Rodrigo y Gabriela, Juanes et bien d'autres (tracklisting ci-dessous).
Tous les bénéfices de "The Metallica Blacklist" seront reversés à parts égales entre la fondation "All Within My Hands" et plus de 50 œuvres caritatives choisies par les artistes apparaissant sur ce projet.
"The Metallica Blacklist" sera disponible en format 4CD, 7LP (édition limitée) et digital. Les éditions physiques seront disponibles le 1et octobre.
Toutes les infos ici.
Tracklisting de "The Metallica Blacklist"
Alessia Cara & The Warning / Enter Sandman
Mac DeMarco / Enter Sandman
Ghost / Enter Sandman
Juanes / Enter Sandman
Rina Sawayama / Enter Sandman
Weezer / Enter Sandman
Sam Fender / Sad But True (Live)
Jason Isbell and the 400 Unit / Sad But True
Mexican Institute of Sound feat. La Perla & Gera MX / Sad But True
Royal Blood / Sad But True
St. Vincent / Sad But True
White Reaper / Sad But True
YB / Sad But True
Biffy Clyro / Holier Than Thou
The Chats / Holier Than Thou
OFF! / Holier Than Thou
PUP / Holier Than Thou
Corey Taylor / Holier Than Thou
Cage The Elephant / The Unforgiven
Vishal Dadlani, DIVINE, Shor Police / The Unforgiven
Diet Cig / The Unforgiven
Flatbush Zombies feat. DJ Scratch / The Unforgiven
Ha*Ash / The Unforgiven
José Madero / The Unforgiven
Moses Sumney / The Unforgiven
J Balvin / Wherever I May Roam
Chase & Status feat. BackRoad Gee / Wherever I May Roam
The Neptunes / Wherever I May Roam
Jon Pardi / Wherever I May Roam
SebastiAn / Don't Tread on Else Matters
Portugal. The Man feat. Aaron Beam / Don't Tread on Me
Volbeat / Don't Tread on Me
The HU / Through the Never
Tomi Owó / Through the Never
Phoebe Bridgers / Nothing Else Matters
Miley Cyrus feat. Watt, Elton John, Yo-Yo Ma, Robert Trujillo, Chad Smith / Nothing Else Matters
Dave Gahan / Nothing Else Matters
Mickey Guyton / Nothing Else Matters
Dermot Kennedy / Nothing Else Matters
Mon Laferte / Nothing Else Matters
Igor Levit / Nothing Else Matters
My Morning Jacket / Nothing Else Matters
PG Roxette / Nothing Else Matters
Darius Rucker / Nothing Else Matters
Chris Stapleton / Nothing Else Matters
TRESOR / Nothing Else Matters
Goodnight, Texas / Of Wolf and Man
IDLES / The God That Failed
Imelda May / The God That Failed
Cherry Glazerr / My Friend of Misery
Izïa / My Friend of Misery
Kamasi Washington / My Friend of Misery
Rodrigo y Gabriela / The Struggle Within