Metal All Stars : à Paris dans un mois !
A la base uniquement destiné à une poignée de dates sur le sol américain, cette affiche all star s'exporte maintenant en Europe !

Cartel Concerts présente Metal All Stars le dimanche 14 Décembre au Cabaret Sauvage ! Cette unique date française réunie treize illustres musiciens metal, qui joueront à tour de rôle leurs plus grands classiques issus de leurs groupes et anciens groupes respectifs ! Pour un show de plus de 2 heures à ne pas manquer ! Seront ainsi présents : Zakk Wylde (Black Label Society) – James Labrie (Dream Theater) – Geoff Tate (Queensryche) – Joey Belladonna (Anthrax) – Cronos (Venom) – David Ellefson (Megadeth) – Chuck Billy (Testament) – Ross the Boss (ex-Manowar) – Carmine Appice (Vanilla Fudge, Rod Stewart) – Vinny Appice (Dio, Black Sabbath) – Gus G (Ozzy Osbourne) – Blasko (Ozzy Osbourne) et Kobra Paige (Kobra and the Lotus). Pour plus amples informations il vous suffit de cliquer ici. Les billets sont quant eux disponibles dans tous les réseaux traditionnels.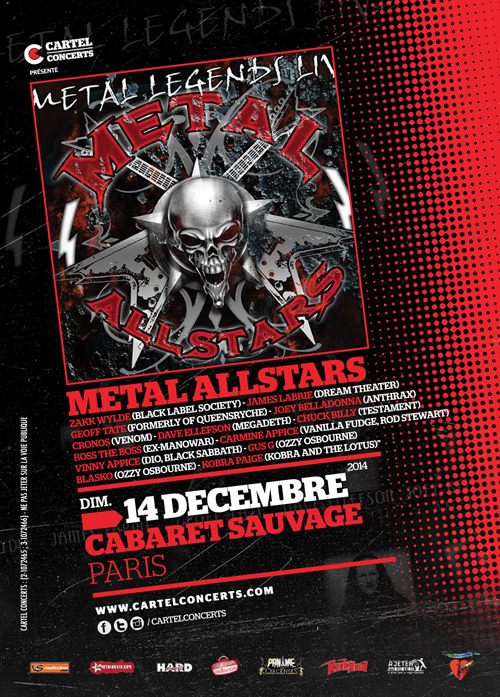 Tags :
Anthrax
Black Label Society
black sabbath
blasko; vinny appice
Cabaret Sauvage
carmine appice
cartel concerts
chuck billy
cronos
david ellefson
Dio
Dream Theater
geoff tate
Gus G.
james labrie
joey belladonna
kobra and the lotus
kobra paige
manowar
Megadeth
metal all stars
Ozzy Osbourne
Rod Stewart
ross the boss
testament
vanilla fudge
venom
Zakk Wylde