Lollapalooza Paris 2017 : la programmation complète !
C'est à l'occasion d'une conférence de presse organisée par Live Nation au Flow que le line up intégral a été dévoilé !
En présence d'Angelo Gopee, directeur de la filière française de Live Nation et de Perry Farrell, fondateur du festival américain et leader de Jane's Addiction, les médias ont été les premiers à connaître les détails de l'évènement qui se tiendra les 22 et 23 juillet à l'Hippodrome De Longchamp. Après les Etats-Unis, le Canada et l'Amérique Latine, le Lollapalooza débarque en Europe, plus précisément dans la ville de l'amour, deux ans après Berlin.
Avec une configuration de quatre scènes (Main Stage 1, Main Stage 2, l'Alternative Stage et la Perry's Stage), quatre espaces thématiques sur le site (Kidzapalooza, Lolla Chef, Lolla Green et Lolla Market) et deux en dehors du Lollapalooza Paris (Lolla Pop Up Store dans le quartier du Marais et les Lolla Club Nights à La Clairière, au Flow et au Yoyo), les organisateurs espèrent rassembler plus de 120 000 festivaliers autour d'une offre de musique, de nourriture, d'art et d'engagement social pour cette première édition qui promet d'être mémorable.
Côté musique, il y aura du rock indé, de la pop alternative, en passant par du rock, pop, EDM ou encore du hip hop, la philosophie étant de mixer les musiques, les générations, rassembler les experts musicaux les plus pointus et un public plus néophyte : Red Hot Chili Peppers, The Weeknd, Imagine Dragons, Lana Del Rey, DJ Snake, London Grammar, Alt-J, Pixies, The Roots, Marshmello, IAM, Liam Gallagher, The Hives, Martin Solveig, Editors, La Femme, Skepta, Glass Animals, Walk Off The Earth, LP, Milky Chance, Yellow Claw, Don Diablo, Oliver Heldens, Kaleo, Crystal Fighters, Rival Sons, Jauz, Alan Walker, Slushii, NGHTMRE, Tom Odell, Seasick Steve, Joyryde, Oscar And The Wolf, Bear's Den, Tiggs Da Author, Black Tiger Sex Machine, Jeremy Loops, Anna Kova, Don Broco, Tess, Moski, Max Jury, Henri PFR, Cinnamon et Dustycloud.
Ouverture de la billetterie ce jeudi 19 janvier à 10h au tarif de 79 euros pour le pass un jour et 149 euros pour le pass deux jours. A noter que le festival, qui se veut familial, est également ouvert aux enfants :  25 euros par jour pour les 11-14 ans et gratuit pour les moins de 10 ans.
Toutes les infos sur www.lollaparis.com.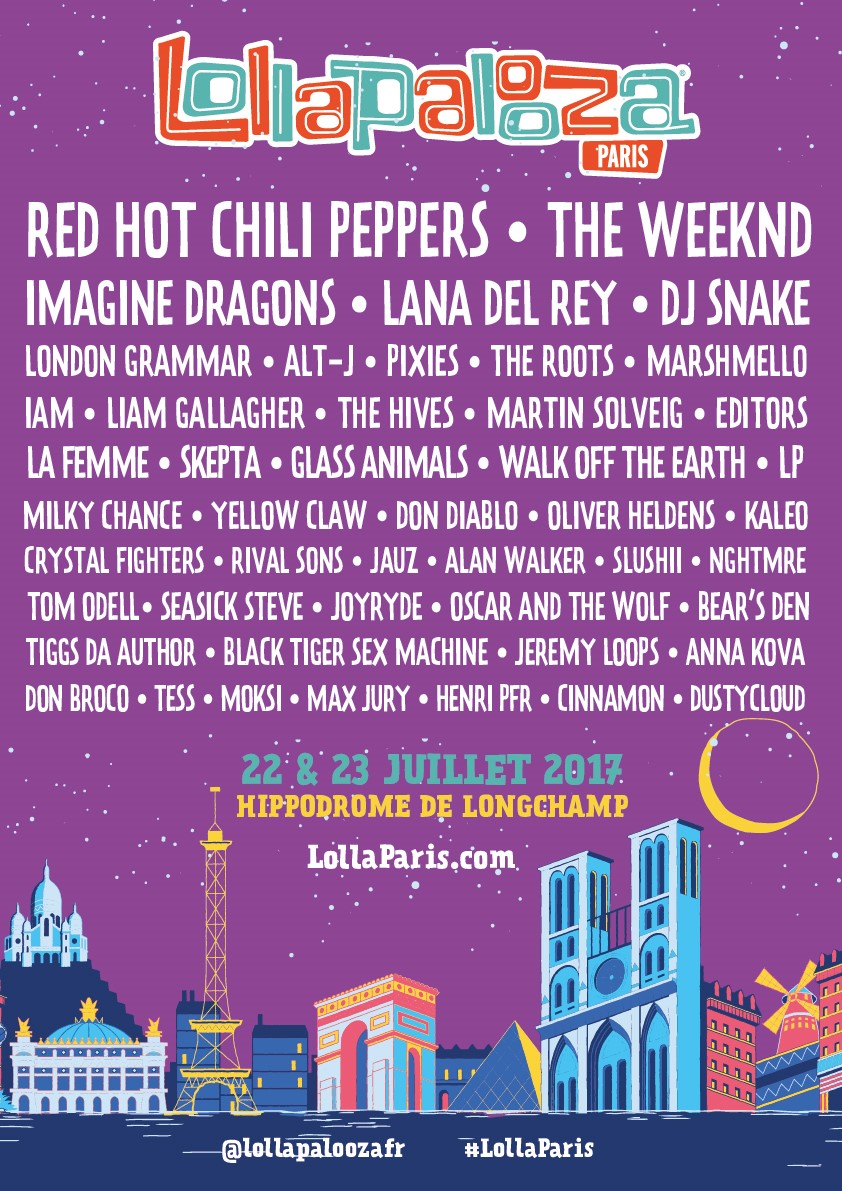 Tags :
Alan Walker
Alt-J
Anna Kova
Bear's Den
Black Tiger Sex Machine
Cinnamon
Crystal Fighters
DJ Snake
Don Broco
Don Diablo
Dustycloud
Editors
Glass Animals
Henri PFR
Hippodrome De Longchamp
IAM
imagine dragons
Jauz
Jeremy Loops
Joyryde
Kaleo
La Femme
Lana Del Rey
Liam Gallagher
Lollapalooza Paris
London Grammar
LP
Marshmello
Martin Solveig
Max Jury
Milky Chance
Moski
NGHTMRE
Oliver Heldens
Oscar And The Wolf
Paris
pixies
Red Hot Chili Peppers
Rival Sons
Seasick Steve
Skepta
Slushii
Tess
the hives
The Roots
The Weeknd
Tiggs Da Author
Tom Odell
Walk Off The Earth
Yellow Claw