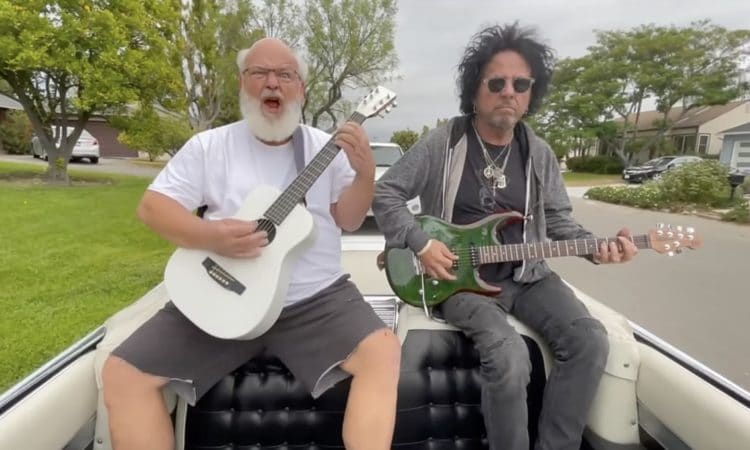 Kyle Gass a partagé la vidéo de "Vaccinated", sa parodie de "I Wanna Be Sedated" des Ramones. Et il n'est pas tout seul !

La moitié de Tenacious D a fait appel à de nombreux amis célèbres – dont Amy Lee d'Evanescence, Steve Lukather de Toto et son acolyte de groupe Jack Black. Tous apparaissent et chantent sur cette version Gass de quatre-vingt-dix secondes du classique punk. On y voit également Samantha Bee, John C. Reilly, Kathy Najimy, Danko Jones et Ben Wells de Black Stone Cherry.
Le clip de 84 secondes montre Kyle Gass à la veille de son rendez-vous de vaccination alors qu'il attend anxieusement sa piqûre. Il était si excité à l'idée de se faire vacciner qu'il a décidé de transformer "I Wanna Be Sedated" en un hymne pro-vaccination avec "Vaccinated".
"Faire vacciner le monde est le défi difficile mais nécessaire de notre époque. C'est pourquoi j'ai écrit cet hymne important pour toute l'humanité. Amusez-vous bien à vous faire vacciner. De rien.", dixit Kyle Gass.
Liste des guests dans l'ordre d'apparition :
John C. Riley
Kyle Gass
The Protomen
Steve Lukather
Danko Jones
Ben Wells
Kevin et Eli Weisman
Dan Finnerty
Kirk Ward
J.R. Reed
Cynthia Ettinger
Amy Lee et son fils Jack
Kathy Najimy
Kelly Loomis
Jack Black
Samantha Bee
Wanni Yu et sa famille