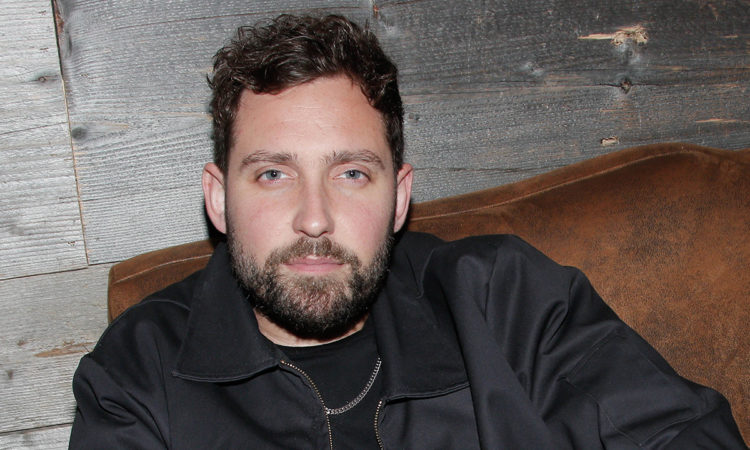 A couple of months before the release of You Me At Six's 8th album called Truth Decay, RockUrLife met frontman Josh Franceschi. We had a lovely chat about the band's career, how the music industry has changed over the years and also about the comeback of emo music.
Hello Josh, thank you so much for this interview! First of all, how are you? It's been a while since You Me At Six last toured in Europe. So how does it feel to be back in 3 months?
Josh Franceschi (vocals): Thank you for your time. It's great! I'm feeling good and I'm very excited for the shows, we're looking forward to kicking off the tour in Paris. I'm looking forward to be back and for us to meet our fans.
Let's talk about the upcoming album, Truth Decay. What was your state of mind when you wrote it? How did you come up with the idea of making an emo album?
Josh: First of all I think we were in a really good place. We were aware that was problematic for us to tour because after the release of SUCKAPUNCH, it was a few shows here, festivals there. We were focused on starting that creative process again. And we went onto writing trips, and by that I mean we went to Airbnb around the UK, just hang out as a band. I wanted to challenge the guys because we had some demos but we didn't know what record we were making. I wanted it to be a little bit more focused and things to be a little bit more pragmatic. I tried to understand like who we are, what's the band identity, because I feel that there's a lot of positivs of making a versatile record like SUCKAPUNCH. But also, if I feel it as a band member, the others will feel it like it sounds like a lot of differents bands in one record. So I was really keen for us to kind of reclaim some sense of identity. As I said to the boys, I know who is the biggest and best metalcore band, who is the best british indie band, who is the best bristh pop band, but where are we in all of that? We used to be renounded as the best british emo rock band and I was like: 'I want that back, I want that to be the way that people could talk about us'. In a moment of time in which the hot topic at the moment is the revival of emo music, with the lights of My Chemical Romance's comeback, Paramore's comeback, blink-182's reforming with the original lineup. There's so many moments happening at the same time which galvanised and catapulted that scene. That alternative scene brought back into the mainstream consciousness as well. So I felt like to know where we were gonna go, we had to look back and we dived into songs that we grew up on, collectively and individually, that shaped our former of years. I think that really where the conversation about making an emo rock record came from an end. Really after that, we had a really defined objective and we could write a song and pour ourselves into it without taking away any of the innocence. When you know the umbrella which you seat under, what kind of jam I guess you're going for, you can move into that space pretty quickly. So we did and we wrote a whole lot of songs together pretty quickly and just had lot of fun with it. So it felt like returning to that old mindset of the five of us working together on a track and jam and pour out these songs to life. So the album you heard was very much an album with a retrospective mindset I guess. With that kind of fresh approach of making a record in 2022.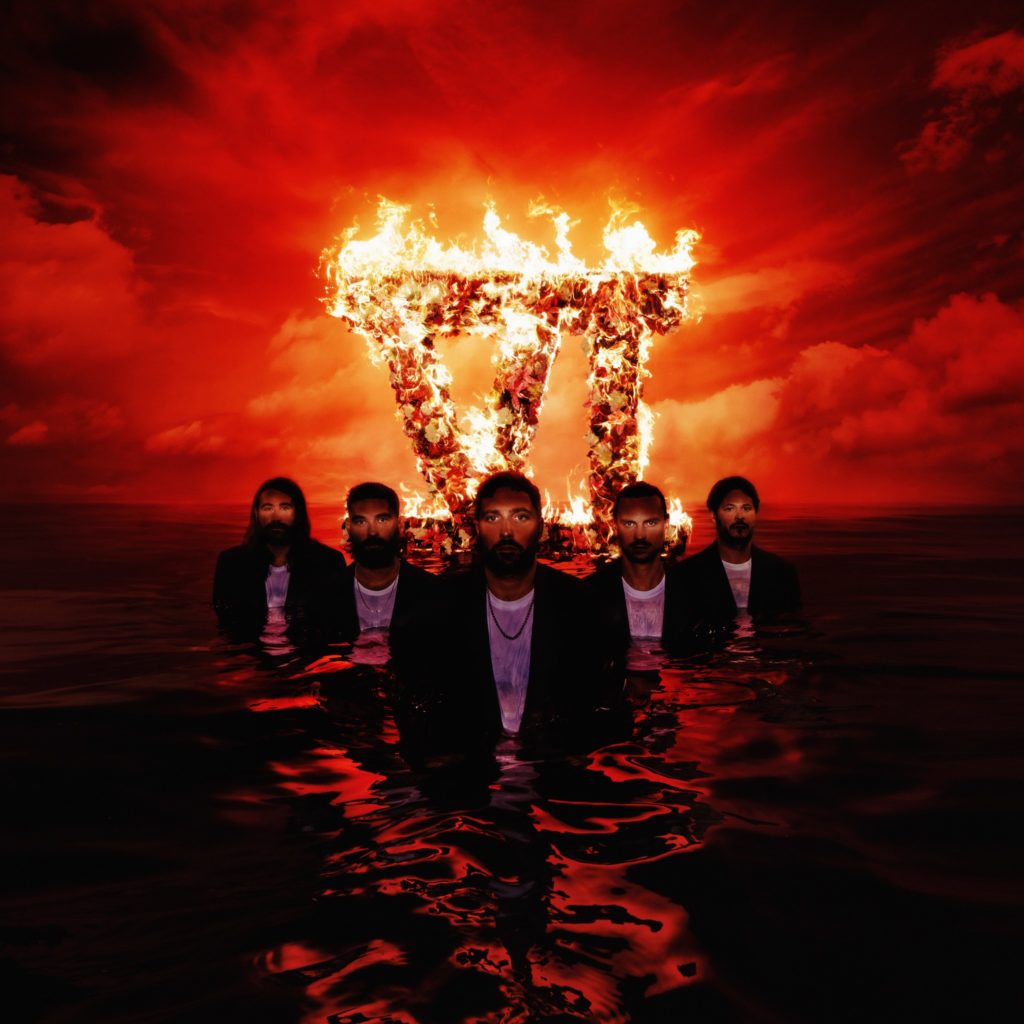 We heard that SUCKAPUNCH was supposed to be You Me At Six's final album. Is that right?
Josh: Oh we would have liked to yeah, but then we got dragged into another one.
Yeah you wanted to do emo music again!
Josh: Yeah if this is that what was happening, I was up for that. It's a complicated thing and yet a very special thing to grow up with the same group of people, from being a teenager right through it to being a young man. And I think I've felt for the last few years that I really needed to feel like this is going in a direction that I wanted to go and all that I felt comfortable being part of or I don't really see the point. At the time, we were working with various people which I felt like it was suffocating the fun out of and the life out of the band, that I just thought we needed to forget mandatory and material goals. By need it, I mean I don't need the band to make me feel validated for what we achieved, we've already achieved so much that I have literally ticked every boxes I would have loved to have ticked, in recording, touring. It needs to feel good so I think we've made some changes in time. SUCKAPUNCH was right for so many reasons but Truth Decay really is an easy record. Because there was no negative noise around what we were doing, just be yourself, go do what you want and see what you've got when you'll go back to it. It's quite easy to be part of something that feels good.
And is this the secret of You Me At Six's longevity? Because like so many bands of your generation, of your scene.
Josh: Like, dead!
Yes!
Josh: Fucking in the ground!
It's horrible! It's probably funny to be in a band when you're 20 but when yo''re 30, maybe you want to settle down, so if you don't make enough money out of your music, you can't do it at 30. So how do you explain that? Why is You Me At Six still here?
Josh: We're only still here because people, by people I mean that the lifeblood of the band is the fanbase. So we're only as relevant and required as they allow us to be. We probably would have to go and have normal jobs and settle down and have a more typical lifestyle if our work wasn't matching their requirement of music anymore. But I think You Me At Six has done a great job of deserving that place of the table because we've challenged ourselves, we've challenged our laziness but also we've always been authentic and been ourselves. I'm not saying that every band that is no longer a band hasn't done that and hasn't lived their truth. I do feel that we've done a really great job and our goal was always longevity but was also to do things the right way. If you surround yourself by the right people, and by that I don't only mean people we work with but I mean within the band as well, we've got a far better chance of bringing out the best in every one of us. But all said, it's just some bands were lucky enough to make one or two albums, some bands made 3 or 4 albums, it's the luck of the journey. It really does also depend on what what you cultivated : did you cultivate a fanbase that live and breathe your band or do they just like your songs and watch you play a few times? For that, we've always felt grateful. We are by no mean the biggest band in the world but what we do have is a very activated, reactive fanbase and a one that is engaged in what we're doing and choose to still support us so we're lucky for that for sure.
Let's come back to Truth Decay. Can you tell us more about the featurings, with Rou Reynolds and Cody Frost? You hadn't done any featurings like that since Sinners Never Sleep (2011). Two in one album, that's a lot!
Josh: I don't think we've done a featuring in a very long time. We've always said that if the featuring makes sense, feels good, then we do it. But we've reached that out for a time to others people bands, and other artists if they wanted to be involved. Sometimes the answer has been yes, we've done something that hasn't really felt, that doesn't match our expectations or that hasn't lined up more of what we wanted. With Rou, it's very like: we had this song to feature and I'll just send him it: 'I think you'd be perfect for this, I think that you could bring out a ferocity in the song that is there'. And Rou is very good at that, he's the kind of frontman that says stuffs with his chest, he has a way of delivering stuff with like real substance. So we thought we would elevate the song a few levels up with his ferocity, which I think he did. And with Cody, we were looking for that kind of next generation of artists that are coming through. We got a tip about her on Twitter by a friend of mine. He and Max [guitar] had some bit of experience with her like songwriting sessions or something. Her voice completely blew me away and the lads were like: 'I think we need this, we need this voice on this record'. She was like the missing piece to that song. To bring out the emotive side of it. We were really happy that they both said yes and their both songs came out as, higher hopes than expected.
We agree, they're really good.
Josh: Thank you.

Now we'd like to talk about the lyrics of the album. 'Mixed Emotions (I Didn't Know How To Tell You What I Was Going Through)' is about toxic masculinity. And you have songs named like, 'Breakdown', ':mydopamine:' for example. So how did you come up with this idea? Did you look up to the young Josh thinking that he could have done some things differently if mental health was a thing ten years ago?
Josh: The truth is, I feel like that's been something that I've been having for a long time, which is that, for many years along the band's career, I've not enjoyed it. Because I haven't allowed myself to enjoy it. And that's always because I've just been very caught up and various other parts of both the career's aspects that was like: 'what's my life ?!' genuinely. It's strange how genuinely I think men, we don't allow ourselves or we're just not well equipped as women when it comes to expressing our emotions, especially with our friends or our siblings or our mothers or fathers. And also just looking at how I've learnt as a human being over the last 15 years, how that experience would have me understand certain situations far more comprehensively. A great sense of understandly of what either my bandmates or my friends or my family would going though. The sentiment of 'Mixed Emotions' is that I didn't ask to tell you what was going through and it's as simple as that. Unfortunately, communication seems to be the hardest thing between human beings, as well as at truly level up and also, by leveling up I mean be on a place where they can both be open to verbalizing but then also receiving. So that's kind of what thatrs song is about. I often put my insecurities that I've got into my lyrics because I feel that it's far more compelling when an artist is vulnerable in their music. I find anyway in my life that I'm fine to moment I woke up the front door and it's either physically a real time people's bullshit or the fear, the trauma, on the news, within the news or it's just the general disappointment of life's not reaching or meeting my expectations of it or people in society not meeting my expectations of how I'd hoped they would be. And I felt that with that as a kind of a starting point that when you're trying to connect with a stranger, if you go into a position of power instead of balance when you also as human being are going through life, work in progress, you shouldn't fake it like: 'oh yeah, I've got swagger, I'm cool, I'm this, I'm that', when you're not. So I find the best stuff outside of the actual music of the band. But the best stuff that I write, lyrically as well, I'm not even going to try to hide anything, I'm just going to go out loud and I'm going to sing it how I mean it. I mean what I say so, I tried to do this as honest as possible on this record. Because I think it's the most relatable thing, human being do have a radar for bullshit, as much as we like to pretend that we can surpass that, they know and you know.

So yeah now emo music is gonna be really deep and not just about girls and breakups. It is important as well but…
Josh: I think so, maybe this is the emo phase volume 3 or 4.
You're in the music industry for about 15 years, maybe more. What's different now from when you started? Because at the time, it was all about MySpace and buying CDs, and now there's just Spotify, social medias, TikTok of course. So how do you keep up with that?
Josh: I think it's like an ongoing headache. And I think it also really depends on the mindset of many artists of our age and our kind of stature but some of them absolutely embrace and love social medias. For them it's very natural to extent, it's natural and I get a lot of enjoyment out of it at times, in moments. But generally speaking, I just think that the thing that has changed about it is that it took too much space. Without sounding like a grumpy old man, I feel like there's just way more important going on. The rhetoric for music now is not how good a song is or how it's whether or not really connecting with people, now the goal is to become a TikTok dance or something else vacuous, like how many followers somebody has or how many views somebody has. I know views and listens are probably the truest representation of whether a thing is popular or not within pop culture. But I think that's been a thing that I find interesting and I've tried to explain it to some younger bands when we've met them. Like don't get so round up in sort of caught up in this idea that you have to be social media popular for your music to mean something. Because you go into it with that as your ground zero and that's where you're doing your foundations on, that foundations are sad. I think that as an issue we have in therms of reach, in therms of being able to communicate and going international. Obviously, technology is amazing for that. I think it has just dehumanized the sincerity of it all a little bit. For me, we need to move forward in a world that I do think that's been some incredible findings on these platforms, of incredible artists that perhaps would have past the world without it. I just wonder if it's leasing a little of its integrity. But the biggest and the best artists are going viral without even try to surf on that, the Arctic Monkeys aren't involved in social medias in the slightest.
Yeah but they had built a fanbase before!
Josh: But this is the argue I'm making also to that point is that the only thing I've never seen moved a needle is going on stage, performing, in realtime, making human connection not just from the stage but during, after the show, meeting fans. That's how you imprint yourself in somebody for life. But that's the way I've always thought You Me At Six benefit the most, the start was how many shows can we do, how many tours can we get on, how many different kinds of audiences can we play in front of. We would support any and every band that option came our way, regardless of whether it is the perfect fit. I worry that people are more interested in cranking up views and likes and followers and then their surprise when they rock up to a venues: 'Oh I got a million of followers on TikTok but I've got 40 people that come watch me play in London'. I think that was blurring the industry's mind, but agents and promoters they're like: 'This is a sure thing'. And it's not man, it had always cut the heart and soul of any fanbases, is something being, they're more profound than that, than lots of other stuff. But I don't discredit anyone that's made it through that or I'm not trying to discourage people from using these platforms, I just think there are more important things.
Yeah, as you said, you have to build foundations first.
Josh: Yeah I think so.
We saw a video of an artist, he was playing on stage in a really big venue and the people only knew the lyrics of the small part that was on TikTok trend. It was a kind of sad.
Josh: I would argue that's probably the worst part of his day. That realization that he's a parody of himself, he's a meme of himself. And that's what I'm saying about when an industry allows to be dehumanized. And that the importance of that connection of people and our songs should soundtrack real moments, not on camera or on trends. The band has one [TikTok account] and I don't understand, I don't care for TikTok. I know that for a lot of people it's a big part of their day, scrolling for hours but I think it's a dangerous route for people to go down.
Would you like to play shows without any phones allowed, like Placebo did recently?
Josh: I had this conversation in a interview earlier today, because they were like: 'do you have a problem with it?' based on something else that maybe I said that led them to ask that. And what I said to them was [thinks] it's not for me to be out to define how somebody else finds happiness. So if somebody else the way that they feel good in that environment and the way that they are enjoying themselves and connecting with those around them, banking memories or whatever it is to film a show, cool. My thing has always been: why won't you film your favourite song and then experience the rest of the show properly because I know how fucking good it was. I used to go to shows in London and it would be like: rushing to the train station, finding the train to go to town, telling my mom and dad when I'll be back at the train station, I didn't have a phone so I would call them from a paid phone if there was an emergency. And then you may fancy the gig and it wasn't like making friends with everyone then seat back on their phones, scrolling bullshit. It was like you went to a gig, you had a couple of cans of cider or a couple of pints, you're underage and you fucking jump around the moshpit for a few hours, came out dripping and sweating and you went home. I know it's a little bit of a purist.
No, it's just that we're from the same generation, before social medias. We think we are the same age so for our first gigs, Iwe were going on my own without my parents or any friends and we didn't have a phone neither, so we had to connect with people and live for the moment. Even though Iwe didn't like the band that was playing, we were there so Iwe were listening and enjoying the moment. It's just a different generation.
Josh: Yeah it is but I think there's pros and cons on both obviously. I've met some You Me At Six fans who have made some beautiful friendships out of meeting other You Me At Six fans on social medias and now they're attending shows together. That's awesome! To answer your question in a short form, I would never demand somebody to do that. But there are moments to my set when I(m on stage when I encourage people in the audience: 'Why won't we put the phones away for this one, let's all go for it together'. And that's usually the wildest part of the set. When everyone is actually in it.
What can we expect for the next tour, maybe some songs from Take Off Your Colours and Hold Me Down? Since it's kind of emo as well.
Josh: Oh yeah right! (laughs) I struggle to convince the lads to play Take Of Off Your Colours. But we've got a couple of songs from Hold Me Down in the set for sure. I think it would be a nice mix and match of all the albums. Not loads and loads of new songs, probably like 4 or 5 from Truth Decay and we would put another 15 of songs from the other different albums. There's will be a lot of old songs on that set as well.
Which songs are you looking foward to play on stage? And the ones you're the most looking forward for the fans to hear?
Josh: I really enjoyed play 'Deep Cuts' when we were in America, it was fun. And I think there's a couple of songs in the record that I think would go down great in live. Whether or not we will play them I'm not sure but I think the best scenario is 'God Bless The 90's Kids' would be a song that people will like. 'No Future? Yeah Right' is a lot of fun to play live, it's got a really good tempo for fans to jump. So there's a few in there like "heartLESS" that we would play live. There's quite a few songs in the record that could have led the album, that could have come out as singles. For me it's really exciting. It's not you're going hear the singles and everything else would me like: 'nah', I think there's some really quality stuff in there so hopefully, people would agree with me and enjoy the shows they'll come.

Last question: we are called RockUrLife. So what rocks your life, Josh?
Josh: What rocks my life? [thinks] Genuinely, maybe it's a generic answer but just being around my love ones, like my friends and family. Sometimes there's like a build up to social event you're just, you put as pressure, it doesn't really deliver. But my favorite things that rock my life, like my favorite moments, my favorite nights, are when something unexpected happens and you just have a fucking absolute tear up. Just truly being around my mom, my dad, my sister, my partner, my dog, playing gigs, going on tour with this lovely bunch [points a finger at Max who spent the whole interview asleep next to him] he's awake! (laughs) The people that I love know how much I love them and they know how I cherish being around them. So that's what rock my life. Such a sloppy answer! (laughs)
No, not at all. We knew you would mention your dog though.
Josh: (laughs) It's mainly the dog!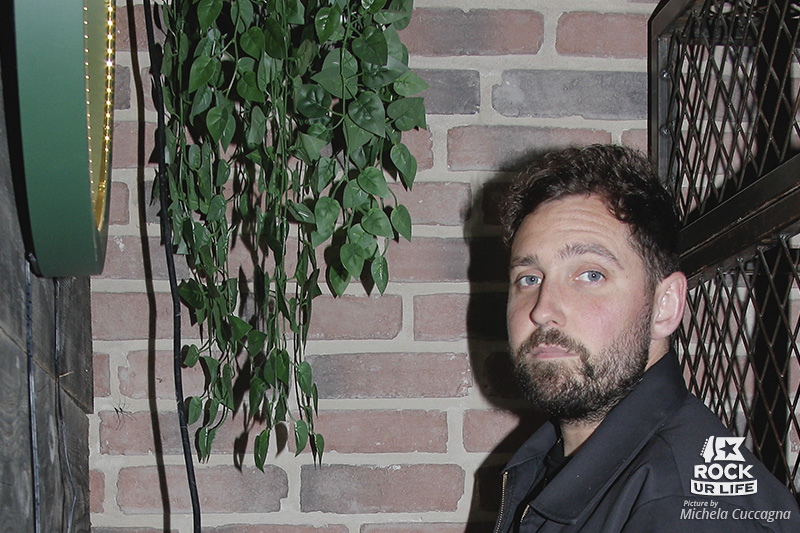 Website: ruthdecay.co