RockUrLife had the pleasure to speak with Tony Dolan alias The Demolition Man. Through this deep and honest interview, he told us more about Venom Inc., his new project and "Avé", their first record which was released on August 11th.
Let's start, can you introduce Venom Inc.?
Tony Dolan (vocals/bass): I'm going to introduce myself first, I'm The Demolition Man and I'm doing the vocals and and bass in Venom Inc. We have a guitarist and I like to call Jeff "Mantas" Dunn my brother, we have a drummer Anthony Bray better known as Abaddon, and we are Venom Inc.
Why did you choose to call your project Venom Inc.? Is this the continuation of Venom?
Tony: Yes kind of. Actually, this whole reformation thing was an accident, we didn't plan to do that at all. Now we have an album which be released and we have scheduled dates all over the world. In fact, I had a concert at a festival in northern Europe and I invited Jeff for a couple of songs. A few weeks later, a promoter from Germany (who is also organizer of a festival called Keep It True) called me, told me that he attended the show and he greatly appreciated it. He told me that he saw Anthony in the audience and then asked me why I didn't invite him on stage to play some Venom songs. So he told me about the festival he was organizing and asked me if he would offer me to play with the guys, would we play Venom songs. I said I didn't know why we should do that. He added that he knew 2000 old school fans and they would love to hear us play. "How long have you not played together?" He asked. "A few years, my God maybe 1991, 1992". He was surprised and replied "That would be a good deal I think". I said I didn't think it would happen, so he told me, "If everybody thinks it can happen, please, you can do it, just for the fans."
So that was the idea behind it. Mantra said no, Anthony said yes. So I contacted the German guy again, and I told him that the band could play 4-5 old songs for the audience and just for the fun, and that's it. Nothing more. And that's what we did. But people became crazy. They put videos on YouTube. The next day my phone was crazy, people were asking me to play more concerts, coming to Asia, America, Latin America and Europe. Many managers called us to ask to represent us and I was kind "but damn we are not actually a band". So I tried to tell everyone "We are not a band, we just has done it once for the fans". Then I said "well, maybe we could do more concerts". So I talked to my guitarist, I told him "look what is happening, we are offered to do more shows, maybe a tour, what do you think?". He exposed the fact that we didn't have an album and we didn't have a real management. He told me that it would be nice to do it for the fun and for the fans. So we did those few shows, and then we all went back to our personal belongings. But it didn't go as planned. People kept on insisting on doing more shows and we continued to say yes because "why not?". The interest of making music is to perform it, right?
And so last year I spoke to Jon Zazula, the manager of Megaforce Records – it was also the first guy to bring Venom to the US in the 80's – so it's like a friend to me and when I have a problem that I can't solve, he's my guy. So I asked him for an advice. After this year, it was too big for me. So I asked him if he could manage us and he said no, he was tired. Then we played in the States in March, and we ended up in Orlando Florida where he lives. I finally convinced him to be our manager. He asked me if we were making an album, I said no, we only want to play concerts. Then he called me later and told me we had to make demos and that we had to contact labels. So our choice was directly on Nuclear Blast because I always thought they think like I do, I like the music on this label, I love everything they do. He sent our demos to Nuclear who replied to us a few days later that they really love it and we had to make a record. So it was finally what we did! Then it happened very quickly. We made the album in six weeks, we sent it to Nuclear who immediately liked it. Then we planned a tour, picked our first single, shot the clip of "Dein Fleisch". There you go. But we're still shocked by what happened, we really didn't foresee it. And all because of the fans! This album is really to thank the fans. And not only the fans, but also all the photographers who took pictures of us, all the organizers of festivals, all our drivers, all the journalists. All those who were part of this great adventure. We're feeling honored by all of this. So this album is for everyone. We are not Metallica, we don't expect to sell billions of records. So it's like a big thank you for helping us. I'm very excited to offer this gift to everyone who deserves it. I hope you will enjoy it. If you do not, if you think it's shit, I'll get it refunded, and I'll give you something better. (laughs)
We really enjoyed the record.
Tony: Really? This is a very good start! So I do not need to pay you back? (laughs)
Can we hope for a show in Paris soon?
Tony: We did a couple of shows, including one in France, in Lyon a few days ago. Then we're going to the United States to do some shows. Then we'll go back to Europe for a headlining tour. Obviously there will be a date in Paris. But we will announce it soon. I am very excited to play the new songs live. I even think I'm more excited to go back on tour than to release this album. All the songs take on a different meaning on stage. There is more energy, more feelings. We have a real deep connection with the public. It is a very pleasant feeling. In fact, the whole energy comes from the audience. I feel so honored to have such a good public, which gives us so much energy. I hope we can give it back to us. It's amazing to be able to share that. So I can't wait to play our new musics. It will be incredible, it will be insane.
Can you tell us a secret or reveal something that we would never have guessed about this album?
Tony: Something you'd have never guessed about this album? It's interesting! There are several secrets in this album. But I can't tell them. If I say it, it will no longer be a secret. But I'll tell you one. Let me think of a good secret. (Thinks) There is a double meaning in the first single. Oh no, I can give you another, neither a good nor a bad. This is at the end of the album. It's a very good secret between Jeff and I. We didn't even tell Abaddon. It's pretty funny at the same time. It's really at the end of the album. Do I need to say more or it's enough for you?
It's enough, thank you very much.
Tony: That's the last thing you hear on the album. If someone guesses, and he tells you, let me know and I will give him the first poster, the first T-shirt and a flexi disc. But only if he guesses. We'll make it a game. If some people try to guess it, I'll tell you the secret, so you can choose the winner.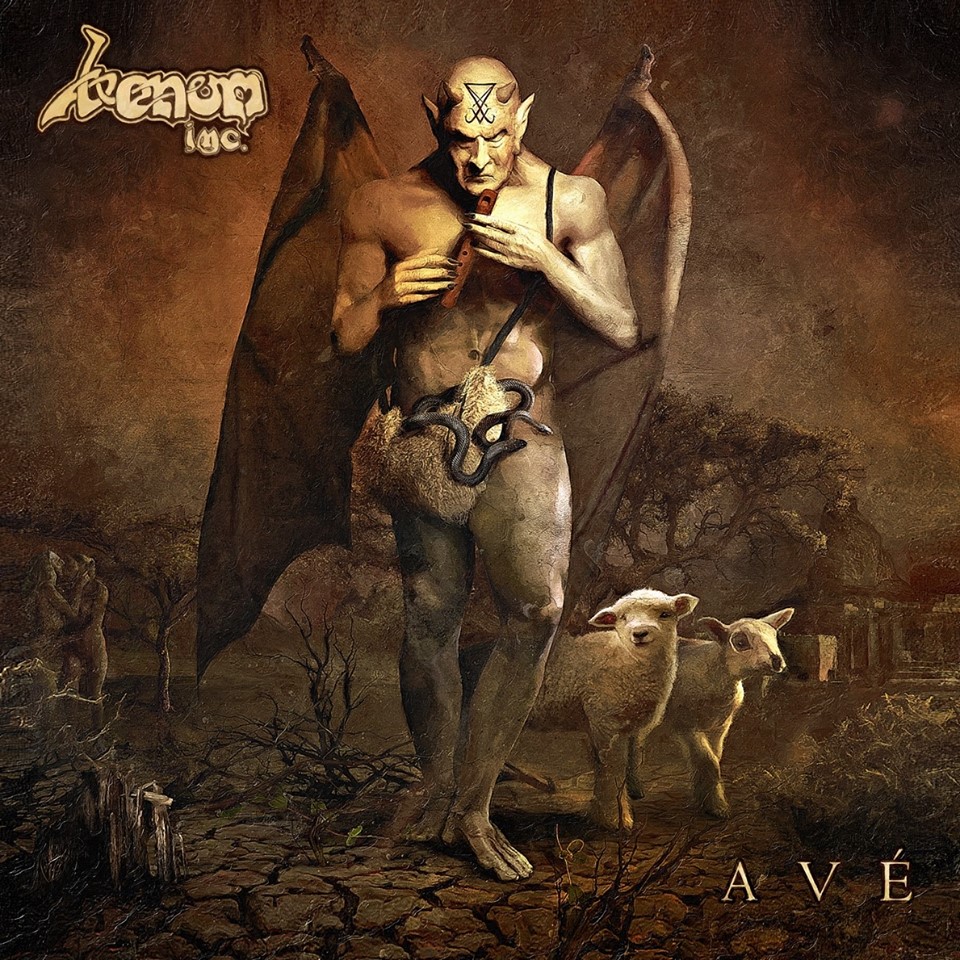 Your first music video, "Dein Fleisch", is very interesting. He is a totally random guy who discovers a strange and creepy new world. Is that what happens to us when we listen to Venom inc.?
Tony: (laughs) Probably. We are going to make you into a strange and creepy world in our turn. That is a good interpretation. There are two different aspects to this album. The first is about the fans, the music, the shows. Our shows are full of energy and are very intensive, it's like the fans bring us life. I symbolize our shows as a celebration of music. The music is so inspiring. It goes from AC/DC to Jimmy Hendrix via Elvis Presley. And we have so much fun playing our music. What I like about Venom is that we still take so much pleasure on stage. We keep loving what we do and have fun.
But this song is about the dark side that we all have inside of us. In the music video, there is this guy who has everything, pretty good looking. He has a very beautiful woman, a very beautiful family, a beautiful house, a dog, a cat, everything. Then when night falls, when everyone goes to bed, it has his dark side that comes out. The idea is that one night he is invited to this satanic evening. This is the idea reflected in the video. And instead of choosing one thing, he decides to have everything. And that's what he gets, everything. And at the end, his wife appears and it's like she gets blood from his heart. And the thing is that he finds his wife, his pretty wife, in this secret and a little creepy world too. Actually sometimes we judge too quickly according to appearance. It's as if you see a guy walking down the street dressed in black, covered in tattoos, with piercings, you can imagine him smoking weed, perhaps listening to metal. You can quickly see him as a bad person, maybe even satanic, doing horrible things. And beside it, there is your neighbor, an old man, who does not speak so much, but who often smiles, who sometimes goes out the garbage for you, sometimes he will open the door for you. And then, suddenly, one night, you hear the police disembarking in the neighborhood at 4 am because they found a body in an apartment, you will suspect more the guy who listens to black metal than this guy you know a bit, who doesn't speak much. Then you'll get to know that it's the old gentleman. The whole neighborhood will talk about it, the entire neighborhood will be surprised, because they thought it was the black metal guy.
But in fact, we all have a dark side in us. In this small rock world we all know each other. You can see it because of the T-shirt, it sometimes shows on our skin. We don't hide it, actually we are the most honest people. Of course, we have emotions, like everyone else. But we don't hide who we are. When you are in school or in the neighborhood, people persecute others because they are different. We talked about festivals earlier, when you're at the Hellfest, you realize you're in something much bigger than the neighborhood, the street, the building or this closed-minded school. We follow this movement, which is connected by music, we are complicit, we are all together. No matter the country, we are all connected by music. And if we had to be suspicious of people, we should be wary of discreet people, those who do not talk much, those who hide who they really are. Because we know nothing about them. And that's what the video is talking about. What is your dark side? What is your perversion?
Do you have any plans for the band? Do you already know if you are going to release a new record?
Tony: For now, we're concentrating on the tour of the festivals. Then we will release a video lyric for "Ave Satanas". Then we will continue our tour. Starting with North America. This will be the best thing, it will be great! Finally, we will continue to go around the world until Christmas time. At that time, we will make a small break. Then we will do other shows in Europe, then in Asia. We hope to tour Australia and New Zealand. This will be the end of the first part of our tour. I hope we will find a time to work on an EP. I really want to keep releasing albums in physical version. It was really the thing that I liked in the 80's. There was always the physical side of music, it was before all the streams and digital albums. With technology, it's cool, with iTunes, Spotify, we can have the music directly on our phone. But people like to have the physical side of music. I want to give that to the fans. I want to give them as much as I can. Besides, I constantly want to write music. And when I write music, it's to record it, give it to the fans, and perform it. The more we do, the better it is for the fans
You prefer being on tour or in studio?
Tony: On tour! I mean, I like being in studio. I love all the creative side. It's exciting to always create music. I love having new ideas, I love sharing them with my guys. But, there's something awesome when you're on tour. I love people, I love talking to people, I love seeing new places, I love smelling new smells. And doing everything with friends. I feel lucky to be in this situation where we support each other. We all feel good together, we all know each other very well. It's been so long! When someone is a little edgy or wants to be alone, we know it, he doesn't even need to say it. But most of time, we watch movies, we laugh and above all, we talk to the fans. It's really special to be on tour. It's tiring but it's not that exhausting. People help you with your equipment, they feed you, sometimes you can take a shower. And then you have incredible people to talk to. People who support you. It is a very positive experience. When you're with the idea of making a good concert, giving a positive energy to the audience, whether you want to talk to the fans before or after the concert, they feel it. They feel that you are doing this for them, it makes them happy, and you can cherish these moments forever. On the bus we have a fridge, we have food, a shower, a toilet, a TV. We have everything to be happy. When you travel from country to country to do shows, it's a pleasure to meet those who made who you are. Why not stay longer after the concert to meet the fans? Meet the fans is an incredible feeling. Every artist should feel lucky. And then you have to show respect to your fans and the music industry. But in any case, the biggest difficulty of our job is to travel all the time and make it to the next concert.
What do you think of the new metal scene? Are there any bands you particularly like?
Tony: I've been around since 1969 and I'm still here. While being on road, I see bands. Bands that are not necessarily in front of the stage, but are there. Everywhere you go, from north to south, there are great bands. Whether it's known old-school metal bands or underground bands that make up to 50 people. Sometimes I meet people who say "I would have liked to have lived during that time, there were so many good bands", and I like to reply to them "it's cool to talk about music with you, but if you had lived in this time that you admire so much, you would not have known the bands of nowadays. "I mean, being a metal fan now, there is a larger panel. You can see the new bands just as you can see Metallica or Black Sabbath, and they always do it well. The world is like a big circle, we always come back to the starting point, it's incredible all the bands we have today, for example at Hellfest, how many bands there are? If you like a style or another, you're inevitably brimming with programming and this diversity that metal has. And in each band, you can find the same inspiration, these same inspiring bands. And I think we should be less closed-minded. When you like a band, you like a band. No matter what kind it is. Gender is only one way of defining music. But we're all in the same category. It's a shame to limit yourself to a sub genre, while we could explore other genres. For example if I do not like grindcore, and there is a band of grindcore playing in front of me, I should pay attention to the music. It's not because I do not like this genre, that I will necessarily hate this band, I might miss a very good discovery. For example, when I was 16, I was only interested in punk bands. If it was not a punk band, it was shit. Then I began to take an interest in metal music. I liked this band, and this band, and I thought that everything that was not punk, was not necessarily bad. (laughs) You don't have to love all of it, but you can appreciate some of it. Do not stop yourself from enjoying music or a band for a genre issue.
We are "RockUrLife", so what rocks your life?
Tony: I love RockUrLife! When I saw the site, I thought it was a very good title. But anyway, what rocks my life? People! I love people. I find people fascinating. They are warm, intelligent. They amaze me with their talent. Whether it is painting, writing, creativity in general. One day, when I was in school, the teacher asked us what we intended to do later in life. The pupils around me replied that they wanted to join the navy, they wanted to join the army, they were going to move to London, and so on. And then it was my turn, I replied that I wanted to meet all the people on the planet before I die. The teacher laughed and said "but it's ridiculous," I said, "Why ridiculous? ". He explained that it was impossible to meet all the people on the planet. I said that it would be interesting to die trying it. And when I looked in the books and the pictures of Paris, Tokyo, Rio de Janeiro, Milan, I found it was fascinating to tell me that there were people, a photographer, and that they had no idea of my existence. They didn't know who I was, they didn't know where I lived and they would never know. And I wondered, "What would it have been like if I had been there?" ". I would have known more about them, if they have brothers and sisters, what their jobs are, where they live, what they love in life. And thanks to the music, I have feeling to be able to do this, to visit these places. I have not met all the people on the planet, but at least I'm trying and I've met lots of people.
Website: venom-inc.com