TYLER BRYANT AND THE SHAKEDOWN (04/05/16)
For their first french trip, RockUrLife had the pleasure to meet and interview Tyler Bryant and Graham Whitford, respectively singer and guitarist from Tyler Bryant & The Shakedown. From Nashville, USA, these young talented rock n'roll musicians open AC/DC's shows on the current European tour.
This is your first show in France soon, right?
Tyler Bryant (vocals/guitar): Ever. Today is our first day in France. In my life. I mean, we arrived this morning on a ferry, we drove through the night from London. I was born in Paris, Texas, actually, and there a miniature Eiffel Tower there with a cowboy on the top of it. Pretty funny.
But for you Graham, this is not your first time, you've already come there younger, right?
Graham Whitford (guitar): Yeah, when I was younger I was here but I don't have many memories so this is like my first time. Making memories right now.
Do you know something in French?
Tyler: Yes, I know how to say my boots are dirty "mes bottes sont sales". I was really excited coming to Paris, I wanted to visit Paris, specially born in Paris, Texas, whenever I say "I'm from Paris" people obviously get confused and so I was looking a video when I was home couple of weeks ago trying to say something in French and that was the first thing who came up.
You gonna open for AC/DC soon. Is it a big pressure for you or not?
Tyler: We definitely feel a little anxious about it, we performed with them ten times in America, so it's like we have alrealdy an idea of what the show would be like, but your football team is really great here so we are really excited to play rock n'roll there.
How can you describe your band in few words for people who don't know you yet?
Tyler: Loud, raw and energetic.
Graham: I would say probably the same: authentic, honest and rock n'roll.
Tyler: It's rare. It's just pretty straight to the point, that's kind of what I mean. No bullshits. (laughs)
How did you meet together and why did you decide to create a band?
Tyler: I met Caleb, the drummer, and we've played together once and decided we wanted to create a band. And I met him [Graham] in New York City, he was introduced to me by a guy who put me out on a job, and then I've heard him play in Los Angeles, California, and I realised, actually, he's really good. So I asked him to join the band and he was going to Berklee school of music at the time in Boston. And he dropped out Berklee and moved to Nashville.
Cause you're not coming all from Texas?
Tyler : Me, I'm from Texas.
Graham: I'm from Boston, Massachusetts.
Tyler: Caleb, the drummer, is from Kentucky and Noah, the bass player, is from Virginia.
How can you repeat all together?
Tyler: I move to Nashville when I was 17, from Texas, that's what I met Caleb, so we've decided to stay up home based in Nashville. And Noah and Caleb went to school together in Nashville, so the three of us convinced Graham to move there. His entire family followed him too. It's a really great place. You should visit sometimes.
Graham: Yeah, I love Nashville and like he said, my all familly fell in love in there.
Why did you choose this name "The Shakedown"?
Tyler: We were going through an airport in New York, we just played a show with a pyrothenics opening, there were fire on the stage, we opened for a band that used to use fire. Some of the powder got back on my guitar. We were going through the airport of New York City.
Graham: In English language, the shakedown means like "getting packed down".
Tyler: Like a police officer who search something. And so, they put me on side and they were checking my guitar and Graham was like "oh they're shaking him down". And we decided to make that the band. It could mean a different kind of things, it could be dancing.
What is the music atmosphere in Texas?
Tyler: I grew up around a lot of blues music, especially in North East Texas, where I'm from, there're a really great blues scene, in Dallas, Texas, in Austin, it's really culturally rich with. Just so much great blues guitar and I feel very fortunate to have grown with so many great guitar players. And there's a lot of country, western music as well, especially in the town I'm from: I'm from a town where farming is really the only way to make a living if you're not gonna work in a factory so a lot of country and western music is played.
You sound like a very good old rockn'roll band, where does this sound come from?
Tyler: I think it's definetly a lot of our influences. We listen to a lot of classic rock, as well as modern rock.
Graham: I think like, I mean, we probably, if you want some band I would say The Black Crowes, The Rolling Stones, Led Zeppelin. There're should be another one.
Tyler: Tom Pretty And The Heartbreakers. There're so many other bands too. I love all the blues music like Johnny Winter and others. I got to play with them, a couple of times, and I got to meet them.
What's your writing process?
Tyler: We write a lot as a band, all together. There's really not a set way, we do it a lot of different ways. It just kind of depends of who's inspired at the moment, sometimes. For example, the song on the EP "Criminal imagination", Caleb had the drum beat, and Noah has the bass riff, I had a title. We all set down a sort of work done together, and there're certain songs like Graham had the title for the Wayside and I just started a kind of speading out lyrics. There's really not a set way. We just hang out, make music until something happens and I'm constantly reading, making notes, singing notes into my phone, remember them. The iPhone is a really great song writing, you can put in ideas very quickly, specially when you're travelling.
Let's speak about your new EP. What is the story of "The Wayside"?
Tyler: I think it's, that song, particularly "The Wayside", that song was written at the point where we didn't have a lot going on in our career, we were at home a lot.
Graham: We were kind of stucked.
Tyler: That song was like almost appear as it speaking into music world, this thing you love very dearly going umpretty, don't let me, call back on the wayside. Don't let me, kind of fail away. That's where the song came from. We just switch management, just had a lot of things. In transition period and there were certain relationships in our life that was desolving and everything were sort of changing.
Funny short stories to tell us?
Tyler: We have some pretty fun stories. We had tour in Canada in a camper, it was a disaster: the roof blew off, and the battery died.
Graham: In Canada, everyone spoke French, we don't know any French. And also like, the water stopped working, we didn't take shower for a week. It was bad.
What's next for you?
Tyler: I think we just gonna keep making records and keep touring. This is our first ever European adventure so we just wanna do our best to make some fans, new fans over here and go back to the States, and tour there and over back here. We just gonna keep doing it cause we have fun doing it.
Graham: Just keep writing and try to perfect song writing. We are constantly trying to grow musically.
Tyler: Push ourselves to be better. And I think, even play with AC/DC are pushing us to be better of what we've been. Cause we're put in a high pressure situation and we can't be intimidating on stage in front of 40 000-50 000 people. And so I'm really grateful that we have the opportunity, because it does make us want to be best version of ourselves that we can be.
Graham: They are one of the all time greatest rock band.
Do you have some band to recommend us? What are you listening currently?
Tyler: Rival Sons are really good. Band Of Skulls are really good. There're a guy actually that making a lot of noise, Chris Stapleton, amazing. I feel like there're so many great songwriters and great singers, performers, coming up right now.
Graham: I'm a big fan of Josh Homme.
Tyler: Trixie Whitley, did you hear about it? His father, Chris Whitley, is one of my favorite artist all times.
This is our last question, we use to ask it: what rocks your life?
Tyler: What rocks your life? [to Graham]
Graham: I think it's kind of what we do, leaving every day and rocking now.
Tyler: Yeah, I mean last night we were sleeping in this dirty van travelling across places we have never seen before just kind of healthy, stoked on life, I think it just making the most in whatever situation you're in and chosing the city good and then maybe turning our music couple of little bit. Maybe not a little bit, maybe a lot.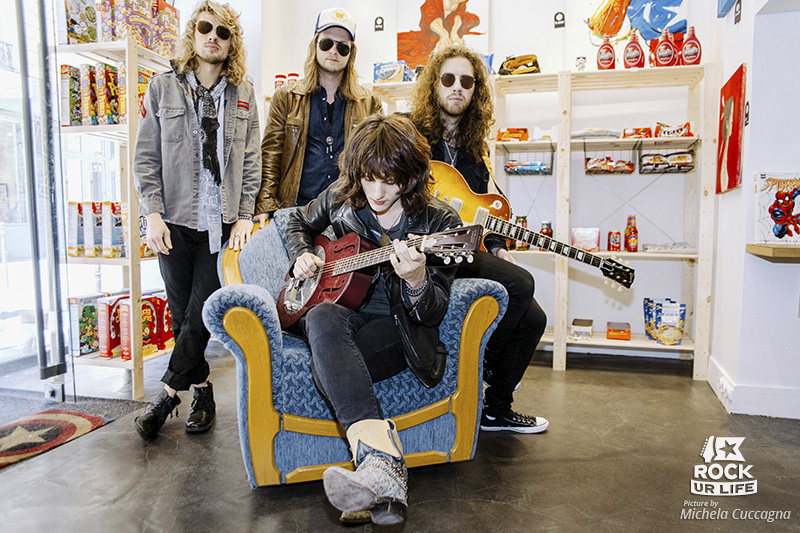 Website: tylerbryantandtheshakedown.com