Back from a nice summer festivals tour, Matt Heafy (vocals/guitar) and Corey Beaulieu (guitar/vocals) from Trivium ended their trip in Europe with a small promotional tour whose last day took place in Paris. We met them to discuss about their seventh album, "Silence In The Snow", to be released on October 2nd through Roadrunner Records.
Hi Matt, Hi Corey. Around ten days ago, you were headlining Motocultor Festival with Opeth in France. How was that?
Matt Heafy (vocals/guitar): Incredible. It was such an amazing festival for us because we are playing more the metal and the extreme festivals and here was not the more mainstream that we typically do. It's really a pleasure to play alongside with lot of our favorite bands in the planet like Opeth – Opeth is one of our favourite bands – Septicflesh, Krisiun, Alcest… So we were very excited about that.
Aren't you afraid of getting away from the metal scene with this musical shift?
Corey Beaulieu (guitar/vocals): We're just a group of metal fans writing metal music we want to hear. So regardless if its super heavy or more melodic, we like all aspects of metal. We are like students of the all scene. We like and we know extreme music, we know black metal, death metal, thrash metal, traditional metal and the all roots where everything came from. We love so much different things about metal, we can put whatever we feel like into our music. The all foundation of metal was built on big melodic vocal with powerful music. And you know, we've done the screaming things and after this long in our career, it just seems like a new way to go or a new creative challenge of being inspired to write this kind of music. And challenging ourselves to do something different than we did before. We don't like to write the same record over and over again. This album doesn't sound like the other albums but the sound and the grant skin of what Trivium is, this is like essential Trivium. Matt has always had a very distinct voice on all the records even if there is a lot of screaming , there is always the melodic aspect to our sounds that is always a big part of what we are. On the records, you have more singing, less singing, more screaming, less screaming, it just depends whatever the music calls for. And with this music, it just seems it didn't need it because its so powerful on its own and it has its unique vibe because it didn't have any screaming. It's a new frontier of where we can go creatively and it felt very good.
How was the reaction of Roadrunner's staff when they heard the first songs from the new album?
M: We basically did not let them hear anything until the record was done.
C: It was a great feeling when our label and management had kind of different reaction. They said it was "big stuff", "next level". To us, it's not an other album and hopefully this record is a flag in the ground. It's ten years started the next ten years with something really significant of an album.
As part of the promotion for the new record, you were in Stockholm for a Q/A. How was the event?
M: It was great. We did on the last past tours as well. We always liked to have an open forum where we can discuss with the people supporting our band. I recently gave lectures in Florida's college where I discussed the topic of failure and failure as a necessity in life to succeed.
Can we expect such thing in Paris?
M: You never know, it really up to the label to poke it on a time there is not a show day.
Lyrics from "Silence In The Snow" are somehow contradictory, because on the one hand, there is snow, the white color and on the other hand, there is war, blood. What is the idea behind this "silence in the snow"?
M: A lot of songs on the record are lot more direct than the songs "Silence In The Snow" and "Blind Leading The Blind". With "Silence In The Snow", it's a set of lyrics I started writing back in 2007. We first wrote the songs. We were seeing Heaven And Hell live in Japan with Dio and this song was inspired by that night. We did not use those lyrics until 2013/2014. And then it was probably only a day before recording the vocals in the studio, I wrote the second verse and the bridge of the song. With this song, anything the listener sees in the song is certainly not incorrect. For me, I like this idea of being a rally or a battle cry, but also a sort of anthem that people can pick what the definition is to them.
The "Snofall" introduction was composed by Ihsahn. Its known that you're a huge fan of Emperor. How was born such a collaboration?
M: I've been friends with Ihsahn for couple of years now. I was able to meet him through mutual friends. Over the years, we found that we both have similar interests in the metal world. We both joined our bands about the same age. I think he was 14 when he joined Emperor and I was 13 when I started with Trivium. We have the same career path. Every Emperor album is a drastic change from the previous one, they were not afraid to do that and I think we did the same thing. When we finished the album, we realized that the only thing missing was a proper intro. One of our label team member was saying 'well, every metal band starts with a symphonic intro'. And we said, of course we will do something that is a symphonic intro. So we went straight to the source of some of the best compositions that are in metal now. We sent him the music, the artwork and said : "anything you see in your head for song title and song would be perfect". And that's what we can up with.
In your last music video for "Blind Leading The Blind", you act as a blind guy. What is the story of this man?
M: This video falls in the category of… whatever you see this video has is correct. There is no right or wrong answer. We've seen tons of different interpretations of what people think the video stands for visually.
C: We wanted to show an other side of the band, something a little more on the humor side but still fits with the vibe of the band.
And are you really good at arm wrestling?
M: No, the guy I was fake arm wrestling with is 265 pounds wrestler jujitsu. Even faking arm wrestling with him was so hard. (laughs) He is one of the strongest human being I have ever met.
The title track has a small heavy metal influence, even vocally speaking. Is it something you agree with?
C: When we were young musicians learning their instruments and getting into metal, we were obviously influenced by Metallica, Iron Maiden, Megadeth, Slayer till the 90's with bands like Pantera. As we got older and keep doing more, we were kind of thinking "we always had these influences and we already know the stuff so well". So we were wondering where can we find a new way of inspiration to do something different or being inspired by something different than just the same old stuff that we've kind of being influenced by since we were kids ? We decided to keep going further back with the Black Sabbath catalogue, Rainbow, Deep Purple, Diamond Head. It became a new inspiration and even though those old songs have been around forever, you got a new appreciation for how great they are. So we have these new things to learn from hearing our heroes got the influence from and kind of helped us and inspired us to write some stuff that we probably did not come across if it was not for hearing this new style. It was really exciting to be kind of a student of metal. And hopefully we will be able to carry the torch someway and those guys can look at our record and hear those things that they did in a way that make them proud that they inspired us.
Trivium is this kind of rare band who does not forget his first records and keep playing songs live from each record. Is it something important for you?
M: Definitely. A big thing we always say is that if you're favourite album was "Shogun", "Ascendancy", "In Waves" and that's the one you love and prefer, we will play it live and we will play appropriately, it will be the same way you heard on the record if not slightly better. The screaming will on the screaming part, the singing on the singing part and that's something very important to us.
Matt, its known that you are a huge fan of extreme metal, especially black metal. What are your favourite black metal bands?
M: I could name my favourites quickly and then French favourites since we are in France. The favourites are obviously Emperor and Ihsahn's solos albums as well. They always broke the barriers of what you expect them to do. As far as France goes, France is a collection of some the most diversed and inspiring black metal band. I put Alcest on the category, you know their new album doesn't sound like black metal but they come from it and I think that's what make them even more black metal than the traditional because they broke the barriers of what black metal should be. Alcest, Deathspell Omega, Blut Aus Nord, Anorexia Nervosa and Regarde Les Hommes Tomber, kind of sludgy black metal. During Motocultor Festival, one of the band member found me, gave me the new album and thanked me.
Still about black metal, can you tell us about your meeting with Rose from french black metal band Anorexia Nervosa?
M: Yeah he came to our Bataclan show when we were headlining. He is a great dude, he sent me some old Anorexia Nervosa T shirts. We spent a fun night with him. The stuff he's now doing in The CNK (other band from Rose) is amazing!
You have a lot of great memories in Paris/France. Can you share the best one with us?
C: It was last time when we headlined in Paris at the Bataclan. The energy level in the crowd was just at an other level than before. It kind of shocked me. The pit was going on and every one was engaged in some form or an other. I just wanted to stop playing and watch the crowd because the energy level was so high. At some point, I was looking up and saw these two kids and they were looking like 12 years old. They were kind of "this is my first metal show" and had their arms around each other and headbanguing so fucking hard that I thought they were gonna knock themselves over the railing. When I'm talking about this particular show during interviews, I just have this feeling, "I can't wait to play in Paris" because its been a couple of years so hopefully all those years we haven't played here and with the new album, we can reach an even higher level and top that show. So hopefully when people will read this interview and remembered about this show, they're be fired up to top it next time!
M: It makes me think of the first time we ever played in Paris, back in 2005 at La Boule Noire. There was like 25 people there and that's so good to see the growth between 2005 and now, coheadlining Motocultor this year, being special guest at Hellfest last year.
So you're gonna tour in the US and Canada next September and October. Can we expect a European tour after that? Most particular in France, Paris?
C: Right now, we don't have plans for a headline tour quite yet but the next time we will be back over Europe… offers are coming in and we have to check the schedule but we will be doing june festivals, like Hellfest. I'm hoping it will be the case because I love this festival. And maybe after this a winter European tour.
If we say "metalcore in 2015", what would you answer?
M: When our first review came, people were waying "oh you guys are a metalcore band, right ?" and the big thing that we always said is that we are a metal band. Metalcore is definitely an ingredient of what Trivium is, but it was not the main one.
But are you listening to some 2015 metalcore albums?
C: I don't really know what is considered metalcore anymore.
M: Deathcore kind of took its place. And unfortunately, As I Lay Dying is gone. And they were the kings.
Last question, our website is called "RockUrLife". What rocks your life guys?
M: Actually, the fact that we just finished our press tour because it was the last question of the last interview! We had a great time with successful festivals that we headlined and then this press tour where all the interviews seem really excited about the new album. Life is good right now. "Silence In The Snow" is rocking our life right now!
C: Or even taking over our life ! (laughs)
M: "Merci" !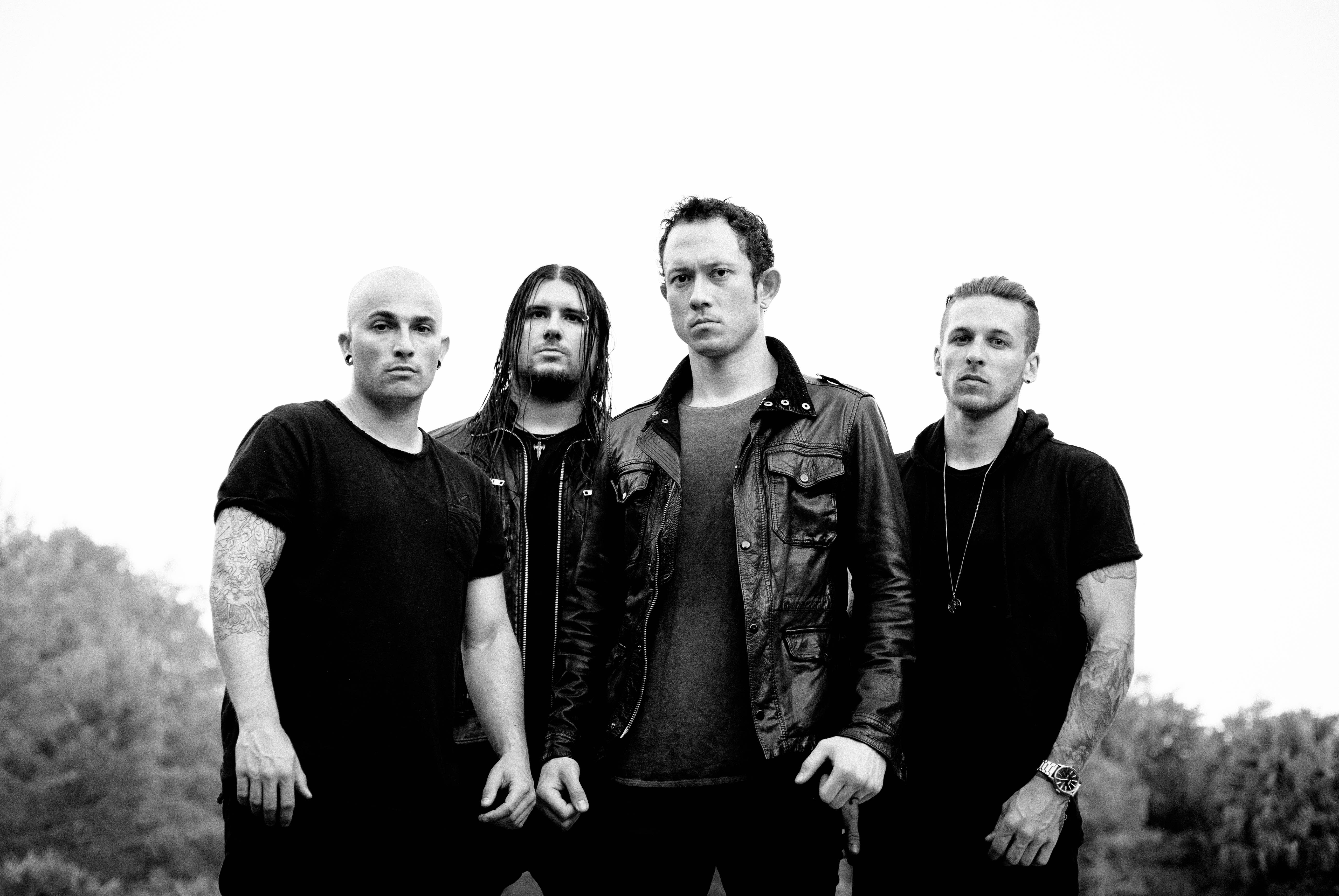 Website: trivium.org