THE KRIS BARRAS BAND (16/11/18)
From professional fighting, to a music career, Kris Barras is definitely unique! Lets find out a bit more about him.
Hi Kris how are you?
Kris Barras (vocals/guitar): I'm good thank you!
Good thanks, even if it's a bit cold today in Paris.
Kris: Oh I see, it's just a bit warm for us. (laughs)
Your latest record came out in March. How are the feedbacks?
Kris: It's been brillant! You never really know how it's gonna go when you release an album. How people are gonna take to it? But it's been really really good. We've had great reviews, lots of people buying the album so it's been really cool, yeah.
Comparing to your first one, it's a bit less uptempo. How do/can explain it? Is it because of the subjects you are dealing with?
Kris: I'm not sure there's a massive difference in tempo. Both albums kinda got couple of slow ones and the rest, it's more upbeat. But I don't know. I didn't write the second album by thinking about the first album. There's no comparaison there, that's not how my brain worked. I just wrote some songs that I wanted to write and put them out. This is what I'm writing, this is what I'm doing, yeah.
What was the click to go into this direction with more personal stuff?
Kris: There's personal songs on both albums. Obviously on "The Divine And Dirty" (2018) there's "Watching Over Me" which is probably the most personal song I've ever written, that's about the death of my dad. But whenever I write songs, I may have different approaches. Sometime it's about experiences in my life, or something I heard on the news or something that happened to my friends. Both albums have a little bit of that.
You also stated that you "tried different approches, do things I've never done before". Like what?
Kris: With the first album "Lucky 13" (2016), I recorded myself, like a home studio, so it was done on a very very small basis. It was self produced. With this new album, I wanted to work with a producer. Someone how's gonna put some input on songs, on sounds and that's what I did here with Josiah J Manning. And he actually became my full-time keyboard player.

I didn't wanted to have to think about the recording process. I just wanted to play. We went straight to record, that's it.
You were already playing the guitar before getting into fights professionaly. How did happen your return to it once you ended up your career? Where you still playing for fun or was the guitar hidden somewhere?
Kris: The whole time I was in MMA and Muay-thaï, I was still playing guitar. I used to play in bars some weekends just for extra money. I also played at weddings and that kind of parties. So I was still always playing. But I wasn't writing music, it was only covers like Jimi Hendrix, Gary Moore, Deep Purple.

Then when I stopped fighting, I just started to write some songs and went from there really. Back then, my writing wasn't strong enough but with so many years out of it, well out of writing, I had a lot more to talk about. More inspiration.
How's the writing process like for this album? On your own?
Kris: I write all the songs myself.
And how is your process? Do you demo? Do you keep riffs and go through after?
Kris: The traditional guitarist comes with a riff then write a verse and a chorus. Then you find a melodine line and write lyrics. With this album, some of the songs I wrote the lyrics first actually. Without chords or melody, just poetry. Or it can be a chorus with chords and a melody, write a riff then the lyrics. So it's all different. In the past, maybe I was building it from a riff and then write the song. But for this album, I tried to mix it up and try from different angles.
What did attract you into blues rock music? Why isn't it hard rock or metal music?
Kris: It is what it is. It's not a decision or I didn't woke up like: "Oh I'm gonna write blues music". It's just what I play. I would even not necessarily call it blues rock. People call me a blues guitarist but for me it's rock, southern rock, country and the blues influence. Because that's what I started playing when I was a kid. But I didn't sit down and stated: "I'm gonna write a blues rock album". It's not what I think, I just write some songs and people label it. Cool fine, call it what you want. (laughs)
Which parallels can be made between your previous career and this one? Like preps/focus etc.
Kris: I think when you fight professionally, you have to learn how to deal with nerves and adrenaline. That's a big big part beacause it can break you. Your body can go one way or the other, you know. Your nerves can even ruin you. Learning to deal with that was a big thing. So when I've done some big shows, maybe in the past I passed that feeling. I know how to deal with it and it makes you perform better.
How would you define your album? Why should people have a look at your music?
Kris: Tough one isn't it? (laughs) My definition isn't always the peoples' but obviously it's a good mix of stuff if you like catchy songs with some decent guitar work in there. A bit of blues, blues influenced rock, country in there, slide guitar, southern rock. I don't know. It's not just a 12-bar blues album.
What's next?
Kris: So there's the "Rockin' The Blues" tour, with Jonny Lang and Walter Trout coming in May, two very big Amerian artists. We're doing a bunch of dates across Europe where we'll all do our own set and at the end of the night, we'll do a few songs as a jam. It's great to be getting with those guys and we'll be back in Paris playing La Cigale on the 26th of May.
And the final question is: we are "RockUrLife" so what rock Kris Barras?
Kris: (laughs) A well made cup of tea with cold milk. You don't realize how much you miss it until you're coming to Europe. (laughs) Because European countries don't understand British tea. So that's what rocks my world! But if you ask me next week, I'll probably be something else. (laughs)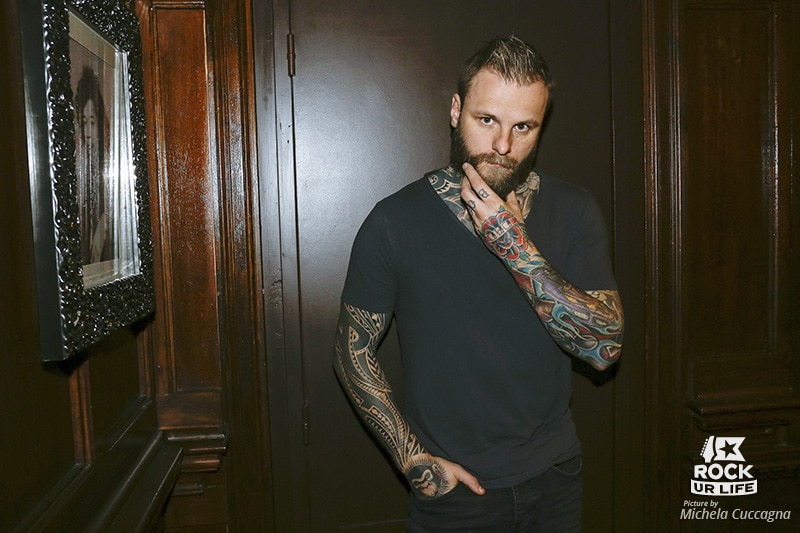 Website: krisbarrasband.com