THE ALL-AMERICAN REJECTS (22/06/12)
The All-American Rejects are back! A bit surprised by their new album "Kids In The Street" which sounds kind of different compared to their old stuff, we're going to try to know a bit more about it. A new occasion to see them live at La Flèche d'Or in Paris or on different festivals like Main Square Festival or Nîmes Festival during this summer. Actually on tour with Blink 182, RockYourLife! had the great honnor to meet the adorables and totally crazy Tyson Ritter and Nick Wheeler.
How are you?
Tyson Ritter (vocals) : We're traveling quiet well for the moment! (laugh)
Nick Wheeler (guitar) : The tour started two weeks ago I think. I just know that in exactly on month we're coming back home.
T : Soon, soon!
N : Yes, and it's cool! Anyway, tonight's going to be awesome. We've played in few bigs arena with Blink 182 but here, it's gonna be really great. Small venues like that a really cool.
Happy to be back in Paris then?
N : For sure!
T : Yes, last time we came was in 2009 but I couldn't sing because of my voice going bad. We had to cancel the show at the last minute.
N : But now we're back!
And we're happy about that! You're actually coming back with a new album "Kids In The Street". What about the feedbacks? Did it come up to your expectations?
T : Yes! This album is really different for us as a band. We've done this album that a lot of people didn't really wanted to come out, we were looking for a new public and we've apparently done it with success, at least in the USA. At least it came up to my expectations and really quickly, it only came out few months ago and can already what I was waiting for. There is few songs we're really proud of.
N : When we went in studio we wanted to make an album and it's still really cool to see that people like it as an album.
T : Yes, and not only having some "Oh, song number 3 it's really cool!" I don't like people who just pick up a song and only remember this one. When you're a good band, you should be able to make a complete album and not only one good song in it.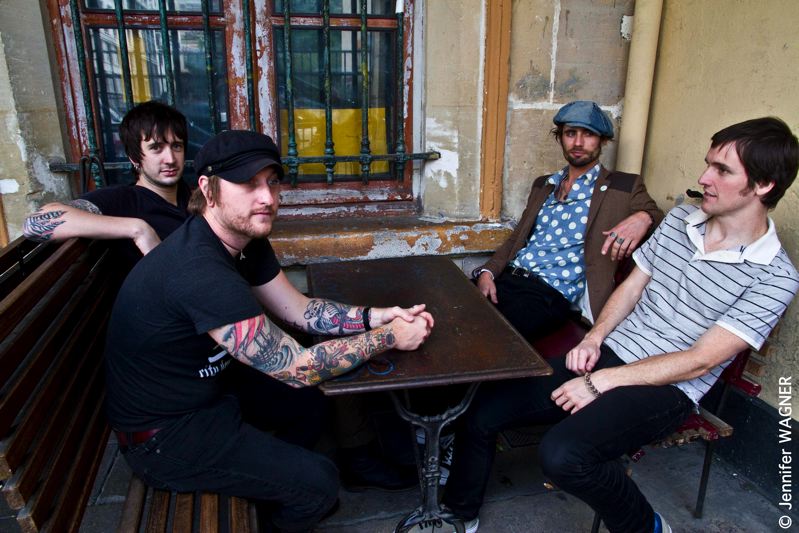 By the way, even in the music this album is pretty different. It sounds more pop doesn't it?
T : Yes, I love it ! I meen, "pop" if you look at songs like "Move Along", it's one of the most poppy song we've ever written. Personally, I don't think it's that pop really.
I meant that we were a bit fearther again of the pop punk side you had at the begining, don't you agree?
N : Tempos are totally different yes. We don't write the same songs. It's an évolution as musicians, we don't want to keep playing the same music all the time. I know lots of people listen to bands to always find the same thing, but we don't consider that we're stuck in one type of music.
T : We actually became a commercial band by accident because our melodies were really catchy. But we keep righting like we always did until now and we don't go on that mainstream wave and we don't want to! We don't use that sort of cocktail that make you do that "one good song" we were talking about it. It's a bit like if your mom was cooking the same meal everyday, you see? (laugh)
And on the album's artwork, you're all wearing a mask, why?
T : I've bought those masks in Amsterdam, something like 400 of them. I've always considered that those masks represented every person I've been while we were writing this album. Thousand of different people. Writing this album was like I had to go through everyone of them to find my real face. It means something totally different for everyone actually but that's what it means for me. It shows all the different masks you have to wear in your life before you really find who you are. The song "Kids In The Street" actually talks about that, that moment where you've found it and you feel more pure and free. The album has been written in that spirit.
All that seems like it've been done with lots of passion, you were really implicated.
T : Yes, we can really say that everyone of us have made it with their hearts. More than only music. Until now, it always been music more than everything but with the time you found something else at least as important than it.
N : For all those people who still buy albums and sit on their sofa to listen at it with the physical cover in their hand. It's a complete packaging and we feel that we've manage to made it this time.
T : We didn't just put our faces on the cover, we've thought of how we were going to put them.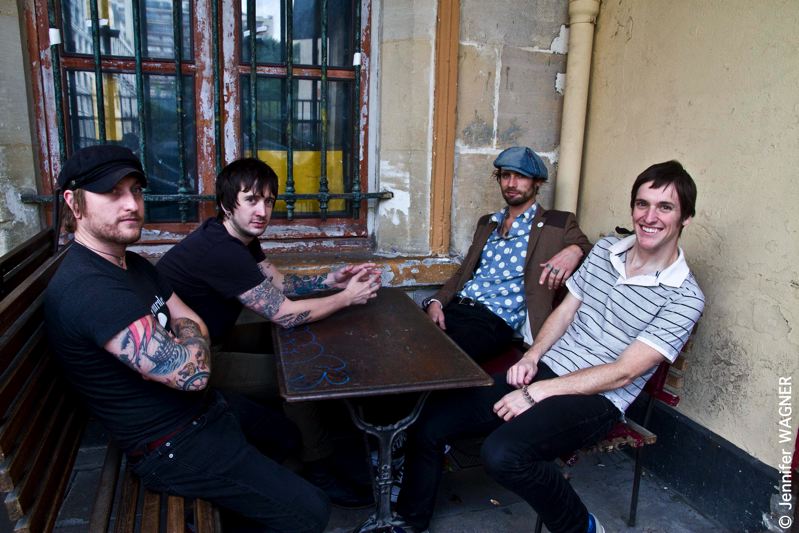 There is few collaboration on this album, how did you decide all that?
T : Mika is because of our producer. I'm a great fan of all his stuff. His music and his melodies. We wanted to go in studios with a producer who had a vision pretty close of ours. Then we've invited Mika on "Heartbeat Slowing Down", my favourite song on the album. I hope it's the song how will get the biggest on it, having that guest on it makes it even bigger I think.
N : We really tried to think about what type of voices we wanted to have on every song. If sometimes we think a girly voice would be better there or there, Tyson sings it with a sort of girly voice. We don't do collaboration only to add a name on the album. Some people do, we don't.
You started to speak about your producer, Greg Wells. Can we consider he had a particular influence on your "poppy" new direction on "Kids In The Street"?
T : I wouldn't be able to tell how much did Greg influenced us. I can only tell you that the captations have been done in really clean and pure conditions. He did all the piano and keyboard parts on it. And it's just the best musician I've ever worked with. He can take any instrument and make it sound like the best instrument ever. He could even take a ukulele… He makes me crazy! (laugh) It's a musician for musician really, he knows what you want, he can guess you looking for. It was really different of the other people we've worked with, they were more looking to "produce" than "making a album together".
N : Greg really wanted us to play each song together live to make it live itself.
T : Yes, most of the album have been recorded in live conditions which is pretty rare.
Apparently, the band has really grown up.
N : Yes, there is a lot of things you don't think about when you're a young band. Your goal is to do music without even thinking about the rest, you keep playing in a garage.
T : We just realised that the people we used to work with before didn't know a lot about it.
What do you mean?
T : I'm talking about labels. They don't know anything anymore now. And it's just so cool to be able to put out an album you really wanted to do, you understand?
I think I do…
T : Before, when MTV was MTV, you just had to sit at the table and eat. Now, you've got the internet, it's so quick. Then if what you do is controlled by businessmen it won't be that pure and the kids and even me will feel it. That's why it was that important for us to find ourselves again as a real band. You know, when you give your music to labels, hundreds of people work on it, if you make on yourself, it's only you.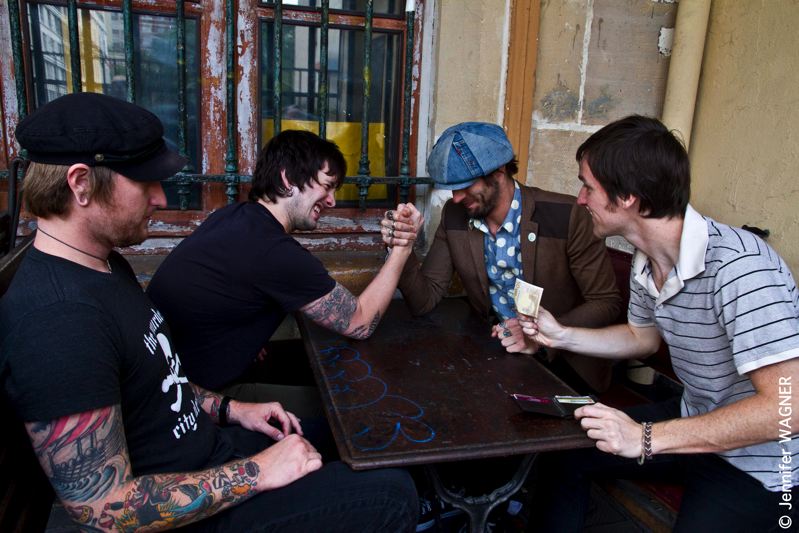 You said this album was going to coincide with the end of the world didn't you?
T : Yes, the time when this album will reach it maximum will be at the same than the end of the world! (laugh) But we've still got few months for the moment! (laugh)
N : I'm going to survive!
T : Ok, Nick's going to survive !
But, do you really believe in that finally?
T : No! I just like to think sometimes that it's really going to happen. It's weird isn't it? I'd like to see the sky fall to pieces. I mean, I don't want anything bad to happen to anybody but it would be crazy to see this fantastic thing. It would really cool to be able to say "Wait, we've got 5 minutes ? I'm going to smoke a last cigarette and enjoy this a last time". Take a nice cocktail and take some sedatives to be sure it doesn't hurt. It could be cool!
Something totally different but, Tyson you've got you proper foundation now. Could you introduce it to us please?
T : DontHateOnHaiti.org! I woke up a morning and I saw this tragedy on TV. Two weeks after it disappeared and everybody has forgotten. But there were still thousand of people who lost all they had. With another foundation, charitywater.org, we've collected $30 000 donates. It's awesome, I'm just a little kid of Oklahoma and I just thought "Hey, care".
Great! You guys are coming back from tour with Blink 182, how was that?
T : Unbelievable! The biggest European tour we've ever done. We were really excited to do all that.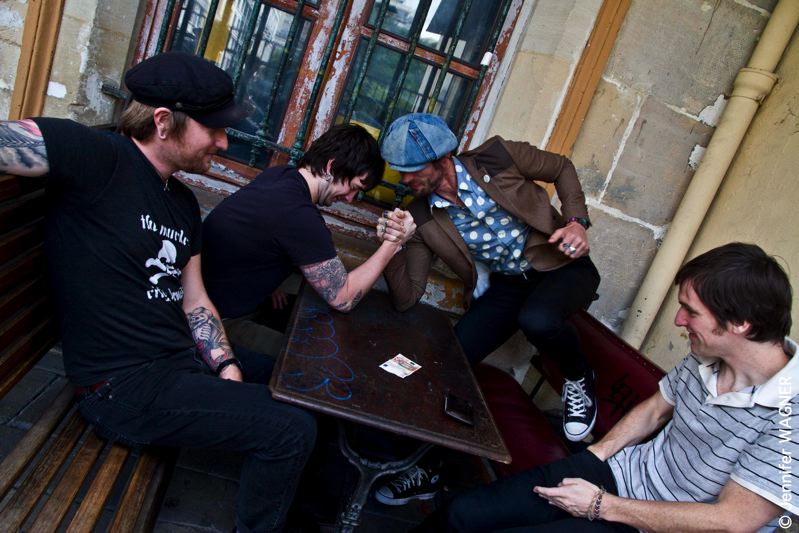 All those huge arenas to finish in that small venue. What's the different for you?
N : It's been years we've been coming over here and it's always in those sort of venues and it's always cool. I love playing in big venues but playing in smaller one is better, you can play twice longer and all.
T : Just to feel closer from the audience. When you play in arenas, you're talking to a general audience whereas tonight I can just point someone and start to talk with him directly. I could look at him in the eyes and feel the connexion. I prefer those sort of venues because it's a bit like church. A bit like a cult. I like that! (laugh) A sort of religion in big venues and a cult in smaller ones.
You also play in festivals. Even more the difference between smaller and bigger venues, what's the difference with festivals?
N : It's a bit like war! Everybody's totally different, you never what you're going to get.
Tonight indoors, and after two festivals left in France. What do you think about the french crowd?
T : It's pretty cool dude! It always been a pleasure to play here!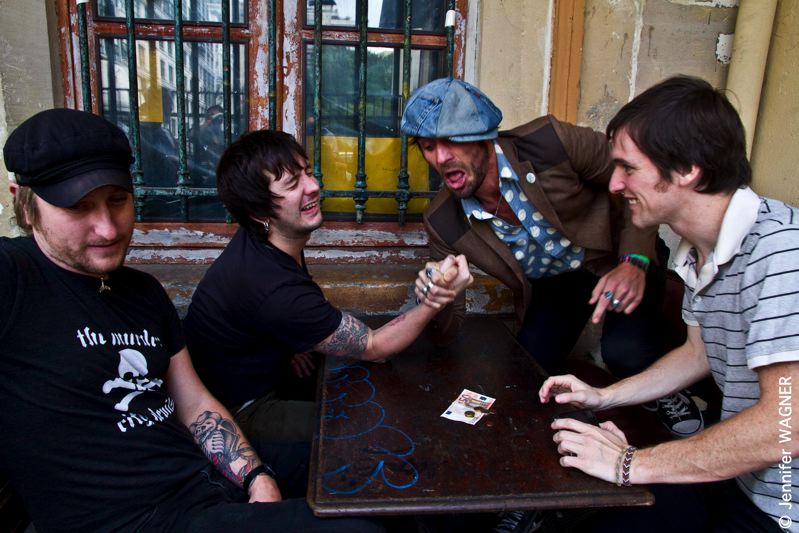 To finish, our webzine's called "RockYourLife!". What rocks your life?
N : I could just tell you "what I'm doing now". But finally, something more simple than that like being able to take a shower and a coffee every day.
T : Is this interview going to be on paper or on the internet?
On the internet why?
Is it going to be only put in french?
Both languages!
T : Then, in the French version you'll put my college girlfriend who broke my heart. And in the English Version you'll put an English tea! (laugh) I'm not a guy who's only interested in that but, French girls are so beautiful! Just if all the beauty have been reserved for them!
N : Yes, food's better, girls are beautiful…
T : That's maybe why! Good food makes pretty face! (laugh) People are adorable here, all levels, better than anywhere!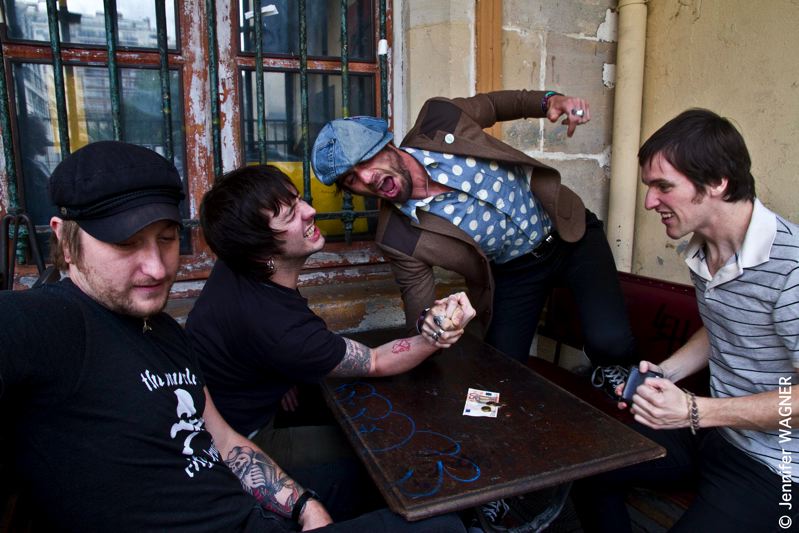 Photo credit : Jennifer Wagner
Website : allamericanrejects.com