Stone Broken will release its second album and we got to talk with Robyn and Rich about it!
 
Hi! How are you? Is it your first time in Paris?
Robyn Haycock (drums): It is! 
Rich Moss (vocals/guitar): We've been to France twice but this is actually the first here in Paris.
You're releasing your second album "Ain't Always Easy" in a few weeks. Do you feel any pressure about it? Confident?
Rich: I'm really happy and proud about the album that we managed to produce. But in the end you never know how things will go. Also there's always a bit of a nervous energy. I think if you're nevervous about it then you've lost the love about writing music. So i"s good to have that anticipation for the release. The pressure… it's a good pressure it means that we're pushing ourselves to do better and better.
So we read about the history of the band and its beginning. The music is pretty groovy and up tempo but it seems like lyrically it is way deeper than a usual rock song. Is adversity a leitmotiv for the band? To keep fighting and moving forward.
Rich: Yeah I think with each song that we write, we try and have a statement, a message in there. Whether it's for fighting for something you believe in.
Robyn: Believing in yourself.
Rich: And they're other issues like addiction and there's one song on the record about domestic abuse. That sort of things gets important to be able to use what we do as a way to inspire others to create change, to speak about things that are normally not spoken about. It's important that we use it that way and not many bands do. A lot of bands will write about going out and drinking, which is fine, but this is just our style and how we feel we need to light things down. 
What are your musical influences? How did you get into rock music?
Robyn: Since very young I was raised with Led Zeppelin, AC/DC, classic stuff. Then as a teenager, I went into the nu metal and metal kind of scene. And now it's more about the American bands with melody even if I still listen to metal.
And what about playing drums?
Robyn: My dad, he used to be a drummer in a band, but a garage band kind of thing. Then my parents bought me my first kit and had lessons at school. So there was a natural progression there. Plus I can play guitar so. (laughs)
Rich: It's quiet rare to allow their kid to have a drum kit. My parents would never let me have one when I was a kid. (laughs)
And you Rich?
Rich: Growing up, my dad listened to Black Sabbath, Deep Purple, all the classic rock bands but then my mom listened to a lot of motown, funk and pop. I already said it but you can't ignore the music you listened to as a child, it's still there somewhere. It's a quiet odd combination (laughs) to get all those together but in the end it's rock with groove, with heart and soul. I think that what's happened with me, all those forged together. But when I started playing, I started on drums and then I went on the guitar 'cause my parents won't let me have a drum kit. (laughs)
Robyn: (laughs)
Rich: So I was in a lot of different style of music and then this band it's the first one that I went to sing, I've never done it before but Dave Grohl did it so I gave it a try and it worked out great. Personally I love bands like Extreme, Mötley Crüe, Skid Row and then when I met Robyn at college, she made me listen to dirty metal. (laughs)
Robyn: (laughs)

Rich: And I think the music we write now is similar to the music we listened to so very American like Alter Bridge, Shinedown, Halestorm, we look that kind of music.
Are you okay if we qualify you as a British US-rock band?
Robyn & Rich: Yes! (laughs) 100%.
In which state of mind were you before this new album? How's the process like in your band?
Rich: We just came off tour with Glenn Hughes which we were offered barley last minute. We set aside three months to write the album so we ended up with six weeks left (laughs) so it was a very short amount of time. But after that tour, we didn't have to lure ourselves to write an album we were ready to. Although we had the pressure about the time restraint it happened quiet naturally.
You started from scratch? No demos?
Rich: No, we had two songs which we tried out on the road but the other ones didn't exist at all.
What about the writing and the interaction within the band?
Rich: It's mainly me. 80 to 90% of the music and all the lyrics. But when the songs are almost complete, everyone will listen to it and see if they think that needs to go into a different direction or just add something to it. It's quiet a good way of writing because the idea comes down very quickly and the guys always can have their opinion and change things, that's the way we work. Because the way I write, everything happens in the same time, so I just need to get it from my head to a computer.
You recorded with Romesh Dodangoda once again. How did he end up working on this album too?
Robyn: The first time we were around, we went to him and described what we wanted to do and we felt he nailed it. So after the first one, we went for the second one and again it worked perfectly. We spent three weeks properly focusing on the music.
Rich: Because he done the first album and he knew that we wanted to move up to the next level, he knew how to get us there. He knew what kind of production we wanted. And we got a great chemistry with him, going to the studio was like going to an old friend again. It happened very naturally and very quickly. We recorded a great album again. 
You have heavy side and a melow side. How do you balance both?
Rich: When we were planning the album we were making sure that we covered everything we needed to. It is a tough game to get the right balance especially when you try and write as naturally as possible 'cause anything can happen. You kinda hope that it does. (laughs) You just end up writing songs and if they're great they'll end up on the album.
Robyn: This time it feels like it flows a lot much better because our previous album was several pieces put out together but for this one we had the chance to focus on the writing as a whole and making sure there's a beginning, a middle and an ending.
What do you prefer: heavy stuff or melow stuff? (laughs)
Robyn & Rich: (laughs)
Rich: It depends. But when I listening to those big rock songs, the one thing I'm after is that huge chorus. I think all the best songs got big choruses. I actually often start from there so the rest of the song can go into a different direction.
You said before that you never sang in a band. How do you manage your vocals? Lessons?
Rich: I never took lessons. I only sing in this band because we didn't have a singer. (laughs) But then when it got serious I looked on forums, searching for tips and I've completly changed my diet and while I'm the road too. No cafeine, no alcohol, that all helps and of course I ask to other like Glenn Hughes or the ones with tour with. They all give you tips and you always learn.
Were you surprised with the release and the success of your first album? You supported many great bands and artists. What's the most amazing highlight you have in mind?
Rich: We were quiet surprised how it went because you never know. We got picked up by national radio in the UK which really did help us.
Robyn: That really gave us the ammo to get there and be up to play the whole country which was good.
Rich: We had an awesome 18 months. We got to play Download Festival, Ramblin Man and we'd been fortunate to share the stage with some legends like Cheap Trick. So it's pretty amazing what we've done with only one album and it's been a crazy journey and I've loved every single minute of it. 
Top 3?
Rich: Wow… fuck. (laughs)
Robyn: For me, "Follow Me". Purely because on the previous record I didn't do backing vocals and on this track I did some and it's pretty nice to hear yourself like "hey there's me" (laughs) and it adds some layer on the top of the song.
Rich: Instead of just hitting things (laughs) I'd say "Heartbeat Away" it's a personal song and I got a connection to it. It comes right from there.
Robyn: "Believe" because it's good riffage almost southern rock, I really enjoy it.
Rich: I'll give you a bonus fourth one. (laughs) I like "Anyone" because it was written from start to finish in three hours and that's the quickest we've ever done. It's one of the most naturally written songs that we have done. 
You're touring Europe with Jared James Nichols and then you'll hit the US.
Rich: Yeah we've been confirmed for some shows there. Potentially up to five weeks actually.
You must be really excited about the US right?
Robyn & Rich: YES!
Rich: We've wanted to go out there for quiet some time and to have a tour offer to us is just incredible.
What can we expect from your shows?
Rich: It depends if you seeing us as a headliner or a support. We bring energy and we bring the songs to life. Our guitarist Chris just runs around the stage, he's crazy and has fallen a couple of times. We just want to have fun and to meet people.
Sorry but when we first heard one of your songs we thought it was Nickelback. Do you often get this reaction?
Rich: I knew this was coming! (laughs)
Robyn: (laughs)
Rich: Yes we get that note quiet often. It's the tone of my voice and we don't mind. They sold millions of records.
Robyn: They sell arenas, living the dream so.
Rich: But when I listen to a new band of course I do "who do they sound like?" and people think of Nickelback for us and that's fine. But it always start off "I hope you don't mind if I ask you". (laughs)
Finally we are "RockUrLife" so what rock Rich and Robyn from Stone Broken?
Rich: Right now red pepper hummus is rocking my world.
Robyn: Oh that's so good! Hmm I don't know. Oh yes I got something: the new Skillet album! It's pretty banging.
Rich: So Skillet album and red pepper hummus: a brilliant night.
Robyn & Rich: (laughs)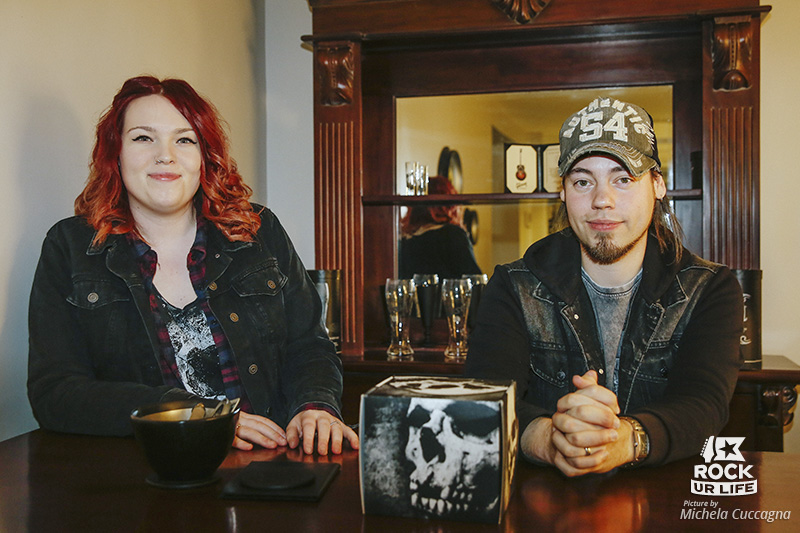 Website: stonebroken.com