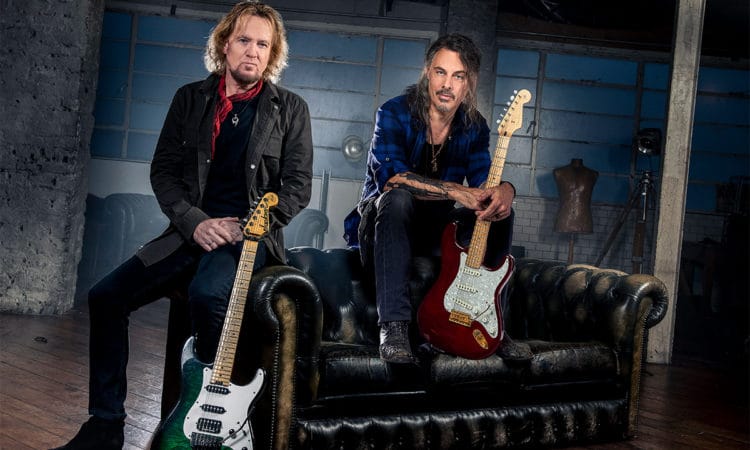 "Smith/Kotzen" might be one of the most exciting release of 2021. When Adrian Smith meets Richie Kotzen in the studio… We got to chat with Richie about this brand new and promising project!
As a professional musician, how did you manage this situation with the pandemic? It's indeed a very difficult time for the entertainment world.
Richie Kotzen: It's a terrible situation. I mean, it's affecting our lives. Last year we had booked shows on four continents. But for me, somehow, I guess I was trying to find the silver lining I'd say, but I personally, switched it around and made it (the pandemic situation) work for me to the degree that I didn't realize how bad I needed to stay home. And so, you know, when you're a musician, and you get an offer for a gig to Europe, to come to Brazil, or Japan, your instinct is to say: "yeah, let's do it, let's go!". It's hard to say no sometimes, so, what was happening was that I was getting really really burned out, even without realizing it. And once I realized I wasn't touring, it was almost like this kinda strange thing started happening: I felt more relaxed, I felt more calm, I don't know, I think I really needed to stay home for a while. Of course, we didn't want to live anything like this, but right now, I'm getting to that point where the idea of doing a show somewhere is starting to appeal to me, but to be very honest, at no point during 2020 did I long for the stage. I really needed a break, I needed to spend some time home, and so, that's what I did.
Any memories from Hellfest? We were there during your show and we can tell you gained lots of news fans. It's a big metal festival but your music touched a lot of people.
Richie: Yeah man, that was one of my favorite shows of my life! I really loved that set. I had no idea what to expect, because you're right, I mean, I'm out there, on the bill with bands, heavy heavy bands, and my music is a little bit different than what you'd normally expect to see in that festival. I was so happy, the people started to sing the lyrics, they seemed to know the songs, it was just a great experience. I'll love to do that again, I don't know when we will be able to do that again, but hopefully we'll come to a point where we'll do that again. It was one of my favorite shows that I've ever done.
This classic rock/bluesy album is the result of a long-friendship with Adrian or was it more of a fast decision?
Richie: No, it was the direct result of a long friendship with Adrian. I have to tell you, for many years, we'll get together whenever he would come into Los Angeles. He has a home here, and usually around the holidays, he will send in his wife and kids and they'd have a holiday party, and at some point during these parties, we all knew we'll end up in the music room. And then, that's when the fun started. We were playing some cover tunes, singing, playing guitars, doing this, doing that, and we went like this for years, like a kind of routine. And then, eventually, in more recent times, someone suggested: "you know guys, you should try to write something together". And so, we looked at each other: "why didn't we think of that?" (laughs) So, that's how it started. It really came out of this existing friendship and also the fact that we had jammed together before. It made it kinda obvious that we were compatible. When I hear Adrian sing, I love his voice, and I relate to where he's coming from, if you know what I'm saying. His guitar playing is very much into the blues, and he's great at it, so, I didn't have to wonder what it is gonna be like, I knew that we were gonna write well together.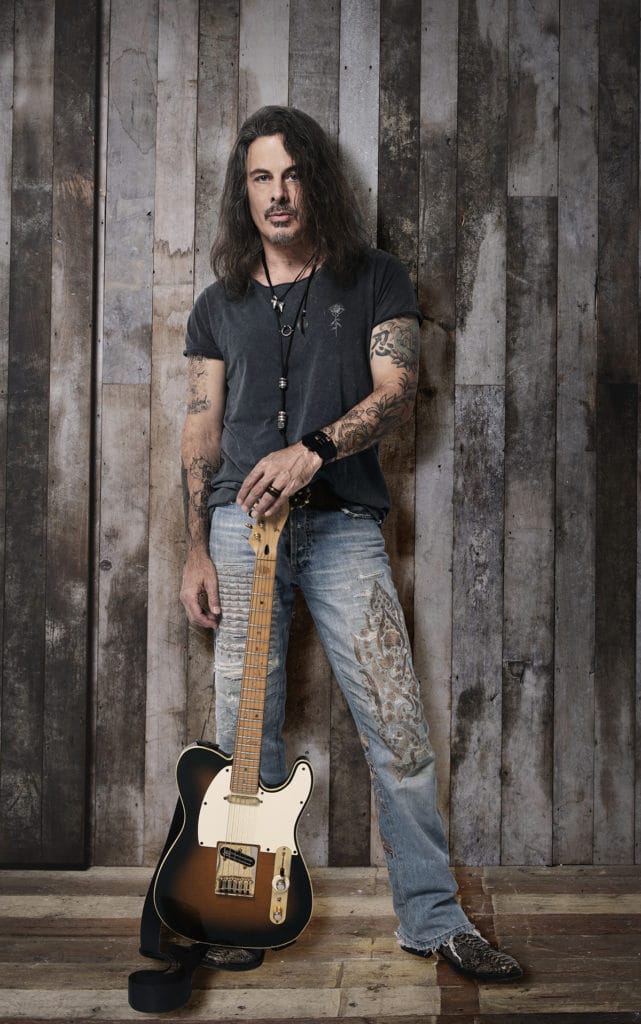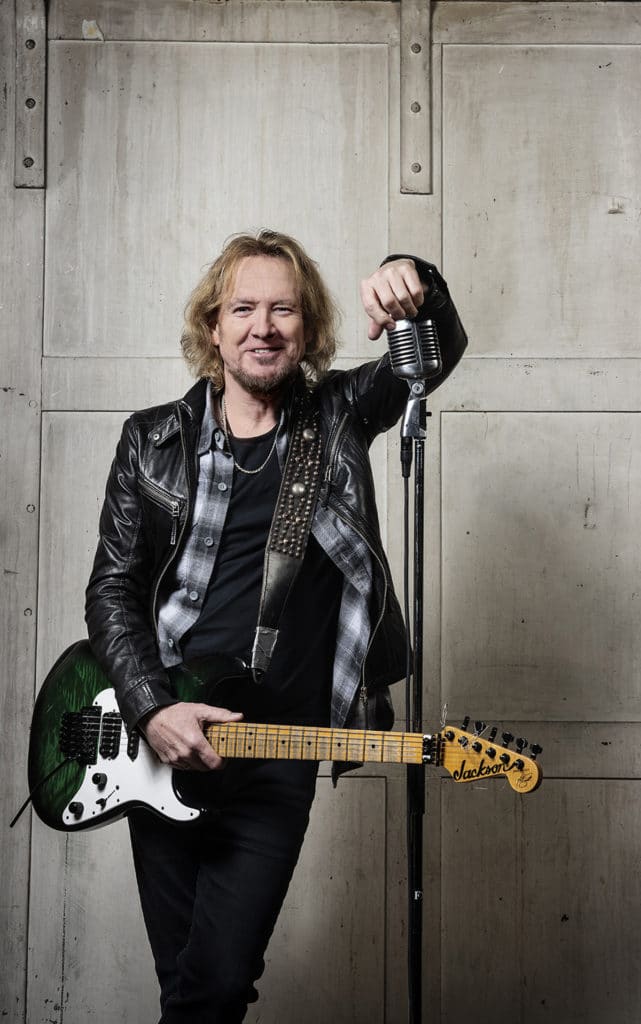 Everything came very naturally.
Richie: Yeah, it really did. It really came out effortlessly.
The songwriting and recording of this album were done before the crisis.
Richie: Absolutely, yes. We were lucky to get it done. The plan was to release it in March of 2021, because of our schedule, with all our commitments, and then the other part of the plan was to tour in April. Now, the good part of it, is that we kept our release date, and the bad part, like the rest of the industry, is that we can't tour. But we still want to tour, and we're still talking about figuring out how to do that when we could do it, figuring out who's gonna play with us. So, the plan is still to get out and play it live. The question is when.
How did you dispatch between these songs, who's gonna play a guitar solo, who's gonna sing?
Richie: That sort of thing really kinda spoke for itself. What I mean by that is, the singing for example, it was almost, almost I'd say because there were exceptions on the record, a lot of it was the situation: "if you wrote it, you sing it". Now, we never said that, but if Adrian says: "I have an idea for the verse, let me try something", and he get on the mike, and just does a vocal. And then I'd say: "let me try something for the chorus", and then I'd do the vocal. It really kinda built itself that way. It naturally took this kinda shape. The guitar was a little bit different, but not too much different. The way the songs kinda came together, initially someone would have an idea, a riff, a take it to a certain point, and the other guy would have another idea, to get further down the road, and I like to liken it to a tennis match. But you're not trying to beat your opponent, you're just trying to keep a volley going. That's how I'd describe it, open, casual, we're not obnoxious, we're relatively calm and mature. We're good listeners (laughs), so it was a very smooth process.
We know that there are some guest drummers, but also that you played the drums on a lot of titles yourself.
Richie: That's right. I don't know how many of them, but the majority of the album. It just came from how we were set up. The drums were set up, the microphones were set up, we kept the drums lit up the entire time, so basically, the way it evolved is, let's say Adrian had a riff, I got behind the drums, and I played like a groove. And I'll probably make a loop out of that groove, and then we would overdub to that. Although sometimes, I would play the whole song for him, so it just kinda varied. We used the loop to build the songs. And when the songs had a form that we wanted to commit to, then I could go back to the drums and do a proper drum pass. And from there, then we'd do our overdubs. Guitars, second guitars, bass, some vocals on. That's basically how we put the stuff together.
What's your favorite song on this album? We personally love "Running", and especially "You Don't Know Me".
Richie: Yeah, I'll tell you something. "Running" is definitely one of my favorites, and it's the first song that I remember us completing. So, a lot of people seem to really like that. "Scars" is getting a little bit of a comment. They're like kids, when you write a song, how do you decide which one is your favorite? Certain songs, for me, when I do my (solo) records, some songs stick with me. Songs I'm always playing like when I'm on tour, no matter what the circumstances. Somehow, it seems like I always play the song "remember", you know what I mean? What's gonna happen with Smith/Kotzen songs? Certain songs evolve, certain songs we will connect with more when played live. We have to wait and see how it translates. For all I know, the song "some people" might become our favorite one to play live for who knows what reasons.

What was the hardest song to finish? A song that gave you a headache because of the work it needed.
Richie: (laughs) I don't know if any song on this particular record falls into that category, but I will tell you there's a song that literally drove me crazy. And I even used that as part of the lyric: "oh, it's driving me crazy". (laughs) It's the song "I Wanna Stay". That melody was driving me crazy because I had it in my head, and it wouldn't go away. I would wake up with that friggin' melody in my head. And I had a problem like I didn't know what I wanted to sing about. It just wasn't coming to me. And then it just hit me one night. It was later in the night, I went back in the studio and I did a vocal on that, and I thought: "OK, this is how I should take this". So that song was, I don't know if it was difficult, but was definitely hard to build, I can say that.
Lyric wise, is there a common theme throughout the album?
Richie: No, it's not a concept album or anything like that. The lyrics speak for themselves on a song for song basis. We just wrote something, and when we had a point of view and a direction, we knew then we had a song. Concept albums are always impressive to me, it's completely different than to have an idea for one composition, individual composition. But there's definitely a style to this record, a sound to this record, but it's not a concept album.
Any news about The Winery Dogs?
Richie: The last thing that we did was the great tour we had in 2019. It was great and we had a lot of fun. After that, we spoke about doing a third record, but we had these other commitments, I had been touring for my solo band, and then the pandemic came, so. The thing about The Winery Dogs is this; this band is not the kind of outfit where you can send files back and forth and try to work with it. We need to be in a room together. And then, when we are in a room we can start to throw ideas back and forth and build on that. The real trouble here is that we're caught into this pandemic and Mike (Portnoy) is on the east coast, Billy (Sheehan) down south, and me, here in California. It's almost impossible to get us in one location. I'm not ready to fly yet, and I know Mike isn't either. So, at some point, maybe… we did work at my house, already my old house, we did work in Mike's house. Maybe the move is, once the COVID is under control, Mike and I will fly to Billy's house in Nashville, do some writing, and spend a week down there. He's got a studio there. Right now, obviously I'm super focused on Smith/Kotzen, and that's my priority. But at some point, yeah, I would like to do something again with Mike and Billy.
In a way, the pandemic showed the good side of social medias at times, to help people kinda keep in touch.
Richie: Yeah, what a great invention. Just think of how difficult this lockdown would have been if you couldn't see your loved ones on "FaceTime", or whatever it is that definitely kept things moving. That was really important, keeping people from really falling into a really dark depression.
Yeah, you shared a lot on Facebook, it's nice as we have the impression to know you a little bit more.
Richie: Yeah, I hope I didn't scare anybody. (laughs)
Any musical guilty pleasure?
Richie: Katy Perry!
And our last question: we are "RockUrLife" so what rock your life Richie?
Richie: The Smith/Kotzen album! How about that! (laughs)
Website: smithkotzen.com