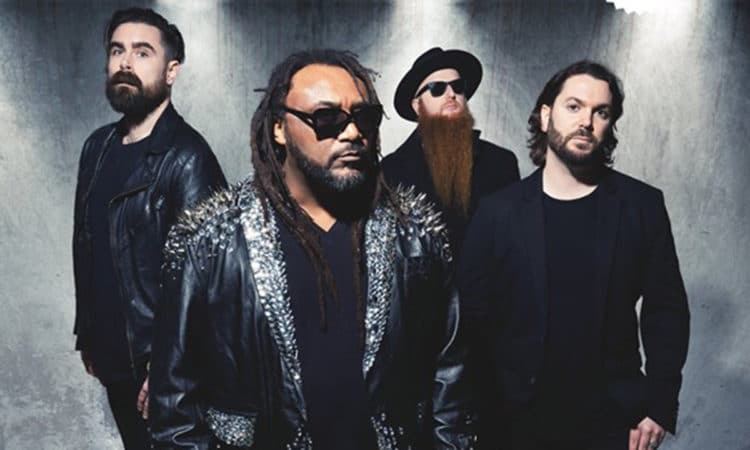 After their gig on the MainStage02, we met Skindred and talked about their show, their latest record "Big Tings" (2018), Hellfest and the way they make music.
So, welcome home, welcome at Hellfest!
Dan Pugsley (bass): Yeah, we love it, we love coming here.
The crowd had a great response.
Dan: It was great. Did you catch the show?
Yes, of course!
Dan: It was great. We had a couple of light technical issues and we showed up at eleven o'clock and we literally rode onstage and played. So it all just kind of happened. I love to play here at Hellfest. The first time we played here it was at 10:30 I guess and we thought that no one would be there, but there's always people.
How do you prepare for a show that early?
Dan: It's dangerous because when you're finished, you're all done, and you go: "so, what do we do now?", and we have a drink. Everytime I come to Hellfest, I got very drunk because we play so early, everything's done at 2PM, and: "let's have a drink" and then you get in trouble later. But to prepare, if you play early, it's a really boring stuff, make sure you get some sleep.
When deciding for the setlist, did you try to play your hardest songs to match the bill? As we read about what you did last time you played here.
Benji Webbe (vocals): Maybe. I can't remember.
Dan: Our songs are heavy, typically, but I think we add a fun element to it. So, sometimes, it isn't so quite as heavy but it kicks anyway. Today we played 30 minutes, so we thought, let's kick them in the teeth.
We read that "Big Tings" was really fast in the making. Why?
Benji: In this day and age, you gotta keep the music coming. If you don't keep the music coming, people forget. And you have to remember the way we make money and the way we feed our families, and it's keep making records and being on the road. Touring is important. If you haven't anything new to talk, people don't wanna come, so you gotta keep it fresh.
Dan: I think for the younger generation of music fans, what they want all the time is new, something new.
And fast.
Dan: And fast. So trying to keep a handle on the quality, and being productive like that is tricky. But I think we keep a good handle on it.
The songwriting process was really spontaneous.
Benji: Everywhere we're going, we just go in a room and we write, and then we get a referee, they call them "producers", and the referee comes in and stop the fight. What we get from the guards we're happy with it. We've got seven albums to date, and I'm very proud that we have seven albums with the same line up, twenty years in the game. We've seen many people come and go, die and live, move on to different things, so I think Skindred is a very blessed band. And our greatest days haven't come yet.
You deserve it.
Benji: Thank you.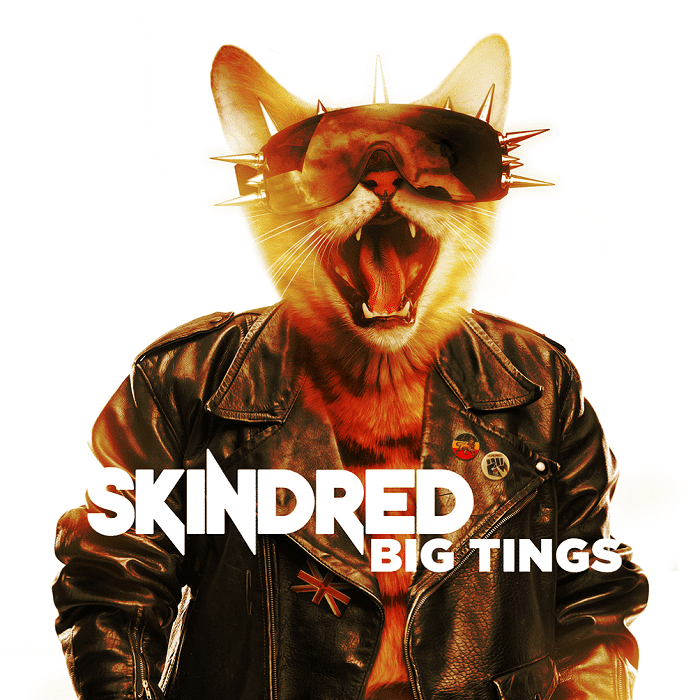 You recorded your album at Real World Studios (Peter Gabriel) and Rockfield Studios ("Bohemian Rhapsody"), and both are really legendary studios where history was made. So, you really like music history?
Benji: Yeah, of course! It's funny because I asked for the Freddie Mercury room and they gave it to me. I felt good, I was in the same room as Freddie. Yeah, man. We may not do our next album in such big studios but when I say big, I mean…
Dan: It's a legacy. It's a shame because Rockfield is an amazing studio, and they struggle. We talked about the music industry and, (real) studios struggle.
Benji: My father use to say that you eat from paycheck to paycheck, and unfortunately, that what Rockfield got to do. I thank God that they keep the studio going, but they have difficult time doing it, very difficult. It's a shame.
Dan: My dad use to say: "shove it you little bastards". (laughs)
What was the hardest song to finish on "Big Tings"?
Benji: My guitarist wrote a few of the songs, and he was definitely had hard work because whatever he had in his head he wanted me to do, I found it frustrating sometimes because I expressed myself in one way and he said: "no, no, it's gonna be like this". So for me, some of the songs that he wrote were pretty difficult. But I think he wanted what he wanted and I'm happy that he did it like that, because now I know the results are the best and he's happy with it, so.
We know that metalheads aren't as narrow-minded as some people say, and Hellfest is the living proof.
Dan: I think that rock fans, heavy metal fans specifically are the nicest people and really open-minded. The people that are more into the extreme stuff may be more serious, but overall I think people here are very accepting.
Benji: You never see fights in these festivals. Who was that guy who was on stage earlier, he was fantastic.
Richie Kotzen?
Benji: He was fantastic! Beautiful voice and everything.
Dan: Yes, amazing.
Benji: Where is he from?
He's from America and currently plays with The Winery Dogs along with Billy Sheehan and Mike Portnoy.

Coming back to my initial question, did you played in a non-metal festival? Reggae maybe?
Benji: We never played in a reggae festival, which is sad because I'd love to. We haven't yet, but we played like alternative festivals like Boomtown in England, we played there.
Dan: There was a lot of dance music, and we played some mainstream festivals.
Benji: We're the only band that could play with Disturbed or a really mainstream and go down just as well. (laughs)
Dan: Yeah, they all hate us. (laughs)
Lyricwise, do you think it's important to write about social issues or political matters?
Benji: I don't deal with politics. I know nothing about politics but when I go to a bar on a saturday night, and I'm sitting at the bar just listening to the people conversations, I hear the pain of human beings, and it forces me to sing about freedom and unity. In all of our songs. For me, writing lyrics that are appealing to a lot of people is important.
Finally, we're "RockUrLife", so, what rocks your life?
Benji: I enjoy waking up in the morning, and make music. Music is my life.
Dan: Positivity, friends and family.
Benji: Yeah, positive attitude, Skindred!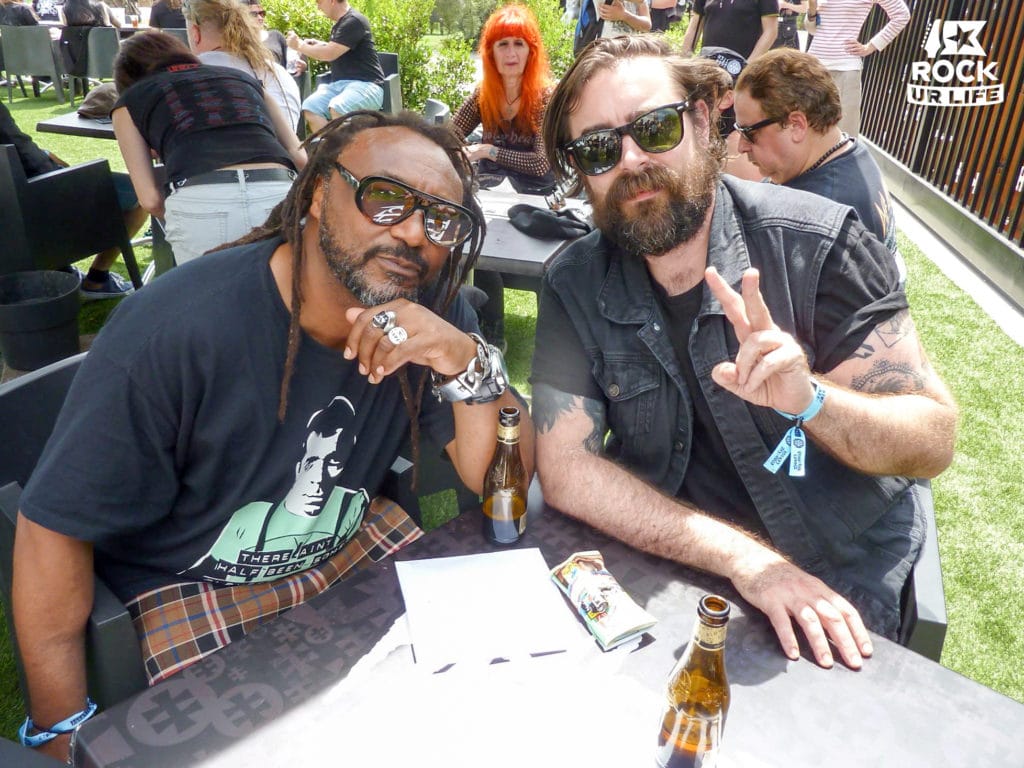 Website: skindred.net