Their third record will be released in October but Sixx:A.M. was already answering interviews. James Michael and DJ Ashba were involved in a promo tour across Europe and RockUrLife had a little chat with James, check it out!
Hello James, how are you?
James Michael (vocals): I'm good, I'm great and happy to be here.
The third album "Modern Vintage" will be released in October, you must be excited right?
J: I am! This has been a long long one in the making, it's been like two years for this process, writing songs for it and we're just really really excited about this record. It's a very different record for us and it's already getting exciting because we're already put songs out there and the response was very cool to see. It's good to finally get that feedback after those two years.
This time there is no book with the release, comparing to the two previous records, so what was the inspiration behind this title?
J: When we did the first record obviously there was Nikki's book and that was kind of a starting point for Sixx:A.M. and when we made "This Is Gonna Hurt", Nikki is a really fantastic photographer and his images are very dark, kind of brut and beautiful so we liked the contrast of that and it really spoke to us because Sixx:A.M. is about those dark themes but expressed with beauty and hope. When it came time to make "Modern Vintage" we intentionally didn't want to have an actual physical book because at this point in our career: reveal what we are and what we become as a band. So what we did on this record is that we wanted to celebrate the music that made us love music so we headed back to the great records of the early and mid-70′ like Queen, David Bowie or Elton John and those types of records, the ones that made us love music in the first place. What we did on this record, we had reached the point in music where we'd realize how kind of narrow people perceptions' of rock music has become. The expectations of what is a rock song now are very limited and that's very frustrating to us so we went back and looked to those records because those were also considered as rock records and we still do today and we noticed the diversity and the way it can take you on a musical journey. That kind of became our concept for "Modern Vintage" and in a sense rock history kind of became the book for this record. It was really inspiring.
By the way there is no title track, why this choice?
J: I don't think that was actually a choice so much. When we thought about a title for the record "Modern Vintage" was just the obvious thing it was so descriptive. At that point we didn't want to write a song called "Modern Vintage" because the record was done so that's really simple as why that happened. It was really important for us to have that title because is says so much about this record sonically, we really tried to melt the past with the future so it was the right thing to do. We can talk about so many thing in that perspective.
Comparing to the previous records did you want to change your approach or elements regarding those new tracks?
J: Yeah obviously we want to always grow in the process of every single record because we don't want to keep repeating ourselves, ever. So that's kind of a starting point but on this record again because we were listening to all those records, one of the big differences was to have a real drummer. So we brought in Jeff Fabb who's touring with Black Label Society right now, just an incredible drummer. I met him when I was producing James Durbin record, and he was in his band at the time and I was so blown away by his incredible feel. When time came to make the record, having a drummer was a really important thing because we wanted to feel like a live band. I brought him into my studio in Nashville and we recorded all of the songs in four days I think and that really helped me, as a producer, to stash the sound that we wanted differently on this record.
The first single "Gotta Get It Right": why this track in particular?
J: It's a very different song for us and I think that a lot of our fans were kind of surprised when we brought it back and that exactly why we chose this song. There are other songs on the record that are clearly obvious choices but in the spirit of making this record very differently we wanted to come out with a single that was going to kind of showcase what this record does differently. Pretty much everything about that single is different from what we did in the past. It's a very energetic rock song but the feel of it is very uplifting and almost pop in a way but it's not like modern pop more like 70's style pop. It was the last song we wrote for the record and I think this is probably why we chose it as a single because we created this entire body of work and then once we'd finished that, we sent is to the label and they just loved it and got exactly what we were going further "man this is like a 70's rock vibe" and then they gave us some more time like "hey do you need more time to write some more?" and we were like how often your label gives you more time to do something so we sat down and what we did was writing a song that kind of reflecting the rest of the record. It's a really good starting point for this record and that's why we chose it, it's a pretty bold move as far is being a rock band to come up with a song like that… again it goes back to our desire to break down those barriers of how narrow the perception of rock has become. It seemed like an obvious choice for us.
 
How did you manage to write/record the album regarding your schedule? But also DJ's and Nikki's too.
J: Yeah that was the most challenging part of this because it's very important for us to be there all of us three to create songs at least to start them. The logistical challenge of our schedules was very very tough. We started writing the record about two years ago so I would come out to LA and DJ from Vegas and we'd all meet in LA to start it. We made sure that we got the majority of the writing done that way and as far as we were getting the record recorded, it's a different story. As the producer it was my responsibility to figure out how to do that no matter the challenges were. I spent most of my time at my house in Nashville, at my studio but I had to flew to Las Vegas with my mobile rig to record with DJ then go back to LA for Nikki's parts then back to Vegas and then in Nashville it was a only a question of editing and putting stuff together. I spent the most time of the year hoping on a plane maybe three times a week and crossing the country and while that sounds very growling, we were so focused and passionate about that that period of my life went like that. We were so determined to make this record and to make it exactly the way that it is that I would just wake up every day and just rush to an airplane, I was so excited getting back to the studio.
Lyrically which topics did you talk about? Titles are simple and furtive.
J: Yeah lyrically Sixx:A.M. has always been about contrasting between beauty and darkness, happiness and sadness, joy and anger. For instance if you're going to be writing something that's on the positive side the background will be very dark and painful. We always have done that and I think that this record is no different. The subject matter of this album is always about personal observations and experiences as the other two records. People will be surprised to know, even on "Heroin Diaries" there're also some stories about my life and about DJ's life too so. We never had a lost for things to write about and I think that the fact that we three are such great friends, we've shared such intrudingly dark moments and such happy moments together we have a real trust in one another and that's the key to keep doing what we do. That's our comfort zone.
Which three tracks would you pick to define the record?
J: I love that question! Well I'm gonna say "Gotta Get It Right" because it's a rock song but also feels like a 70s pop song, I think that's a good one to describe the album. There's the song called "Get Ya Some" which is a very cinematic, very bizarre song, the verses are kind of a Tom Waits style with a dark feel and the chorus has a flamboyant Freddie Mercury type of high falsetto and this chanty type of melody like somebody is whistling or something. It just got all the elements almost that dangerous darkness into it and that reckless joy to it, so it's a beautiful example of what the band is. And another one I can't get passed with, I can't talk about the record without talking about "Stars". It's that ultimate stadium rock song but has the soaring explosive chorus that people are waiting from us. Lyrically it's beautiful and hopeful probably one of my favourites.
 
You also produce other bands records, in which way it is different to work on his own music than on someone else's?
J: That's a good question. First off, as a producer your main job is to obviously bring the absolute best art, revealing things about them that they don't even know and then highlight them but that's on part of the job. The other is to have the perspective that it has nothing do to with ego and has nothing to do with security. As an artist we are so insecure, our job is to navigate through our insecurity to doge our ego that's what we really have to do. So as a producer your job is to be able to help the artist to do that by keeping the audience perspective. I have to be able to know how this is going to be received and you can't be expected as an artist to know that because your ego is just going to cloud that, it's just is it's impossible for it not to. With Sixx:A.M. in the fact that I do singing in the band, obviously there's that danger that I could lose perspective. I've always had the ability to and I think that because I don't see me as a singer, I don't like much my voice and I can be very critical about it so because of that I'm able to maintain that perspective and I'm able to judge very hard and also know from an audience point when it's going to work for the audience so I can remove my ego from that. In those moments where I can't or when I got so deep in the songs and I can't tell if it's the best thing that I've done or the worst thing I've ever done, then I got these two bandmates I can trust and they'll absolutely help me through that question.
Knowing that you're also a producer and get to do plenty of things, do you have any advice to young bands?
J: There's a lot of advice that I can give but it's been said ever since the beginning of the music business, it's all about the song… It's all about the song and no matter how many time you've said that it never loses its truth. So for any band, for any artist you have to be able to find or write a song that is going to reveal something about you as an artist. Because if you don't then you're just singing AT me and I want that you sing TO me.
What did you listen lately?
J: I listen to a lot of pop music. The last record was Robin Thicke's new album. It's just a cool sounding record as a producer, as an engineer, as a mixer I love it. I can just sit there and listen to it like it was washing me with all the sounds and also the performance with the songs which are stellar. I love the new Imagine Dragons album I love a lot of new music that's coming out. It's so funny because there's always this kind of grimacing frustration in the music business that "it's such a bad place". Music is a FANTASTIC place even better than it has ever been because there are so many great things. And finally we are starting to break down those walls.
Finally we are "RockUrLife", so what rock your life James?
J: What rocks my life? Hmm. That's a great question! What rocks my life is friends. I spent most of my adult life making friends and losing friends. And finally in the last few years I've just become determined that I don't want to die alone, I don't want to die without friends to share stuff with. So I've made point for making good friends in the last few years and I've made some incredible friends and that rocks my world. I didn't think it would ever happen.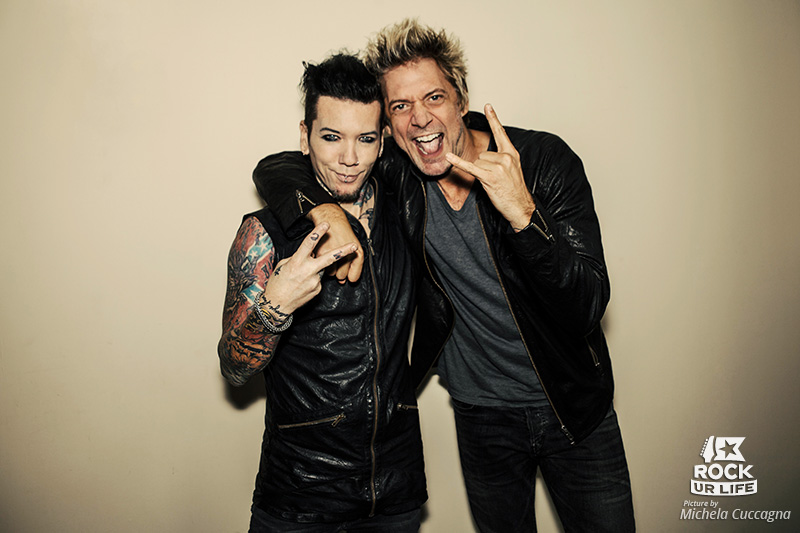 Website: sixxammusic.com