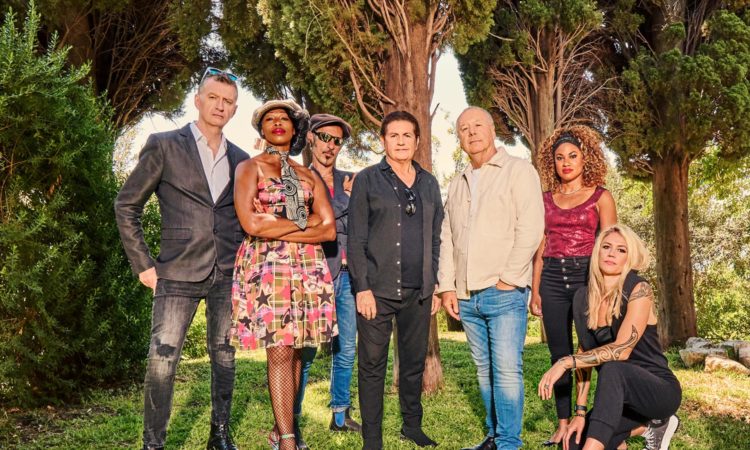 Intimate meeting with Jim Kerr, leader of Simple Minds about new album Direction Of The Heart.
Your new record Direction Of The Heart is coming out on October 21st. Can you talk us through the process of composing and recording this new album?
Jim Kerr (vocals): Direction Of The Heart is our 18th studio album. The unique thing about this record is his backdrop because just as other artists, we made this record during the COVID pandemic. It might sound dramatic when people said "it feels like a war" but it was certainly profound. None of us could have imagined.
Initially we were doing a world tour that had just begun. We did around 10 dates and we had to suddenly go back home not knowing what would be next.
For the first few months we all heard: "People will never travel again! People will never come back to watch concerts!". These were crazy times. But one of the great things for anyone working in an artistic field: you'll be disappearing and we had so much time to work. You can create your own art in your own world. Fortunately for us we went to the other part of our job, apart from bringing live concerts to the world, which was composing and recording.
We live in Sicily and thankfully things were not so bad for us because although everything was a ghost town, there were no bars, no cafés, no friends, no family. All we could do was work. And when I say "work", I mean it as a pleasure because we do work hard, but we do it as a playful thing.
So most of the songs on the record were made pre-pandemic, but they are also the result of us being in a medieval town, under the shadow of a volcano, doing the thing we always did, which was writing songs and making music.
We did have a mission, we hoped we could make something that despite the background, was optimistic, joyful and that's really the result.
In terms of "how" the record is made, it is still the same. We work as a duo with Burchill, we have been friends since we were 8 years old. We've been working in a bubble of our lives together. It was just the time to get on with writing. The next chapter in our story and that's how we see the album.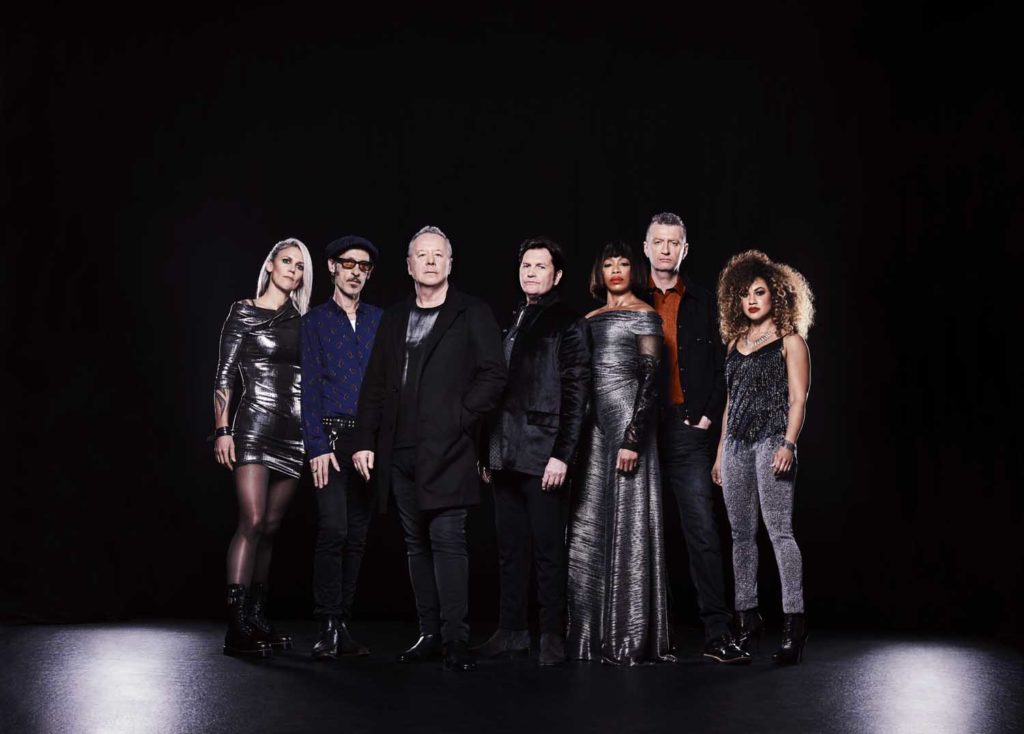 The pandemic was a great time for artists as for once, they did not have the "noise" of the world around them.
Jim Kerr: That's right and it is the irony of the story. You know when we were eighteen, when we first had money to record our album we rented a rehearsal room and what we did 24 hours a day was "let's record music"!. We had no obligation, no family. Some of us did not even have a girlfriend. All we wanted to do was to make music. Now we are 45 years later and there was nothing else to do! We could not see our family, we could not travel, we could not go out for a coffee. Even no football on TV for the first few months to make an attraction! So that was all we could do and we were happy doing it! I think the record benefited from that double commitment. We wrote about 30 songs for this album but the ones on the definitive record were the ones we felt fitted well.
You did cover on your new album the song "The Walls Come Down" from the band The Call. If you had 30 songs written for this album, why decide on doing a cover?
Jim Kerr: Even if we had all these songs, at some point we decided to take a break. We thought: "let's take a week off, let's take some perspective from all these songs, and let's choose a song to cover to see what happens".
We had a great relationship with the band The Call. In the 80's when we toured, we toured two or three times together. They are an American band from Oklahoma. They opened for us and they were big Simple Minds fans. But we were also big fans of their music so it created a kind of a mutual appreciation.
The song was written by Michael Been. He was a little older than us and he became a kind of a guru to us, a kind of a big brother from America. He knew all the cool things, the cool bookshops, the cool places. We became great friends.
I actually remember when Michael wrote that song and when he told me about it. He said: "I wrote this song and it's a bit of a Simple Minds influenced' title". I looked forward to hearing that, and when the band played it I thought that we should cover it one day.
Sadly Michael passed away about 10 years ago and since then, to keep his music alive, we've done two or three of his songs.
However, that song "The Walls Come Down", had found its time again. My generation thought that when the Berlin Wall came down, that was the end of walls. But now we talk about walls, frontiers, borders. It was almost like the song had mysteriously found its time again and that is why we chose that song.

You've been a band for more than 40 years now. How do we stay relevant in our current world?
Jim Kerr: It's who we are and what we do, and how we see the world.
When we started there were no old artists. Even the Rolling Stones weren't old! The only old guys were the old blues guys. We were wondering: "why do they still do it?". And then we would look at their faces and that's who they are, what they do and they were born to do it.
Like when you see a craftsman or an artist, or an elderly teacher: that's who they are.
With time we came to accept that it is who we are. We do it in fashion, we do it out of fashion, we do it with success, we do it with no success, we do it with critical acclaim, we do it with terrible reviews. It's just who we are.
As long as there is the energy and the desire to continue to create it will continue.
So the plan is to do it for the next 40 years?
Jim Kerr: Who knows? We always have a 5-years plan. We give ourselves 5 years. Our new album is being released next week, the songs are from two years ago, we've already moved on.
Have you been working on new songs already?
Jim Kerr: Yes! It's just goes on. Today Burchill sent me a snippet of a song he's been working on last night. I mean, you don't have to be in the room to work together now. So tomorrow on the plane I will listen to it. It's just how we are working together.
How was it to work on this new record as you are all in different places in the world? You just worked on your side and sent each other your piece of work?
Jim Kerr: Yes you can do it like this. Burchill and I are in the same room most of the time. He is a multi instrumentalist so he can build the foundations of a song. At a certain point, when the COVID restrictions went down we brought the people in.
But now with the technology that's even better than last year, you can have people all around the world with just a camera turned on. I'm getting used to it, we are getting used to it.It's becoming the norm. But of course there is nothing better than being in the room together and really collaborating that way.
Wasn't it too hard for you not to play for almost two years? As a person and as a band?
Jim Kerr: As I said, especially during the early months of the pandemic, there was a feeling like: "is this the end?". I probably thought that for one day but I just now have a philosophy on a daily basis: I don't worry about things I can't control. The things that I can control are the things I give my attention to. What's the point of worry? Let's just see what happens.
Let's get back to the album and to the first single coming out, "First You Jump". You shot the video during a rehearsal in an ancient theater in Taormina in Sicily. How did you get this idea?
Jim Kerr: I live in Taormina and I see it everyday on the way to the shop. It's an amazing thing to see a Greek amphitheater or a Roman temple everyday. That's life in Sicily. We played the venue this year so we had all the equipment there already. It made sense to shoot a video there because the album has essentially been made in the city.

The fact that you live in Sicily has an influence on your music?
Jim Kerr: I think that if you feel good in place, it shows. I know some people want to make an album with jazzmen in New Orleans, or they want to use Irish musicians in Ireland. It's not like that for us. But when you feel good, you have energy from that place. That energy goes into creativity. So you don't feel the geography but you, yourself, are influenced by blue skies, warm light, good mood.
Playing in an ancient theater is a challenge.
Jim Kerr: It's like walking in the Gladiator movie, you know. You do feel the history of the venue, because of the walls for example. They've been there for 2000 years and they've seen everything. You take a minute to think about that, of course.
It's an honor, it's quite surreal really. But it is essentially the same as any other show: there are people on the stage and there's an audience coming to spend a great time under the stars.
It's magical. I've also been to see a lot of concerts in this venue so I know what it's like to be in the crowd.
As you've been on both sides of the fence, of course you want to put the best show for your audience.
Jim Kerr: It's our hometown, well it became our second hometown. We have a lot of friends, so we want to do great.
Let's talk about "Vision Thing".
Jim Kerr: It's great that it is the first song on the album because not that it had to be but it is also the first song we worked on. It really set the tone for the album. There is a sadness involved because this was pre-pandemic and we were working in Glasgow near my parents house. After only a couple of weeks, my father fell seriously ill. We were shocked and saddened. But he was like: "You have to work! Write your songs!" and we ended up writing "Vision Thing" which is about him, but also the people we grew up with in Glasgow that influenced us. Like our teachers, or any people that had an impact in our lives.
When we were young we did not appreciate it but we do now, and they really give values, a way of seeing things that I think, has really helped us even though they did not know anything about this crazy world of rock n'roll music!
Still, the fundamental ways of thinking and treating people these people gave us, has helped us.
Although this song has sadness in it, it is a joyful song. It's a celebration of life.

You talked about the values that were given to you throughout your life, is it something that you would like to share with your fans, your audience?
Jim Kerr: Hopefully yes. At first we entertain people but if we can also inspire them, create songs that give somebody some courage or help somebody feeling less alone. "First You Jump" is about that: jump, meet the things that are you afraid of, get over it.
If our songs in any way have an additional benefit, more than just entertain people, then that's a great thing too.
Did you see your audience evolve for the past years of your career?
Jim Kerr: Every epoque, generation, has different themes, different things. For example our song "Who Killed Truth?". 20 years ago we had a different view on information. Now, it's all about: "I don't trust this information". The truth itself used to be discernible. What happened to the truth? What happened to the idea of the truth? We don't talk about truth anymore but perspective.
It's one of the themes that we live with.
Music has to tell something and not just entertain?
Jim Kerr: I like songs like "Be Bop A Lula" from Little Richards: it means nothing but everything, and it makes you feel great!
The songs we wrote like "Belfast Channel", "Mandela Day". We also have songs where the chorus goes "lalala" you know! It doesn't always have to be either "thinking" or "entertaining".
Another song which is mostly for entertainment is "Don't You (Forget About Me)" for example. Do you think this kind of song could be composed and recorded in 2022?
Jim Kerr: Good point! Maybe. I'm not sure who would make it actually. It was a song made about a movie and they could maybe do this movie now.

Especially as the teens are still facing the same problems as in 1980.
Jim Kerr: Exactly! It's just like the song "Belfast Child". People are asking us why we still play this song, they are saying that Belfast changed and that there are no walls anymore there. It's actually not about Belfast but violence.
The geography changed but things are still the same. Human rights, ignorance, violence, poverty. Things don't really change.

If the themes don't change, how can you make it new again?
Jim Kerr: Sometimes things are going round again. Sometimes things are finding a new sense again. Of course there are new themes but things get a new meaning. Like the discussion about the walls: it came up again. We may be talking about the same things but there is a new context.
Let's talk about the cover of your record: what's the story behind it?
Jim Kerr: The design is quite shocking at first sight but it is also pretty. The mask is related to the time we were all wearing masks but with the colors, you feel the optimism of the record. Springtime, great weather, blue skies. It somehow rebalances things: heaviness & beauty.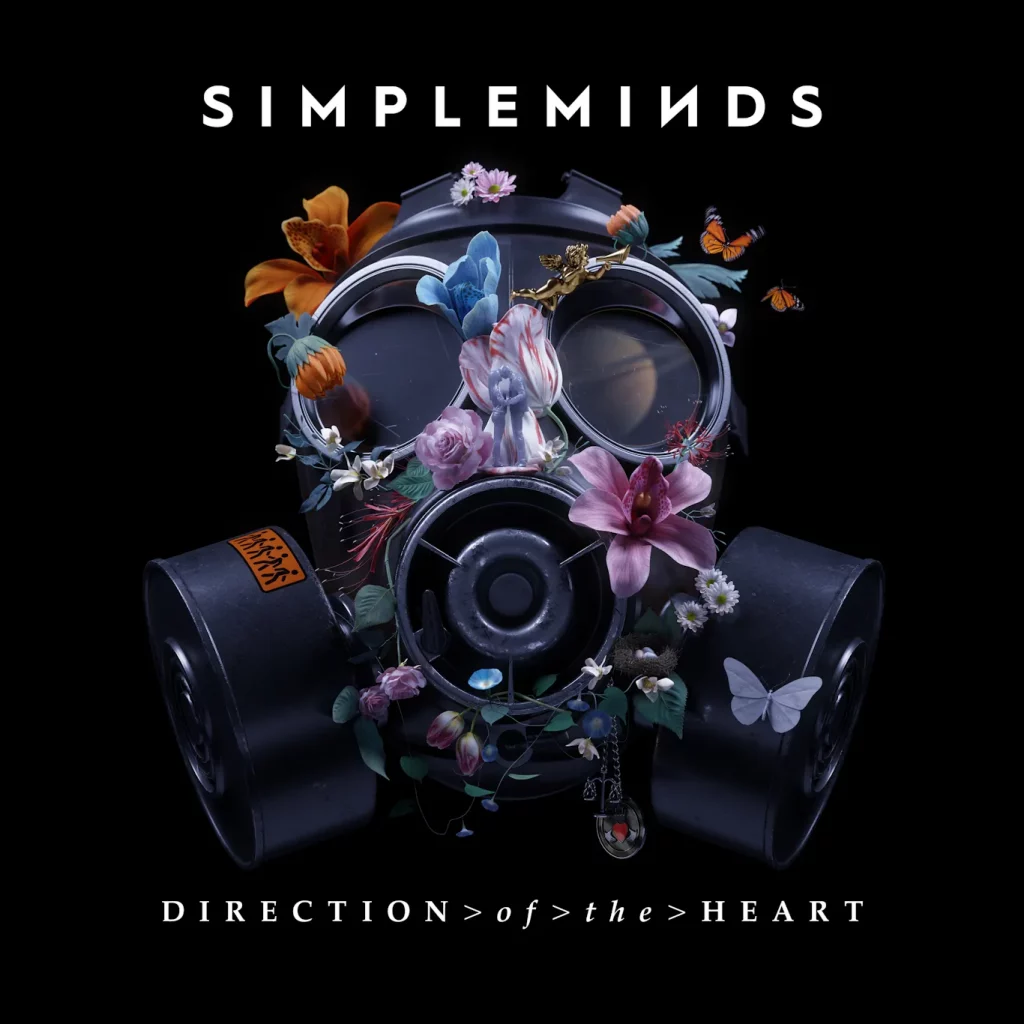 You've been touring in 2020, are you planning on touring soon?
Jim Kerr: We'll see how it goes. As I said, we just finished touring for almost 5 months, but it was 5 months of dates that have been postponed. We are a live band, I'm sure it won't be long before we play again.
How was it to play the postponed dates with the expectation of the audience?
Jim Kerr: There was definitely an added feeling. We've had the chance to have a great audience and even before playing a note, people were jumping! It was amazing.
The crew, the band, everybody was so happy to be back. Playing festivals through the summer was great. You could really feel that people were happy getting a feeling of having their lives back.
Playing in a festival is different than playing in a venue.
Jim Kerr: That's right. In a venue it is your night. In a festival, you share with other artists the stage, the audience. You could have terrible weather, you could have a burning sun.
I think about 10 percent of the audience comes to see you. You have to win the rest of the audience over. It's a nice challenge.
You constantly have to convince a new public.
Jim Kerr: That's the way we see it. Especially with the new generations. It's a great opportunity to bring new public, younger fans.
Even for you as musicians it is very challenging.
Jim Kerr: Yes but I am not always thinking about how our song is going to be on TikTok you know. Maybe I should but we don't! The question that we ask ourselves is how do we do something great? And then we work it out to see how we can make it across. If young people want to come onboard, great but we have to keep in mind what is important for us and take care of the things that matter to us: do great work and promote it.
When we're writing songs we are not thinking about social media.
As you've been evolving in the musical industry, you are able to discover a lot of new artists or bands. Which bands or artists are you listening to at the moment?
Jim Kerr: It won't be new to you but two nights ago we did a show in London and Christine & The Queens was playing. It was mind-blowing! The performance was incredible. That was a new thing for me! It blew my mind.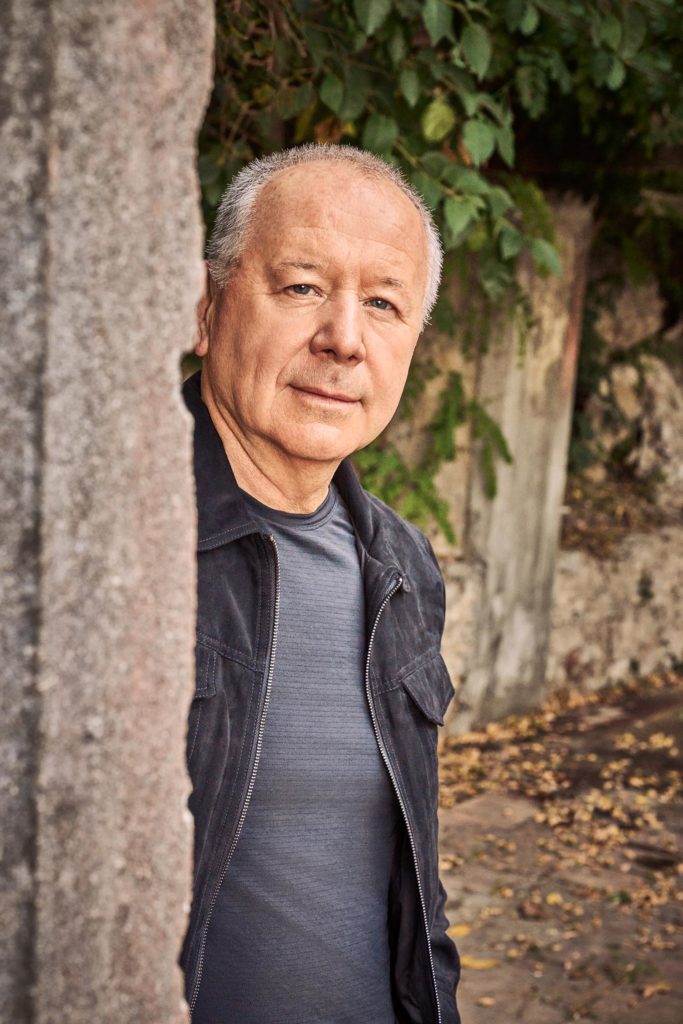 Do you have any other influences, new artists or bands, that you've listened to while recording Direction Of The Heart?
Jim Kerr: No. As artists, we are so consumed with what we are doing! I mean, of course the people who influenced us are still our main source of influence. We still listen to The Doors, Lou Reed, blues, country music, whatever.
Last night for example I was listening to Ravi Shankar.
The consumption of music also changed a lot in the last twenty years, and it is overwhelming now: you can choose to listen to just one song on a record and that's it, your mind is made up.
Jim Kerr: That's right. Before we used to go to a record shop, buy a record, get home with it thinking that we were not sure we would like it. We would listen to it, be unsure and listen to it again. And again, and again. We would go from "I'm not so sure" to "It's the best record I've ever listened to!". You had invested in it so you would really give it a chance.
Now I suppose people don't listen to music that way anymore. People don't have time.
How do you see the band in 5, 10 years?
Jim Kerr: We have a plan for 5 years. We will still be making music, let's hope so.
I love what we do. If you were telling me that I could only do music for 6 months I would be OK because we gave so much to our career. It's been great and this life has given us so much. But it is a selfish existence when you are an artist. Even if you are present, you are not really there because you are always thinking about a song.
We are not thinking of stopping yet but I think we should think about stopping in the next few years, just so we have the time to do other things like painting, traveling, and spending time with our families.
Last but not least: what rocks your life?
Jim Kerr: I'm a hiker and a walker. I like to go hiking in Austria or Switzerland, Scotland, Sicily. I love cooking as well. I'm never bored and that's the best thing.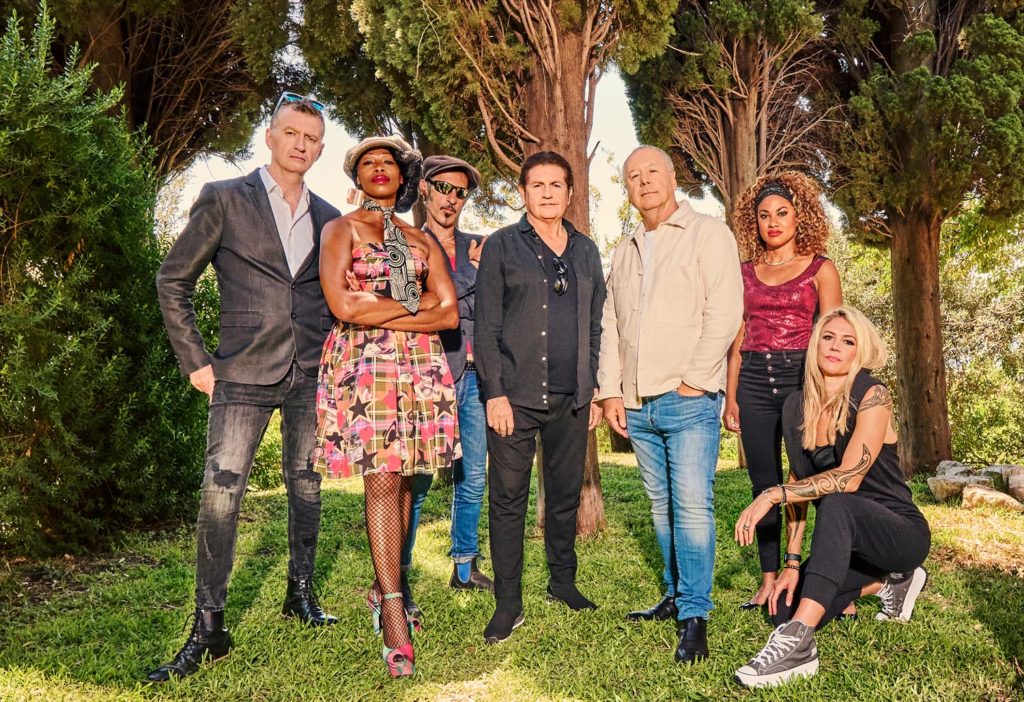 Website: simpleminds.com