Few hours before their first headliner in Paris, french website RockUrLife got the chance to meet ROAM, minus Charlie Pearson.
Today's the last day of the "Backbone European Tour". How's going this tour so far?
Matt Roskilly (bass): Really great, thank you!
We noticed that you also started this tour in France, in Nantes, which is something very surprising. How was it?
Alex Adam (guitar/backing vocals): There were people there. But like you said, it was kind of a weird place to do a show. We would rather have done it in like maybe Montpellier or somewhere like that but it was a fun show in the end. That was definitely fun and we didn't expect it to be.
And how were the people there? Because there are international rumours which say that French people are hard to convince.
Alex Costello (vocals): I think they might be hard to convince but we convinced them! So it's not that hard. (laughs)
Today's your third time in Paris and your very first headline show here. The first time was with Man Overboard (RIP) at the Batofar and the second time was with State Champs at the Backstage By The Mill. How do you feel about tonight?
Alex Adam: Excited! The show with State Champs was really great. The show with Man Overboard was also really fun as well but now it's really exciting to do our first headliner here and see how it comes out.
The Pop Up Du Label is a smaller venue than the Batofar and the Backstage but for now, you're the main reason for people to come tonight.
Alex Adam: Yes and that's something cool!
The last few months, a lot of pop punk bands disappeared, like Man Overboard. In parallel, you're here and considered for some medias as the "next big pop punk thing" to follow.
Sam Veness (guitar): Oh, that's awesome.
Yes it is! But for now, you're still a "young" band with a lot to learn. How do you apprehend all this hope on your name?
Alex Adam: Good question. We're just exciting where this year will lead us.
For tonight's show, you're not alone because you're here with your first album "Backbone" which came out few weeks ago. What can you tell us about it? Who produced it? How was the writing/recording session?
Alex Costello: We did it with a guy named Drew Lawson in Steel City Studio in Sheffield, which is far away from home. We're not big fans of Sheffield because it's raining.
M: It's quite great!
S: Everyday we've been there, it's been grey or rained.
M: But I'm sure it's lovely when it's sunny.
Alex Costello: I've never seen the sun in Sheffield!
M: But we've got a good time there and we're proud of it.
Alex Adam: We started doing it in January (2015) and then, just as we came to do vocals, both myself and Alex got kinda sick so we couldn't do the vocals. We had to come home and we then toured for probably 2 months. We did a full US tour and then the trip with Man Overboard. Right after, in June or July, we went back and finished it off as much as we could. We finished the very end of it in Eastborne, in a studio just outside of where we live. So it took us a while to do and to see it out just now, a year off that we started recording it, it's amazing. It took a long time to come out.
S: I think it's kinda good tho because it gave us time to reflect on it.
Did you change or delete songs while on tour in the US, between these sessions?
S: Yes, a little bit because we had to keep going back which was annoying at the time. But we had few weeks or a couple months to listen to what Lawson did and when we get back in the studio, we had fresh ears and we changed a few things. Your opinion changes when you get back in the studio.
Was it like when you worked on your EP? Or was it a very different experiment?
Alex Adam: There's a lot of stuff that you can't do on an EP that you can do on an album like slower songs, an acoustic song. There's a lot more you can do when you have eleven or twelve songs to record instead of four. With an EP, you have to be effective, you kinda have to stick to fast catchy songs. With an album, you can have five of those and then other kind of things as well. That's something different which, I think, we enjoyed doing on this album.
Was it more difficult?
Alex Adam: I would say easier in a way because you can write very different songs and it doesn't matter. It can be very different to the first song and the last song. Like i said, with an EP you have to stick to something and it can be very similar.
How was it to work with Drew Larson? Did he make important choices that leaded you to a brand new level?
Alex Costello: Actually, there's only one song we made that is not on the album. We had 12 songs all together and only got rid of one.
Oh, not a good song in your opinion?
Alex Adam: It just didn't work like the others. The others were really easy to write but this one didn't feel right and it wasn't flowing us easily as it could have been.
Talking about songs, "Backbone"'s production sounds very similar to the old pop-punk generation – like the Starting Line, New Found Glory – but with a pinch of nostalgia. Can we consider that as a goal to create a harmony between old and modern pop punk ? Or is it more, like you say in "Hopeless Case", "let's go back to basics"?
Alex Adam: I think we intended to do that, really! Probably on our previous EPs, we had been more like modern. But with this album, we wanted to mix some older influences so it's definitely an intentional thing. And yes, there's a nostalgic thing: we listened to a lot of older bands when we were writing songs, for kind of reference materials. We meant to do that.
Also, on this album, it seems to have a Sum-41's influence, like with the song "Deadweight" or some of your lyrics.
Everybody: Yes! (laughs)
Alex Adam: Sum 41 is one of our favorite bands and one of our biggest influences. So yes, in places, we've got a sound like them. The lyric thing is not intentional, it's just like it fits there and works with the songs. But definitely the sound.
By the way, you're going to play with Sum 41 next month. Isn't that crazy and stressful?
M: Oh yeah! We're pretty excited for that. We haven't really thought about it for now, it just starts in a couple of days.
Let's go back to the album. We can find on "Backbone" very effective songs like "Bloodline", "Deadweight" and a new version of "Head Rush". How hard is it to be productive, avoid repetitions and not be like any other pop punk bands?
Alex Adam: I think it can be hard to avoid repetitions. It's definitely something that we tried and try to avoid as well because there's a lot a bands that release an album who kinda blur to one song. It's something that we're carefull to try to change by using different keys musically, different kind of tempos. We also tried to change that with acoustic songs and slower songs. But yes, it's quite hard not to be repetitive because usually you write similar stuff just because you learnt to write songs in a certain way. So in the end, it kinda sounds similar, no matter what you do.
Funny fact, your introduction song "The Desmond show" is in French which is also something very surprising. But, why?
Alex Costello: The producer came up with the idea. He was like "it could be kinda cool to do something like a radio kind of intro". We agreed and searched for different languages and my parents knew someone who was French. So, finally, we're like "OK so let's go for a French thing". And it's actually cool when we play in France and get to play the intro: we can see people's reaction and see if they understand what the intro says. For now, we haven't got the chance to try it in England.
M: English people didn't even mention things about it on the social medias.
Talking about the pop punk international scene, there are a lot of pop punk bands. We mean by that A LOT. Is it difficult with this genre to get noticed? Is there any special recipe leading to success?
Alex Costello: I think it's easier when we play live. People can hear our songs online and say "ok that's cool" but when we play live, it's very different.
M: Yes, it's the live aspect that kinda make us special. But it's quite hard to tell when it's your own stuff and judge other's people opinions on your music. That being said, I think our live shows are something that make us big. The live thing is important to catch the attention.
S: This album will help us too thanks to its different sound. I hope so.
Quick question for Alex Costello. On your Instagram, we can read that you're a Christian. I don't know about the others but is this something difficult to live with? We all know that in the pop punk scene, there are a lot of alcohol, drugs etc.
Alex Costello: First, I don't try to convince anyone. Also, I don't do that stuff and never felt rejected. They accept me for who I am. And the other bands, I basically tell them what I think but I never had anyone saying something bad. So no, it's not difficult.
Cool! Finally, our website is called RockUrLife so, what rocks your life?
M: Easy, it's music! Music rocks my life.
S: On this tour, I would say eat sandwiches. I eat two of them every day.
Alex Adam: My boys rocks my life.
Alex Costello: Music, sandwiches, my boys. (laughs)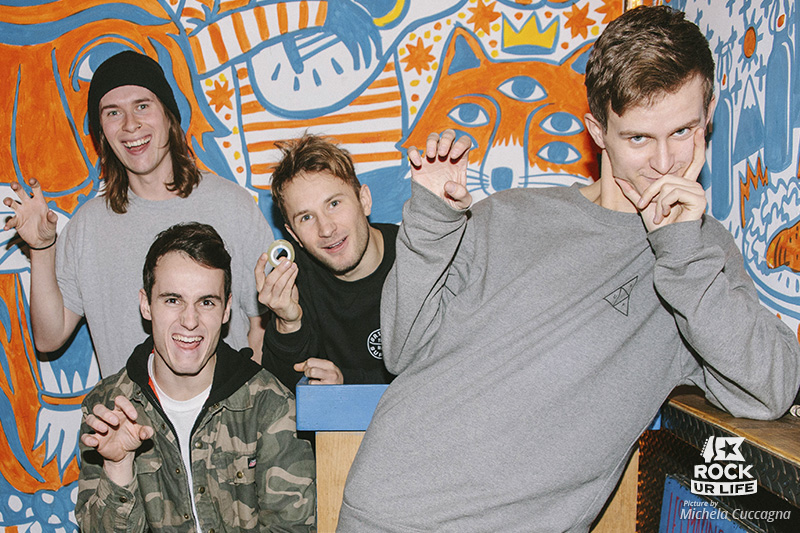 Website: roam.uk.com