RED SUN RISING (04/11/16)
For their first time France, RockUrLife interviewed Mike Protich and Dave McGarry from the American band Red Sun Rising. On the day before opening for Skillet at Elysée Montmartre, the band did some press.
Is it your first time in France?
Mike Protich (vocals/guitar): This is our first time here, our first time in Europe in general, so it's definitely a new experience for us. We never got the chance to come here, now our music drives us here.  
How do you find it now?
Mike: It's the first country that there is the language barrier that we have to get around. I took French in high school.
What can you say?
Mike: Right now? "Merci", "S'il vous plait" and "au revoir". (laughs) But it's frustrating, because we want to speak the language, we want to meet people and speak with them. It's difficult. It's a beautiful city, so we're just excited to be here.
Dave McGarry (guitar): The same. I wish I will learn more of the language, but we'll learn it in time.
This is the first time we meet you, can you introduce yourselves?
Mike: The band started in Akron, Ohio, in the States. We've been around since 2008 and we had two independent albums and now our national record which was recorded in 2014, we had great success on it. Two number one singles in the States. We just released it here in Europe last Friday so hopefully we get some success here.
You just finished touring with 3 Doors Down and Pop Evil. How was it?
Mike: It was great. Tour a lot with Pop Evil and the 3 Doors Down guys. It's like a family, we're still friends, but that was an interesting tour because they were our "feeders". It was different for us because we used to do club shows, smaller and more intimate. When everyone was setting down, the energy was weird, so it took a while that we used to that. But it was definitely a good experience for that.
Any fun short stories?
Mike: We were in the dressing room. We played the same song over and over and over again. We were with the crew and the other bands. It was funny to us because everyone was getting frustrated. We were laughing but they didn't know what was happening. It was a little tour prank we did.
Why you guys didn't make the last show in London with them?
Mike: No, because we were with Skillet. I don't know why, I guess it was our management that switch tour like that. I think the Skillet tour offer us a different tour. We're getting to do Russia, I don't think 3DD is doing Russia.  
It'll be your first show ever in Paris.
Mike: It's sold out. I'm excited. It's new for us and we wanted to start here first so it's pretty amazing. Make a first show in Paris. Even in the States, Paris is the city everyone wants to come in, to see Paris.  
You toured with a lot of bands like Seether, Chevelle. Who can be the higher band dead or alive you want to tour with?
Mike: Dead or alive, I'd like to say Led Zeppelin, The Beatles, Soundgarden. I would say Foo Fighters.
Dave: Metallica.
Everything seem to go fast for you, 13 years that a band didn't be in the first time two times n°1 in Billboard "mainstream rock chart". How did you take that news?
Mike: When you're in the moment and you're still touring, you don't really realize what's happening, you're just working on it day to day, you focus on the show every day. We didn't really have the time to celebrate. We just kept working and we're still keeping working. We've been on tour since for 2 years basically. We were definitely surprised, we're just writing music, and it happens.    
Do you feel any pressure for the next one?
Mike: I don't feel pressure, I feel more anxious because now, we do have the attention of people. We want to deliver quality music again, and we want to challenge ourselves to keep it interesting for ourselves. We have to involve as a band and to keep it interesting for our fans. We are excited to do that.  
Your first album "Polyester Zeal" got released on October 11th. What does this title stand for?
Mike: "Polyester Zeal" is basically: polyester is something very cheap, and zeal is like a goal, so the two things together kind of means "do what makes you happy whatever the cost, how cheap it is to someone else". Writing and recording music, professionally, became our unattainable dream, so we thought it was appropriate to name our first record "Polyester Zeal".
You worked with Bob Marlette (Black Sabbath, Shinedown, Alice Cooper, Airbourne). How was it?
Mike: It is funny how you pronounce it because you probably right, I think it's a French name. Bob is awesome, he's just like a great soul, and he really makes you feel comfortable. I think that's why the record sounds so well: the recording process was so easy because he made us feel like home. We recorded in his house, his family was there, we dined with them, and he made us feel like we were a part of his family.
Did he suggest changes for the lyrics or the music?
Mike: No lyrics. The lyrics were a hundred per cent us. But yes, he helped develop the songs, structure them, but at the end of the day, the band wrote the songs and he just basically checks we were too far. He pushed us like "you can sing better, or try to head this note", little thing to make the song better.
You've been an independent band for a while. Marilyn Monroe said: "It's more exciting dreaming about being an actress than being one", is that true now?
Mike: I don't know if it's true for me, but I see what that means. The further and further we get into the business, some things don't seem magical anymore. Even in simple, for example, when I go to see a concert now, I'm always analyse it as a band, I'm not enjoying it as a fan. I kind of miss that.
The cover is really special. Who did it and what does it mean?
Mike: Douglas Granger did it, he is a local artist in Ohio. The illustrated street you see is our hometown, so it's where all our family, friends and support are. The guy in the front is a homeless guy pushing things, it makes him happy. And that's why we called it "Polyester Zeal".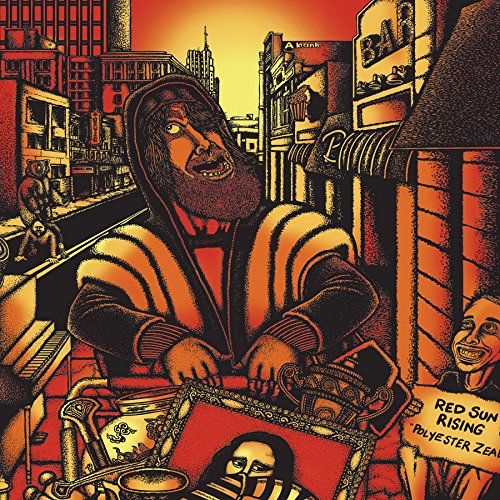 How long did you work on this album?
Mike: Three and a half months. It was basically January through March.
That's pretty fast. For both writing and recording?
Mike: To write it and to record it. We took about one month and a half to write it. And then, the last month just to record it.
You just released a new video one month ago "Amnesia". This video is really hilarious. What are you joking about?
Mike: I think we wanted to try a different way just to see what happens. The first two videos were very dark and serious. We had fun doing it, we had fun the entire day. I think we put a lot of our own personality. It was a joke.
It was you with the banana, right? (laughs)
Dave: (laughs) No, it was Ricky.
What are you joking about with this song?
Mike: The song is about nostalgia and what makes something nostalgic. So we thought going to the area of music would be nostalgic for a lot of different people. It's a funny way to represent it.
It surprising to see "The Otherside" on this album, the video was released in 2015. It was long for the fans, waiting for a record.
Mike: Yeah, "The Otherside" was actually released before the record, it was just to introduce the record. It was a strange year because we're just touring with no record: we played shows and people were like "where can I buy your music?". That was a weird time, for sure.
Who's your muse?
Mike: My muse comes from everywhere. I think my muse is constantly changing. At the time of the record, the muse we were speaking in the song is a drug, not used by us, but used by someone that we love, that we're watching painfully. No matter how much you're struggling, we're still going to be there for you because we love you. That's basically the idea of that song.
What's your favourite song on this album and why?
Mike: For me, I would say "Unnatural" or "Emotionless". "Emotionless" because it's an old song, 2010, and it came to me in a dream. So, it's really strange, it's really from the subconscious. So it's a special song to me. "Unnatural" was supposed to be two songs, we just put it together. That's why the tempo change on it: it starts fast and the course is slower.
Dave: "Imitation" because I just really like the lyrics and the driving pushing that song, the tempo. It's kind of the most hard rock song of the album, I guess. So, that's just my personal favourite. I love playing that one in live.
I really had a crush for "Emotioneless". Where does it go lyrically speaking?
Mike: Well, the dream I had was quite cryptic and strange. It's hard to know what a dream means and I think as time goes on I'm more developing concept of what that dream meant. To me right now, the song kind of means the world obsession with preserving beauty. When the beautiful part of that life is that we all live, we all die. But for some reason we have an obsession with preserving beauty. It's kind of symbolic version of what emotion is.
When will we see your first headline French show?
Mike: The next time we come back, hopefully soon, we can headline, maybe, some small places and start from there. We would love to do that.
Finally, we are "RockUrLife" so what rock your life guys?
Mike: What rocks my life? It's Paris! This is awesome, it's raining, but it's still beautiful. We don't see it every day so. This all trip rocks my life.
Dave: I think, when we were young, we start playing music. So, just being and come over here, doing what we love rocks our lives.
Website: redsunrisingmusic.com