A few hours before their show as an opening band for All Time Low, RockUrLife's team met three of the "sad boys from Illinois" Dan Lambton (vocals), Dave Knox (guitar) and Kyle Fasel (bass), who were not that sad after all. 
First, how are you?
Dan Lambton(vocals): Good! How are you?
Good, thanks! I'm looking forward to seeing you tonight.
Dan: We are looking forward to playing too, we've never been to Paris before.
We know for a fact that a nice bunch of people are coming to the show not to see All Time Low, but to see its opening bands.
Kyle Fasel (bass): Yes. Everybody comes to see us.
Dan and Dave: (laughs)
K: I'm just kidding though.
You've been on tour with All Time Low and Neck Deep for a few days now. How is it going so far?
Dan: It's good. A lot of kids are very accepting, very respectful. We haven't heard any "get the fuck off !" from stage yet, so… (laughs). Everything has been awesome, people have been very nice. We've toured with Neck Deep three times prior to this. Everything's going smooth I'd say.
As you said, it's your first time in Paris. You're now all sat backstage doing interviews, but did you have time to walk out of the venue and visit the city for a bit?
Dan: We all did earlier. I went and saw the Bastille statue, and… I can't remember, what did you guys see?
Dave Knox (guitar): I don't know what it's called. (laughs)
K: We saw some kebabs.
Dave: There's a place nearby with a big statue…
Place de la République.
Dave : Yes! And we're going to the Eiffel Tower tonight.
We thought you had a show tonight?
Dave: … In a few hours then. (laughs)
There is only a few shows left. What are your best memories of this tour, whether they're from what happened on stage, or backstage?
K: It has been very cool to play to people that didn't know our music, because we used to be the headliners of the tours we were on in the United States. They would be a lot of kids that know our music, which is a very good thing, but at the same time it's a nice feeling to be a in a room full of people that have never heard of us. It's like when we first started out, but with more people watching, and it's cool to try to win those people over. It's a challenge that has been quite exciting for us.
Was there any barrier in the previous cities?
K: Oh yeah. But we are playing some headlining shows in the UK and those are going to be smaller, 300 to 500 people, which means no barrier. It's going to be more intimate.
You'll be touring in Japan in June. Is it a sort of accomplishment for bands to be able to play out there?
Dan: Yeah. It's going to be our first time being over there. I would say it's going to be awesome, knowing we're going to play there is incredible. I don't know where I'm going with that. (laughs)
K: It's a good opportunity for sure. It's something we've always wanted to do. We were actually about to go there about a year ago and it fell through, so it's good to be able to go back. After that we're going to Australia. We've been there last year and it's going to be a lot of fun to come back.
Is there any place in the world you wish you could go to play?
Dan: Alaska!
K: Oh yeah, Alaska and Hawaii too. We're trying to go there.
Can you even play a show in Alaska?
Dave: Yes, they do!
Dan: Usually when you hear about bands playing in Alaska, it's huge bands. Maybe one day.
K: I think Fall Out Boy played there, didn't they ?
Dan: Probably! (laughs)
Dave: I'm pretty sure it was Metallica.
K: That was definitely Metallica. (laughs)
Dan: Or Kanye West…
K: Anyway, wherever it is, we're always happy to play. When we first started out, we never thought we would be able to do all of this. It's really rewarding to look back at everything you've done, it's unbelievable when I think about it. Every night before going on stage I'm reflecting on that, thinking we were all very lucky. We're from Illinois and we're touring Europe, maybe there's not as many people singing along to our songs as they do for All Time Low, but it doesn't matter. The fact that they care, that they put their hands up, clap, mosh and all of that, means a lot to us. It's cool. It's also odd some days. (laughs)
"Maybe This Place Is The Same And We're Just Changing" came out almost a year ago. Can you sum up what happened during this past year and what has changed for you as a band or as individuals since then?
Dave: We released it while we were on Warped Tour. We finished that off and then we were home for a little bit and did a headlining tour in the fall, and that's when we put more songs from the album on the setlist. That's pretty much the only tour we've done for this album, right?
K: I'm pretty sure. We were just home most of the time.
Dan: We've done Warped Tour, headlining tour and this tour and that's it.
Dave: After the headlining tour we were home for 3 months. But I don't think much has changed. There was no big changes in our lives.
Dan: Having those 3 months off was really good, we were just chilling and hanging out. We are kind of boring. (laughs)
What was your state of mind when you were composing the album?
Dan: It was definitely stressful, because it was our first release on a label. We had done everything independately before that. So, to have a schedule, a budget and someone other than us paying for it was really weird. We wanted to make sure that not only we would satisfy ourselves with the record, but also the label because they supported us and paid for it. We wanted to make the best we possibly could with our first full-length. In the end it was a very filfulling experience. I remember recording and I had a sinus infection. I was really sick and very frustrated, trying to put the finishing touches on the vocals. However, once we got out of there and looked back at the record, it was very satisfying and definitely worth it.
Talking about your label Fearless Records, we think they said there will be a new album in 2015?
K: They're talking about the acoustic EP.
Dan: Yeah, they said we would put out new music but it's just about our upcoming acoustic EP in April. They were not really clear about that when they decided to put that on their video. (laughs). We will release the EP on the Record Store Day, it will be two songs from "Maybe This Place Is The Same And We're Just Changing", one song from "Put Yourself Back Together" and then a cover.
"Moving Forward" recently came out. Where did you get the idea of making a documentary? What was the process like?
Dave: We made one about two or three years ago. I don't think a lot of people saw this one and we wanted to make a more updated one. The first one was shorter, like half the time of "Moving Foward", and it was more about the start of the band. So, we wanted to give an insight of what the band is and what it has become, how we do certain things, who we are as individuals and give more details on process of making the album as well. It was a way of opening up ourselves more and show people that we're normal guys. A friend of us called Gary filmed it, he runs a company called Creation Factory. He's work with us before on designs, photos or videos.
We're unfortunately running out of time, which leads us to ask you this last question: our website is called "RockUrLife", so what rocks your lives?
K: Cheese.
Dave: I like cheese too.
Dan: Sadly I don't eat any cheese no more, but I like playing video games. (laughs)
Alright, we're done then! Thank you for your time.
Kyle and Dave: Thank you!
Dan: Thanks, see you tonight!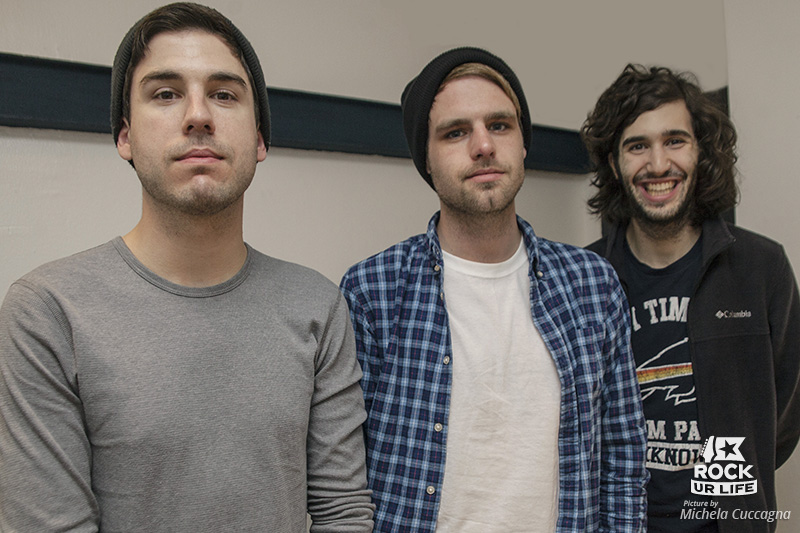 Website: realfriendsband.com