NOTHING BUT THIEVES (02/11/18)
Scarce are the british alt-rock bands who enjoy the same aura as Nothing But Thieves. In less than seven years, they have released multiple hits including "Amsterdam" and the criminally short "What Did You Think When You Made Me This Way?". But how do they regard their celebrity?
Is there a question you're still waiting to be asked?
Conor Mason (vocals): That one!
Dom Craik (guitar): "Why do you like music?" No one have asked us that and it's quite an important question, isn't it?
Conor: When we started, we were musicians first. We were both classically trained in playing our instruments, and we had played for years. I think we wanted to be in a band, yet we had to discover how to write. As we have grown older, it's become a part of us. Our day-to-day exploration moulded our creativity.
Dom: There are not many medium that we can portray ourselves and our creative identity with.  
Conor: We're artists now! (laugh)
Are you considering yourselves more as artists than performers?
Joe Langridge-Brown (guitar): Yes, I think so. We're not just going out there and performing songs. What we say as a band and how we present ourselves matters. There are bands that just go out there and are like: "OK I'm paid to sing this song, so I'll sing it" but it's different from us.
Dom: The message that the song has — or the message that we intended the song to have originally — is something we care for. That's why we like to record live. We're attached to our songs from the start.
It sounds like playing music is a need for you.
Dom: I'm not good at anything else! (laugh)
Joe: It's the only thing I understand. I don't really understand a lot of things, but I do understand music.
It must make criticism difficult to hear?
Joe: You've got to take those things with a pinch of salt because firstly it's really hard to describe music with words. You try to take an artform and describe with another, so sometimes people don't get what you're doing. I think you gotta laugh. You can't take criticism to seriously otherwise it starts affecting what your thoughts are about your art.
Conor: If you're presuming critics are completely versed, it means they knows every source of music that has ever been produced, therefore they know exactly what your influences were and what you were going for. But they probably got quite a likeness for some things that they like, so how can they give you a true response?
Joe: The other thing is that in general critics also have one eye on their own career. They have one eye on the music and one eye on what they want write as a piece.
Dom: I also think that you can review a live show from how well the songs are performed or from a technical standpoint. But critiquing music is a little bit different as you're critiquing a subjective thing objectively.
Do you think making music can simply be fun or do you have a duty to convey messages when you can?
Joe: I'm not sure I'd call it a duty. Sometimes you just want to dance.
Conor: Music really is about self-expression so you don't particularly write for anyone else. If it gets out to a lot of people, it's an extra. It's not what it was created for.
Dom: What is amazing is seeing fans connect with songs on an emotional level or a lyrical level that wasn't what we wanted the song to convey originally. Once the song is out there, it's theirs. They can take whatever they want from it. We love that people reach different levels of our songs and relate to them in different ways. I think that's amazing.
Conor: The best thing to do is to write for yourself AND be aware of the fact that other people are listening to you. That's what our favourite artists do. If you write for an audience, that's when you lose track. Down the years, bands that we admired have lost their way a little bit because they forgot to write about their love of music.
As a fairly young band, is it sometimes difficult to distance yourselves from your influences to get your own musical identity?
Joe: I think it happens with the more music you release. When we released our first album, every music reviews we got read: "Oh this band sounds like Muse!" The more music we released, the more nuanced they became.
Dom: It's like growing up as human. If you try to describe a baby's personality, it's a bit confusing because he has no characteristics. The older he gets the more personality he gets because he refined as he got older. I think that happens with bands too. I think we're changing what our tastes are and that's exciting. We're not a band that is obsessed with everything that we put out. We know that it's OK if we go in and out of loving our songs and feeling less passionate about some of them.
Do you think that there's always room for new music?
Conor: Oh yeah, artists change constantly. We always change. We always adapt.
Dom: It becomes boring and stall if you're not offering anything new to yourself or anybody else. Once you've done something, why would you want to repeat it. There are a ridiculous amount of ways to make music. It would be silly not to explore those avenues even if it does bend genres. It's a bit scary but at least you're keeping it interesting. It keeps us motivated.
Is it a goal of yours that one day bands are going to be compared to Nothing But Thieves?
Joe: It's alright as long as they don't sound too much like us!
What's your relationship with the French audience?
Conor: It has grown so much! It used to be our weakest. We were playing from 500 to 1000 people around the world, and then we were playing cafés in Paris. It was different but fun!
Dom: Our relationship with France was like when you're at school and you're trying to get a girl's attention. You just want her to acknowledge you and when she finally does, it's great. I find it amazing that fans are willing to wait outside in the cold! We always try to go out and have a chat, see how they're doing. That's really important to us because it shows how passionate they feel about the band. That's really sweet!
Why did you decide to play the Bataclan?
Joe: There wasn't any chance that we weren't gonna do it. Everyone agreed with the fact that we definitely had to do that show. I think it's really important for bands to do that now.
Conor: The fact that it's nearly sold shows that French people want to come here. They're not scared so why should we be?
Dom: We were due to play in Paris a few days after the attack. It hit home so hard because it's in our world. It's something we do every day. So when we had the opportunity to pick the Bataclan we knew we had to because it was an important message to stand up and say that it's important to come back to this venue and not let the negative side of the world impact the positive side of the world. I think what we try to do with our music is to bring people together so it will be more poignant than ever in the Bataclan.
You've already released an EP, but your upcoming album may already be on the way?
Joe: We're going to wait to write most of it. We've already written some bits but we need to take some time off to finish it. That's what we'll do for most of 2019.
Dom: It feels like the last few years have just disappeared! We look a lot older and have nothing to show for. (laughs) When you're constantly on tour you forget your own timeline!
If we looked into your phone, what would be the most surprising song we would find in it?
Conor: The latest thing I just downloaded. It's fucking banging, and I'm not afraid admit it: Ariana Grande. (laughs) It's so good!
Dom: Billie Eilish. She's amazing!
Joe: I think some people would be surprised that we love Slipknot. So many bands have tried to do what they do, but none ever came close.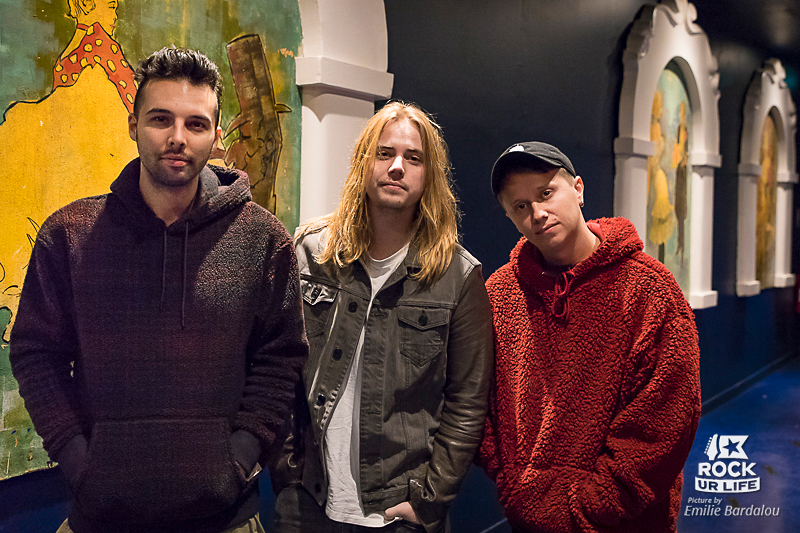 Website: nbthieves.com