MICHAEL SCHENKER (26/08/19)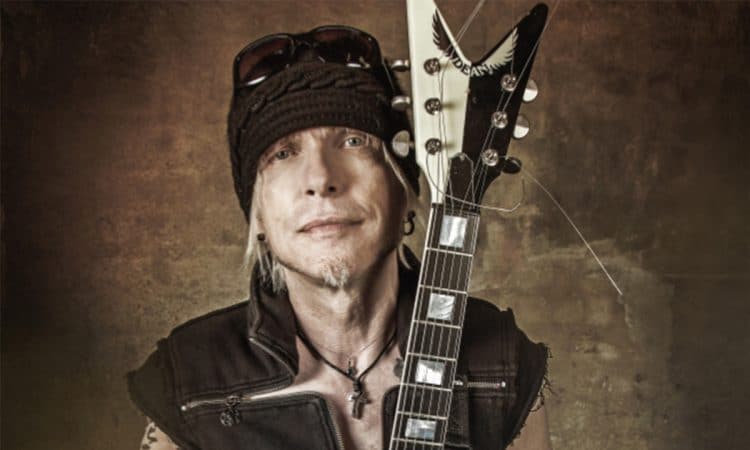 Michael Schenker is back with a brand new record! Lets find a bit more with this iconic guitarist!
Hi Michael! It's been only a year and a half since the first record of this project. How did you manage to write and record? Knowing you were on the road.
Michael Schenker (guitar): On a regular basis, I play and discover which is like treasure hunting. Every day I devote myself a couple of hours to play and I may find a piece of gold. When I find one, I keep it and start collecting those pieces. When it's time to make a record, I use those gold pieces. Plus I still have some pieces I didn't use so I'm always ready.
You're once again teaming up with the four vocalists: Gary, Graham, Robin and Doogie. First, how do you/they define who'll sing on which songs? How's that process like?
Michael: I write all the music, I'm the architect: I put the windows and the walls and everything there. Then I add an electric bass and drums so people can understand if it's a fast song or a slow song and we send them out. Doogie took the two first songs, Graham insisted to write his own lyrics and melodies and at the end everyone was happy with their choices.
They never fight wanting the same track?
Michael: No! So far so good! (laughs)

Do you try to fit their voices while writing music? Or you just focus on the music?
Michael: I just write the music and then we send the music. For example, Doogie came with two or three ideas, then Michael (ie Voss, co producer) and I will listen to them and define which is the best one to go with. Then he perfects it and come to studio to record it.
After "Resurrection", in which state of mind were you before working on this new record?
Michael: Obviously I took the previous album as a reference. But I also knew there was a window of six/seven months between two booked tours. I said to Nuclear Blast "I'm not gonna waiste that window". I want to be creative and who knows, maybe we'll be busy for the next three or four years. That's how I started to get the ball rolling. And it looks like a good move because we'll have tons of shows in 2020, 2021 and even 2022.

My state of mind? I'm always 20 years old. I want fast and melodic stuff with good pieces you know. I want an album as a whole, writing like a good book. Not focusing on songs but making it an adventure. I'm always looking for something a bit usual too, it comes from here and there.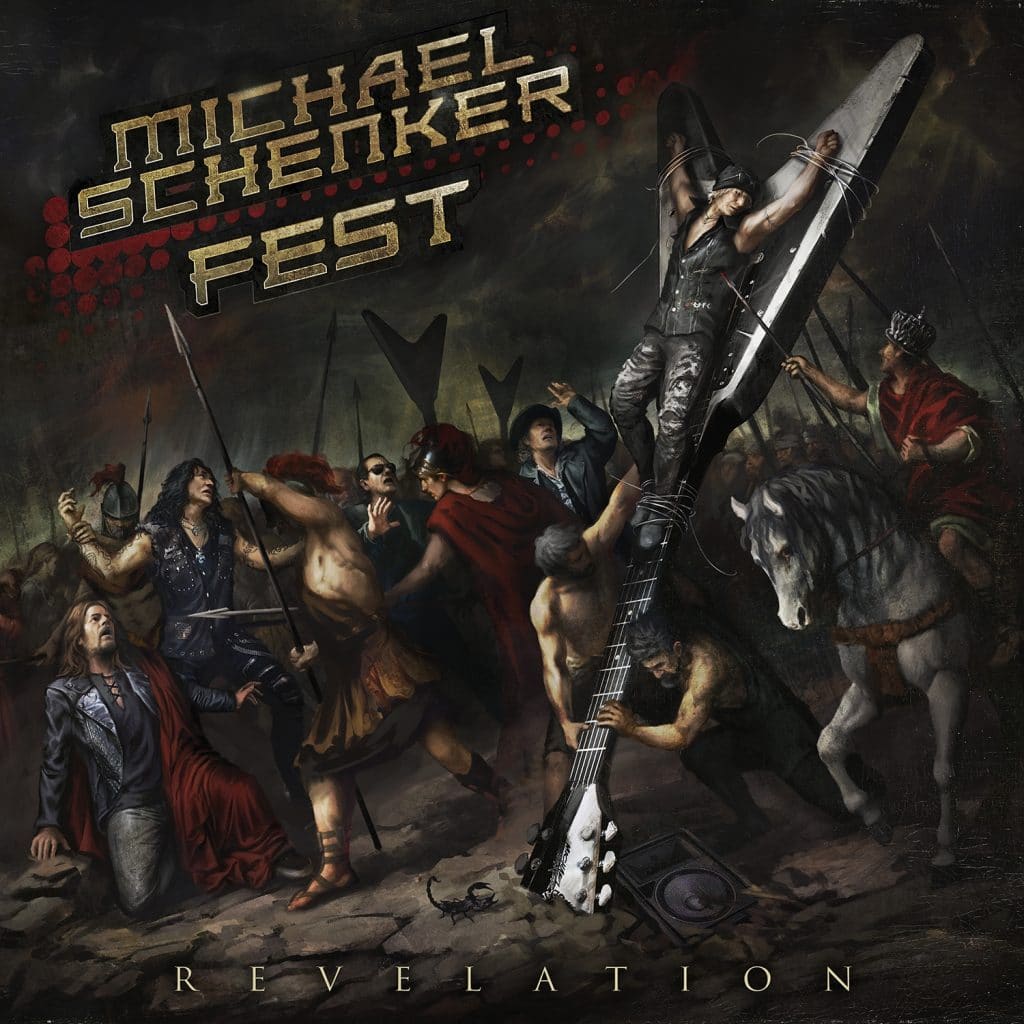 "Revelation", 13 tracks. Even on the first album, there's a lot of references to religion. Lyrics or the artworks. What's your relation towards religion and faith?
Michael: Yeah but it's weird how it happened. When we started the first album, in the studio, we were having a party and we needed a big table. Food, drinks and good company and someone said "it looks like the Last Supper" and the creative label branch already took the idea and made the artwork. (laughs)

Doogie wrote "Take Me To the Church" and I was thinking: what is he doing? Why that? Did something happen to him? But even Voss wrote some stuff but it wasn't intentional or something, it was just it.

For the artwork, me hanging on the flying V, it was a reference to my middle years. When people were trash talking and humiliating me. In fact, Nuclear Blast had three ideas for the cover. So I told them who I was seeing it, describing it but the painter misunderstood me. The first draft was the band putting me on the V but it didn't make any sense. They re-did it and it was beautiful. I wanted everybody in fight position to help me and get me off the V. Graham was offended by the cover because he didn't understand it. So I looked to it again and realized "shit!" I looked like the messiah and the musicians are the disciples but I'm far away from that. That's not what I'm trying to say. Plus it's not a crucifixion because it's only a rope around my arms and I can be freed. But I think I was a bit blinded looking the details because the painting is so beautiful.

If I look to it again, it's not that bad. (laughs) But people need to understand the story behind it and the fact that I got cursed by my own flying V, stole by my own brother.
You released "Rock Steady" and "Sleeping With The Lights On", how are they the best singles to introduce the fans to the rest of the record?
Michael: "Rock Steady" almost didn't make it on the album. There were too many parts in there and I didn't think it was sutable for us. Plus I wanted to make a guest song and it reminds me The Rolling Stones. Plus, Ronnie Wood is a MSchenker fan! He's in Barcelona and I wanted him to bring him and Mick Jagger too but then Ted McKenna died (ie the drummer of MSFest band) and he had to scrap all the guests. Anyway, I kinda couldn't let go the song. I kicked things out, turn it around and it started to become a really interesting song. Like an anthem with psychedelic pieces. Something very unusual for me but I knew, until later, that the song was about me because I wasn't focusing on the lyrics but making this song musically rocking. Once everything was alright I checked the lyrics and was like "damn he's singing about me!". (laughs) I turned out to be a very good song but I never expected the label to choose it as a single.

"Sleeping With The Lights On" is a song the journalists listened to our listening party and people liked that song a lot. But it's even better with the video! It's a nice song but it's also a nightmare. So you have to experience it with the video clip. It was also the label's choice. But in the end, people will understand what this band is all about, not only with those tracks but listening to the record.

A word about "Ascension", an instrumental to end the record is a bit uncommon. What were you looking to with this ending? Kind of an epic climax?
Michael: Usually I do 12 songs. But for some reason I did 13 this time. I did another one just in case one got kicked out. In fact, nobody couldn't find anything for this track. But the music was already recorded so maybe I could get an instrumental out of it. Then also, I dedicated it to Ted McKenna.
How do you keep yourself inspired? How to not repeat yourself.
Michael: The pieces of gold, they are waiting. When it's time to make a record, I got my cassette recorded out and I get inspired to write a song. That's what I do. 12 songs and back in the studio. (laughs)
How would you define a good song? What are you looking for?
Michael: There's no good and bad. Being an artist, you can't do things right or wrong. It just is. It's a self expression. If you're in the music business to get a piece of the pie with the commercial music machine, it's a different story. But I'm an artist and there's nothing wrong and nothing right. You express something and only then people either like it or not. It's not the same thing, it doesn't exist. If people are worried getting judged. Nothing needs to be done in a way. Do your thing and stay strong.
What make you proud with "Revelation"? What can expect the fans?
Michael: It's an honest true album. Michael Schenker music. It's the level up from "Resurrection". Everybody did a fantastic job.
Finally, we're "RockUrLife", so what rocks Michael Schenker's life?
Michael: A nice weather, designing things in the back of my house, eating good food of course! But I'm also very disciplined keeping in a good shape so something I treat myself. Food is my #1 enjoyment. I love Thai food but it makes you big so quick! (laughs)
Website: michaelschenkerfest.com