Metaldays (ex-Metalcamp) is one of the most amazing metal festival in the world. What's going on there? Lets find more about it with Boban Milunovic, one of the organizers of the heaviest Slovenian event.
Hi Boban, how are you?
Boban Milunovic : I'm doing fine, thank you!
It'll be the 7th edition as Metaldays this summer. How do you feel four months before the festival?
Boban: I feel really good about it. The sales are great and if it continues this way, we'll be sold out by the end of May. That would be the earliest sold out for us. It means that we did a good job last year.

So what make your festival that unique?
Boban: We like to believe that we're the pioneers in this concept holiday and music, right. The festival isn't a regular festival. It also offers another experience too. Now you have other festivals trying to combine both like for example 70,000 Tons Of Metal. They did it after us but with a different approach. That's the thing that set up apart from the other festivals.
The format and the capacity didn't really change over the years. A bit like Alcatraz in Belgium. Great lineups but small audiences. Is it a real desire to keep it this way or are there other factors leading you to keep it like today?
Boban: On the location we are now, it's the maximum we can do. We cannot grow. So if we ever wanted to, we couldn't. On the other side, it's not really something we tend to do. Even if the location was bigger, we probably wouldn't do it. Because it'd loose this holiday feeling, with too much people. When you do a regular metal festival, that's ok, there's no problem for not showering a few days and sleeping badly. But people at Metaldays, they usually come for more than a week and you need to provide enough showers and stuff. If we go bigger, we couldn't do it in the good way.
You also have many little bands as the New Forces. Not all festivals do offer this kind of opportunity. What's your approach here?
Boban: We believe that it's important to take care of metal's youth. If you like what you do, you'll also take care about the future right? That's what we do with New Forces. And starting 2020, we'll take this on a higher level. We'll stop New Forces and have a festival for it called New Metal Festival. It'll be connected to Metaldays on Saturday and Sunday. It's a two-day festival on our second stage. Bands will play on a bigger stage, there'll be a big headliner too. Bands will have to learn about stage times, changeovers and all the other things that you can only know when you play on a big stage. That's the plan.
You also launched Winter Days Of Metal. How did you have the idea?
Boban: There wasn't any winter festivals around. We started this in 2010, but back then it was called Wintercamp. We did it one year and few years after, we thought "let's try this again". We started it back and it's been a great journey so far. The festival grows. This year we also came to the breaking point, so for now on it'll be easier.
But were you surprised about its success?
Boban: Actually yes. (laughs)

Do you think it's the kind of experience fans are looking for like the cruise festivals?
Boban: I think so. Lets have an example. You're out in Paris and you want to eat. You can have junk food, fast food or whatever restaurant you want or need. It's the same thing with the festivals. You can choose whatever suits you or not. You can go to a massive festival with hundred thousand people just for a weekend and have your head completely blown or come to Metaldays and enjoy in a different way.

Those big festivals will never be able to offer what we can offer at Metaldays. That's why Metaldays will never grow that big. But I think that we'll have more festivals like us, in the future, but will remain small.
70,000 Tons Of Metal is like 3,000 people I think, comparing to Hellfest it's not the same you see.

The consuming of music has changed. It's not the same as ten years ago. People are expecting different things for organizers and are also more critical. Just think about your first smartphone and the one you have know, it's the same with festivals. Expectations are totally different.
So you have three festivals on the same location. How do you manage the environmental impact? You already do a lot on this subject. Please tell us more.
Boban: That's also one of the thing we believe we're one of the pioneers. We started with our environmental program in 2008. That was the first year we introduced biodegradable tent packs and we also started with garbage deposit. Everybody was angry about that, they were completely pissed.
To see now that it became a trend, festivals working around this idea, that makes us happy. We didn't started it for publicity, we did it because it was a good idea and it made sense.

We try to leave the less impact we can on the location. That mean we use biodegradable materials, garbage separation. Each year, we rent less chemical toilets and have more regular ones. I'm confident to say that the location is looking nicer after we're gone than its statuts at our arrival. Nobody takes care of it the rest of the year and it's a lot of work to do so.
Do you rent the location?
Boban: Yes, in total they're 27 different owners. A small part is owned by the city of Tolmin but the rest is private. It can be tricky sometimes. (laughs)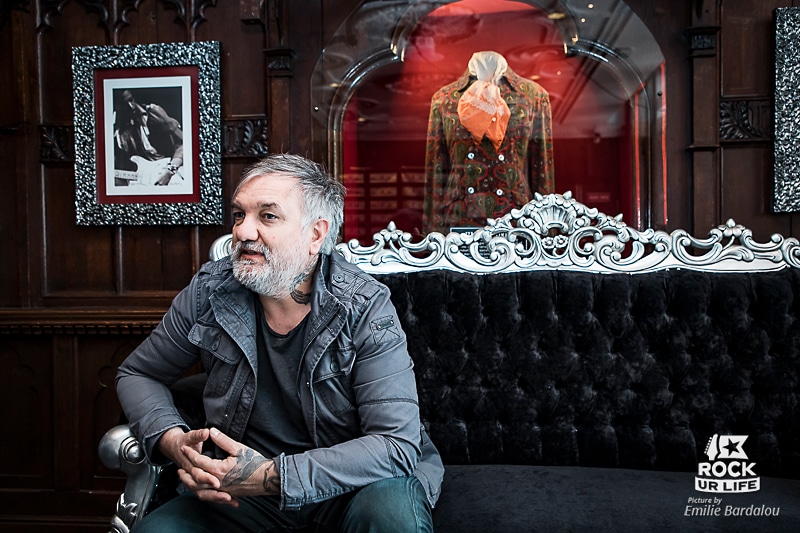 And how are they seen locally and nationally? How's the rock alternative scene in Slovenia?
Boban: Good! Our company is the one bringing the most of the tourists in Slovenia, as a privately owned company. Tolmin is pretty small and most of the city's income come from tourism. So it's a very important thing for them.
You also have a fourth festival, in Ljubljana, in a castle. How did it all begin and how did you end up in such a place?
Boban: We had a festival in Tolmin called MotorCity. Although it was a nice romantic idea but it turned out to be a bad one. (laughs) Motor drivers aren't really blues fans. Maybe I watched too many American movies. (laughs) And the people coming to the festival were here for the blues music. The one not coming weren't coming because of motorcyles.

We stopped that and tried to keep the better part. We changed the name and moved it to Ljubljana because it's a beloved city in Europe right now and a charming place. We couldn't of course just go to a venue and do it there. That's not our policy. We like to work in extraordinary places so the castle was our first choice. It took some time to convince them to let us do it there but with our good reputation, they agreed.
Do you have the time to visit other festivals? Do you get some fresh ideas by attending them?
Boban: Yes I'm doing it regularly. I visit as much festivals as I can. The first one I'm visiting this year will be the Holland International Blues Festival. I like to visit festivals that are quite different than the usual ones. Smaller and younger festivals. I cannot learn anything from Hellfest or Wacken because I can't imply it on our festival. Size is such a difference. They deal with different issues than we do.
In your opinion, on which aspects you can improve Metaldays?
Boban: What we definitely improve is the ecology thing. There's still a lot to do. We have now a five-year development plan on that subject.
This year we banned fuel powered batteries but we allow people to rent electric ones. Next year, we'll encourage ride-sharing. They can get a free parking space if they're like 4 in a car or so. By 2023, we'd like to get rid of chemical toilets and lot of things like that you know.

When it comes to the musical part of the festival, I don't think that we can improve much. A part from the festival for young bands, we'll never be able to have bands like Iron Maiden or Rammstein, even if we were willing to pay them. We just can't put their production on our stage.

With a 5-day festival, how much beer do you guys sell?
Boban: Wow. I think we sell 100,000 kegs. 50-liter barels
If you have the opportunity to book the band of your dream, without budget restriction. Who will your bring to Tolmin?
Boban: If I was really cocky, it'll be AC/DC. (laughs) But it has nothing to do with the budget. We'll need to destroy half of the town to bring them there. (laughs)

Tool would work! It's one of my favorite bands and even if they are too big for Metaldays, with the right amount of money, I think I would convince them just to slim down their production and do the show.

Bands like Rammstein have like 25 huge trucks for the production. We may have space for 3. (laughs)
Is there any band you tried to book but you never got them to Tolmin?
Boban: Yes, yes! I do this for years but they keep ignoring us, it's the French band Gojira.
Oh!
Boban: (laughs) But I don't think it's the band. It has to be their agent.
Why should we, metal fans, come to Tolmin, for the festival?
Boban: Mostly because what Metaldays is and what the other festivals are not. This combination of holiday stuff and music stuff. Plus, Slovenia is a nice country, you can see and do a lot, before or after the festival. And we also have better wine than you to offer. (laughs)
And as a conclusion: we are "RockUrLife" so what rocks your life Boban?
Boban: My life, it's rocked by Metaldays everyday. (laughs)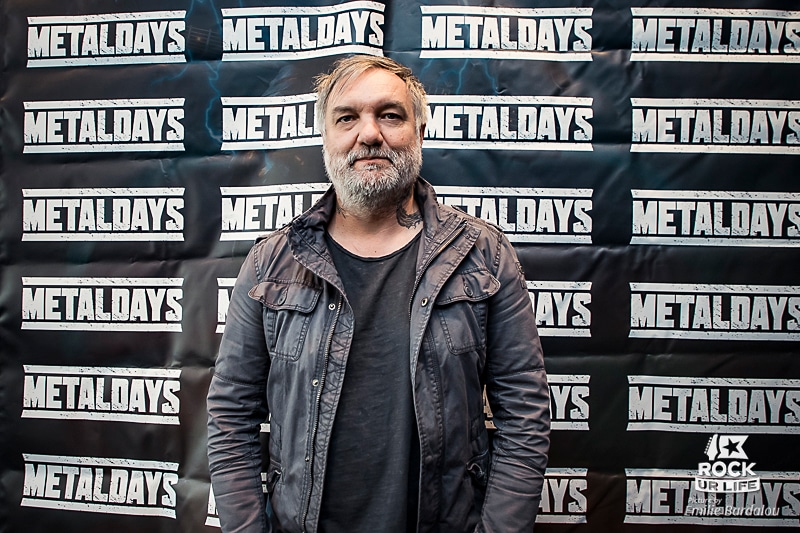 Website: metaldays.net