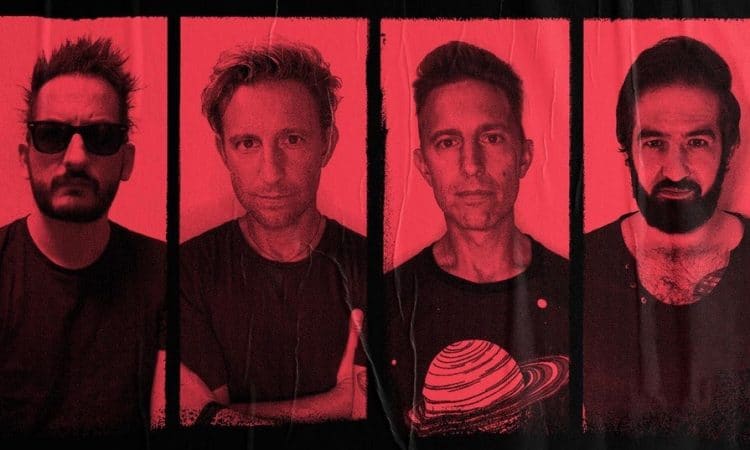 A long interview with Matthew Leone, bassist from the Chicago band Madina Lake. Between past, present and future!
How are you feeling about your "return"?
Matthew Leone (bass): Since this lockdown we were working on these songs. But we did work on them for several years to be honest, they just did not pass our "holy shit test". (laughs) As a way of coping with all of this, everybody being creative, we got together online, sending files back and forth. We didn't think everyone would care and… they did!
How was the reaction of the fans to the new songs, "Playing With Fire" and "Heart Of Gold"?
Matthew: The reaction was overwhelming, we had a lot of feedback from the fans. It feels like if we went back to "From Them, Through Us, To You"(2007) and made our second record taking a different direction than the one we took for "Attics To Eden" (2009). Not that I regret making "Attics To Eden", I really love that record.
I think our audience probably wanted to hear that next maybe? The reaction was fantastic. The one thing we always say is that our audience is our friends and supporters. They're so loyal. We always say there is never a last time you'll see us.
Our career became unsustainable due to the band wanting to get married and start families. Even though at this moment we were one of those bands on the road 24/7, we couldn't do that. We couldn't raise a family in this situation. And I think parenting is the most important thing in the universe. We wanted to get to a point before that happened where we could always put music out, do a few shows a year because Madina Lake will always be a part of our life.
After the first cycle, we had the feeling that the trilogy and maybe Madina Lake was over. Where is the place, in this trilogy, of the EP "The Dresden Codex"? And where is the place of "The Beginning Of New Endings" in this cycle, or is it a new cycle you start with this record?
Matthew: Before I got hurt, we had our whole plan and design from day one. We were going to put out the trilogy and everything we wanted to say ended up being prophetic in the end, considering where the world is at the moment, and which we feel really good about.
When this event happened, it definitely shifted things a little bit. As you could probably tell, "World War III" (2011) has some aggression on it, the same as "The Dresden Codex" as they were written during the same sessions. At this time we were pretty pissed off and we had things to say.
We wrapped up the trilogy with "World War III". The reason the new EP is called "The Beginning Of New Endings" is because it is a new chapter in Madina Lake. It is Phase 2 of our career and we hope to continue with several phases.
It's a new direction we take. It will always have the parallels that we can't get away from, and we don't want to.
Are you proud of everything you've put out?
Matthew: Yes. We have very high standards for ourselves and the band. When we started Madina Lake we had this sort of tenets and we would always operate in the parameters of them. One of them was we had to be in our favorite band; the second was that if it shouldn't feel like we were in our favorite band, it was time to pack it up.
Can you tell us more about the process of recordings throughout your career?
Matthew: We made our first record with Mark Trombino. He was going through a personal issue in his life at the time. The consequence was we were able to just write and record the way we wanted to. He didn't come in and change anything. We didn't have to fight for our ideas.
We made "Attics To Eden" with David Bendeth. He is a big producer, working with Paramore, Breaking Benjamin. We discovered that he didn't love the writing on those records and that he had the intention of rewriting with us, but we don't allow that. We're not good with input. (laughs)
We were constantly fighting and he would freeze the sessions and the managers would have to argue. It was a struggle to make this record. In the end we managed to do the all thing without sharing any writer credit which I think was unprecedented to him.
This shows the independence you've always had with Madina Lake, even in the way you manage your band and your career. You disappeared for nine years and then you come back, you "shoot" songs and it feels like you picked up where you left off. You just do things the way you want.
Matthew: Thank you for noticing that. Our secret weapon is Mateo (Camargo). He always comes up with the pieces of the songs and then we build from there. He is a fantastic engineer, producer and mixer. Nathan and I always have a bit of a conflict in the music process with Mateo, but in a very positive way. We've managed to keep the integrity of our friendship throughout the whole thing and many bands can't say that.
You don't live in the same country or on the same continent. It's interesting that you could keep on putting music out even though you don't live in the same place.
Matthew: It's been a challenge but it also became an advantage for our band. We are in Florida right now and Mateo is going to fly here in a week. We are hoping to write five more songs.
When the creative parts start happening, you've got to strike because it can go away and you never know when it is coming back.
Mateo works in other music projects as well and he always get frustrated with everything he is doing ultimately, and he always come back to Madina Lake.
"The Beginning Of New Endings" is coming out in September. It was due in May. What made you change the release date?
Matthew: I honestly did not think people would be interested in our music, or care for it. Once we had the positive reaction, due to the release of the first single, I decided to put it out through a proper canal of distribution and labeling. It is a very boring, business oriented process. We tried to get it done the quickest we could.
It was surprising that you do not offer CD in the different bundles you've put out? It is becoming outdated, so maybe it is a choice?
Matthew: I probably forgot about the CD. (laughs) The CD format has became a little bit irrelevant and a sort of a relic. However, our generation treasures something physical. That's why we made the colored-vinyl disc. What do you think? Do you think it would sell?
You have to wonder about the offer, the demand, the prices. It is actually a cost that has to be considered. A lot of people do not buy CDs anymore.
Matthew: And I feel like it is accelerating down that path. As long as we have something physical that people can get their hands on , I think it should do it.
As you say, it is important to have a physical format.
Matthew: That's why we try to do something cool with the artwork. Dave Pearson, our designer, is fantastic. He totally understands everything about us. We never had to do a recall (when you commission somebody for a work and it goes back and forth until you are satisfied with the work done). He always nails it the first time.
Two singles have already been released. What was the reaction of the audience and of the musical press?
Matthew: We hired an independent publicist to work with and she just got on board. So far the feedback was what we've only seen online.
We were added to two Spotify playlists, including the "Forever Emo" playlist. You can have issues with the name. (laughs)
It's a reality, Madina Lake was in that musical movement in 2009-2010.
Matthew: It's true. At the time, it was just so oversaturated of emo bands. Every band sounded identical. It was like that on the "Warped Tour": you wake up in you tour bus to the sound of emo bands playing. All the time! As every band, you want to create your own identity and you do not want to be put in a disposal place.
We forgot a lot of those emo bands!
Matthew: When I look at the show posters from that time, I remember those bands. So many just came and went.
The most pleasing reaction was that people has said that we had our sound. They could identify a Madina Lake record just by the sound of it. And it is a compliment to us.
You also did not get the success you deserved at that time. A lot of magazines like "Kerrang!" and "Rock Sound" pushed you on the cover of their releases, and it feels like your band never exploded on the rock scene.
Matthew: You are absolutely right about that. We never exploded, it was a mix of several factors. It is very strange how the industry works. Our UK booking agent wanted to bring us back to the UK before we made "Attics To Eden". But our management and the label did not want us to go back there because they thought we were playing the market too much.
The consequence of not going back there would mean that we would not be in the market for a year. This was too long, a gap too big for the scene and the fans.
The first headlining tour we did in the UK, we sold out all the shows and we were playing in 2000 to 5000 capacity rooms. It was incredible.
After that we disappeared from the market and we wanted to come back, but we lost our fight to the management and the label. They wanted to put us in the studio and I think that was a contributing factor.
On the music scene, if you disappear for some time it is hard to come back. But in your case, you disappeared for nine years and you still received responses from fans, the music industry, the press.
Matthew: It blows my mind to see that the people did not forget us. When I told the band that I was putting a post about the release of new songs, we thought we would just see if anybody cares. And it worked! We were very surprised.
You've been also working on your side in the music industry. How is it going?
Matthew: We launched "Charity Bomb" to work on the mental health in the community. We also launched "Strange Entertainment". We produce benefit shows to fundraise for a variety of mental health organizations.
The year started well: we've done nine sold out shows with A-stars, we were raising a lot of money and making such an impact I thought we were finally ready to launch our own initiative which is EQ/SEL: emotional quotient/social-emotional learning. EQ is essential to a happy and healthy successful life. It gathers the concept of self-awareness and empathy. We try to integrate that to curriculum for children.
We launched this initiative in January 2020 at a Grammy party in Los Angeles and then the COVID happened. We had shows schedules for summer that would raise money. We had 4four shows lined up, including one inside the venue of Prince's house. And all of this got wiped out.
How do you see the future for your activity, after the COVID situation?
Matthew: We do auctions to keep on doing the fundraising process. We have fantastic partners who help us developing the curriculum. We have a pretty innovative idea that caught the attention of the US government that is working on mental health and preventing suicide. They liked our model, we've been engaged in a conversation with them about potentially doing a ten year-contract.
Mental health has always been very important for the band. It's good that you work on that subject and that you are trying to improve the conversation around it.
Matthew: My personal feeling is that everybody should be in therapy. You know, it's just like if you play golf you have a golf instructor. (laughs) You should invest time for your mind too, it should be no different than a sport training for example. You should learn how to navigate your emotions. That's my philosophy. (laughs) I speak to a therapist once a week, it keeps me on track.
What blows my mind is that it is still stigmatized.
There has been a lot of awareness on the rock scene about the mental health issue for the past ten years.
Matthew: That's good. You know I'm a big supporter of communication. Just ask my wife. (laughs)
Going back to Madina Lake, has the feeling of community or family always been important for the band?
Matthew: The feeling of family has been created by the fans, not by the band. We encourage it and we want it to be that way. The greatest thing we hear is when fans tell us about their friendships.
Two singles have already been released. Will you release another single?
Matthew: "Playing With Fire" was a kind of reintroduction single. We just put out "Heart Of Gold" and we did not really support it. The next single is going to be "Love Is War". It is going to have the big PR push and coverage. My favorite song on the record is one of my favorite song we've ever done. It's called "Tiny Weapons". That won't be a single, but it is a nine minutes-eleven minutes song.
We are used to long songs with you! They usually have a lot of Nine Inch Nails influence to them.
Matthew: This goes back to our emo days. There were not a lot of emo bands with electronic programming in their songs. We have quite a bit of it.
Any tour planned for the future?
Matthew: Yes. We have a festival in the UK planned, and then our agent is going to round us through the UK and Europe. As soon as we have the green light we'll be there.
Are you going back to France?
Matthew Leone: Yes of course!
Last question: as our website is called "RockUrLife", what rocks your life Matthew?
Matthew: My son. No matter how hard or difficult life is, just to lay my eyes on him brings me so much joy.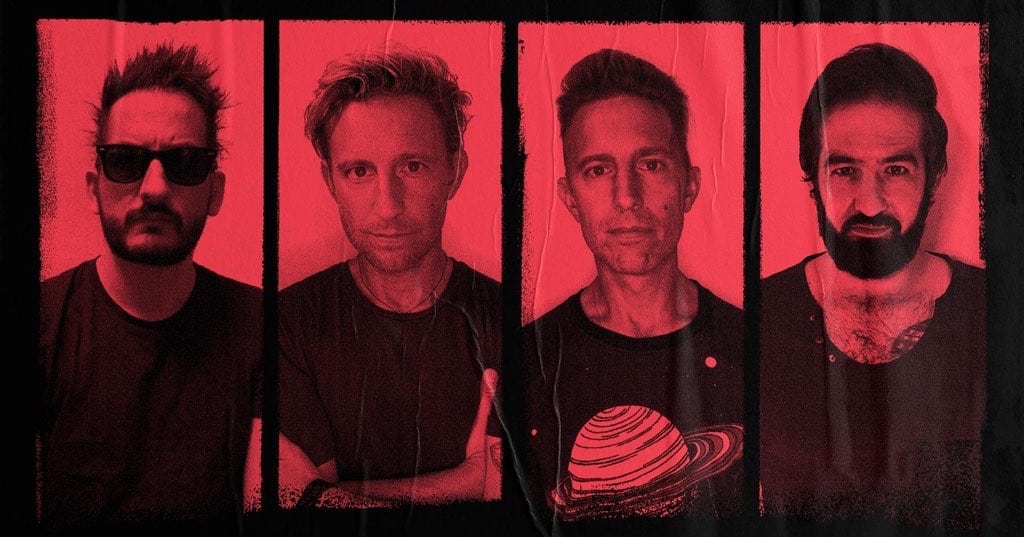 Website: facebook.com/MadinaLake