While Sam Smith fans are queuing in front of the AccorHotels Arena, we finally get to sneak backstage 30 minutes before the opening act. It's actually this opening act that we're here to meet: Lewis Capaldi, a 21-year-old Scottish singer/songwriter. If going on stage in a few minutes doesn't seem to make him much nervous, it's probably because, despite his young age and only one single EP to his name, playing venues that could welcome the whole population of his hometown has become his everyday life. Supporting Sam Smith, Rag'n'Bone Man, Milky Chance and Niall Horan in huge venues around Europe and America, a sold out headline tour in the UK, almost 100 million streams on Spotify, Lewis Capaldi's career has only just begun but is already impressive. With his soulful voice, astounding songwriting skills and a good sense of self-mockery, the Scottish singer-songwriter seems to be only getting started and we chatted about success, songwriting and wasting all your time watching videos on YouTube to find out more about him.
In less than one hour, you'll be stepping on stage in front of almost 20 000 people. How do you feel?
Lewis Capaldi: In 20 minutes even, it's getting close! I feel okay, it's a bit of a strange feeling. I like to feel as nervous as possible because I think I'm better when I'm really really nervous. The best show of this tour has been the first one that we did in London, at the O2. Just because I've never played venues like that before. I was walking up and I was shaking, proper nervous and that was one of my favourite shows I've ever played. So hopefully, I'm just as nervous tonight. Usually, when there's an hour left to go, that's when I start getting a bit nervous, but I think I'm looking forward to it, I feel good! (laughs)
It's quite crazy that you're playing this venue tonight because I read somewhere that it was actually in France that you first sang on a stage, doing karaoke when you were 4 years old. Tonight you'll be playing one of France's biggest venue so I guess you can totally say: "I made it".
Lewis: (laughs) Yeah, maybe if I ever get to play it as a headline!
It's a good start!
Lewis: (laughs) Yeah, it's not bad at all. But yeah, it's mad. We used to always come in France, in holidays. We used to always drive there from Glasgow, it was usually south of France, in all of these holiday resort type of things and yeah, the first song I ever sang on stage was in France, and it was "We Are The Champions" by Queen.
Are you going to do the same cover tonight?
Lewis: I don't think so! (laughs) We are doing a cover though. But it would be interesting to see how that would go.
Flash forward to a few years later, when you were quite still young, you started playing shows in pubs. What did you learn from these shows, playing for people who neither know you or your music?
Lewis: It prepared me very well for these types of shows, support shows especially. I feel most at home doing support shows. As the headline shows, I feel a bit weird about the fact that people know my songs. Those shows in Glasgow when I was younger, they prepared me well because I was playing to people who didn't know who I was, didn't care who I was and didn't want to like my music. That's the kind of crowd in your face when you play pubs. With these support shows, people don't know who you are, it's not that they don't care, but they just don't mind seeing another act. But the difference with these, is that people want you to impress them, they want to enjoy your music. So those shows were really good for showing me how to play through it and try to win over people.
You came out of nowhere with "Bruises", that became really huge. 55 million streams on Spotify, it was featured on a huge TV show, you even got the Ibiza remix treatment. Did this sudden success give you confidence, or on the contrary made you think: "how am I going to do better than that"?
Lewis: Kinda the latter, yeah. It was definitely "oh shit there's people listening now". I've been gigging for 8, 9 years, "Bruises" was the first song I released properly. I wanted as many people to listen to it, but obviously never could I have predicted that. There's pressure and I like it, it's good, but now that there's people listening, you can't put out anything, you have to put as much effort as possible. But it's a good kind of pressure, it's been a nice driving force behind what I do.
Did being suddenly put under the spotlight and having one huge breakthrough single affected your writing process and the way you think about your songwriting?
Lewis: Before, when I was writing songs and no one was listening, I was just writing for me. But now, you get messages from people saying how much you have changed their lives or how you helped them through something. That's one thing I now take into account when I'm writing stuff. It's weird that the songs may have the ability to reach people. The words that you write have so much weight, whereas before they just felt like they only mattered to me. That's the only meaningful way it has changed. It's not just for me, there's people out there who are listening to my music now, but it's cool. I definitely don't get as much time to write, but I'm trying as much as possible.
We read that you started writing music when you were around 10. Do you remember the first song you ever wrote?
Lewis: I do, I can play it. I know every word, every lyric. I think I remember every song I have ever written. I wrote this song called "The Show Must Go On". It's absolutely terrible. I still remember it. It's like a song a ten-year-old wrote.
What was it about?
Lewis: It was about …. (laughs) I think I was trying to be political. But I was 10 years old and I didn't know, and I still don't know anything about politics. So it's just me at ten years old, not knowing a fuck about politics. One of the lines in it was something like: "these greedy politicians and crazy musicians", because at the time there were some musicians in the news that would go mental. It was terrible, but it's a good starting point I think. The whole point was like: "there's all these mad stuff going on but we just got to go on". It was bad, but I still remember it. (laughs)
Most of your lyrics seem pretty personal. Do you mainly get inspired by things that happened to you and that you experienced, or do you seek inspiration someplace else?
Lewis: I write mostly through my own experiences. I never really wrote about myself until two years ago, when I wrote "Bruises". It wasn't until I started working with other people, who asked me: "what's going on in your life that you want to write about?". And I never thought about it before, I just thought: "I'm just going to write a song, and I want it to make sense, like a story", but I never thought about writing something about me. I think those are the songs, so far, that people have connected with the most. But I watch a lot of films, I'm a big fan of films, I kind of take bits from that. There's a song I've got called "Submarine", that I wrote when I was 15, which is about a film called "Submarine". It was directed by Richard Ayoade, Alex Turner of the Arctic Monkeys did the soundtrack for it. It's about two kids in school, it's kind of a mundane story but it makes it feels amazing, it's the reason I love films and what I'm trying to do with music as well. There is a line in the film I really like, the guy split up with the girl and says: "I suppose it probably won't matter when I'm older, but I'm upset about it now". I thought it was cool to go: "we both know this won't matter when we get old, but this still means so much in this moment and time". I'm quick to over-romanticize things and I think I kind of learned that from movies, to take a small detail in my life that isn't actually a big of a deal and then really blow it out of proportion.
Our personal favorite track on your EP, "Bloom", is probably "Fade".
Lewis: Yeah, me too!
Is there a specific story behind the song?
Lewis: I actually wrote "Fade" after I split up with my ex girlfriend, but the song is about the feeling that you get when you start to really like someone, when you go from just seeing someone to really falling for them. When that happens, it feels amazing, but then also immediately, you get a fear of losing that person. So it's kind of a bittersweet feeling. I wanted to explore that, the fear of falling too much and being enamoured with someone so much that when they go away, it's horrible. "You make my heart break more everyday so don't fade away" or whatever it is, sorry I forgot the lyrics to my song (laughs) "but don't fade away".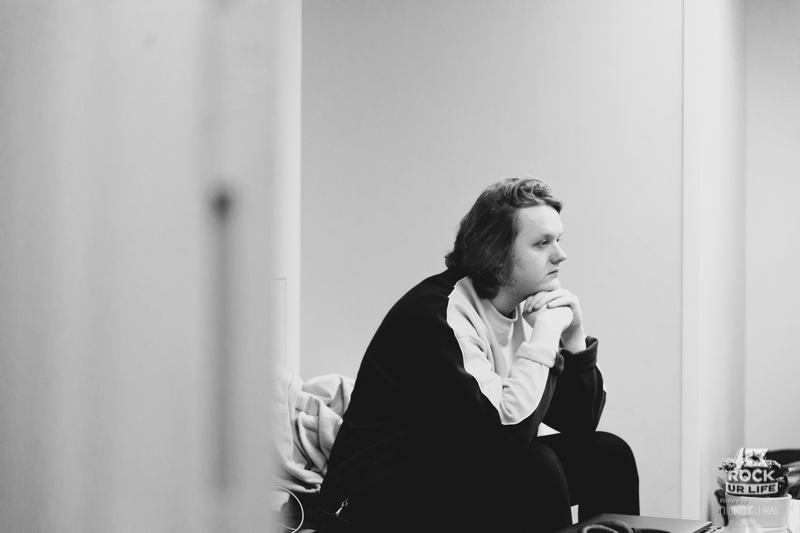 Alright, you have to be on stage in a few minutes so this is going to be our last question: our website is called "RockUrLife", so what rocks your life?
Lewis: Rocks my life? I like food, I eat a lot of fucking food, I'm trying to eat less but yeah food's cool. (laughs) I like getting drunk, I'm a very big fan of alcohol, that's good too. And, I just like having a laugh man. I go down on a lot of YouTube holes, when you kind of just watch shit and shit and shit. At the moment, I'm really into The Guiness Book of Worldwide Records YouTube channel because it's full of absolute nonsense. There's a guy, who tries to do the most finger snaps with one hand in one minute, he really goes for it. Right now, I'm really into that! (laughs)
OK, we're going to check this out! Thank you and have fun on stage!
Lewis: Thank you very very much!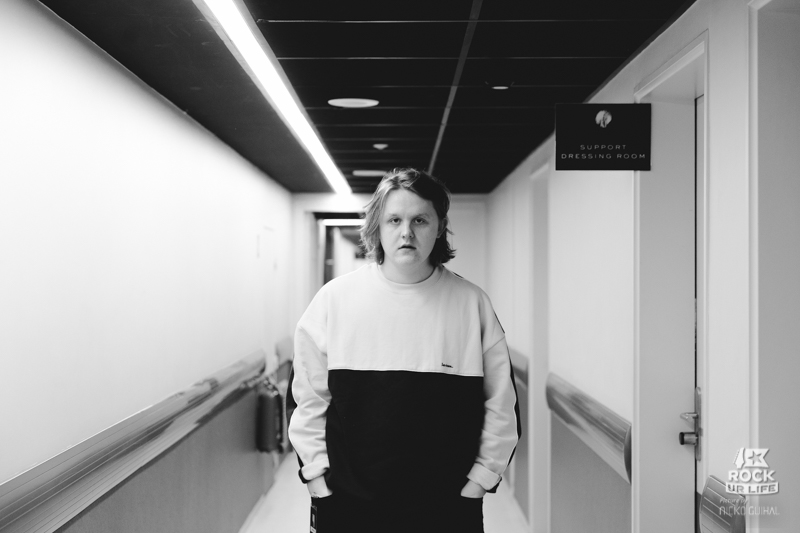 Website: facebook.com/lewiscapaldi