Promoting a record while being stuck at home is how we can define 2020. That's also how Larkin Poe is promoting its new record and we got to speak with Rebecca and Megan Lovell, live from Nashville, about their "Self Made Man" record!
Hello Rebecca and Megan! How are you?
Rebecca & Megan Lovell: Very well!
Releasing new music during this pandemic situation, how does it impact your promotion?
Rebecca: Yeah. We were supposed to be on a European tour right now. For bands like us, it's the traditional way in which you keep the link with the fans. You tour, travel, you carry the music to the people. But with quarantine, it's really shaken up for the promotion process.
We had to get creative in ways where we could be sharing this new album with people and I think that's manifested in a lot more social media content. We've been posting live-stream performances, live chat with fans, we've been seeking that human connection in a new way. So while maybe it's not ideal but it's definitely been challenging.
Writing a record is a snapshot of that time/moment. After a year and half of touring supporting "Venom & Faith" (2018) plus the Grammy nomination, where were you creatively?
Megan: When we went into the process of writing "Self Made Man" after having toured really really hard, it was about a year and half of incredible touring. We were playing shows in a way we never had, going out and playing tours that were selling out and having fans showing up to the shows knowing all the lyrics of the songs. The thing that came out of that is that we wanted to write an album about connection. An album that we could imagine being with our fans and we really wanted to capture that as a live energy that we've been experiencing. "Self Made Man" definitely has that sort of live feel to it.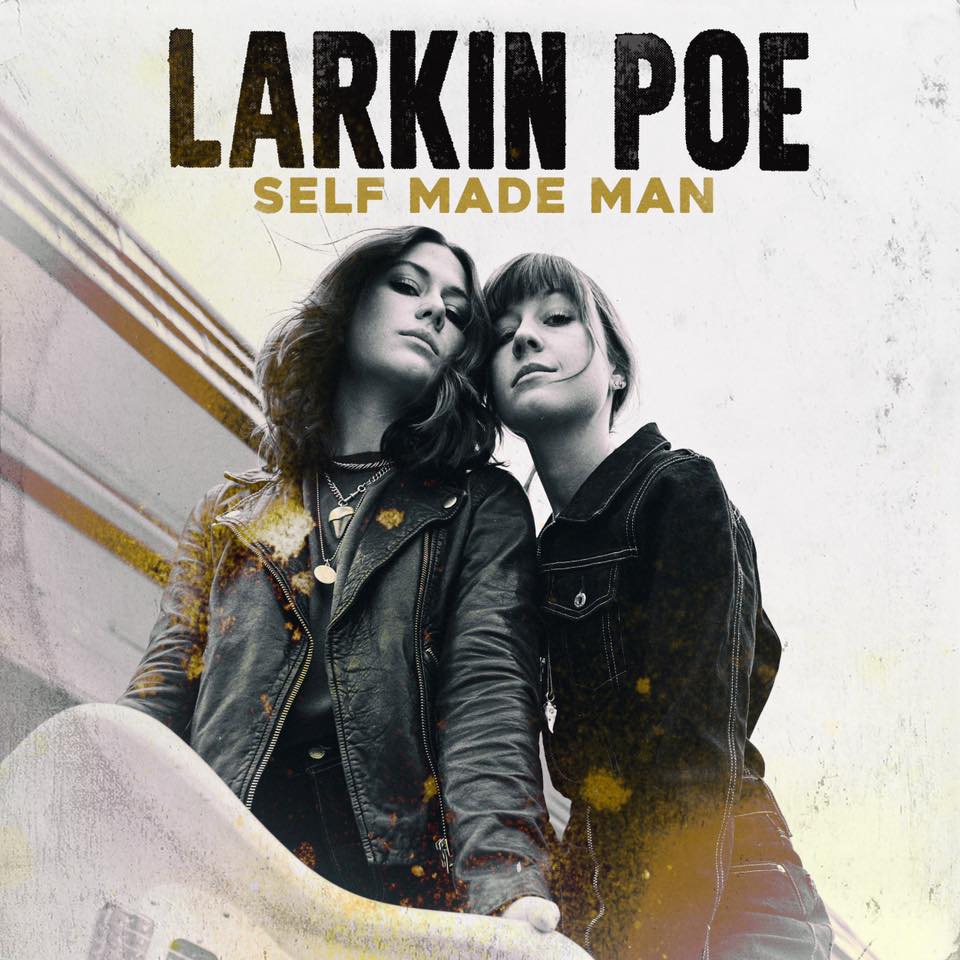 What's your writing process/routine like? Does it start with a riff, a theme, a slide guitar melody? Do you demo your songs or always start from scratch?
Rebecca: I think the writing process has maintained sound stability for the last few records starting with the record "Peach" (2017). Megan and I began self-producing the album which I really think it's fine. Given that I program a lot of the drums and became accustomed to creating pretty realistic sounding demos, I do think that the music has begun to come, for me, from a riff, the guitar or a beat, whatever creative thing I hear in my head. Then the lyrics will usually come and walk hand in hand with the music. That's been such a great area of exploration for us, taking the creative rain for this album and sticking to a production standpoint and doing our best to play as many of the instruments ourselves as possible without compromising the album.
I think we really pushed ourselves into new creative territories where we were very free to experiment and try new things, feel vulnerable and stripping things back on the album, being very raw. That absolutely expresses itself with this newest batch of songs. I think both Megan and myself are very optimistic people, very family oriented and sometimes "anti-rock n'roll" rock n'roll. I can't wait to sing these songs to the people because I do hope they'll serve as connective tissue between us and all the music lovers that buy Larkin Poe records and come to our shows.
Do you bring any recording gear while on the road?
Rebecca: My goal is to write on the road more than we had before. As you can imagine for a band like us we've been working on the road very hard for a very long time and when we say "working hard" it's very unglamorous. There's eight people in a small van, driving six to ten hours a day, playing a two-hour show so there isn't a whole lot of energy to really write on the road. But that's not how I would want it. Actually this spring should have been our first tourbus tour we've ever been on across Europe and I was really looking forward to being able to bring my gear out on the road and actually write while inspiration was striving. That's definitely something I'm looking forward whenever the world gets back to normal.
You once again self-produced the record. How comfortable do you feel with this working operation?
Megan: Oh man. I mean at this point, I think that we've handle up very cool little machines. Both Megan and I are really in step, we spend a lot of time over the gear, investing in our relationship, there's a lot of trust. So when we get into the studio, we're able to have a lot of non-verbal communication and work very quickly one another

Another constant is that the last three records has been our engineer Roger Alan Nichols and he's a really supportive engineer and member of the studio cast. I think it looks very well. For "Venom & Faith" typically capturing a Grammy nomination, that was such a wonderful nod from our peers and it felt like a sign post guiding us into the right direction. We saw that the decisions that we've made, people were really connecting with the record. So I'm really proud of the recording and I look forward to make more records this way.
"Self Made Man" is a 11-track record. First about the title, what's the trick/message? We had to read it three times to clearly read "man" and not "woman".
Rebecca & Megan: (laughs)

Rebecca: We're very "do it yourself"-ers: self-producing, we started our own record company Tricki-Woo Records back in 2017, and we really enjoyed being able to take control of our future and our destiny. Naming the record "Self Made Man" it hasn't anything to do with chromosomes, being a man or a woman, it has more to do with taking that old adage. But it's also a poke to that adage in way of "why does it have to be a man? Why can't we as woman be self made man as well".
You already released the first three tracks. Where they obvious choices? Do they define the best the record in your opinion?
Rebecca: Oh! I think both of us really thought strongly about the tracks we were going to release because it is a typical choice when you're trying to slowly introduce people to a new body of work. It can be a tormenting process to pick which song should go first. But for this album I think that it was pretty clear. These songs hang all together in a story, building a collection of songs that we feel take people on a creative journey and I do think that "She's A Self Made Man", "Holy Ghost Fire" and "Keep Diggin'" they really come out as some of the mountain peak of the record. These three songs are also our favourites on the album, they really spur as the strong point that we thought would dive people into this album.

You stated that it's the first lyrically uplifting record. Can you explain us why? Was it more feeling driven?
Rebecca: Yeah. I feel that as a songwriter you change with time. Songwriting is a reflection of your individual perspective on the world. Writing songs when you're 16 or 23 versus when you're 29, it's a very different experience. I think it's taken me time to feel confident and securing myself to be positive and let the optimistic face of my individual perspective on the world shine through.

Sometimes I think that there's this inclination for being badass and you don't care, the cool angle of rock n'roll but I think in this album I was personally a bit tired with that approach and instead I wanted the songs to be something that would bring people together, the beautiful things in life like a good story or the human ability to rise above pain. That's really impressive to me, to galvanize from sorrow or a tragedy, rise above and be kind and loving, to open your arms to people instead of shutting down or minimizing your emotions. That's the ultimate sense that I was trying to infuse in some of these songs.
A word about "Every Bird That Flies" and "Danger Angel". Both have a different mood comparing to the other tracks. What are they about?
Rebecca: "Danger Angel" was a surprise when we put it on the album. Actually it was one of the first songs that I wrote. It was really a quick write for about 15 minutes with a guitar riff and pushing out the idea of a dark rock n'roll angel and the idea of a divine influence that maybe didn't have your best interest at heart and I thought that was kind of a fun story to tell. That's what the danger angel is. When I brought the song to Megan, we both of realized that it has an interesting twist on bluegrass because there's a lot of songs sharing that same darker feel, and it could have been a song we'd sung being kids. So we thought it could be a cool thing to have on the record.

Megan: "Every Bird That Flies" we wrote that song with Pat McLaughlin we went out to his farm outside of Nashville, sat down do write with him and he had this certain idea of any RnB/soul song and Rebecca immediately had this feeling that it needed to be moodier. He would rather play it upbeat and she had an idea that be slowed down, much darker. Once in the studio, it was completely flipped from how the song originally written. I just love the chords on that song. That was a really great experience in the studio because I got to pull out my baritone lap steel guitar on the middle section and it's just like two lap steel going up at the same time and I always wanted to do that on a record.

What's your approach towards the rhythm section? As you said you program them and use samples. But on stage, you're a four-piece band. Do you agree if we say that there's a studio and a live version of the band?
Rebecca: Yeah! I do think that our songs have separate lives. There's a way in which we created them in the studio that I find very inspiring and I think people are able to hear our true creative soul in the way which we play our songs for the album. But we are big performing band, spending more time out on the road than we ever spent at home. So we do take the songs from the studio and kind of reincarnate them for the stage which is a really great challenge.

I think it really serves these songs. The melodies and the lyrics all remain the same but it is a really good exercise to sort of reframe the songs into a four-piece rock band. But you know, I do think especially with this most recent record, having spent so much time touring, we are able to approach these songs with a live sensibility and wanting to make them well suited for the job they'll be doing on tour. We've also grown creatively in the pursure of that reality and I cannot wait to play a lot of these songs live!
How did you come up with "God Move On The Water". It's a cover, original by Blind Willie Johnson (1929), but you added some lyrics to it. It's kind of unusual!
Rebecca: When you go back to the 20th century and look at the way in which blues music developed, I think one of the biggest elements was the fact that a lot of the blues artists were taking traditional songs and putting their own thing on them. Bit by bit they began to develop the genre as such. I believe that blues is an oral tradition passed by one person to the next. In that spirit when we heard Blind Willie Johnson's "God Move On The Water" we felt instantly inspired by the song and it occurred to me that it could be a good opportunity to us to stay in that blues tradition of twicking and changing the song in order to keep the journey of blues alive.

So we did write more lyrics for the song. Originally it's about the sinking Titanic but in our version we decided to find out the lyrical idea of natural disaster. That duality of music the fact that it can represent different people across space and time is really powerful and I 'm really proud of the way it turned out and I hope that Blind Willie Johnson's spirit likes our version as well.
You're doing live streams sessions, you also post some covers. But you also shot two homemade videos. Tell us more about those.
Megan: We've been doing our tip of the hat video series for a number of years now. It's just great to learn others music as musicians to keep learning. So we'll play a song from our childhood or something we wished would've written and we didn't expected that to take off and hit millions of views. It's a pretty cool way for us to connect with people. We just love the process.

Rebecca: And having getting comfortable being on camera it did really help us to make the music videos for "Holy Ghost Fire" and "Keep Diggin'" during quarantine. It was a new experience for us to get videos, to direct them ourselves but of course necessity is the mother of invention so we got together, my husband actually filmed a lot of the content for the "Holy Ghost Fire" music video. We actually went to this car park just down the street near our home and we shot some footage and edited together back home.

It just felt very fun but for the "Keep Diggin'" music video we wanted to shake things up. We wanted to try another angle of creativity so we ordered a fake phone from Amazon, an old fashioned phone and we set up and just express the best we could, trying to come up with a fun story and then spent a lot of time editing it. I don't think we'd never get ourselves to do music videos but now that we've done the process, it's all about taking control of all the elements of creativity in our lives. We've been really excited to release them and have people watching them.

This pandemic situation is weird to deal with, even though the lockdown situation differs. How did you manage this time? Music all day long, catching up some TV shows?
Megan: Since we spend so much time out on the road, we normally kill plants. But this year both of us have been gardening and they're doing well. I believe I'll be able to eat the vegetables this year.

Rebecca: (laughs) Yeah and reading! It's really nice to have an opportunity to catch up the books that I've been meaning to read. Definitely watching some television. I've never watched "The Office" before, the US version. I've been really enjoying watching it and also laying some plans for the next album we're gonna make. Music is such a huge part of our life that it's really hard to not have music as the centre of everything. We'll spend a lot of time listening to music and planning which covers we'll do. Just playing around and let the music be fun as well.
So we have to ask: how's the next Shakedown record? Any hint? Is it great?
Rebecca: (laughs) Oh! It's awesome! I think it's one of their best album to date and I know that Tyler is really excited to share their record. I don't know if they have a release date turned up yet but I think Tyler Bryant & The Shakedown are in for a really exciting ride. I'll give a lot of credit to Tyler, he and the guys set up a home studio here in our house and it's been really inspiring to watch them dig in this uncertain time together and make this album without going to the studio or having outside opinion. Really digging deep in the songs and I think it's been a really cool moment for our family, all of us are stretching up creatively. Fans we'll hear it out for sure!
Finally we're "RockUrLife", so what rock Rebecca and Megan from Larkin Poe?
Rebecca: I'm trying for a good answer for you!

Megan: I think what rocks my life is my Rickenbaker lapsteel.

Rebecca: (laughs)

Megan: I love it so much, it's my baby!

Rebecca: What I was gonna say is that playing guitar rocks mine. I think we gotta say that the Rickenbaker rocks our lives. I think that's the thing. It feels so great making music with Megan, and my sister, she's ultimate lead guitar of the band, she's so unusual the fact that she's playing lapsteel and being the lead guitar. It's kind of weird and I love it. There's nothing more beautiful in the world than the way Megan plays live. The Rickenbarker wins!

Rebecca & Megan: (laughs)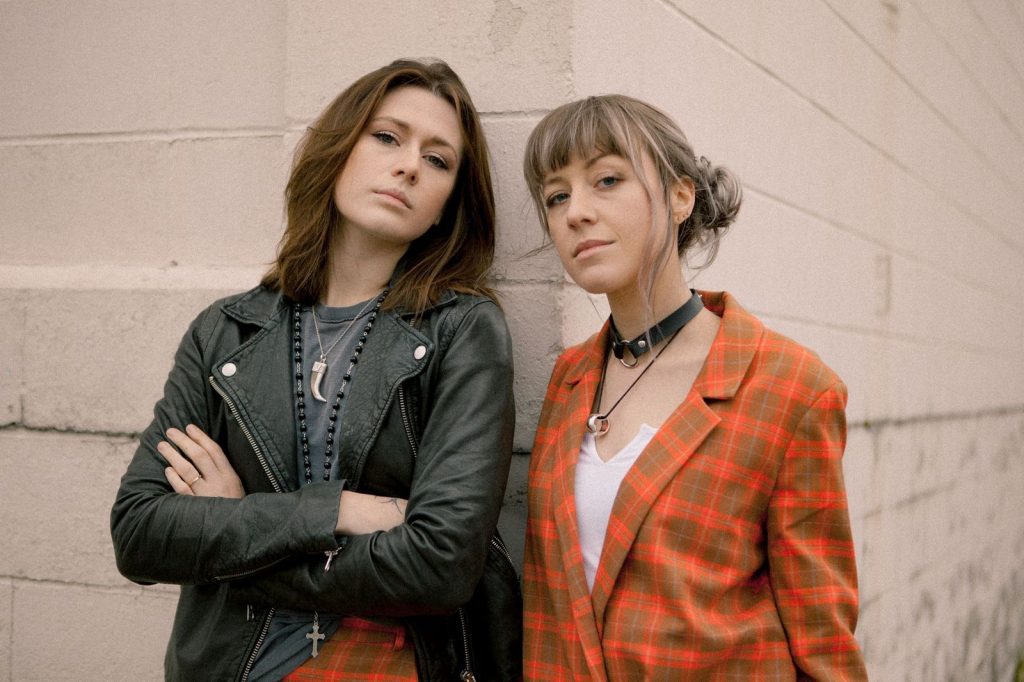 Website: larkinpoe.com