KRIS BARRAS BAND (29/02/20)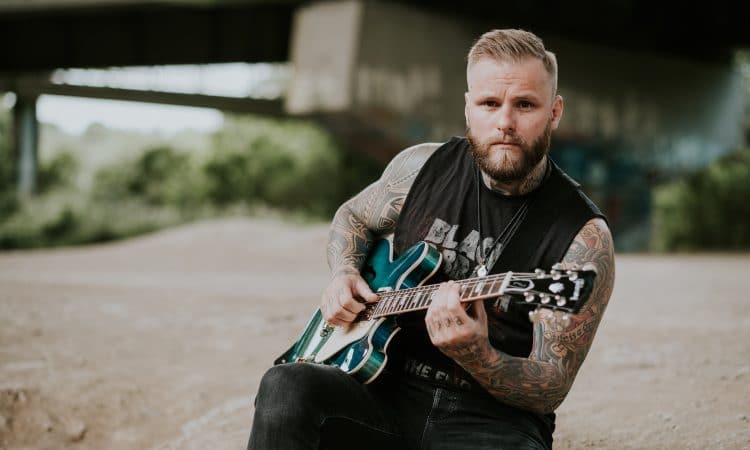 Rising blues/rock/country music star in England, MMA veteran Kris Barass was back in Paris for a 100% acoustic tour with legend Beth Hart at the Olympia.
How was lunch?
Kris Barras: Great! A sandwich and here we go.
Apart from hunger, is everything all right? You seem very busy. We haven't stopped seeing you running around?
Kris: No, I'm fine! A little tired, the tour is coming to an end and tonight is a bit special. But everything is fine.
It's not the first time that you've opened for Beth Hart, or in Paris! How do you feel about this comeback to our capital? Evenmore at the Olympia, one of the most prestigious venue. Bands like The Rolling Stones, The Beatles or Jimmy Hendrix have set foot on this scene!
Kris: Oh wow. Thanks for the pressure (laughs), but I feel good! I have always loved playing in Paris, it's even better in a place like this. The French public seems to appreciate what we do. Plus we do two days in a row here so it's really cool, can't wait to go there and play!
But tonight is an acoustic show. Are you going to play with your whole band or tonight it's you and your guitar?
Kris: No, there will only be two! The whole tour is done only in acoustics this time. It doesn't work with the whole group, with the others it's really a "rock show" you know what I mean?
Playing our songs in acoustic works pretty well, it's also an opportunity for me to focus more on my voice, and make the guitars sound in a completely different way. And honestly I love doing that.
Do you expect a particular reaction from the public this evening? Most of them have already seen you alongside Beth Hart, but for a "rock show". Are you afraid about the feedbacks they might have?
Kris: For the moment the reactions have been pretty good from those who expected a "normal" concert, but I don't see why it wouldn't happen. When Beth does hers most of the songs are already very acoustic too, so hey I hope they like it!
You seem quite enthusiastic about the idea of ​​playing in acoustics, maybe are you hiding a 100% acoustic album to be released? A kind of teasing on the road to see if the public reacts well?
Kris: (laughs) Maybe one day yes! The timing should be good for a project like this. I can write quite a few new songs or a few ideas during a tour, but we will do another "classic" album before embarking on a project like this.
Besides, you talk about a new album, but between your last two it didn't take long. Did you have music in reserve that you wanted to quickly release or are you able to write quickly? Having this ease of writing on tour, you never really stop writing?
Kris: The truth is, it depends on many things. For example "The Divine And Dirty" (2018), I wrote everything a year before it came out. But when I finished this one, I started writing titles that ended up in "Light It Up" (2019) so almost 18 months before it came out. So you see, I'm always writing stuff, no matter what I think. So it's not that I write an album and after its release I write another one! I always write titles with one or two albums in advance. I don't know which title will end up in which album (laughs) because I write constantly. It also allows me to constantly improve myself as a composer and the ones I wrote most recently are probably my best. So far! (laughs)
It's interesting because "Light It Up" is very different from what you have already done. And you tell us that some music was written before the release of your first album. It's pretty crazy. Because there is a real rupture, and the feedbacks are very good on your work. So now it's a kind of your success album. The "double or nothing"?
Kris: I hope it's just the natural progression of an artist, the better he works. I don't see myself as a "blues guy" or a "rock guy" or what you want. I was influenced by many things and many artists of different styles. So when I write what comes out, it comes out! Too often we want to put people and musicians in a predefined style and that can create conflicts! "This guy blues, – No, it's rock!" So I remain identified as a composer. Some tracks will be more blues, others more rock and even country. And the more I continue in this direction and the more I feel confident as a composer and my "sound" it leans at the moment towards something more rocky and more aggressive, so we will see where this lead us more.
In this case, maybe that's why we feel that even in your lyrics there is a little of everything. Your previous album was quite focused on your story, we travel somehow. Do you write your lyrics like you write your music?
Kris: I work a little with the members of the group anyway. I do most of the work, but I'm always open to the touches they could bring. Sometimes it's much better, sometimes it's worse! (laughs)
In all these processes, especially if you don't want to be categorized, how do you hope to convince someone to listen to your music. Without categories, a blues, rock or other fan may not try one of your CDs, how can you convince them now?
Kris: Nowadays, music has never been easier to access across all these platforms! You can find yourself in several playlists on Spotify and many other things! Unfortunately people rarely wait more than 20 seconds to decide whether or not they like a group. I don't know what to tell you. (laughs) If someone doesn't like my music I'll get over it! (laughs)
Inevitable subject: You were an MMA fighter for 10 years before moving from the cage to the stage. What made this radical change? How did you say to yourself, stop knocking and make music?
Kris: First of all, I was fed up. All the blows, the diets, the workouts, the injuries more and more it became really hard and I felt with that that I had done all that I wanted to accomplish in this field. So I first went through the coaching phase, I helped athletes so as I had more time I started hanging out right to left, writing some music and listening to my friends, they found them good and thought I should try to do something with them. So I started a band, but I was aiming for nothing more than a few concerts, maybe small festivals. But in no case did I say to myself: "Good! I'm going to stop fighting, I'm going to be a rockstar.". (laughs) It really started from the need to do something with this new energy! And we did pretty well. (laughs)
Even super good! You haven't been on the stage for a long time and yet here you are at the Olympia opening act for Beth Hart on her tour, and not for the first time! How's that possible?
Kris: It was just an incredible chain of things, it was not due to one thing, but a good concert, with the right people. I surrounded myself with very competent people, who put a lot of time and work into it. We really did things thoroughly and it paid off!
What about workouts, sweat and effort, what is the most physical? MMA, or being a rockstar?
Kris: Oh, MMA. 1000%! (laughs) On the other hand, mentally I will have a doubt. Especially for writing there is something very vulnerable when you write, it is a delicate position, especially in an era where everyone has an opinion on everything, all the time through social media. But hey… MMA, for the physical, no doubt! I still have some injuries that persist today.
Last question. Last time you answered: "A cup of tea with milk, but I will not give you the same answer in 1 week". This is the moment. What rock your life Chris?
Kris: (laughs) That's deceiving! I will say French food! Especially since there is no cup of tea around, so give me a glass of red wine Côte du Rhône and ducky thing with pepper sauce and I will be happy!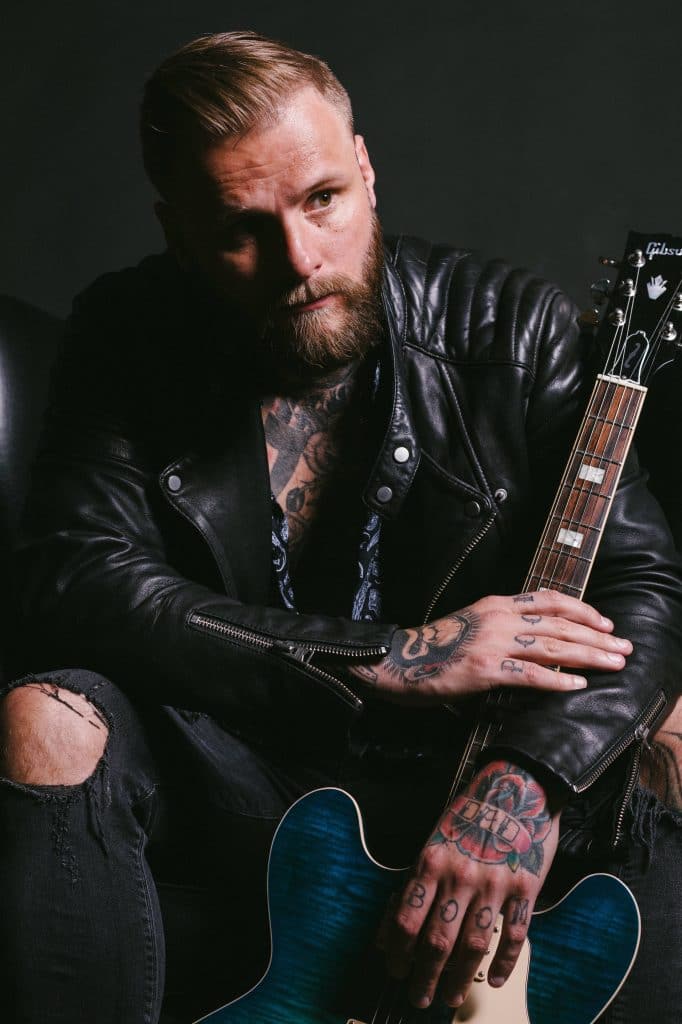 Website: krisbarrasband.com