RockUrLife had the pleasure to meet Miland "Mille" Petrozza, the sympathic frontman of the german thrash metal band Kreator, a few days before the release of the fourteenth and next record "Gods Of Violence" comes out. It's coming out on the January 27th and believe us, you won't be disappointed.
Your album comes out in a short time. What is your state of mind when a record is about to come out?
Miland "Mille" Petrozza (vocals): It's exciting, I can't wait to hear the people's reactions. Moreover, it was a long working process. I started writing the songs in 2013 and started recording them at the beginning of 2016. To me, I see it as the end of a cycle and the beginning of another obviously. As musicians, you can only give your best, write songs that hold you to heart and hope that people appreciate what you have done as much as you do. There is a lot of anticipation. And basically, there is a relief because it's finally ready, and you can finally know the reactions. Sometimes the reactions are not that good but I hope it pleases. We'll see! Anyway, I am really happy with it and I look forward to sharing this with the audience.
Do you usually read the reviews on your albums?
Miland: Sometimes. It depends on whether the review is good or not. (laughs) I would lie to you if I told you I did not care, but obviously when you're a musician, you need feedbacks; otherwise it's as if you were lost. You do something you love but not necessarily the rest of the world loves it as much as you do. But the feedbacks are interesting; sometimes people see your music differently. We have just released a new video, and there have been many different reactions, different versions of interpretation but we will see what people think about it.
Do you prefer being on tour or making music?
Miland: Make an album. I like being on tour but travelling constantly can be exhausting at times.
What was the most difficult part of the recording process?
Miland: It wasn't hard; there was just a logical tension. When you try to give the best, and try to get the best result, you are extremely focused on making the performance to be heaviest and emotional as possible. I guess the hardest part of the recording was to capture it but it was cool. We didn't feel pressure at all. When we arrived in the studio the pressure was already gone because we had already recorded every song as a demo. It was more like an adventurous experience because we did more details for the songs. Let's say that for recording songs the details were what was most essential. But there was no pressure at all. In fact, it wasn't work, but you had to stay focused.
How do you choose the order of your songs in the album?
Miland: That comes last. I had a completely different order when we entered the studio, but it has evolved with the first song we recorded. Something happened in the studio and we felt like it was the way how we should start the album and start the concert. That's how it happened this time. Sometimes it really comes last. But for this album, I really had the first song and the last one in my head; but -at the end- the order has changed.
You kept the same producer (Jens Bogren) as on the previous album. So can you explain how "Gods Of Violence" is different from "Phantom Antichrist" (2012)? This album sounds more melodic.
Miland: Yes! Yes, it is more melodic. To me, it is like the continuation of "Phantom Antichrist". The continuation but still different. It is the same vibe to it but a different view. It's been four and half years since "Phantom Antichrist" came out, so everything we had experienced during this time comes to this new album. So it's like an experience of four and a half years being alive. The world has changed, we are less safe, and the world has become more extreme or more intense, more unsafe. But we have to do deal with these things, we have to keep a positive mental attitude, and that's how the album should be. It has a very positive power. It is the celebration of metal music.
It's been four years since your last album. Why did it take so long?
Miland: To be inspired, you should go on and live your life, it is essential. If you are always on the road and write, write, write without stopping, it is useless because you don't experiment anything and it is essential to write music. And I'm not just talking only about music, but about art in general. That's how it should happen to me. It really takes time for new experiences.
Who made the artwork?
Miland: It's Jan Meininghaus. This is the man I work him with since 2012. We had several different versions but we selected the last one. The first ones were not as I imagined it. It was quite complicated to find the good artwork but we found it, and we are very satisfied.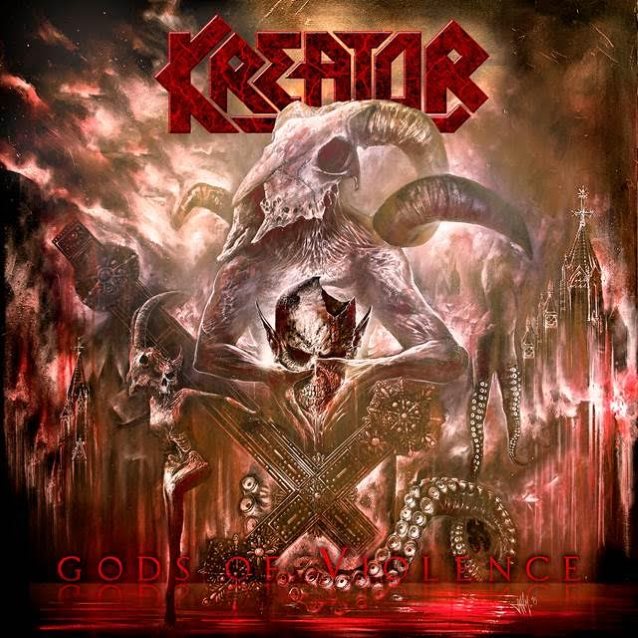 The last time you played in Paris was at the Bataclan, and you're going back there in February. Did you choose this venue because of the tragic events that happened there?
Miland: We chose this place because we believe, and especially since this horrible event, that it's necessary to go back there and celebrate metal again. Do not let these people, these crazy maniacs win. We choose to be the force against this, against this horrible state of mind, to destroy everything that life is about, against this chaotic act of violence, but we are stronger. That's why we're going back to the Bataclan. We think that metal has a strong power, and we will prove it, we'll continue to live the way we want. We keep the peace, to keep this optimism, this enthusiasm of music and of the metal community. My opinion is very strong and very peaceful. You go to festivals like Hellfest or Wacken and you show the world that it's a peaceful music, even if it doesn't seem so peaceful. (laughs)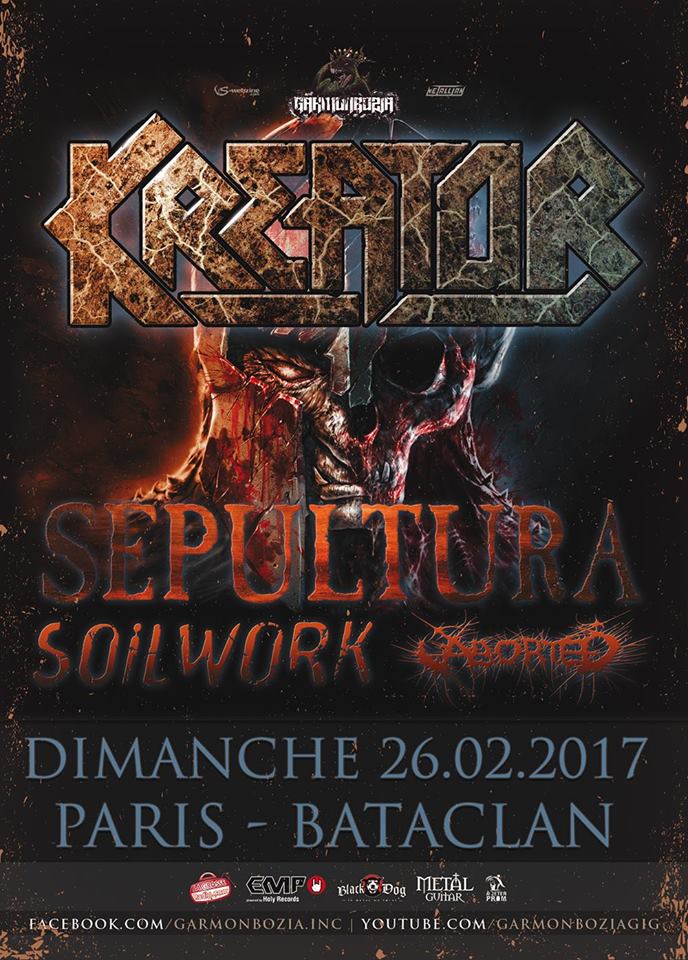 For your last European tour, you co-headlined with Arch Enemy, which is quite interesting because you don't really have the same fans. How do you choose your tour mates? Is it because you want to play in front of a new audience?
Miland: No, we are friends with Arch Enemy. I've known Michael Amott (ed. guitarist of Arch Enemy) for years, since he was in Carcass. And I've known Sharlee (ed. bass player) for a long time as well; he used to play in different bands that we have already toured with. I really like Arch Enemy. We don't categorize groups, we don't think like that. You see, me, Sharlee, Michael and all the guys from Kreator we don't see things like that, like two separate bands, it's just… metal. We all come from the same background, we create music from different points of view, but it's the same kind of music.
If you could go on a tour with anyone, who would you choose?
Miland: Really, I could name so many different bands, but I think it's not what is about. I want to go on tour with cool bands. It's essential. It doesn't depend on their popularity or how big they are, it depends on how you've been along. If you ask me as a fan, I would love to go on tour with bands such as Iron Maiden or Judas Priest, that would be cool. But on the other hand, I don't know. I would die happy if this happened. But I'm very pleased with how things are going. And I'm happy with the bands we've toured such as Arch Enemy, Morbid Angel, we're going on tour with Sepultura. These are bands that have brought a lot to metal culture.
Imagine the situation: You meet someone who has never heard of Kreator, you can describe your band only with a single word and you can make him listen to only one song from all your discography. What would your choices be?
Miland: (laughs) I would not try to put words to describe music, I would just play him a song from our albums. Maybe "Satan Is Real" or "Totalitarian Terror". But music is a lot of different emotions. If I would have to describe it to you, you would listen to our music in a different way, and you would never experiment in the same way as if I described it to you in another way. Music has no language, it is a form of communication to itself, and words can't describe music; either if you like it or not, it makes you feel something. The best music in the world, say Bach or whatever, can be considered the best music by specialists or others, if it does not touch you, it's just not the best music for you. It is an individual feeling of perception. So describing music is always very difficult because you always have to mention other artists. I prefer to play music than describe it.
To finish, we are "RockUrLife", what rocks your life?
Miland: Everything! Life itself rocks my life. Being alive, being healthy, and being happy.
Website: kreator-terrorzone.de