A few hours before their show in Toulouse, we talked with Anders Fridén, from In Flames!
Can we consider your latest album "I, The Mask" as a concept album? In a way that we all have to wear a mask, for social acceptance. Or that our own perception of ourselves is too much linked, or dependant, of what other people think of us?
Anders Fridén (vocals): Both? (laughs). I mean, I think we're all carrying a mask around us, for different situations. We use them, for the most part, as a shield, or something to… as a security, to guard ourselves in certain situations. How to cope in different situations. Especially in today's age, with all the social media and stuff, we show a side which is, maybe not really true. We can show like: "oh, look how good we are, how great is what we have" but I carry a great pain inside. But those images make us… we sort of trick ourselves as well, that our life is generally better than it actually is. And I think that it's really important that we, as people, deal with the darkness and the sadness and all our past that we carry. We need to deal with that, head on to be able to see the future, and to see what lies ahead, because we might miss good opportunities in life if we don't have a clear mind and be opened about it.

The album is not really a concept album but that's generally where I enjoy inspiration from, then I write all the lyrics where I deal with different topics from my past, from my life, from people I meet, people I see around me.
Maybe about the social networks?
Anders: For sure. Because it's so common today. Especially where the kids are growing up today, that's all they know. It's like us (ed. looking at me) "old-timers" (laughs), we were there before the Internet. Not all our lives are based on those social networking online and so on.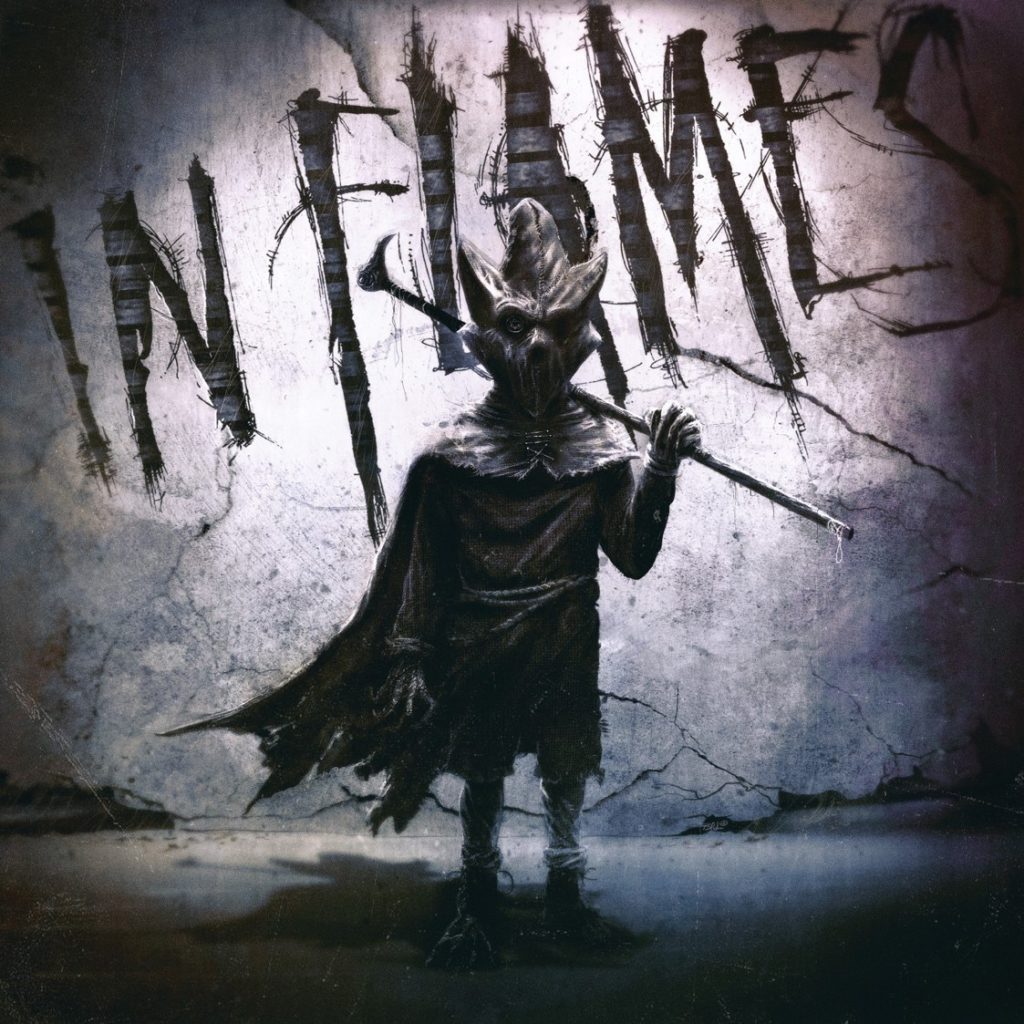 There is a lot of different moods and various vibes on this album. Was it a definite choice of something spontaneous?
Anders: It just happened. We don't have big plans. We never had when writing an album I think. We just go in and write whatever we feel like. Different times, different people, whatever, there are years in-between, we don't write on the road. There are always a couple of years between every album, writing for real. So it's not a constant writing. And then, Björn and myself went to L.A., built a small studio in the house that we rented and start the writing. If it's good, it stays on the album, if it doesn't feel good, throw it away.
Like a two-headed monster?
Anders: Yeah. We don't focus on particular songs, we don't write singles in that sense. We look at the whole album as a whole piece. That is very important that it has a nice dynamic between the songs. The beginning is there for a reason, that was the first song that we wrote. The ending was "Stay With Me", that was the last song we wrote, and in-between it has to be a roaller-coaster ride for the listener. I know and I'm aware that we're living in an age of streaming, where people can't give you more than 30 seconds of their life and then they judge it based on those 30 seconds that they hear. In a perfect world, I would love people the listen to A-side, B-side and then form an opinion. That's the way we wrote it and that's the way we want people to sense it.
Your voice is really awesome, with lots of details and textures, may it be on slow stuff like "All The Pain", "Stay With Me"… or the excellent bonus track "Not Alone", with this very low voice. Will we have more of those in the future?
Anders: I don't know, we'll see. (smiles) I had a better control of my voice these days. I've been to a vocal coach who helped me find different voices. I adapt to the actual song, to the music, it's like a painting. My colors are the last colors on the painting and I do whatever it's necessary, or whatever I feel like. But I do like when there are different expressions, because even if you wouldn't understand the lyrics, or not even speak English. Maybe you can still get a sense of what I'm trying to say just by listening to the actual sound of it, you know?
I did start already to go to a vocal coach on the previous album "Battles" (2016). My producer told me that he sent lots of people that he worked with to vocal coaches to make them more ready when it's time to record. I was a little bit skeptic at first, "I don't need that". I have my own voice or whatever. But then it was a lot of fun, and you learn a lot about yourself and about different techniques, breathing, how to treat your voice. It made the whole process for me more fun, to be honest.
What was the hardest song to finish on this album?
Anders: Nothing really. I can't look at it like that. It's a whole process as I said. We don't write specific songs, but to make a whole art piece. That's nothing that is more challenging than the other I would say. Not to say that it's easy but it's just like… I can't just pick a song a say that this one was more difficult than another. If you feel that way, it's not supposed to be recorded. You shouldn't fight it. You're on the wrong path immediately. It must feel right from the beginning.
Could you explain us a little bit the video for "I Am Above"?
Anders: Me and my manager we talked about it a little bit, because it's a powerful lyrical song. It's pretty angry, and I wanted to put a lot of focus on the lyrics. And I thought about the video "Nothing Compares 2 U" from Sinead O'Connor, which is just her. Obviously, she's walking around, here and there, but it's just her. And I remember when I saw that from the beginning, even being a metalhead, that video stroke me because I could feel what she was singing about, I could feel her pain. So I wanted sort of the same for this one. You listen to the actual lyrics, there's no distraction around. Just this guy, screaming in your face. For me, it's strange because I know it's not me. His name is Martin Wallström, he's an actor from the "Mr. Robot" series. He's a Swedish guy so we got him to do it and he said yes, which was great. It's weird, I know it's me singing, my words, but it still feels like him. It's fucked up. (laughs)

Chris Broderick is still playing with you, replacing Niclas Engenlin on guitar. Did you get him through Howard Benson your producer?
Anders: No, we know him for seventeen years. He was in a band called Jag Panzer, that opened for us, and then he was in Nevermore that we toured with as well for a while. So we've known him for a very long time. And so, when Niclas had to stay home, we had like 48 hours to decide if we're gonna cancel the tour or to continue. And his name just popped up and we were like: "Yeah! Of course, Chris!". Because we know him socially, he works, and he's obviously a good guitar player and thankfully he said yes, and could help us out. We didn't had to cancel the tour, so, here we are.
It's clearly very important to really get along well with someone when going on a long tour.
Anders: Yeah, yeah, I mean I count on that any of the guys that ever gonna be in In Flames can play, but it's the stuff outside that I think is equally important. That we get along and have a good time together. I can't be with anyone…(ed. Bryce Paul Newman, the bassist enters the room)… like Bryce here, that gives us bad vibes and shit. (laughs) Because we hang out all the time, so there can't be any bad vibes.
Is there a non-musician person who is/or was an inspiration to you?
Anders: I guess it's all the bad relationships. (laughs) That's nobody I wanna name here, I don't wanna name anyone. Lots of politicians making dumb decisions that inspired me in certain way, but again, it makes me more angry, and I guess that's what inspire me.
Your favorite song from the new album?
Anders: All of them. I don't have one. Again, we don't write singles, we write albums. But they're great. The new ones that we play live are working really well (ed. turning towards Tanner Wayne -drummer- at the end of the room), how many new songs are we doing on the setlist? Seven?
Tanner Wayne: Maybe six.
Anders: Yeah, six or seven songs from the new album. And as we continue to tour this album, we will add more or maybe other songs from it.
You played "Burn" in Lyon for the first time yesterday.
Anders: Yeah!

A ritual before going onstage?
Anders: The guys have a little practice room with small amplifiers, drum kit where we're warming up for an hour or so. Some beers, a little whisky, it's the same thing everyday, but for us it doesn't feel special. We don't sacrifice any strange things. (laughs)
In spite of your experience, do you still have sometimes stagefright?

Anders: No whatsoever. I'm excited to go on stage, but I don't have any stagefright. It doesn't exist anymore. (laughs)
Do you miss it?
Anders: I think it could be good at some points. But excitement is better than the fright. If you're afraid of something you won't do a good job. You're so worried about how the people are gonna feel or think, that it will affect your work.
Do you have a new passion or center of interest which is very recent?
Anders: Yeah. That's super recent but I have a brewery. It's a beer called Frequency Beer Works. I've been brewing beer with others, went to different breweries before, and done beers here and there, but since two years I have my own place. So I do that, it's twenty minutes from my house, so I go there quite often when I'm home. We don't export anything yet, it's sold in Sweden. I mean, I would love to, I would love that for everyone to drink it, it's a very good beer. We do all kinds, to Pilsner to Stouts, Lagers.
I also have a clothing company. And besides that, I spend time at home with my kids and family, barbecuing, eating good, drinking good wine and whisky.
Finally, we're "RockUrLife", so what rocks your life Anders?
Anders: My kids, in a good way, for sure. Apart being part of this project, this band. It's the greatest thing in the world. I am so fortunate that I can travel the world and play for people that are passionate by my art and my music. I see smiling faces in the audience. I will never take it for granted because it could disappear one day. It's just amazing all the love we are receiving from everyone around us. It's crazy when you think about it. It was a far-fetched dream when I grew up, watching bands like Scorpions, Iron Maiden, Saxon, Judas Priest and all these bands on stage… maybe one day that will happen for me… but here I am, so… It's awesome.
Website: inflames.com