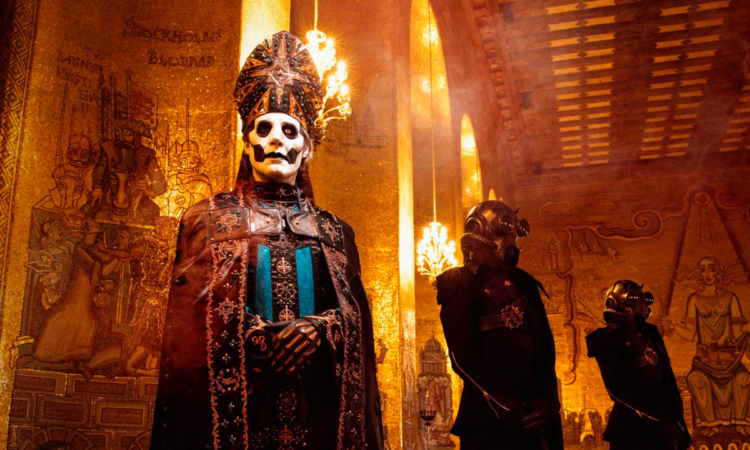 A few days before Ghost's highly anticipated concert at the Accor Arena on April 18th, Tobias Forge gave us an exclusive interview. On the program: European tour, humanism & literature, and of course the new album Impera.
Thank you for taking the time to talk to us, especially as you must be very busy with the European Tour starting soon.
Tobias Forge: Thank you very much, thank you for having me.
The European tour is starting on April 9th in Manchester. Excited about it?
Tobias Forge: Absolutely, it's going to be nice coming back to Europe because we haven't toured in Europe for quite a while. We did a warm up tour in America but it was a co-headline pre-album situation where we played a short set. Everything was political. (laughs) We were asked to do less because we didn't want to out shine anyone.
The European tour will feel like back to normal: it is going to be a slightly longer set, we're gonna play more songs.
Once again, being back in Europe with all its differences between the different countries. It's very colorful when you travel through Europe.
A control freak like myself can enjoy a little more the "day to day" touring in America, but of course when you tour in the USA you want to tour in Europe and so.
It is going to be the first time in France that you play in such a big arena like Bercy. How do you feel about playing there?
Tobias Forge: Playing in Paris has always been a big thing for me and for Ghost. Throughout all the years of touring we developed a relationship with the French crowd. Not only in Paris as we played a lot of provincial shows also over the years. But as you get bigger and bigger it tends to be more focused on Paris.
Over the years, we've done those steps: one day you play at La Cigale and then, it felt like a big thing for us to play at Le Zénith.
Ever since I was a teenager, one of my dreams was to play in Le Stade De France, ever since watching the Final Cup in 1998. While watching it, I was like: "One day, one day I'm gonna play there!".
And then we did play there with Metallica so it wasn't our show but it felt like we were not some unknown band. We realized we had a lot of fans in France!
The next step was then Bercy. It is such a classic arena, even before going to France I knew what Bercy was because of its name on the shows' lists. I've been to shows in Bercy also so I am fully aware of the importance of playing there and I respect it as a big step in Ghost. I am really looking forward to it.
Did you make any changes comparing the Prequelle area, especially regarding the scenic aspects and the fact that you are playing in a bigger venue?
Tobias Forge: We tend to change our stage set every new cycle. If you saw Ghost at Le Zénith, it is going to be different now. We have a different stage set, a different set up.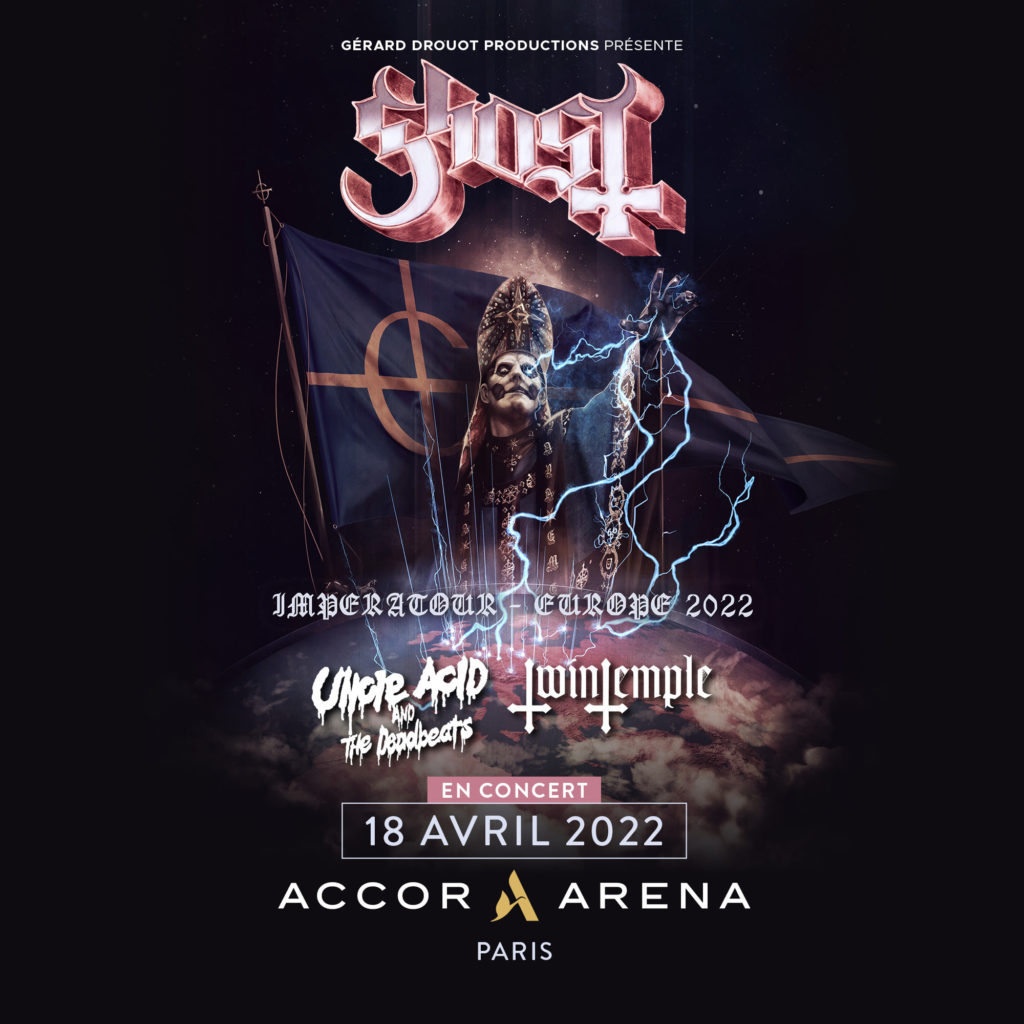 Let's get back to Impera: how was the process of recording it? Did you wrote new songs during the Prequelle era?
Tobias Forge: Yes I did. I have a tendency to start before people ask me about starting because I want to have the upper hand. (laughs) I want to feel like I have already started building. I have some cornerstones in order to know more specifically what I am going to do next. I have never, so far, ended a tour without knowing what to do next.
One day maybe, it would be a nice thing to just reset everything and see what comes next, but I am not very able to do that. I don't know if it has to do with control, it has to do with will to create. I'm just a creative person and I just work like that. Luckily it is to my benefit nowadays but it was not to my benefit when I was not successful because at this time, I was just thinking about all these things that I wanted to do and that never came to fruition. Now it's an asset.
You have to remember that because I am a control freak does not mean that I am in control. It means that I like to be in control. Most of the things that we do end up being a different version of what I initially intended and it just leaves me with a huge list of things that I want to do or redo in a different way. So sometimes I have ideas for a new album or a live show, or a thing that I want to do for a video that I came up with 10 or 15 years ago. Because I never had the time to do it or we did a poor attempt of doing it 7 years ago.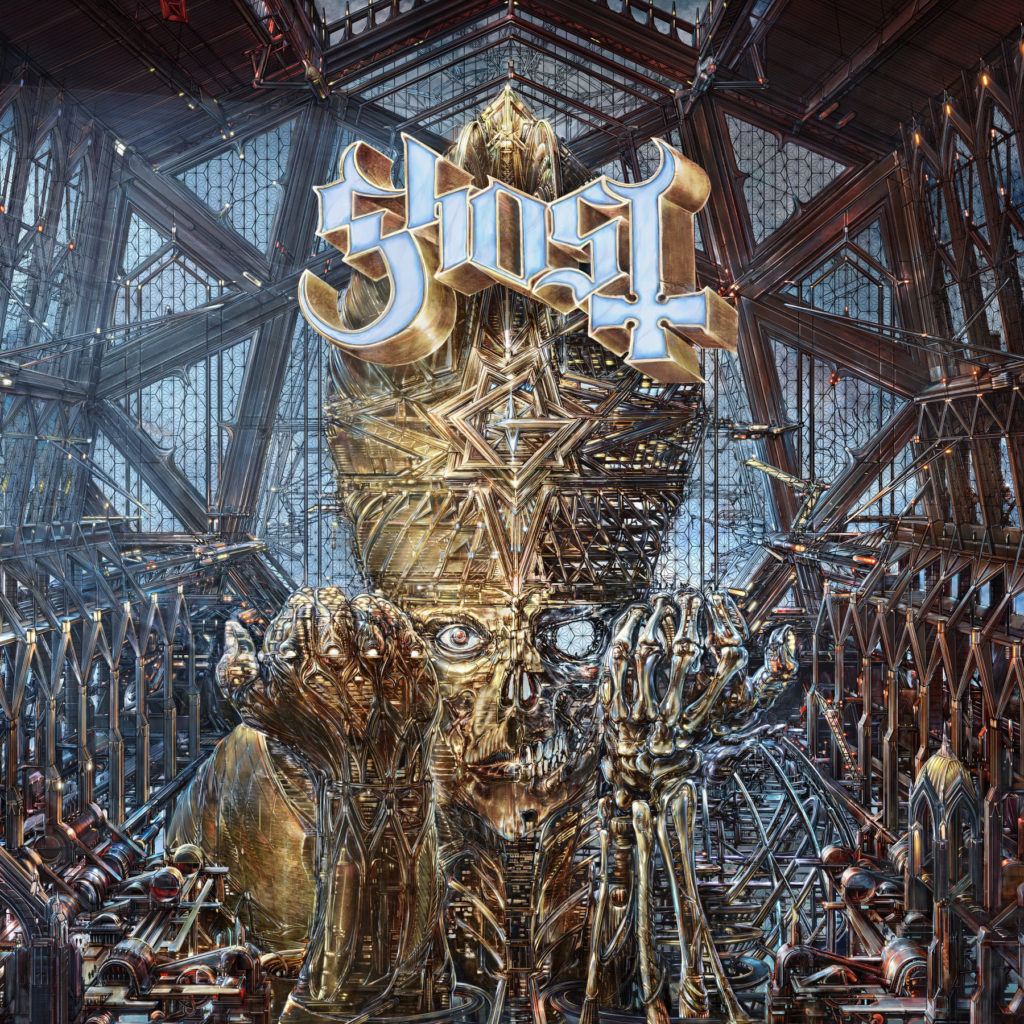 As you said that you are always working ahead for a new record, where are you in the story of Ghost? Did you get to accomplish everything you wanted with the band and its career so far?
Tobias Forge: It's hard to say. We are at a point in time and in our career where we have not yet become a nostalgia band but we are big enough to be regarded as an established band with a history. Right now, let alone for my creative incarnation but also for the benefit of the band and its growth, I still have a lot of things that I want to do before we become a nostalgia band. Because once you become a nostalgia band, you are not requested to do anything else. A lot of bands do that: they are still putting out albums that people don't really care about because people want to hear the old songs. Every band comes to that point. Sooner or later. But we are not there yet. It's my mission to accomplish a few things that I think we haven't accomplished yet.
I feel like Impera was a great step. I have another record in my head, a film project in mind, and a few other things that we should do, that feels important and that will take at least 3 or 4 years in the future. And then it is time to reassess. (laughs) But I'm counting on 3 or 4 years; from now I know exactly what I wanna do in 2 years further down the line.
Prequelle was very linked to history and so does Impera. What is your relationship with history & culture?
Tobias Forge: It's always been a very very central part of not only my interest but my life philosophy. Not as hardcore facts, more like an entertainment, entertainment, distraction. (laughs) When I made Prequelle, I was not like: "I wanna make a record about history". I think everything we've done with Ghost, in some way or form, dealt with the idea of time passing but also the eras of mankind that keep on being repeated. That is what Impera and Prequelle are about.
Impera is about the rise and the fall of empires and humans. But also about the fact that despite the same mistakes done over and over by humans, we just start again. It's very optimistic actually.
Tobias Forge: I think so too. I mean, it's been thrown at me a couple times in the last few months as a compliment for my clairvoyance but also as a curse, because some people want me to write a more optimistic new record. I'm actually trying to shine a light on optimism and the circularity of things: how after things fall, something new and better usually will prosper. I'm actually not a pessimistic person, I'm quite optimistic.
Are you familiar with the works of Jules Verne, especially as there are a lot of steampunk elements in Impera?
Tobias Forge: Not all his works. But I know Twenty Thousand Leagues Under The Seas. It's called something else in Swedish, that's why I was struggling to find the title in English. It's called A Spin Around The World Under The Surface Of The Sea in swedish (En världsomsegling under havet). What's the name in French?
It's called 20 000 Lieues Sous Les Mers. Moving on to the characters: you impersonate a character on stage, whether it is Cardinal Copia or Papa Emeritus IV. Is it a kind of a catharsis for you to be able to express your inner personality?
Tobias Forge: To a degree I am a shy person, of course. I don't know what you would call that but I'm sort of an extravert when I am amongst people I like, and not so much when I am uncomfortable.
I am not as extraverted as he is on stage. So basically I am behaving in a way that I would not behave personally when in character. (laughs) Of course it is liberating in a way.
Last question: as we are RockUrLife, so what rocks your life, Tobias? Family, music, visiting new countries?
Tobias Forge: All of the above actually. (laughs) I have the luxury to cruise amongst those different things. I really appreciate having that amenity in my life. To be able to, basically, play for a living. I'm not even saying playing music but I'm talking about playing, being a kid; and to be able to do those things. Because in a way I'm interested in the same things as I was as a child. I'm interested in watching films, writing and listening to music, hanging out, just doing extracurricular things and not working much! (laughs) I ended up working a lot!
For a long long time, ever since I was in school and way up in my twenties and into my early thirties, all I ever wanted was to not have a job! I just wanted to play music and be in my imaginary world. And now, I am so happy to partake in making it in the real world.
We receive news from horrible things that happen all around the world in real life and it's great that I can still balance that with family, friends, and my imaginary world of rock n'roll and films. All of this is in a balance that feels satisfying and I feel that it is a luxury. I have not always been in that balance, so it is a struggle to not lose that. You have to keep on balancing forever.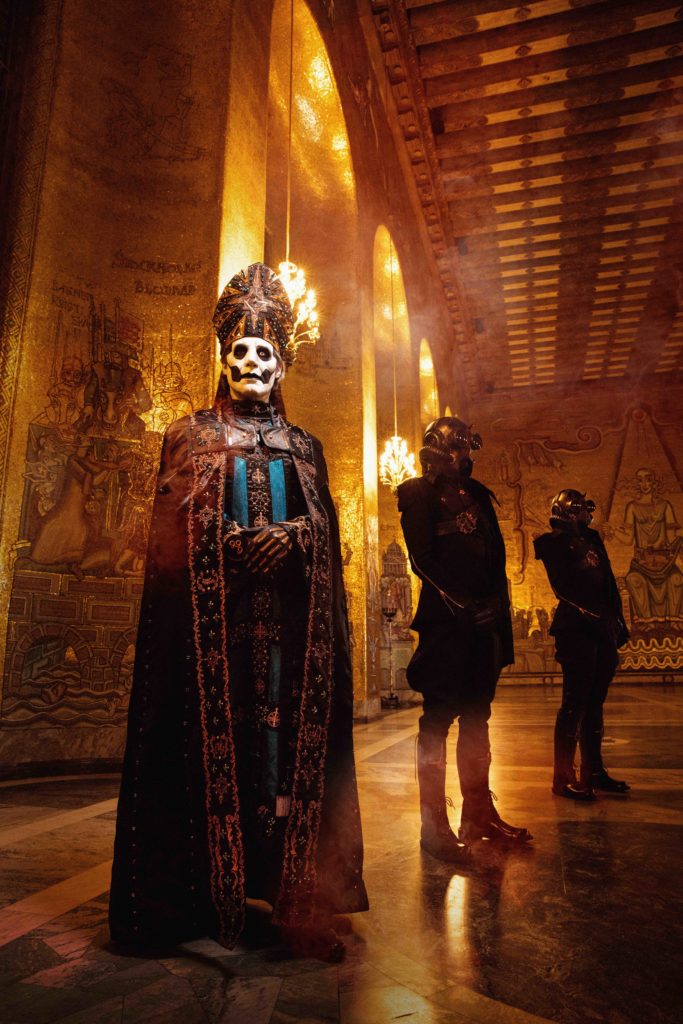 Website: ghost-official.com