In Paris for just one sold out show, we have met all the members of Fall Out Boy a few hours before their set on the Olympia's stage. Time for us to get back with them on this fifth album, "Save Rock And Roll", released in april and to know a little bit more about their come back.
How have been the past few days?
Patrick Stump (vocals/guitar) : Great, we were in Budapest yesterday, before that we had a day off, or was it before?
Joe Trohman (guitar) : No we were in Netherlands before and we had a day off before that.
Patrick : Oh yes that's right.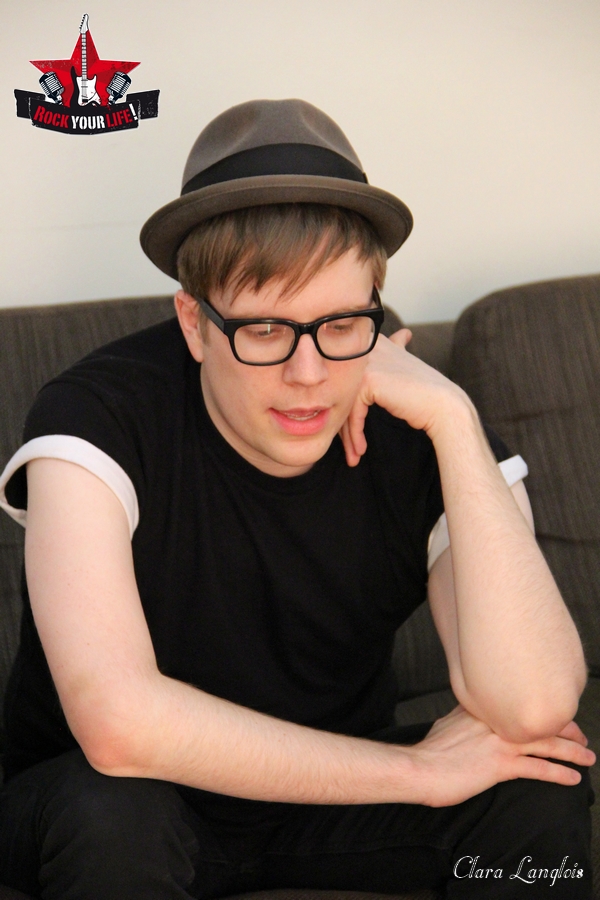 First of all let's talk with about your new album "Save Rock And Roll". How did you compose it and how was it to go back to the studios all together?
Patrick : It was very different coming on this record because we had kind of a plan. The way we used to run everything, you know, pretty much Pete who come up with words, then we were kind of making music around it and then kind of put things together. At the beginning of this record we kind of say we didn't want to do everything the same way. Joe became quite a good writer so it was kind of a waste of writers to not have him in that structure somewhere. And actually Andy and I did a lot more demos together on this record than we did in any other records. So it became a lot more communal which was exciting and which was very different. I think from the outset it wasn't like coming back it was like starting something new.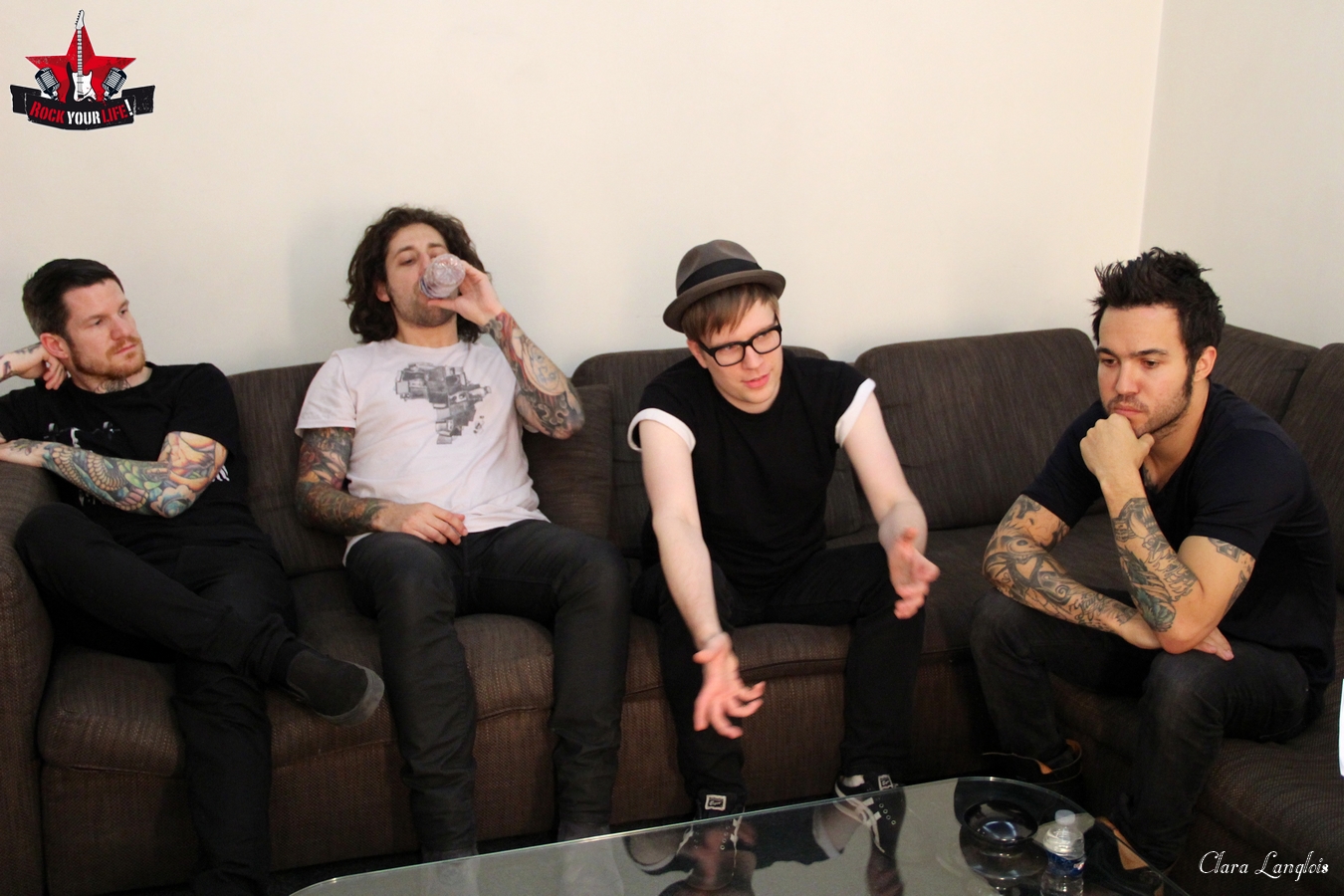 About the cover of the album (a photograph of two young boys, one wearing a T-shirt and a jean and smoking a cigarette, the other dressed like a monk), there is many explanations like it says that it would be kind of a mix of the past and the present. Could you explain exactly why did you choose this cover?
Pete Wentz (vocals/bass) : We all have different opinions on what that cover is. I don't even know how is that interpreted. I think it represents, to me, how different someone can be and how someone can differently see him. But they are your brothers, they are your friends and I feel like it really represents the environment of our band.
Patrick : Oh yes the appearance of our band.
Pete : Yes, the appearance of our band like I think on the surface we all seem very different but when you are with guys you travel all around the world, with who you share so much with, that's like a band unbreakable.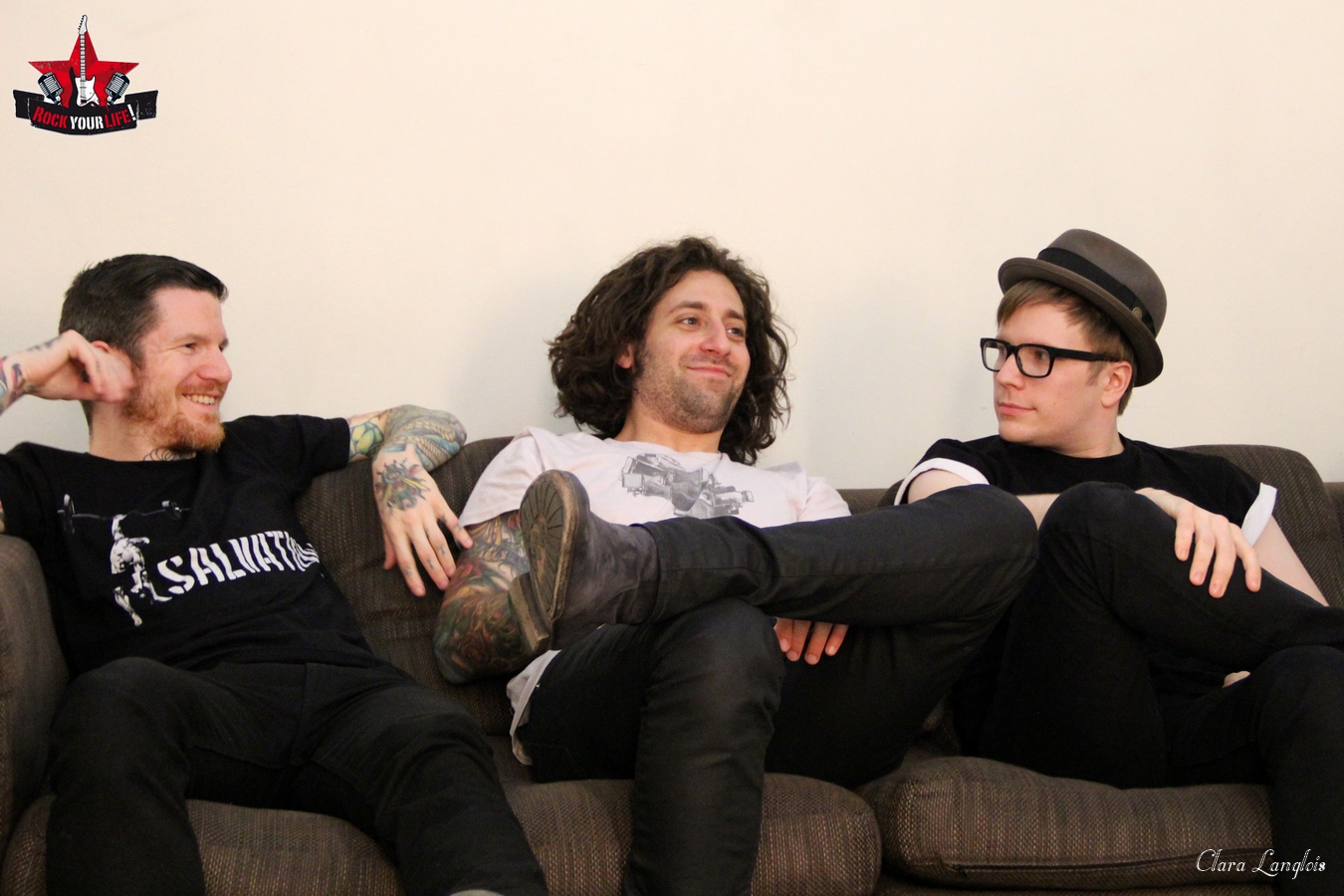 And how did your fans react to this new album?
J : They were very excited which was unexpected. We expected that either people wouldn't care at all or people to even maybe backlash against it. So we are really thrilled that people, our fans, actually care. People are maybe more casual to listening actually than really interesting in it and the fact they can take us like new places makes it a great tour for us.
Pete : Yes and I think like most thinking about the people who wouldn't care, we just made the thing for ourselves. And as an artist that's so fulfilling to have other people express interest in that because when you are truly make something for yourself it's just a little bit different.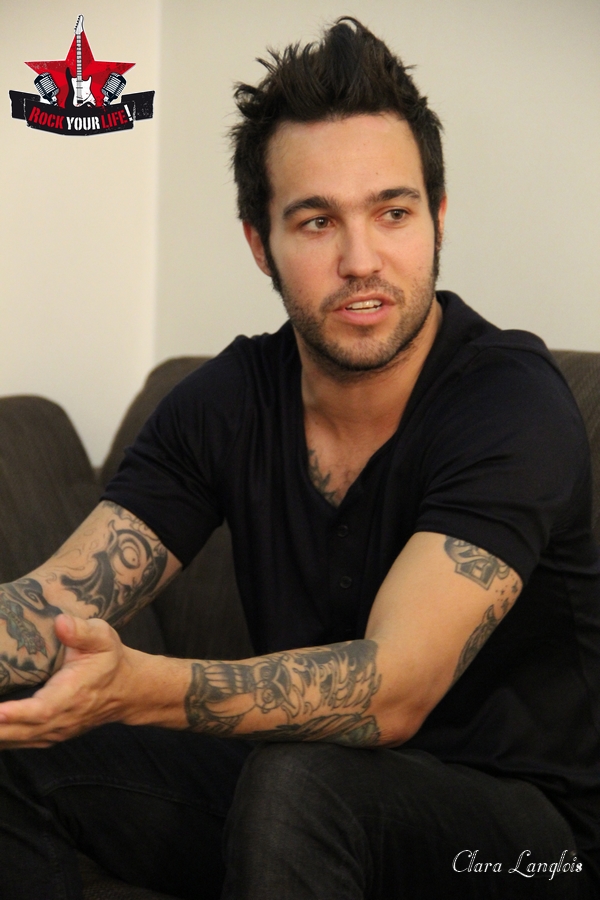 Do you feel that now you are on tour?
Pete : I feel like it's a lot even wilder than we expected, like when we were landing in Moscow and there was like a lot of kids at the airport.
Patrick : Oh yes!
Pete : It was just truly that expectation was there, like it was going to be that crazy. Or like when we were in Budapest and played for the first time in Hungary and it was just crazy.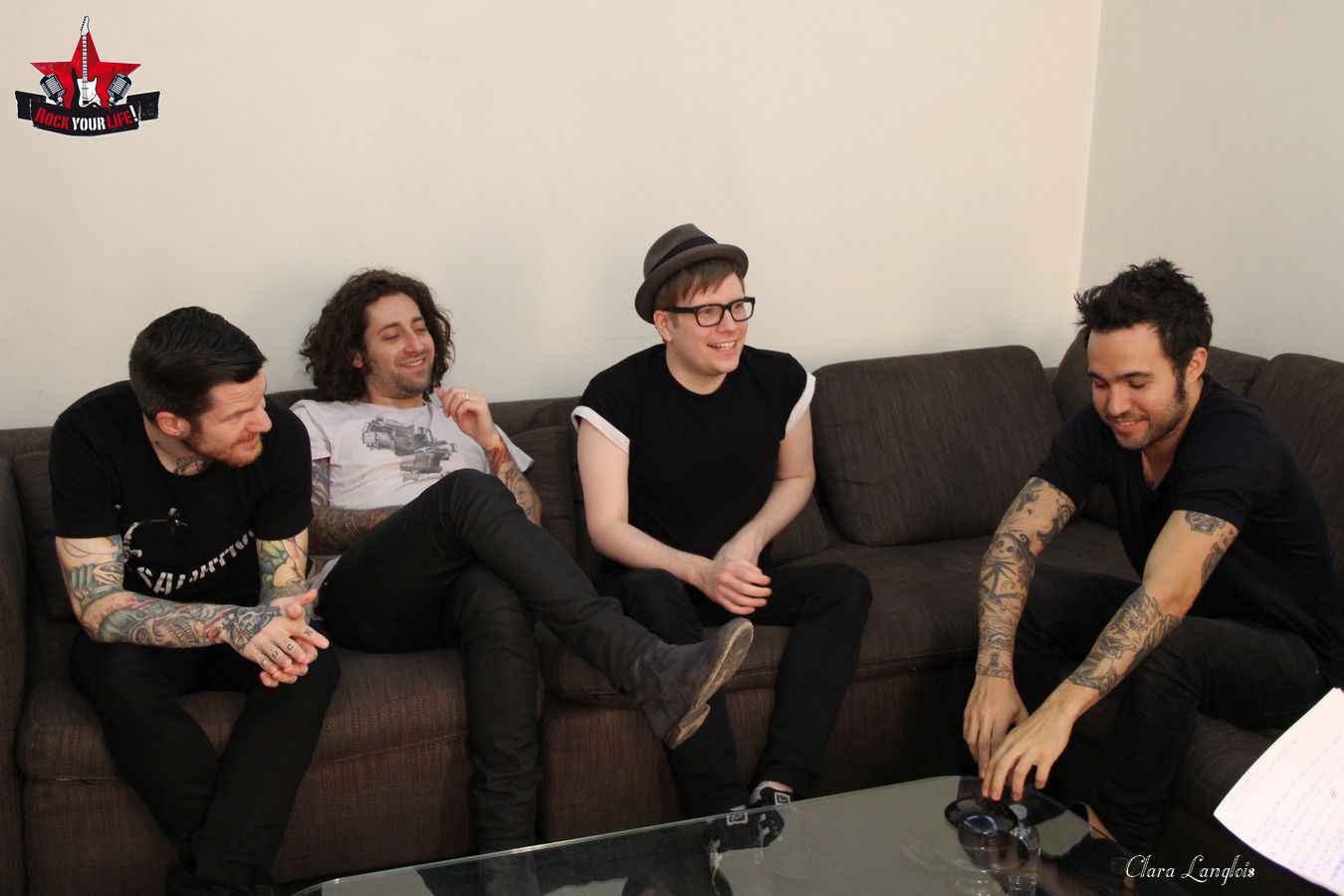 So you went to places you've never been before on this tour?
J : Yes, we have never been in Budapest before and never played in Hungary. Also we have never played in St Petersburg and we have just played there. And it has been the second time we were playing in Korea.
A : And never so closed from the DMZ (Korean Demilitarized Zone).
J : Yes, we were really close from the DMZ, never did that before. I think it's a lot of things that have been happening in general within the band than outside the band on this record cycle.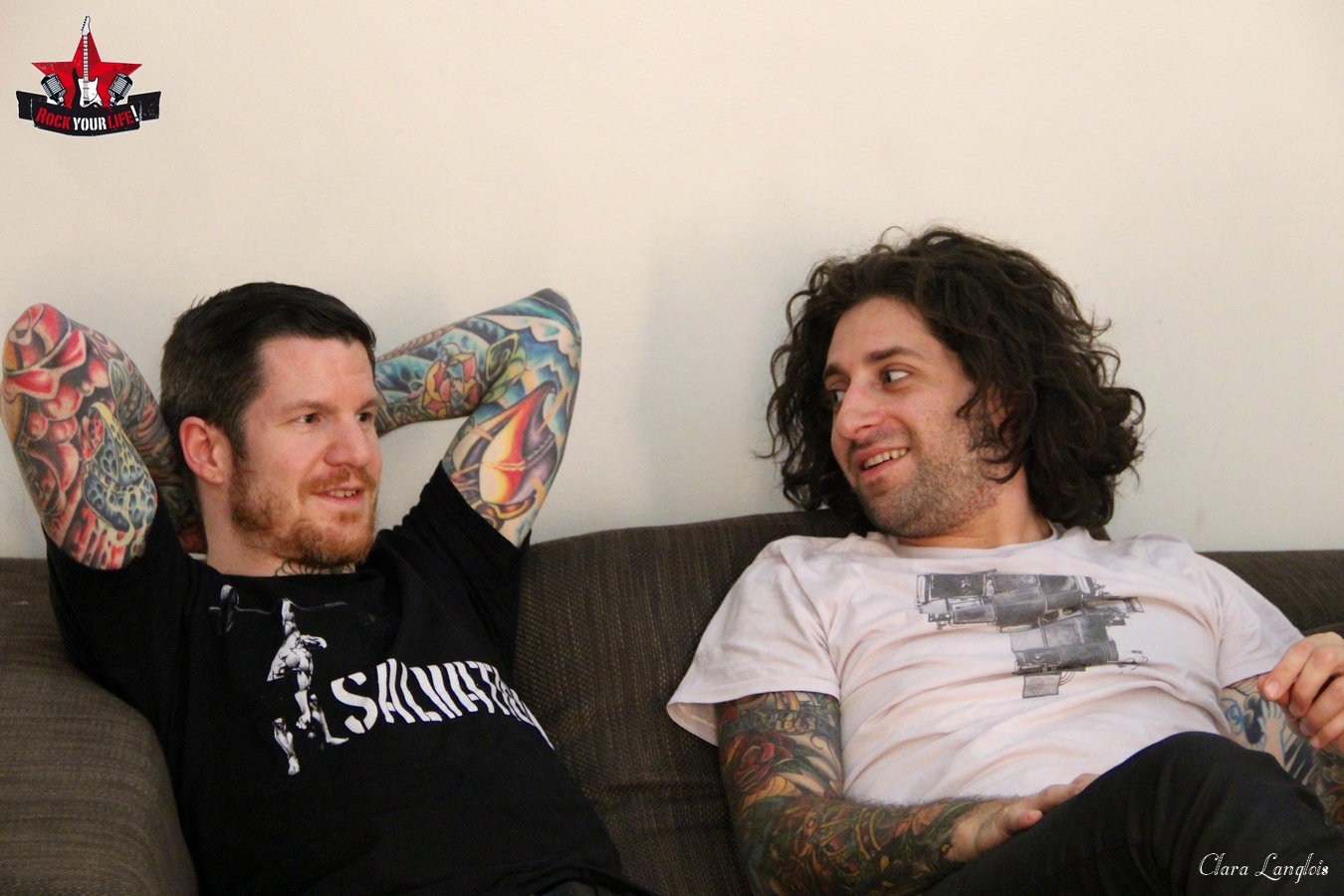 Did you have time to visit these places where you were?
J : Not so much.
Patrick : No but we really wanted to go out on that much.
Pete : We have walked around in Moscow and we have seen that thing called Kremlin.
Patrick : And we have also seen a little bit of Brussels.
Pete : How it is in a band, I think the first time we went through, like years ago, you get used to some nooks, being in backstage and these stuffs, being in a hotel.
Patrick : And we share all the same room. (laugh)
Pete : Yes. (laugh) Making an effort just like how were you (to Patrick). When Joe just saw Patrick and Patrick said "I was just enjoying the view" of where we were. It's like wherever you can find it, you can just relax yourself or enjoy where you are. It's hopeful to the spirit of the band.
A : And we like to make like travel videos. (laugh)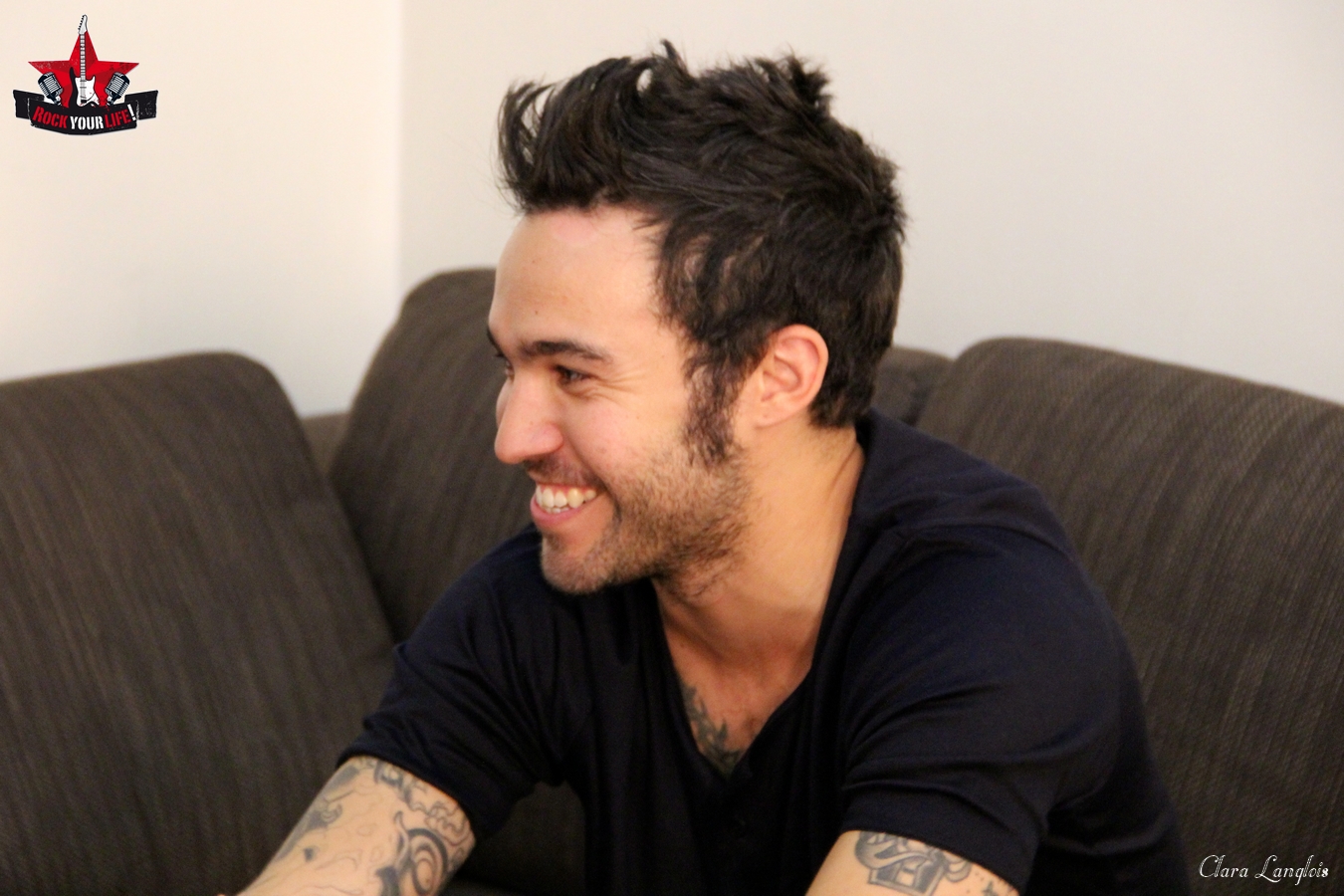 About the videos ,let's talk about the ones you have made for "Save Rock And Roll". How did you get the idea to make kind of a story with different parts?
Pete : We came up with the idea to do like a long narrative, I think it initially came up because we wanted to make a video that was just different than Fall Out Boy's videos in the past. I think that the great thing about this story, "The Young Blood Chronicles", is that a lot of these are going to be a different narrative because in general "Save Rock And Roll" is a pretty hopeful album and this is all that is going to tell a different story. Then, I think it's funny because we were talking about it the other day and we were like "what if it doesn't match up"?" and it's like I'm going to expect you Fall Out Boy to be like Martin Scorsese! (laugh) It's just another thing that we are doing for ourselves and that has been fun.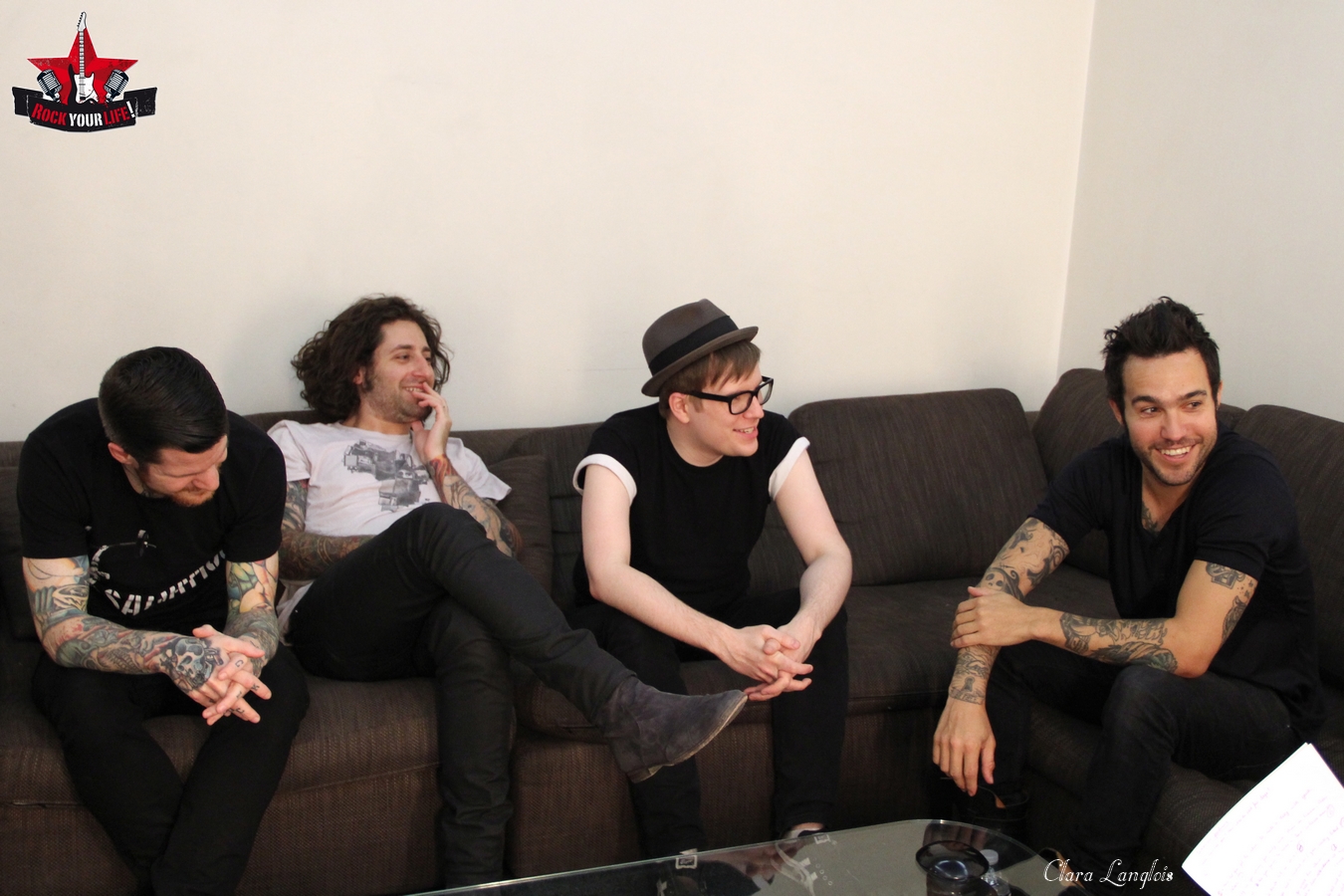 Can you tell us more about what is going to happen in the next videos?
Pete : We filmed it already, we have got one that we are working on editing right now.
A: I just saw another cut.
Pete : But I don't know when it's going to be released as it's going to depends on what we get further.
A : I think we will have two or three more videos then.
Pete : Yes.
Can you give us a clue about what is going to happen?
J : You want to know what's is going to happen in the video ?
Yes.
J : Then you should watch the video! (laugh)
Then show it to me.
J : No, not yet. (laugh)
Pete : When we talk about shows and films we have done over the years, whatever there will be "Star Wars" or this kind of things, there is that group anticipation of like "what is it going to be? Oh no wait that's the thing!".
A : To be honest, I want "Star Wars" and girls. (laugh)
Pete : Fall Out Boy! (laugh) But being able to participate in that group anticipation, like in this kind of videos, has been really cool. I think that's our way to compete and still take part in the video generation because I think a lot of that is lost with videos hasn't being played on TV that much.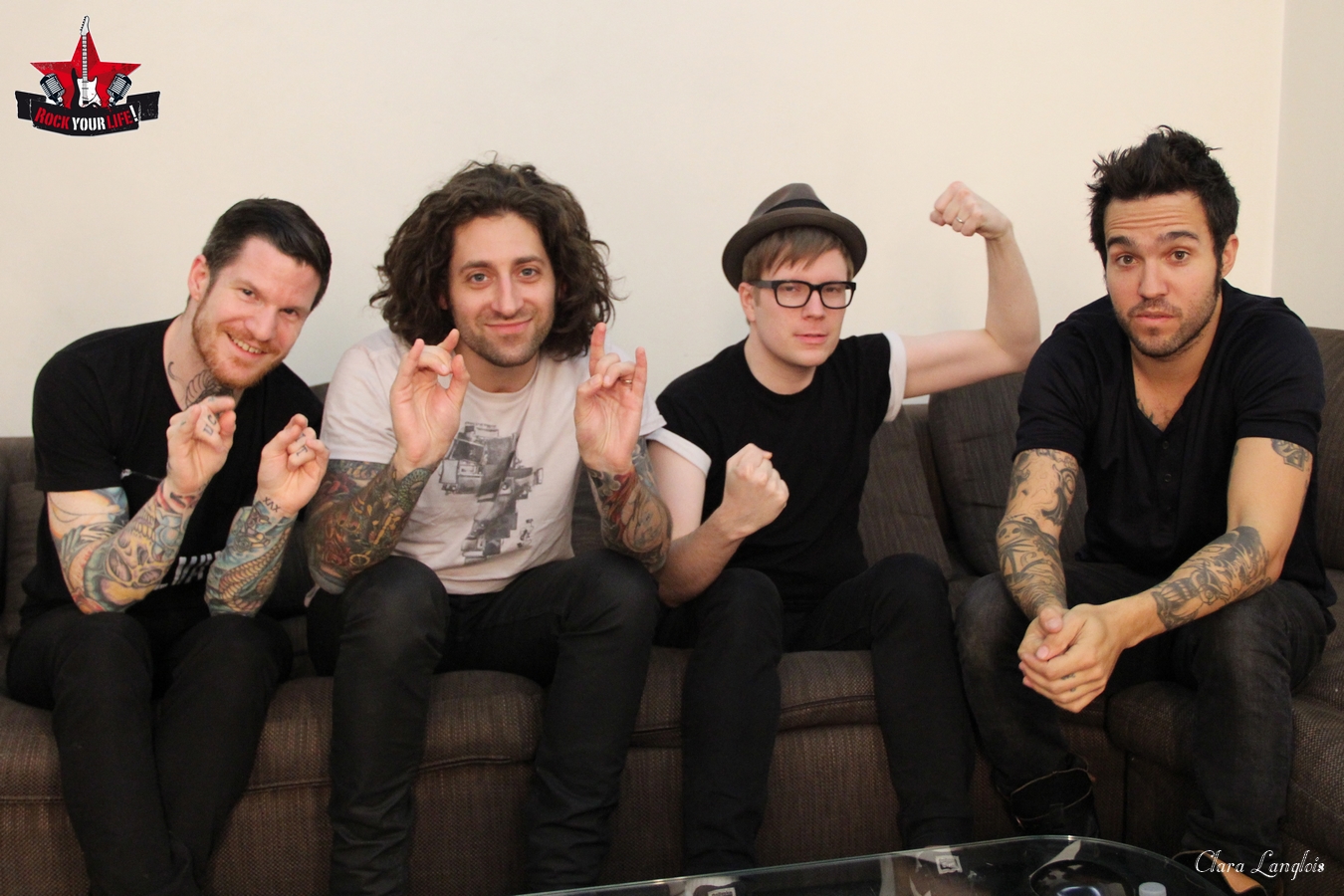 Tonight is the only show you are going to do in France.
Pete : It is right now.
Are you going to make a tour in France?
Pete : We want to, I mean we have always said that this is a place we are very fan of. We have always made a big effort to come here. When we had to come here we have tried to play in multiples cities. We don't have anything booked and announced right know but of course we would love to come back.
A : It's a city of desire Paris, for sure !
Pete : You're trying to break something in here. (laugh)
J : You're trying to break a story. (laugh)
Pete : That's the smell of journalist. (laugh)
J : We have no secrets. (laugh)
Even if you have secrets, I'm sure you are going to keep them. (laugh)
Pete : Our secrets have secrets! (laugh)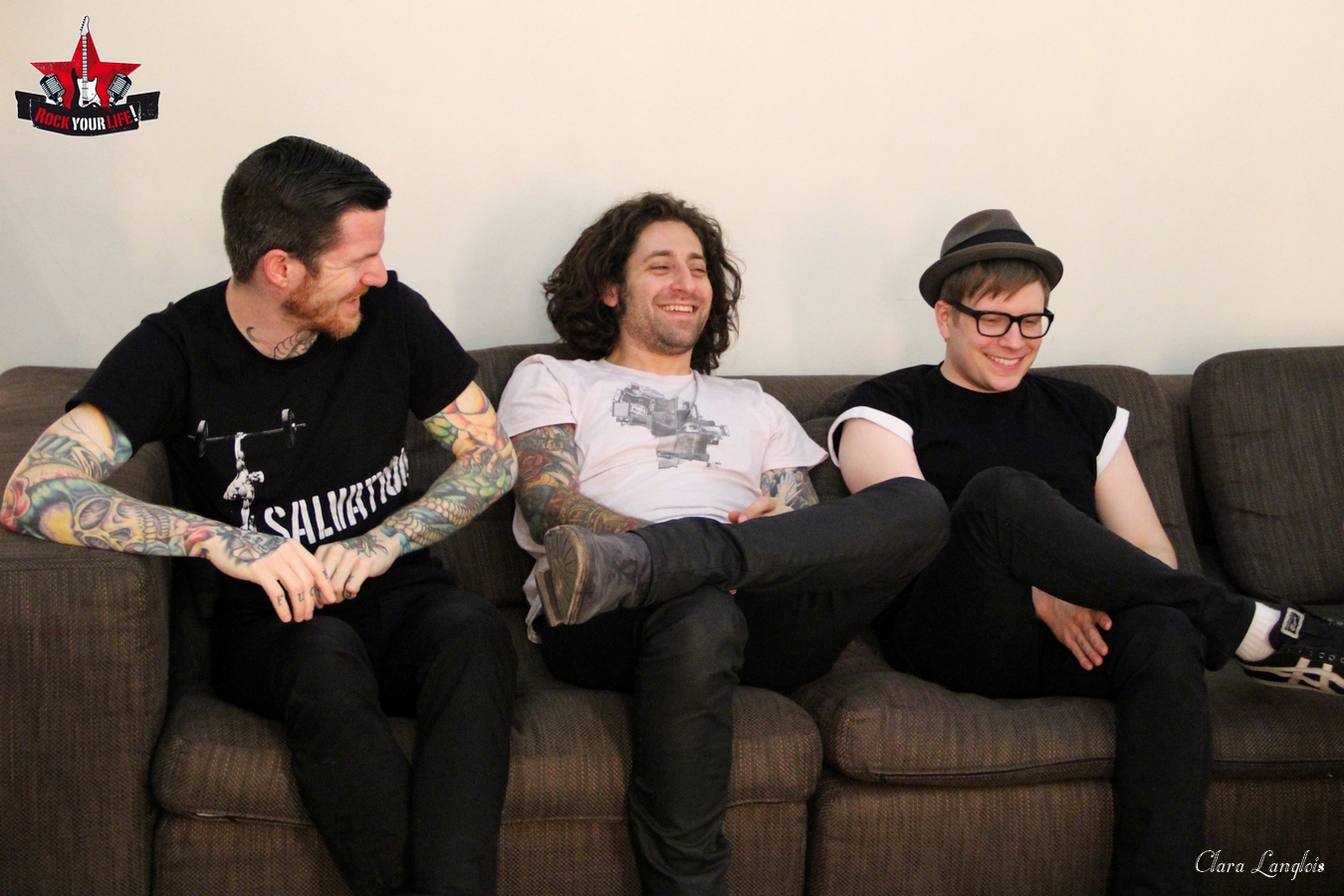 One word to describe Fall Out Boy in 2013?
Pete : Fall Out Boy spell grown! (laugh)
Patrick : It's just one word. (laugh)
Yes, it's more than one word.
A : I think that's it.
Pete : I think "hung(a)ry" not like the country but I think "hungry" in a new way.
J : But not for food. (laugh)
Pete : I just think our band has been reenergized and I think that people see that when everybody is on stage.
And the last question, as the name of our website is "RockUrLife", what rocks your life ?
Patrick : Fall Out Boy! (laugh)
Pete : Rocking your life is flying in the plane we did and surviving. (laugh)
J : Crap planes if in bad weather conditions can be an incredibly curse.
Pete : In fact that plane was shaking and that's very unpleasant.
Patrick : I don't think they are unsafe. So we were literally rocking this plane!
J : It feels pretty unsafe to me.
A : You just need a couple of girls that's it.
J : Couple of girls like you in a roller coaster? I don't freak in roller coaster! (laugh)
Pete : So we are gonna rock your life tonight on the stage !
There is so many fans who are waiting for this outside!
Patrick : We know, that's awesome!
Pete : Yes, really awesome!
J : We saw them a couple of minutes ago.
A : I even closed my eyes because I was really surprised to see them when I walked out! (laugh)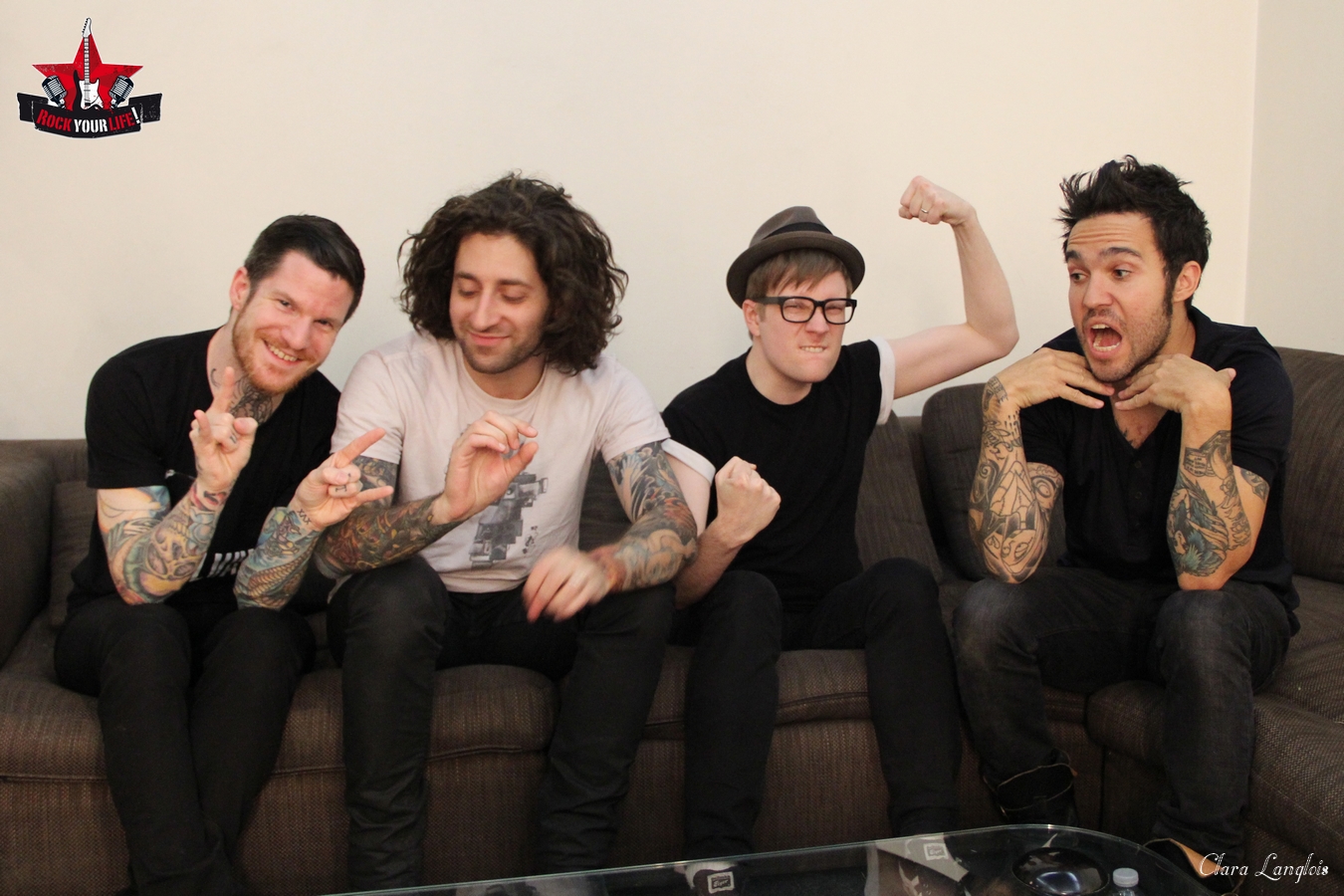 Interviewed by Florine Ferrier
Photo credit : Clara Langlois
Website : falloutboy.com