In the capital city for one last concert -organized by OÜI FM as part as the fourth and final day of the Bring The Noise Festival– before a long-deserved break, RockUrLife's team met with English berserks Rou Reynolds (vocals) and Rory C (guitar) from Enter Shikari on the floor of La Flèche d'Or, in a nice tiny room that looks a little like a squat, for an interview based on good mood, humility and fish and chips.
First, how are you guys?
Rou Reynolds (vocals) : Really tired. We had to get up at four this morning, which is not really nice. We managed to get the Eurostar at seven or something… but it's fun! I'm sure after a few drinks we'll be ready to go.
"A Flash Flood Of Color" was released in 2012 and this has been a big and crazy year for Enter Shikari. This album got lots of great reviews and was considered as one of the best albums of the year. How has it affected you, as a band, having such success?
Rou : Thank you!
Rory C (guitar) : Like you said, this album got better reviews than all the albums, but I wouldn't say this has taken us on a massive level of success. Our whole career has generally been quite a gradual climb, and we've gained more and more fans, which is good. When it's gradual, it doesn't affect you so much. I think it mainly affects you if you suddenly gain success like if you win The X Factor, when music is not a part of your life and you're not a professional, and suddenly people go crazy about you. But when it's a gradual climb, I think it keeps you grounded a bit more.
Rou, you're the main songwriter. There are a lot of society conscious and humanitarian lyrics on this album. How come you prefer talking about the issues the world has to face rather than writing about your own personal life and feelings like many songwriters tend to do?
Rou : Don't be fooled, it is kind of personal in a way. It's the things that I personally feel emotive enough to write about. I suppose there would be some people that would be vaguely interested in my personal life but I don't think it would be interesting. The main purpose of music is to trigger various emotions throughout the listening, from the feeling of being destroyed to the feeling of being over the moon and happy. I think in order to reach all of those emotions, you have to speak about the bigger picture.
You're going to take a break and record a new LP. What can we expect from this new album?
Rou : I don't know really yet… We're not properly starting to write until January. We'll just take Christmas off and chilling out really. But I think the only things at the moment that we've talked about is trying to avoid clichés, trying to push ourselves even harder and opening up to different types of instrumentation. It's been vacant, we don't really know what it's going to sound like!
Considering the fact that "A Flash Flood Of Color" was such a success and so critically respected, is there a lot of pressure after this album?
Rory C : We don't worry about what people are going to think of it… We've never really tried to be what we think people want us to be and do what people want us to do, and it seems to work out so far so we'll carry on doing it. There's no pressure in that.
Rou : There's definitely anxiety though. Especially in this period now where we haven't written anything, we know we've got this massive deal of creating this album and I really want to start working on it. It's not pressure, it's just ourselves being excited and wanting to get started.
Rory C : It's like at the top of a roller coaster!
As live shows are important, how is the recording process of an album? Do you first think about how it would sound live?
Rou : No, we never think about how it would sound live because it can disrupt the creative process if you always have this devil on your shoulder saying "How are you going to do that live?". You have to worry purely about the art and think about the live performance afterwards.
Rory C : When we do something, we're not worried about how it's going to sound live. When it comes to doing it live, you have to buy your equipment and find new ways of doing stuff to take live shows on another level. The reason we've got the live set that we've got now is because we try to replicate the things we did in studio. Our live shows have massively improved.
It's been a few years since you created your own label called Ambush Reality. What did you learn from it?
Rou : We're in a good situation because we've seen both sides of the industry: the independent side with our own label and the dependant side with the major in Europe. The independent side definitely works for us, it allows you to not have these sorts of limitations and bureaucratic process if you want to do something, instead of having to go to some guy, then go to his boss and it just slows everything, it feels a lot more like a business. When you're independent, you can just have an idea, like "Can we do this? Yes we can do this, let's just do it!". It's just a lot better for us because we're quite… erm… how do you call it when you're into the moment? (laughs)
Rory C : …Spontaneous?
Rou : Yeah spontaneous! (laughs)
You kind of spend your time travelling around the world. How is the touring life?
Rory C : It's good and bad. I mean, it depends on how long you've been away from home… When you go away for too long, it just becomes a daily routine. Often midway through a tour, you start drinking, then the following day you might feel very tired so you drink to feel better, then the next day you feel hungover so you go for another drink and you get stuck in this rut… But the best times are when you first go out on a tour, it feels very exciting and fresh and the first shows are incredible. We're always down for that though, it's just that… yeah, anyway. (laughs)
Rou : It's like a roller coaster once again, there are highs and lows. Some days it's just amazing, some days you just want to be home and you miss friends and family. But it's alright!
In "Radiate", you say "they silence and censor our right to create, in cells we choke without what is innate", just like in "Rat Race" with "they know what's best for us" for example. Who is "they"?
Rou : That's a really good and massive question. But first of all, I don't even like using the word "they"…. I'm talking here about the various systems that propel some people to the top and allow them to have power over other people. I'm sure if they'd realize the danger of their ways they wouldn't stay in that position. I don't like singling people out because we're all products of our environment, but that being said, "Rat Race" doesn't talk about one specific person, it's more like a general mood like the Zeitgeist Movement, the things that are expected of you by society, the values that are sort of impinged on you.
Like you said, you are obviously into the whole Zeitgeist Movement. What message do you really want people to take from this?
Rou : I'd rather just encourage people to check out for themselves and read the materials. It's extremely hard to narrow down but it's basically a sustainability movement that doesn't confide itself into the current system. It's about reorganizing society in ways that will actually create a sustainable life for all of the people on this planet, basically.
Here's the next question, and Rou, we know you're going to get angry! Some bands have been accused of exploiting their fans for making them pay to meet them with Golden Tickets or VIP Packages that cost hundreds of dollars. How do you feel about this system?
Rou : Oh you know how I feel! (laughs) Good, our voices are getting out there at least. It's usually huge bands such like Thirty Seconds To Mars, and when it comes to bands like that, I don't personally think it's right. I think it's a spurious thing to do, but the guy (Jared Leto) is an actor as well, he's not coming from a punk background. If you paint to me an actor, that's not my industry, so who am I to say whether it is right or wrong? But any band that has its roots in punk and charge people money just to purely be in their presence is a disgrace and it's aberrant. I don't know what you can say. I don't know how anyone can think of that as the right thing to do.
The price of their last album's deluxe edition goes up to almost $1000…
Rou : (laughs) Wow… We're making music in a time where selling records doesn't make a lot of money. When we started, the industry was already on the downfall, we've never been used of having a lot of money. But these guys keep getting richer and richer, it's almost like an addiction to wealth and to corrupting your fanbase.
Rory C : And the people that are going to spend their money are considered as cool fans, it means that they really love them.  That's the kind of people they're exploiting. But all the people that sustain that career in any way are squeezing the thing a bit more. All the people that always come to shows, the really hardcore fans, that's the people you should give back to, not take more from.
Rou : The thing that really vexes me is the scene bands, mainly the American bands, those who all sound the same and make shit music. They're most of the time the ones charging people to meet them. I wish kids would realize it. I'm sure they will.
We all know that the current music industry is not in a very good place. It's getting harder for bands to make it or to make their passion for a living. What can people do to help bands and to save the music industry?
Rory C : Come to live shows and buy records! The music industry and the records sales are dying but the live side of things is obviously still thriving. You can download our CD but you can't download our live shows. That's what bands have to do to make money now. I guess the main thing is just to come to live shows!
Talking about live shows, you will play at La Flèche d'Or tonight. What do you expect from the French audience?
Rory C : The last couple of times we've been in Paris have been amazing, it was really special shows that we were really excited about.
Rou : Tonight's show is a competition one is that right? So it wasn't tickets at all. I don't know what that means, if it's going to be our fans or not… (laughs) What happens most of the time when it's a competition is that people get tickets and are like "YEAHHHH!!!!" then realize they can't go. We'll see, who knows what it's going to be like!
Enter Shikari has been around for 10 years now. What have you learned from being in a band?
Chris Battens (bass) (who has been in the room with Rob Rolfe (drums) since the beginning of the interview) : Being more stupid.
Enter Shikari : (laughs)
Rou : It's just hard to narrow down really…
You've learned a lot obviously…
Enter Shikari : (laughs)
Rou : It's a tough one… We've learned lots about music, about performance, about travelling, about different cultures, different people, the psychology of the crowd, different philosophies… and we're incredibly lucky.
Finally, our website is called "RockUrLife". What rocks your life?
Rou : My cat. She's awesome.
Rory C : Chris. (laughs)
Thank you for your time guys, see you tonight!
Rou : Thanks a lot for the support!
Rory C : Thanks, see ya!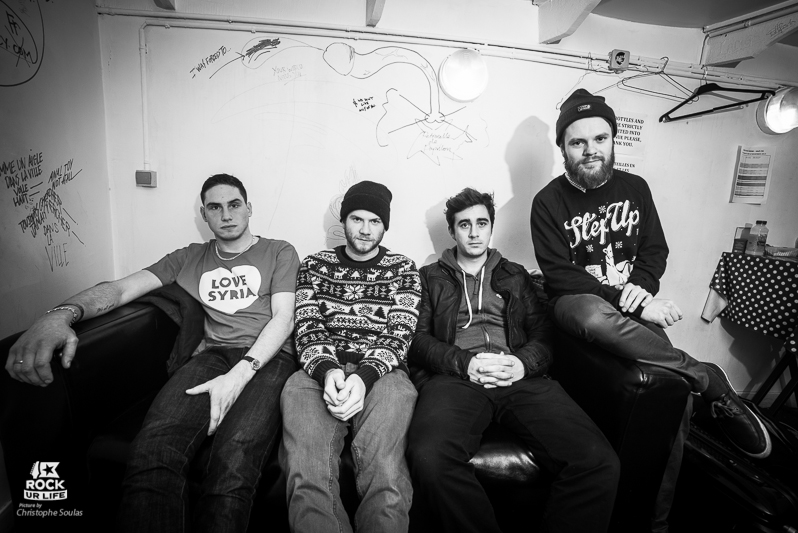 Website : entershikari.com