EMERGENCY GATE (10/01/13)
With the release of their brand new album, "You", we got the pleasure to meet Matthias Kupka and Mario Lochert from Emergency Gate.
Hello guys, happy New Year! How are you today?
Mario Lochert (bass) : Hello, happy New Year to you as well, I'm very well, I got a little bit sick before I start to travel to Paris but I feel very well.
Glad to be in Paris? Is it your first time here?
Mario : No, I was 17 times in Paris, with other bands as well. It's always a lot of fun to stay here in Paris but I never saw the Eiffel tower or Notre-Dame. (laugh)
Can you introduce us quickly Emergency Gate and its story?
Mario : We're a melodic death metal band mixed with metalcore and some electronic parts. This year we are celebrating the 15th anniversary of the band; we are based in Munich, Germany and we are born to rock! (laugh)
So your next record "You" will be available in 2 weeks, you must be excited about it right?
Mario : It's the fourth album we're releasing worldwide. Excited I don't know, we know how the record sounds, we did a very good work, good songs on it, and I think the people would like it. We are surprised how the magazines, the people react to it, for now.
Anything to add? (looking to Matthias Kupka)
Matthias Kupka (vocals) : Did you listen to the album ? What's your opinion ? Say the truth because when you'll write the review I'll see it! (laugh)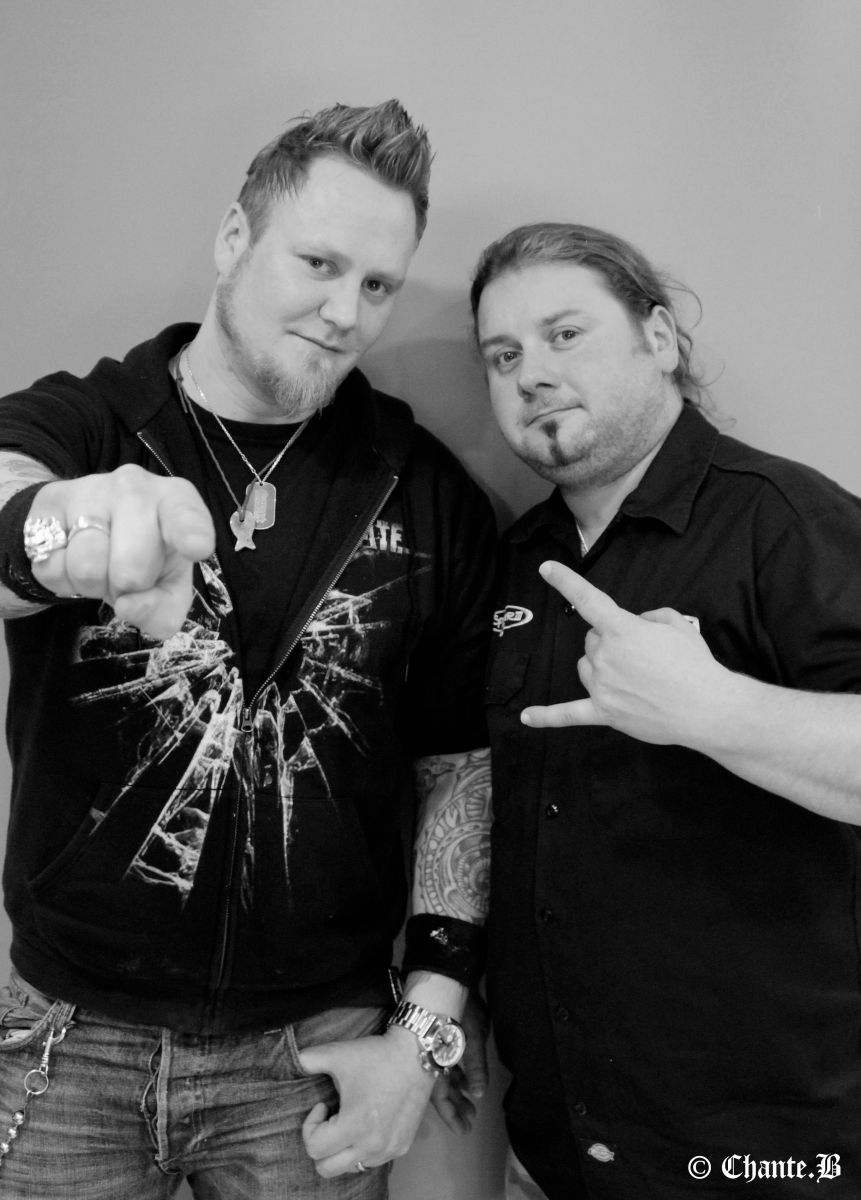 I thought it was kind of special with all the electronic parts because I'm not fan of electronic music…
Matthias : But it's not too much.
Yeah, apart from one song but I'll ask you after, the mix was pretty cool with the metalcore and the death metal because I like melodic death metal so that was fresh.
Matthias : Yeah!
Your sound is kind of a melting pot; there's hardcore influences, thrash ones, power metal too, isn't it difficult to compose music with so many influences?
Matthias : Not really, because every time when you start writing songs, we only take our instruments and play stuff and when it's good, we take it. That is a reason why we have so many influences in the songs or mixes. One guitar takes care of the brutal riffing and the other of the melody and that's our unique mix.
How did you guys end up in music? When did you say to yourself "I want to do music for my living"?
Matthias : I was six years old, I think. I was running around the Christmas tree and my mother…
Mario interrupting : It was 2 years ago! (laugh)
Matthias : Haha, no.. I got some snare, like Mickey Mouse. Well in the evening of Christmas, I broke a guitar on my brother's head (laughs), so that was the beginning of rock'n'roll.
Mario : For me the music began really late, I think I was 12 or 13.
Matthias interrupting : last year. (laugh)
Mario : Yep, last year, I looked totally fresh, that's very good. All female readers please write to me on Facebook… (laugh)
Matthias : Your wife will be amused eh! (laugh)
Mario : Well, I was at a concert, before that I was only interested in football, it was my life, I listen to metal till I'm 7, and on this concert I said this could be awesome. At school, there were two long haired guys, standing there, talking and I joined them and they said that they were looking for a bass player and I remember that my mother was in music, and I said "I'm a bass player". So I got home, my mother was waiting for me, I asked for the bass, she said that it was in the attic, the dust was flowing away and she said "what the hell are you doing?" and I said "I have a rehearsal on Sunday". I try to tune it… I went to the rehearsal and I asked to the guitar player "can you please tune my bass? I have to check the amp" I hadn't a clue of what I was doing. Then, they said they wanted to jam so I said I was fine. Seeing the points on the guitars, there has to be something going on with them, so I played E G and A, and that was it. Then, standing on the train station, a girl from my class was there, she said "oh you have a guitar", I said "Yeah, I'm a bass player"
Matthias : With only four strings!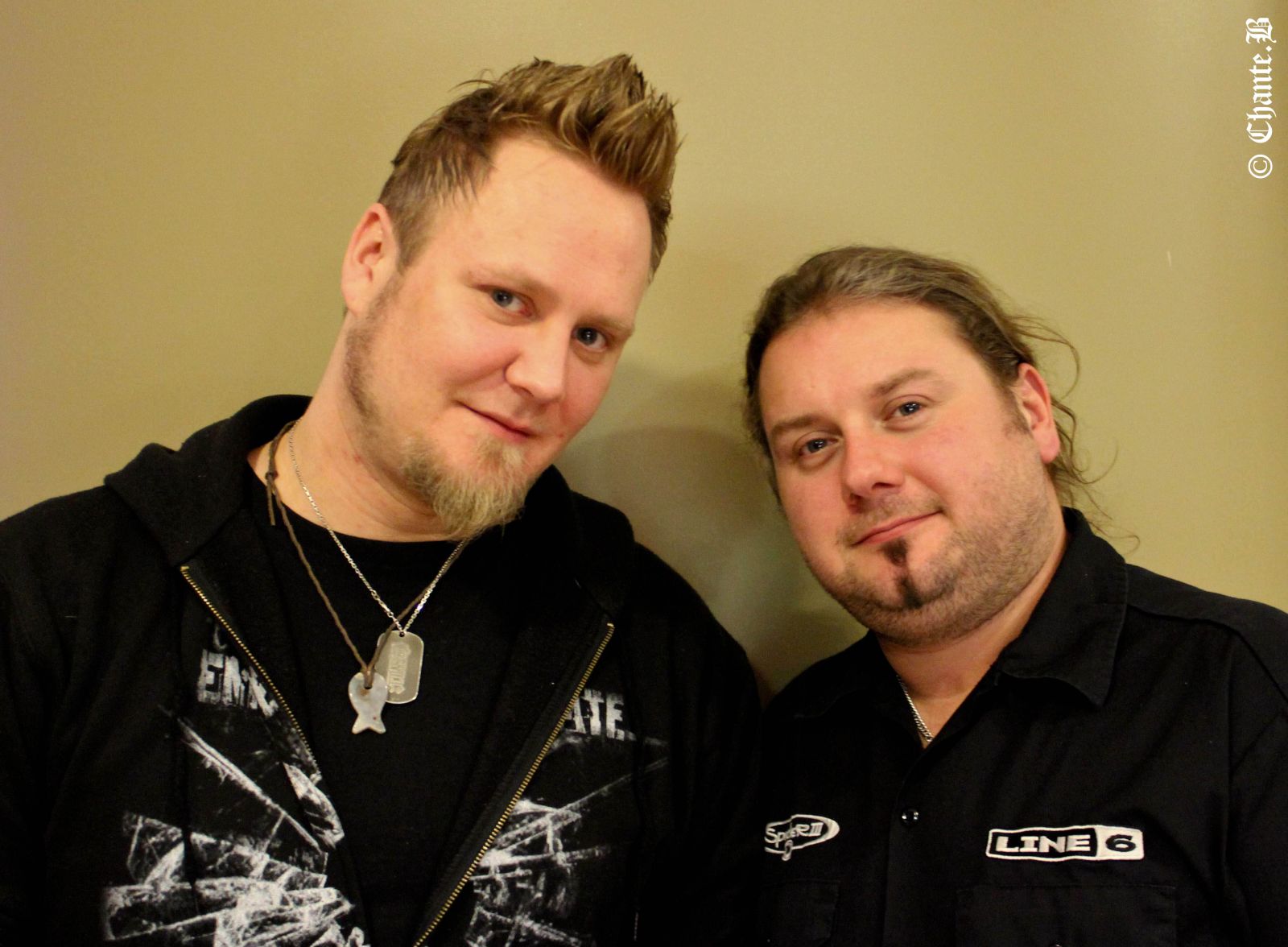 Are there specific bands that inspired you at the beginning of your careers?
Mario : Well, for me, my parents listen to Mötley Crüe, Alice Cooper, Bon Jovi, Scorpions, and all this stuff
Matthias : Whitesnake!
Mario : Yeah, at school only metal and hip hop existed, at this time. They asked me "Are you hip hop or metal?", so I asked "What are you?" they said "Hip hop" "ok then I'm metal". I went home and asked to my mother what's rap and what's metal; MTV at this time was MC Hammer with the trousers you know: "Can't Touch This" and she said that metal was what they listen to. That was the first decision, in the right way, of my life. (laugh).
Matthias : MC Hammer is unbelievably great! *singing the melody*
"Feeling Inside" uses many many sound effects and sometimes it doesn't seem like a metal track, even with the growl parts and the guitars, can you understand that kind of feeling?
Matthias : We only want to try modern death metal. We try to develop it with some new stuff. Because you have so much bands whom only play melodic death metal, like In Flames. But we want to make some new things, different stuff and that's the reason why we tried to make the "modern death metal" modern, so we tried to develop it with electronic sounds. It sounds good. Some people only listen to music with one ear, so if I wanted to have a normal band, it'll be in a four piece band but that's not a way for a musician every time you really try to develop yourself.
The record's title is "You", why did you choose it and did it refer to someone or that's only a coincidence?
Matthias : First we asked us "Why we make music?" we make for the fans, for the listeners.
Mario : For our partners, all who support us, that's the reason we called it "You".
Because some tracks like "Breathless", "Regret", "Say Goodbye", seem to talk about personal topics. When the album was in the writing process, what was the main idea behind it? Life?
Matthias : It's the first time on the album "You" that all the songs were very personal, one of the more personal recordings we ever done. It reflects us and everything human; everybody can identify himself with the songs.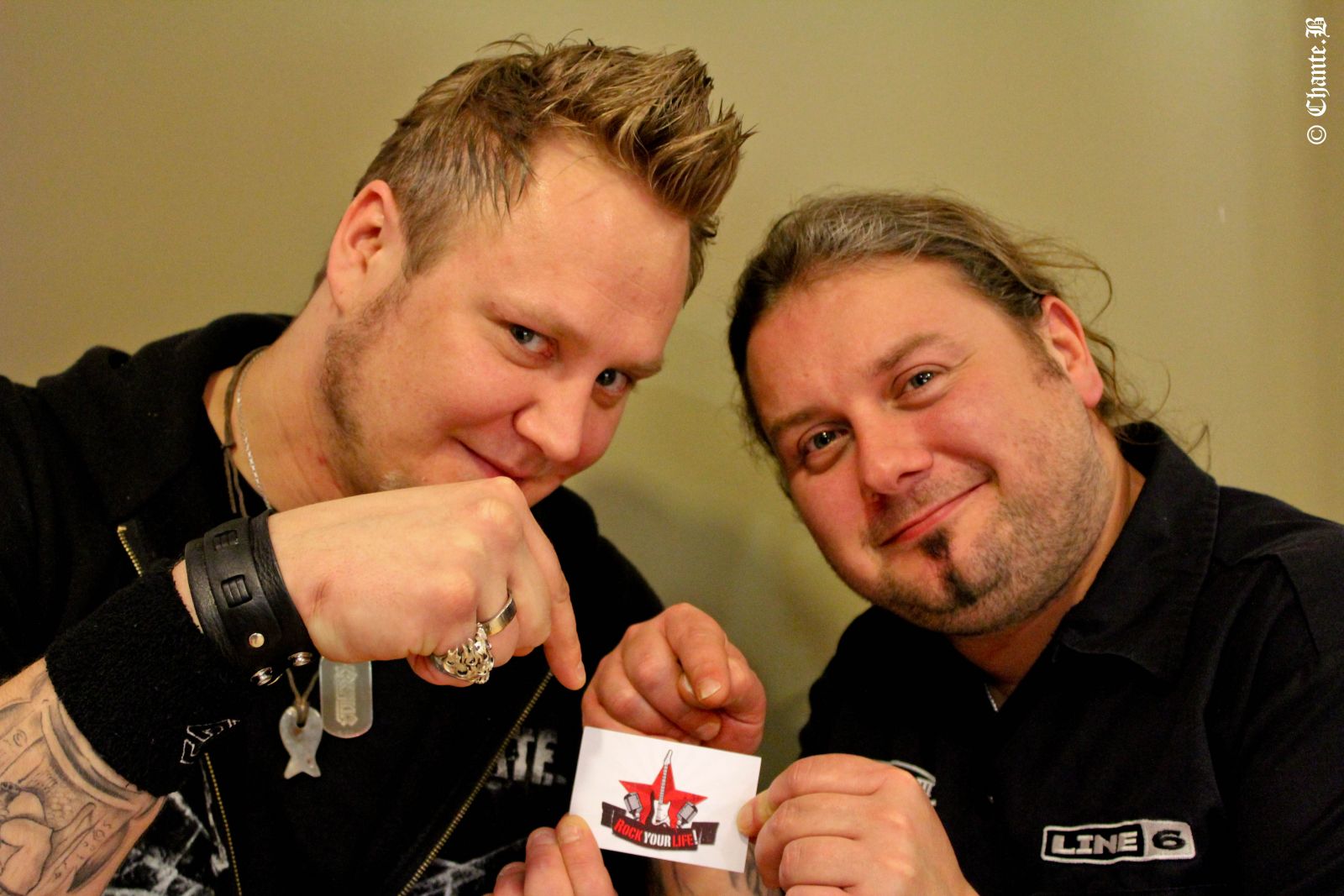 German metal's scene is pretty excellent. Lots of bands, styles and audiences! Is Germany the best place to be for growing up as a metal band those days?
Mario : I think German bands are more into thrash and power metal like Edguy, Helloween, Kreator, Destruction and all these bands. For the melodic death metal, I don't know so many bands doing that style there.
Matthias : I can't compare German bands with our style. I can sometime compare to similar stuff like Caliban…
Mario : Yes but this is not our style.
Matthias : I don't know any bands with our style from Germany.
Mario : For us, it's melodic death metal with a touch of metalcore. Like Scandinavians magazines say, they thought of a Scandinavian band, not a German band. We are proud of that. I think that we're a very good German band, so bring us back to France!
Are there any French metal bands that you listen to?
Mario : Personally I listen to Gojira and Alcest. I enjoyed Gojira at the Sonisphere two years ago. And also Rhapsody where some great musicians are French too.
Apart from the album, what are your plans for 2013? Touring I guess?
Mario : It's very important for us to play festivals, international festivals as well and of course we're thinking about some tours. I really want to promise that we'll be back to France and rock you as well.
Are there any bands with whom you'd like to tour in your career?
Mario : For me, it'll be a dream come true to tour with Metallica. In Flames, Machine Head, Megadeth of course. This is insane what I'll say now but, it'll be great to play one time with Bon Jovi because I grew up with them, but the music isn't the same. (laugh). This would be a dream.
Matthias : Many bands.
Mario : Matthias wants to tour with me!
Matthias : I have to tour with you! (laugh) Deep Purple, In Flames, Rammstein… Dreams but maybe they'll concretize someday.
Mario : With whom you would like to tour?
Matthias : With Emergency Gate!
Chante : I'm more like Iron Maiden, Black Label Society…
Mario : And me!
Chante : Sure, why not? I'll open for you!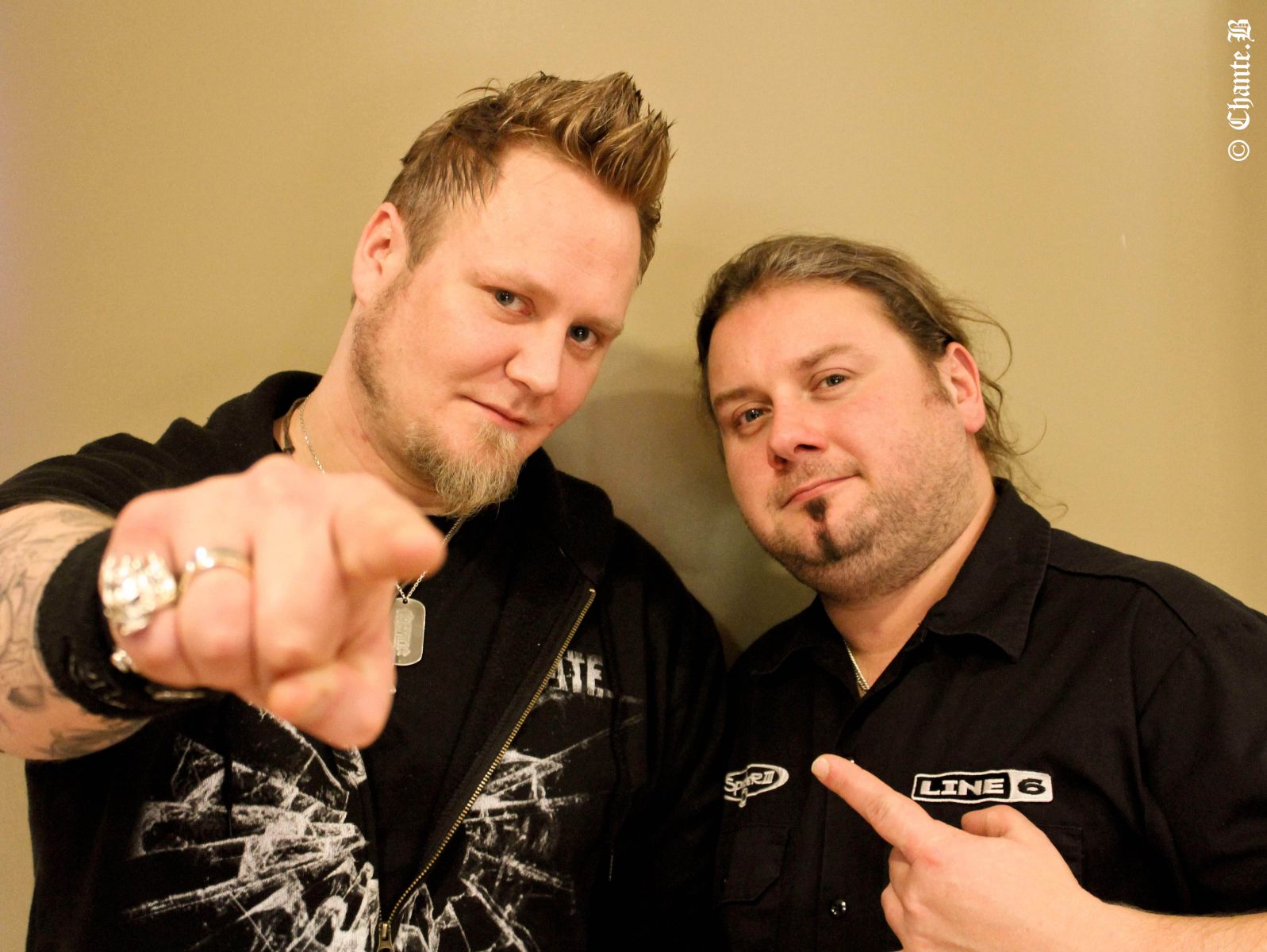 Will we see you in France nearly?
Mario : Yes, we do our best to come here, let see if it's possible, but we do our best as soon as possible.
Finally, as a tradition, we are "RockYourLife!", what rocks your life guys?
Mario : Well, how our life rocks for me, it's very important to have music, this is what rocks my life, my soul, my passion, everything. And of course to spend some time with my family, this is what's important for me. If I have time, I want to spend some with them.
Matthias : Me too. First, only music is part of my life. If I don't have the chance to make music I think I'll get rid of the half of my life. Music rocks me and if I have time, spending time with my wife and family.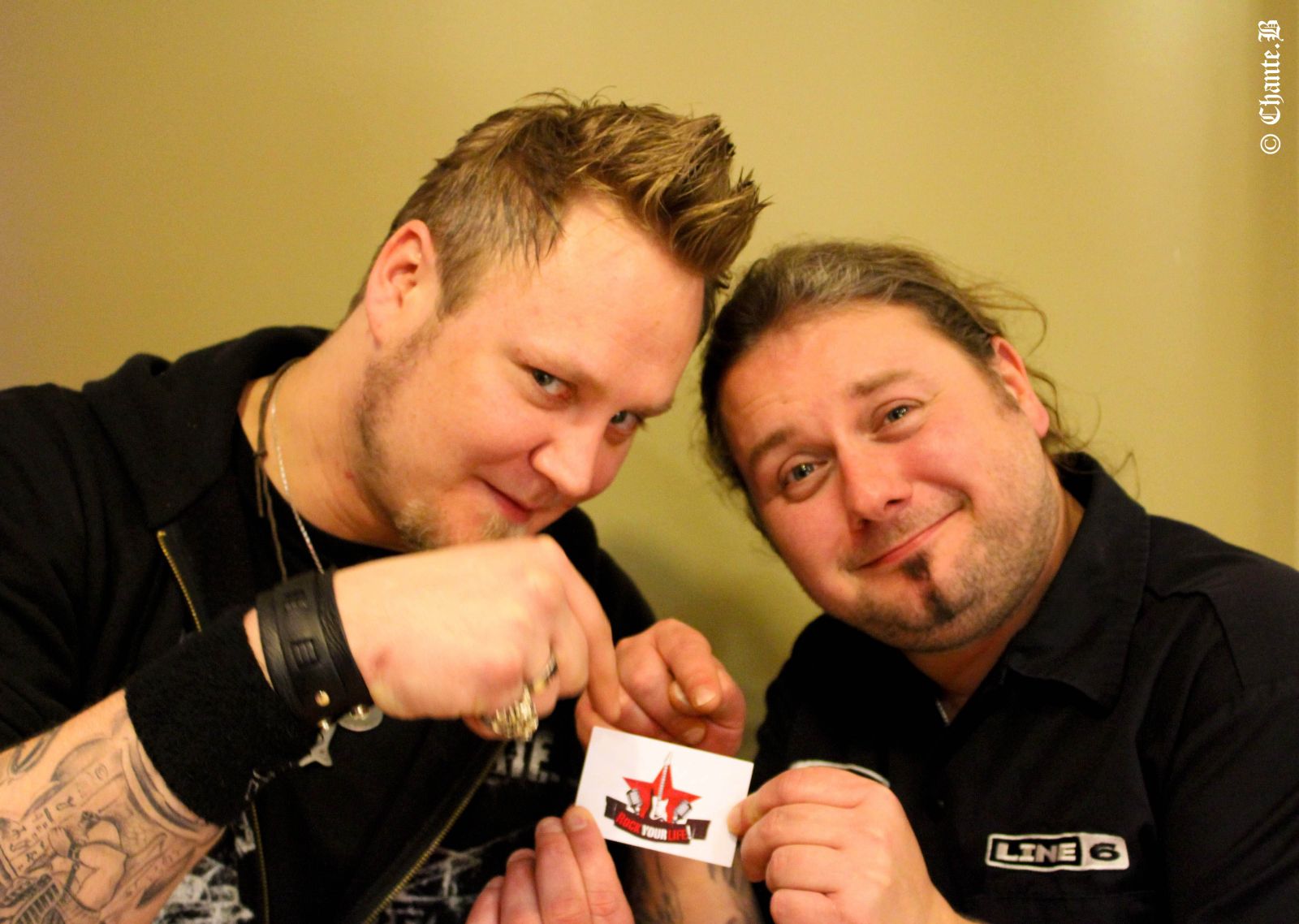 Website : emergency-gate.de