Still a few days before the release of Dream Theater's "The Astonishing". Jordan Rudess says us more about this huge project, check this out!
Hello Jordan how are you?
Jordan Rudess (keyboards): I'm good! Happy to be here.
Your next album is about to release, first, what's astonishing? The concept? The feeling you had working on it? All of it?
J: This is story that's been developed starting about two years ago. John Petrucci wrote the story it's kind of a Sci-fi/fantasy story inspired by things like "Star Wars", "Game Of Thrones", "Lord Of The Rings", "Harry Potter"… all this kind of things. It's a very large work for us from text pointed view but also musically of course. John wrote the entire story, John and I wrote the entire music. The theme of the story is about hope, music, the heeling of it that's so important in our culture and for us, breathing human-beings. Of course the story goes much more deeper than that.
When you started working on the follow-up of "Dream Theater" with John, when did you realize that this project was going to be this huge?
J: We knew it's going to be big because at the beginning we wanted to make a concept album and John presented us the story. From the beginning we knew we were going to create something pretty substantial. Soon after we began we realized that we really wanted to create something that was similar to a musical or a rock opera or something like "The Wall" those kinds of things so we knew what we were getting into.
What's the story about?
J: The story is basically about technology and kind of organic music. It involves those robotic entities called the Nomacs that stands for "Noise Machines". Those noise machines in this dystopian world basically had taken over people's consciousness and it really numbed everybody out and they are almost living like futile society where it's back to… like there's an emperor, villages. It's about the discovery of a person who has this power in this gifted music and the story is all about how the two forces are kind of clashing with the rebellion and people realizing that they want music in their lives. They found someone who represents something they haven't heard ever but they're feeling it and they want that and Lord Nafaryus who is the head of the kingdom there, wants to hold them down because he got everything in control with these machines. So that's pretty much the setting and within this classic story there's love, drama and violence. I'm sure Dream Theater fans will look into deeply.
James says that "it's something we had to do" but did you want to do it?
J: The idea of doing something like a musical or an opera is something that's very much comfortable for me because of my musical background so when John came up with this concept, well that made sense because I would love to do that, it sounded perfect for me. The interesting thing was that for Dream Theater is always a mix of certain styles, prog and metal and maybe little jazzy elements here, this called upon us to do more than that and that was one of the challenges and it was a great challenge too.
How different was it to work on those huge amount of music comparing to a classic-Dream Theater record?
J: It was very different. This was done in a different way. When we decided to do this album for what it is, we realized that the only way to do it effectively was to have John Petrucci and I in a room together kind of alone with our keyboards and guitars, and just compose this music because it was going to go really in depth, big puzzle not only on a lyric or story point of view. It had to make sense, themes for the different characters, and certain sonic colours for the different moods of the story, the Nomacs and their electronic sounds. So we locked ourselves away and compose the album and just worked it every day very seriously. In the mornings we had meetings and we go through and see where we were in the story. I remember one day we wanted to use a theme and I wanted to do it at night and I went for a walk and I had it in my head while walking and just "how about this?" I played it and that was it! I couldn't think of it while I was in the room. Funny things can happen.
For the few we listened obviously there's more theatrical stuff but also "show" items like on "Lord Nafaryus" with some drum beats reminding French cabaret rhythms. What more can we expect?
J: There's a lot of different stuff and it was interesting because we had to search about them. Like there's a little tango section at one point or military band kind of music, there's lot of things coming up but also more electronic elements which were really fun for me to realize with all my synthesisers and I had the feeling that someone will say "hey we want an electronic Dream Theater album" (laughs) because it supposed to be the noise machines but in a way they sound cool, because it has to be entertaining, conceptually speaking in the story it'll numb people senses.
Why is this double record that long? Are there any long tracks?
J: The tracks aren't that long, it's the whole thing that is long and the tracks go into each other. You can look it in two ways: it's the album where we wrote the shortest songs we ever have or the album with the longest pieces we ever have. (laughs) It's just the perspective of how it all comes together but it's more of a whole. We had so many scenes to cover that it needed to be composed of smaller scored elements.
What about the characters? How will they interact with the music? Is it part of a show? What about it? (live, screens etc.)
J: For the live show it's going to be the band playing the album and we're going to use a lot of visual support to help and tell the story. James LaBrie is the voice, he's using different counter-flexions because he's the different characters in this case and he actually did an amazing job with his different approaches. But to tell the story effectively we put two things in motion: first we planned all across Europe to play really beautiful smaller theatres so people can really hear the sound clearly because we want to make sure to do this right. And the second thing is that we changed how we were doing the visual aspect. We usually had a great lightning structure but we're going a lot of things with visuals this time that we haven't done before. We used to have different people to create visuals for us but this time, I found a very amazing company that focuses on visuals, stage presentations –they are from Montreal, Canada where people just do that kind of thing (laughs) – and they're great and really supervising what the set looks like and we're looking to a more immersive experience using projection, mapping, 3D, graphics. It's going to be an experience.
Will you play it all live?
J: Yes the whole thing. We're very transparent about this. We're presenting "The Astonishing" live. If you're expecting to hear "Pull Me Under" you'll just have to wait for the next tour. If you want to see Dream Theater in a unique way, come and see us.
Mentally is it harder to focus on such a project? How did the band feel?
J: It was a lot more work than anything else that we've ever done. For John and I to write the music, from the moment we came home from the last world tour, we started to come up with ideas and then we come up together and worked really hard. When the band came in, when James came in for example we had to embody all those characters because we wasn't involved in the writing, he was like our main star role, that  was his job and he did a great job. Mike Mangini had to come in and do his drumming, his magic drumming. Same with John Myung who had to perform two hours and eighteen minutes of music. It was a large project.
What aspect of "The Astonishing" do you like comparing to your previous work all along your career?
J: One of the things I value the most is working with John Petrucci in this way because I feel like over the sixteen-year life with Dream Theater a lot of what I've done hasn't being really recognize. Often the music packaging says it has been written by Dream Theater and it's not generally true. John and I always have written the music since I joined the group. The fact that it took so many days to finally write that the music is written by John Petrucci and Jordan Rudess, it feels very honest to me and real and I feel like "ok it's a long time coming" but besides the fact that deserving it, I enjoyed being in a quite space composing and we get along so well musically, it's inspiring to work together and amazing things came out of it.
You're fond of technology and apps. Do you that this achievement was possible back in the days?
J: I guess we could have done something like that, yes, back in the day but we just weren't in that head space to do it.
Finally we are "RockUrLife" so what rock Jordan Rudess's life?
J: RockUrLife? That's cool! I live for sound and music, that's one of the main thing it really does. Taking a lot of time, working on cool sounds from all different shapes and different styles. Being in a healthy place to do that, play my music, and enjoy my family, travel. All those rock my life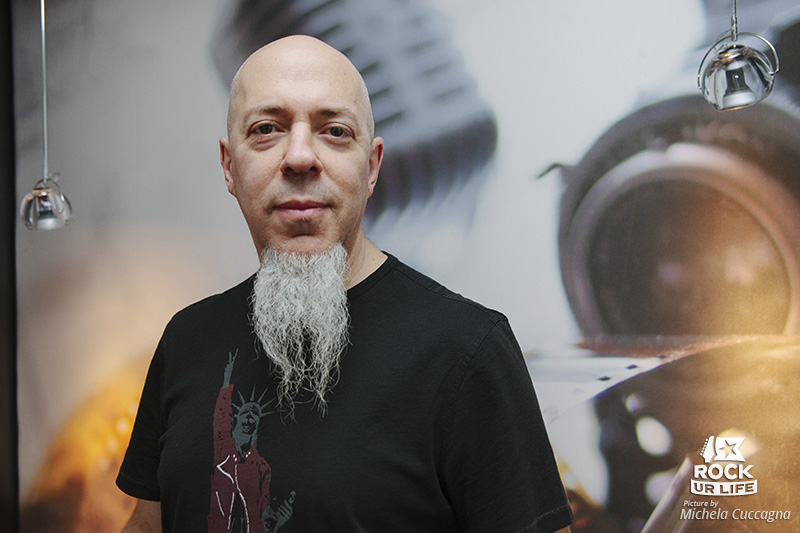 Website: dreamtheater.net