Diamond Head will release their new record on May 24th. Let's find a bit more about it with Brian Tatler and Karl Wilcox!
Hi guys how are you doing?
Brian Tatler (guitar): Good. Actually I have an articular ache at this leg. (laughs)

Karl Wilcox (drums): Fine thank you sir!
Your next album is coming in May and it's your second one with Rasmus on the lead vocals. Comparing to your first collaboration, how did it go this time?
Karl: You get exposed to all his influences, all his ideas. You also learn about him as a human being. The whole working relationship becomes a lot more personal. I think that the respect that Rasmus has for Brian, the band and name, and the respect we have for Ras'. First his the singer, secondly as a producer and third he's a human being. It's just a great combination. I mean we've watched him grow. From when he debuted for us in 2014, doing the tour Nick couldn't do and now being part of the band. "The Coffin Train" is the result of that.

Brian: I think with the last album, certain things we wanted to improve on. Working on the drum sound for example and Ras' just absorbed even more the Diamond Head vibe all those years. He knew how to kind of get the best out of us and get all the best ideas from the past and look into the future: "The 2016 album is great BUT I think we can make a better one by doing this and this etc."
You chose "Belly Of The Beast" as the first single. Why this track and not another one?
Brian: I think because it's a fast one. It's the first track on the album. It's a good statement to intent, a good introduction for the fans. There's a couple of more moody, slow, mid pace songs on the album. I thought it'd be wrong to use those a lead track. "Belly Of The Beast" seemed obvious.

A word about "Serrated Love". Even with it's heavy side, it's pretty calm with lots of variation. There's also the end, with the acoustic guitars. How did you come up with this track? The whole idea of it.
Brian: That started with a riff in my bedroom. I got that FX unit that has kind of a weird octaver thing. I recorded that riff as a demo and then just build the whole track. It kind of grew from here. I gave Ras' a CD of ideas and gave me his thoughts about the riffs. What we did on that song, which is something that Rasmus seems to say a lot to me is: "I like it but it doesn't have a chorus". (laughs) So we'd work and try to write a chorus.
The end was an idea, we were gonna link it with the "The Coffin Train" and just bring some acoustic guitar down in here. But in the end, it didn't work out so we didn't put the songs together anyway. It's nice with a real dynamic. I'm all for dynamics. I rather put things out than putting things in.
What's the guideline of the record? It looks like a whole where you can't really start anywhere else than the first track. Almost like a concept album.
Brian: It's good that you think that! I don't we particulary think it as a concept but I suppose lyrically, probably there's a relationship. I don't do the lyrics, it's Rasmus. But you're not the first person to say that it's easy to see it as a concept.

Karl: Ras' is much aware of what's going on in the world and its surroundings, so I think it would be natural for him to put that in to lyrics. He's a political lyricist and just express it.

Brian: He's very passionate and he put that too. He wanted them to mean something and say something rather than just: "She's my babe" and…

Karl: "I've been back in the car with a six-pack" you know what I mean?

Brian: (laughs) He put a lot of effort to make it deep and powerful.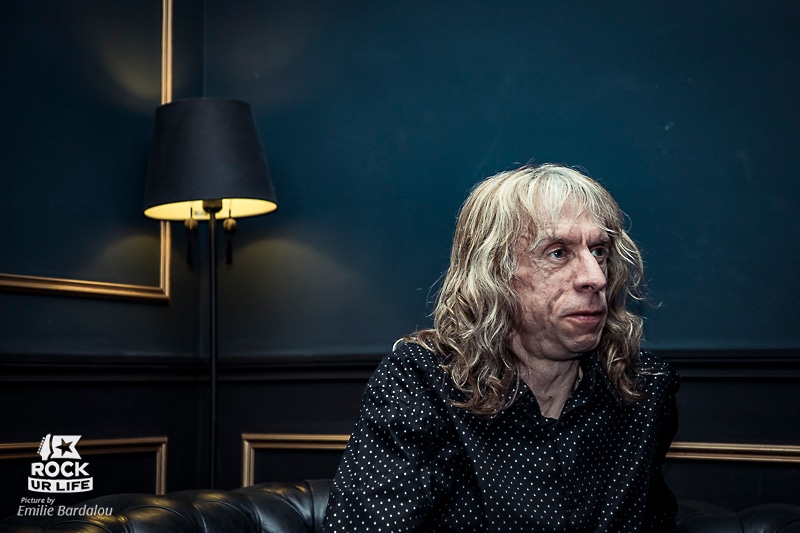 What'll be your top three track?
Brian: "The Coffin Train", the title track is my favorite one. I'm really proud of it. It's awesome. I'm a huge fan of dynamics in songs. One of the reason why I'm a huge Led Zeppelin fan is because they are masters of dynamics. The way they can rise and fall, acoustic to full power, not many bands do that now and it's a real shame. "The Coffin Train" starts gentle, clean guitars, the bridge gets bigger, chorus begins massive and towards the end, it takes a trip down before going big again. I'm just all over dynamics.

Then I like "The Messenger" because I think of super powerful chorus. I managed to come up with this riff. I've been to see a band -I won't say who- (laughs) and I really liked one of their riffs. It reminded me of "Tobacco Road" by The Nashville Teens and I wanted to do something like that. So I worked that for the chorus and I think Ras' vocal is fantastic. It's a big chorus and I'm sure it'll work great live.

"The Sleeper". Again it's a very interesting song, with some unusual changes. Starts gentle, builds, builds. Goes fast at the end and we've done a video for that, a lyric video. It looks fantastic. People are gonna dig it. "Dig it" (laughs) I don't know where that came from.

Karl: I can't really answer that question because I still haven't heard it yet. I've been moving from Las Vegas to France, having floors ripped off, walls put down. However while shooting the videos, those songs are the ones I paid most attention to. Those songs all have a little bit of everything in it. To groove, dynamics, different time signatures, tempo changes, orchestrations. On top of that, the production that Ras' has done. Lots of things we didn't have on the previous record.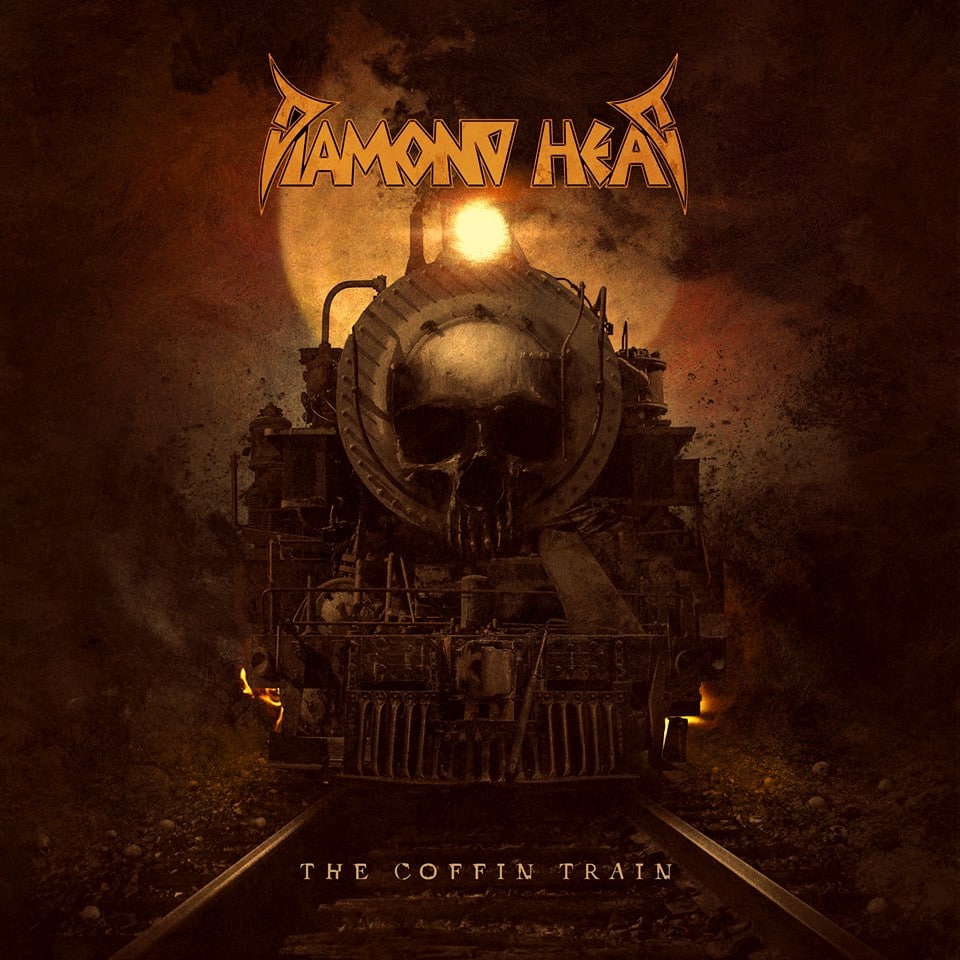 Brian you speak a lot about variations and dynamics. What are you looking for when you're writing a song?
Brian: First, I'm looking for a riff. I'll record lots of riffs. What I use to do is to make a cassette and fill it all with riffs. Put it away and coming back to it later. Dismiss like 15 riffs, keeping 3 and still, those are great, with this fresh look. I'm always looking for dynamics. That's it really, I probably grew up in the 70s where it was all about riffs. Black Sabbath, Judas Priest, Led Zeppelin. It's all personal tastes, I don't really know how to explain it. I can't second guess what people want. And I think I got fairly good taste in my music. (laughs)
You said in an interview: "It's what people want to hear" about your live performances, playing old stuff. Saying that, what's the point in making new music? The envy? The opportunity?
Brian: Yeah we do play a lot of the old stuff live, for the fans and we know it works. Plus for the festivals, that's what they want to hear. It'll be to weird and just play the new album. I think this curiosity about the next song could be the best song you've ever written. It's the spark of creativity that I enjoy. It could be a bit of vanity if you think that those albums are done and you can't do anything with, so you just want to make a new one. Especially if you want to make something better. Even more if you want to be liked. You want to create something that'll last. Maybe that, it's just simple as that. Ras' wanted to make an album but I wasn't confident with my riffs and stuff. We got through and went to rehearsal and within a week, it was very good. We felt that we can make a new record.

Karl: Also, one of the beauties of playing the hits, is playing them places where the band's never been. And we can have people saying: "I waited forty years to hear those songs!" or those turning with 15 vinyls waiting for signatures. It's great to play the classics to folks who never heard them. There's a lot of young fans that never had the chance to see us playing "Am I Evil?". Of course they saw Metallica playing it but we play it completely different. And that's when it turned to be the legendary song it has become. Then you throw new stuff and you hope to gain more of a following. The classics will always be that. That's why festivals want you to play them.
Comparing to the previous album, the production blew my mind! What did you change? New studio? More budget?
Karl: Everything.

Brian: Rasmus is the producer here. For the previous one, he's been in the band for a few years but he just can't walk in and produce. By doing that album, he realized that he needed to get more hands-on the next time.

For start, we thought the drum sound could be better and we decided to do the drums in Birmingham, in a live room. The rest of the album was done in the same place as "Diamond Head" (2016) because it's a great place and we got on great with the guys. But the drum sound was a little…

Karl: Dead. There was no reflection at all. We just thought, lets just step up. We booked a studio for three days, I did it on two days which left a few hours to Brian to start and try some guitar tones.
Yes the drums are better but even the guitars sound modern, still heavy but modern.
Brian: Yes, it's the production. Ras' sweated blood out of the mixes. He spent a month mixing the album. Once I got a desperate call from his wife: "Please can you come and help Ras' because he's losing his mind" (laughs)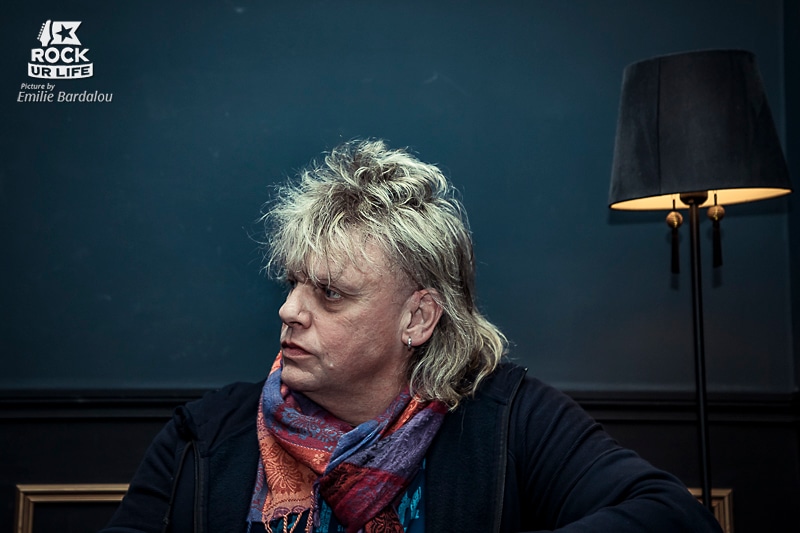 Were you expecting that level of production?
Brian: No. I knew he was a bit of a perfectionist but I didn't expect to do that kind of work. And it's much better than what I thought it was gonna be.
The NWOBHM is closer to its end that its start, obviously. What will remain from it? Is it the best era for rock n'roll?
Karl: Wow. It's certainly one of the most influential. I think everything that has come after it, had some form of influence from a band from the NWOBHM. People would argue Diamond Head, Iron Maiden, Saxon

Brian: Def Leppard.

Karl: Even Girlschool. The amount of all-female bands that they influenced is huge. But for the NWOBHM, because we didn't want to be… I just for myself wanted to be like UFO, Thin Lizzy and Deep Purple. Journalists came up with it. I was just trying to emulate what I saw. Being in a band and making music and being on stage. When you're in that moment in time, I don't think you think the: "This is going to be one of the most influential era in rock n'roll".

Brian: You can't see that far. It's been 40 years. Most of the NWOBHM bands disappeard without even trying to survive, around 85/86. It left a few survivors: Iron Maiden, Saxon, Def Leppard. And then, everybody has a hard time and most of them returned to their day jobs, a few struggled on. I always thought, you had to crack at the big time and if you didn't make it, you're probably going back to your job. I didn't realize you could have a career without being huge. You can work on the level and work your budget. That's something I've learnt over time. Maybe that's inspirational to some bands. You don't have to be the biggest band in the world. You can be on this level and still have fun.
Once everyone is done. What will remain from the NWOBHM?
Brian & Karl: The records.

Brian: Rock n'roll happened and disappeard. Pop rock too. So it'll just be the record and the bands saying: "I used to listen to Iron Maiden".

Karl: The songs really. Also one very important part of it lifted from the punk era. We actually were the first group of people trying to make it ourselves with DIY records for example. We tried to do things ourselves that we saw like Cozy Powell's drum riser. I think we were the first genre of music to actually try to do big company record productions, big show productions. You go and watch Judas Priest and: "1, 2, 3,…, 9, 14 stacks of Marshall's!". Now if we can have our guitarist one full stack, it'll look almost as good as Judas Priest. Then the Thrash bands started doing it like Overkill. We were also an inspiration for the DIY thing. Record companies were waving contracts at the time.

Brian: Some got signed but once a label signed a NWOBHM band, they won't sign any other. The only few rock labels signed these bands and that's it. When Iron Maiden started, they had a very basic logo, probably made it themselves. But at least it showed what they'd be one day with the big stage, the big Eddie, big lightning rig. You just scale it when the money comes in.
And what about the current scene? Do you have any band in mind that you recently saw or heard and that are worth it?
Brian: Monster Truck! There's also RavenEye. I listen to new bands but very often I'm looking for something new and original, exciting maybe even to get some influence. And if I hear a band sounding like this or that It don't work for me because it's been around for a long time now so it's very hard to be original.
You talked about Led Zeppelin before, the dynamics and stuff. So… what do you think of Greta Van Fleet then?
Brian: Oh ok. I think he's got a good voice. It's okay. I think it's over hyped. If you let them grow up, you'll see. But if you trust them onto the front pages of "Classic Rock Magazine" and give them a Grammy, saying they are the saviors and they made the best rock album of the year. I think it's too soon. They might crack under the pressure.

I think the singer in Rival Sons is fantastic but I'm still waiting to hear a song that'll blow me away. Like Robert Plant with "Dazed And Confused", on the first album.

But you need to have a good singer and the guy from GVF is a good singer. Plus he's a good looking guy, that helps. But over hyped to the max. I've never seen a band hyped as much as Greta Van Fleet.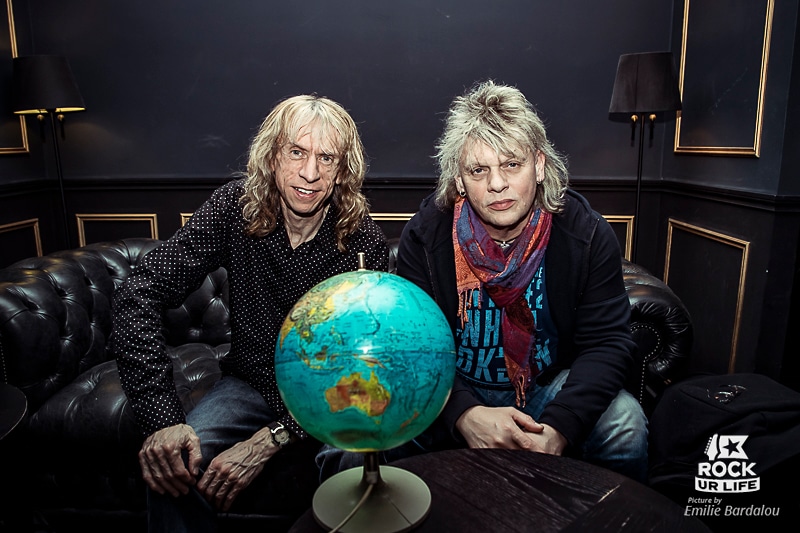 We are "RockUrLife" so what rock Brian and Karl from Diamond Head?
Brian: Okay. Music! Music was my first love. I still listen to music now, I got CDs, vinyls. I like films, books and art but nothing gets closer to music. I've been obsessed with music since I'm 12. Buying stuff and seeing bands. I went to see hundreds of bands. I don't really see some anymore plus my hearing has been damage over the years. But I still listen to music, I love it, love it, love it.

Karl: The same, music! But also, I'm moving to France now, in the countryside, after four years in Vegas. (laughs)
Do you speak a little bit French?
Karl: School boy French. I'm learning it and I'm also becoming familiar with, up in Normandie, they have their patois. So I'll order a baguette, they'll look at me and I'm just pointing at, and they still asking me what I want. (laughs) THAT OVER THERE! Am I saying it correctly? Obviously not. (laughs) So I'm enjoying that at the moment. Plus I finally got my practice space ready, so I'll listen to the album at home.
It's maybe a cliché question but we have to ask you: are you evil? (laughs)
Brian: Oh. (laughs) I don't think so! I think we wrote that song, I didn't write the lyrics. Sean always said he came with the "most suitable evil lyric" for that riff. That riff was meant to be in that kind of song. So no, I'm not evil BUT someone said I was as evil as a strawberry jam. (laughs)

Karl: Wow! (laughs)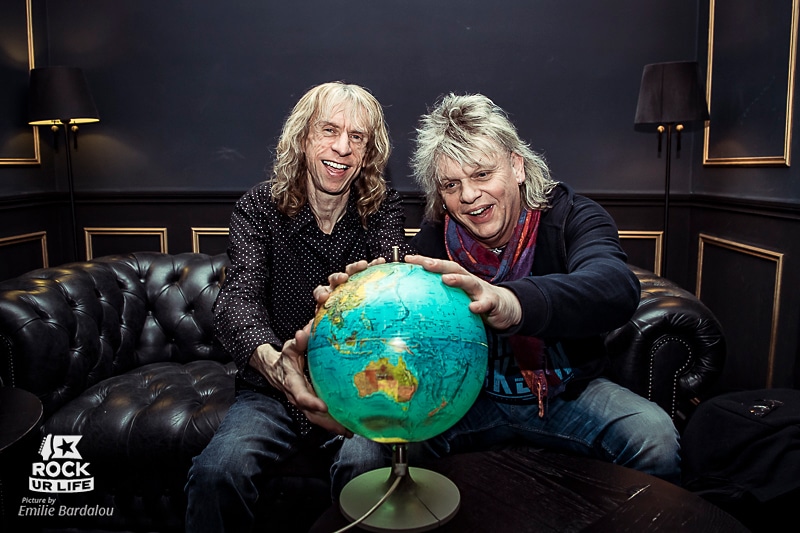 Website: diamondheadofficial.com