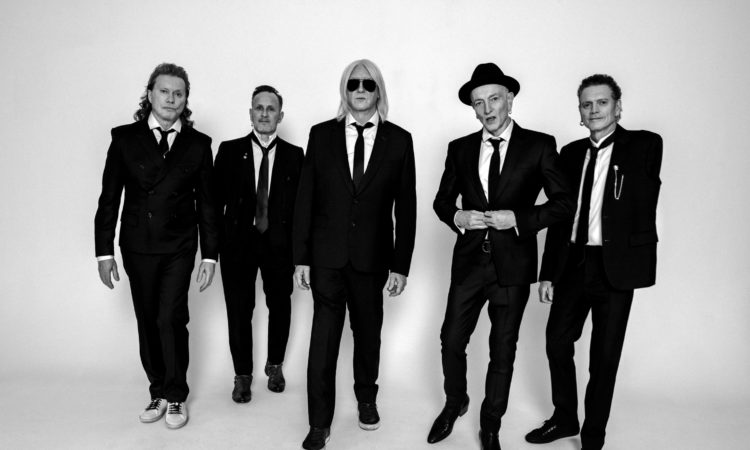 Joe Elliott, frontman and singer from Def Leppard, spent some time in Paris to promote new album Diamond Star Halos. RockUrLife got the chance to sit down with him to discuss the stories behind this new adventure.
After such a great career, do you still get nervous before releasing a new record?
Joe Elliott (vocals): No, I don't get nervous to get excited. I suppose there's a similarity because there's a nervous energy, but it's not because I'm frightened of bad reviews or anything like that. I really don't care. We made a really good album. If somebody chooses to disagree with us, there's not a lot we can do about it. Slightly annoying that it might get printed in a magazine which is read by a lot of people. It wouldn't be the first time it's happened since we've released records in the past that have sold really well. They didn't necessarily have great reviews. It doesn't really make any difference. I don't get nervous when we go on stage because it's just what we do. You have to be steady of hand and you've got to be confident that you're the best person in the world to do this. And that's how we feel when we go on stage. That's how we feel we're going to the studio.
OK, so just very excited to share and release this new album Diamond Star Halos!
Joe: Yeah, excited that we've finally put a new record out in 7 years. It's exciting because it wasn't in the game plan. In 2020 we were due to tour in July. It meant that we were going to be in rehearsals in May, and we were all getting together at my studio towards the end of March. We weren't going to get an album done in a month. Lockdown happened the day they were due to fly in, so we had to cancel everything and drastically came up with a new game plan. I got on the phone with Phil and said: "OK, so you can't come, so what shall we do?" We just came up with this plan of doing it remotely. We've done it in the past on occasions. Not 100%, but bits that we forgot to record or things we wanted to redo when everybody's already gone home. They've got studios at home, they can record at home and just email it over and drop it into the session. I was at home in Dublin, it was spring so I could take my kids out of the garden and then come back and work for a couple of hours a day and then go back out in the garden again.
Did the lockdown encourage you to approach music in a different way?
Joe: We didn't know how long lockdown was gonna be. Could have been a week, two weeks a month, two months. Once the tour was postponed, we knew we had the rest of the year, so we ahd time to make a new record. We went into this recording session with the knowledge that between myself, Viv and Phil, we had nine songs written. We trusted each other that they were good, because we hadn't even heard them all. When me and Phil first discussed it, I said to him: "what have you got"? He said: "I've got 3: "Liquid Dust", "U Rok Mi" and "Fire It Up"". He co wrote the last one with his friend Sam Hollander. It wasn't destined to be a Def Leppard song. I'd written 2 songs on a piano that were not destined to be Def Leppard songs either. But now, with the situation, why not? And I'd written "Unbreakable".
So me and Phil wrote five more and we literally wrote them over the Internet. It's not that hard. If me and him were in the same building, he would bring a cassette or whatever recording on his phone and go: "I've got this music" He would then send me an MP3 of it and I would go off into a room and write lyrics. He wouldn't be hovering over me while I'm writing them, so if he's in another room or in another country doesn't affect me at all. In fact, it's better that he's not there because he's not waiting.
And for once you did not have any deadline, right?
Joe: We didn't have a delivery date, because we didn't have a record deal when we started this record. We had one towards the end of it because once they got wind of the songs, Universal wanted to put the record out. We did not want to put this record out during the pandemic. Bon Jovi did, AC/DC did and maybe it worked for them. We'd rather wait. We'd rather sit on it for a year and to release it and tour it.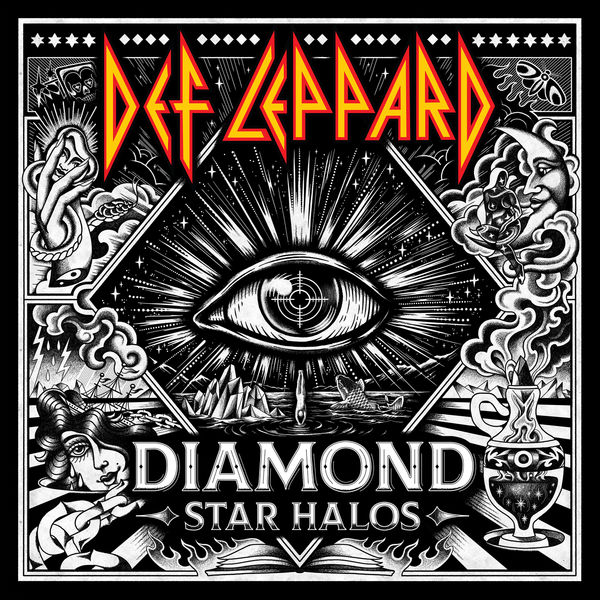 Let's talk a bit about "This Guitar". The song feels different in terms of the emotion and vulnerability that you convey with your voice. What's the story behind it?
Joe: The story behind it is, I've always thought it was a good song and I really wanted to give it a go. I think that I was really pushing the rest, advancing guys trust me, convincing them that we'll make this work even if it sounded a bit too country. I said: "I can make this work, trust me" and they were OK. I added vocal and then Vivian added some beautiful slide guitar and some pedal and it gave a really great base. They did all the backing vocals and it didn't sound country like Dolly Parton. It sounded like the Eagles or something like classic rock. And then by absolute coincidence, Alison Krauss came into the into the equation. I was texting with Robert Plant, who just finished the second album with her, about soccer. His team was playing my team. And he said: "What are you doing? What are you up to?" I said: "Don't tell anybody, but we're making a new album". He said that Allison was a fan of ours. And then by total coincidence, our manager was talking to her manager about something completely different and he happened to mention that we were making a new record. He told her that if she wanted to sing on it, she could. There was a kind of a joke statement. And then we got word back that she actually wanted to.

And she came for two songs.
Joe: Initially it was going to be on one song, but we didn't know which one that she'd prefer. "Lifeless", and "This Guitar" were a little countrified by the time we finished it, so I said to her: "Listen, I'm going to send you 2songs. We can't figure out which one works best, so listen to them and pick one". She texted me back within 40 minutes and said;"OMG", as in Oh my God, "I love them both. I can't really pick one". I texted her about what she wanted to do and we left her alone. We didn't hear from her for four weeks and then I got a text saying: "I'm going to be sending you a rough draft of what I've done on "This Guitar". And I'm not precious, so if there's bits you don't like, you don't have to use it." And I thought she was just going to sing the duet part all the way through, but what she did was all these little coloured kind of counter melodies. It was a bit like a Queen song. We all went WOW. When I rang her up and I said we're taking nothing off, we were leaving everything on because she just turned it from a really good song into an exceptionally good song. So that's the stories I really wanted it to work. But it's got so many sub stories. Like when I did the vocal initially, I did it in a back bedroom of my house on my laptop using the microphone that I do my radio show on. Not some big fancy expensive studio stuff. And I lived with that vocal for months, and the more I heard it, the more I thought it sounded perfect for this song. I sent to everybody an email saying that I really didn't want to sing it any other way again because it was already great. They all agreed, because it's all about the emotion, not the not the technicality of it.

You said that back in 2015, you had some pneumonia and had to take a vocal coach. Could you tell us a bit about this rough patch and how it could have affected your ability to convey such emotions?
Joe: I have been using the same vocal coach since Vivian enjoyed the one in 1992, but I've been working with him without him knowing it. He didn't know he made a cassette of what suited my voice and for 20 years I warmed up with it. But when I needed to rebuild, I had to work with him in person. I couldn't work with him in person like this because he was in California so we did it over Zoom. And I spent the best part of a year rebuilding my voice and it got to the point where it was better than it was before. This was also after a doctor told me that if I was anybody other than me, he would tell me to retire or find a new career because my vocal cords weren't meeting in the middle anymore. I had a frozen vocal cord so this one was overstretching and this one wouldn't move. It's supposed to meet in the middle I guess. And I've got this one like gone to bed. I couldn't take what this doctor said, so I went to my Roger who said, what I needed to hear, that he could rebuild me. He said it was going to take a lot of time, but he had me. I gained the whole tone back on my voice in about 8 weeks and that is rapid. That's good because I put a lot of work in. I worked with him every day for an hour for the most part nine or ten months maybe, and it just kept getting stronger and stronger and stronger and stronger. And it got me through the gigs. The double pneumonia I had what they call the 100 day cough. It wouldn't go. It wouldn't go and then I saw a naturopath Dr in California who put me on a on a prescription, she was a natural, but she actually gave me drugs, gave me antibiotic. Which none of the other doctors decided it was a good idea, and it just blitzed it in about a week. All of a sudden, the cough was gone and once I stopped coughing, the vocal cords healed was the cough was just constantly battering him so they never had a chance to heal. When I go back home after the tour finished, I went to see my throat doctor one more time. I said I wanted him to take a look down my throat he literally jumped back in shock. And he said: "What did you do?" I said: "why?". He says it's not frozen anymore. They never become unfrozen once they're gone. They're gone and he says all the red spots have gone. It was a lot of hard work, but hey, I wasn't ready to quit.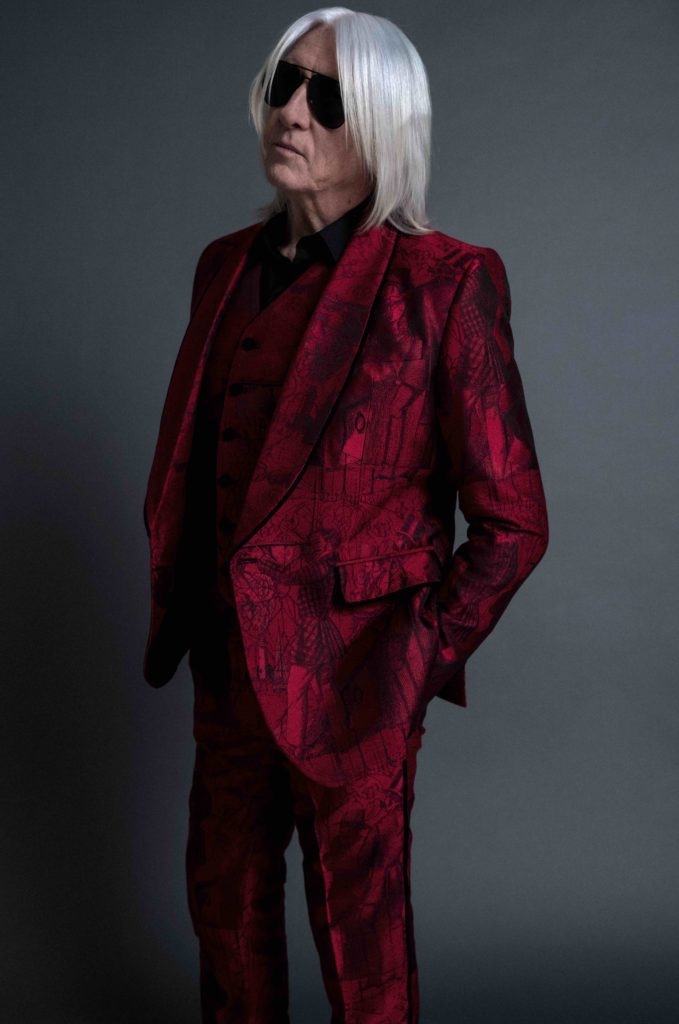 So you came into the studio getting very confident with your voice. Did it make you want to explore a bit?
Joe: Yeah, I think this album changes the way everybody recorded because we were apart when we were doing it. It gave us the confidence to put songs forward that we might not have put forward. We wouldn't have done "This Guitar" 20 years ago, if I'd have suggested in a room full of alpha males. These two songs I've written on the piano, they would have gone: "OK, let's try and transpose that into a guitar part". But because I presented them as finished songs, including the string arrangement they went OK. It opened our minds to just being more open to just great songs, irrelevant of the fact that Def Leppard is a guitar band. We were branching out the way The Beatles did. The Beatles of 1964 wouldn't have written either "Walrus" or "Strawberry Fields". We were experimenting and expanding our horizons and that came out of being forced into being braver because we couldn't be together. You talk differently to people when you're on the phone and you're not in the same room. It's not as competitive, it was more like we were allies. We weren't fighting each other; every idea was accepted. We were like: "If that's how you hear your song, that's how we're gonna do it".
On this record, you also produce some instant classic Def Leppard songs like "Gimme A Kiss" or "Unbreakable". You have this powerful and minimalist bass, some drums and your voice drives the rhythm. It's powerful and catchy and so you!
Joe: Catchy songs are basically 3 chord songs. But three chord songs are what the artist wants to write because they've already been written 1000 times by Pete Townsend, by Ray Davies by Oasis. So to come up with one that's based around those three chords and doesn't sound like something else it's really hard work. The way you have to make it sound differently is the way that the vocals sits over the top. "Gimme A Kiss", for example, starts off with this big hard rocking guitar. But when I start singing guitars drop out. It's just me grooving on the base of the drums, and it's all the melody. All the percussion comes from the voice. That is something that I've just learned to do over a long period of time. And I do believe that our songwriting has been getting stronger and stronger over the last 10 years.

How did you end up with Mike Garson playing on his record?
Joe: It's like I've been working with Mike Garson now for the last four years on these David Bowie tribute shows. I did a live one in London, one in L.A. and then the last two have been remotely. I know Mike now for three or four years, and Phillip told me: "What about Mike Garson on piano?". So I went to Mike and ask him about playing on Def Leppard songs. I had "Goodbye For Good This Time" in mind and he said: "I'd love to". I sent the songs and he literally got back to me within about two or three hours. He said what about something like this and then go for it? Do me a Conservative 101 middle ground one. And then your avant garde Garson jazz fusion shit and we can pick between the ones that every part of the song we think works. The color that he added to those two songs was the equivalent of what Alison Krauss added vocally to those two, so that's a whole new area Def Leppard that still sounds like Def Leppard and goes perfectly hand in hand. We just felt really confident that we were doing the right thing.
You managed to include these new songs that sound different with classic stadium hit. Hearing a song like "Kick" puts you right in the middle of a huge crowd. You can almost hear people cheering and clapping their hands.
Joe: That's exactly what we try to achieve when Phil came in with that song, it was the last thing we wrote. We had a 14-track album finished for about 6 to 8 weeks. Everybody's still in lockdown but everyone is at home. We're just working on another song with Dave Bassett and Phil asked me if I wanted to hear another song? He sent me the MP3, I listened to it, and I went: "You gotta be kidding me. We've gotta do this yeah" I sent it out to everyone, Viv was the first to respond with "Sugar anybody". He meant he wasn't comparing the song, he was comparing the circumstance right at the end of Hysteria we came up with portion of "Pour Some Sugar On Me", which became arguably the most important song on the record. We've got the time to add a 15th song and while we were recording it Phil said: "Do you want to write a song with Dave? The three of us right now?" We started a 16th song which we finished but we just didn't get it finished in time to put it on this record. We're going to save it for the next record. But we got really fertile. We were just writing and writing because we couldn't do anything else and we were doing it seven days a week, 12 hours a day.

You will soon be touring with Mötley Crüe and Poison and your show is going to be even better as you can include these new songs.
Joe: This is the beautiful bonus. This is the good that came out of the lockdown, we didn't let the two years ago to waste. We have done so much work. That has yet to even be announced. The only thing we're concentrating on right now is the album. Just before lockdown we got the vault opened. The Def Leppard Digital Museum. We've been working tirelessly behind the scenes with new content. It is very exciting. It's also a little nerve wracking by virtue of the fact that what are we going to drop? What songs are we not going to play to fit the new ones in? That's the thing so, but that's like having a fit football team. Would you pick if they're all fit, you can only play 11, we've got 90 minutes to play whatever we can.
And we would be so lucky to have you in Europe as well!
Joe: That's the plan. We've made a commitment to take this on the road for as long as we can, which includes Europe in 2020. As far as I'm aware, nobody's dropped out yet. We certainly haven't. We certainly won't. We wanna bring that tour to European stadiums in 2023, hopefully in Paris. This stadium tour is kind of like a festival that goes on the road because there's actually a fifth band and I don't even know who they are. I think they are friends with Nikki Sixx. In Europe is definitely doable and it's definitely on. I mean the Grown Ups are talking, the promoters, the agents, they're all on this. I think that some of them are waiting to see the response in America, but I know a lot of them are already on the phone discussing it.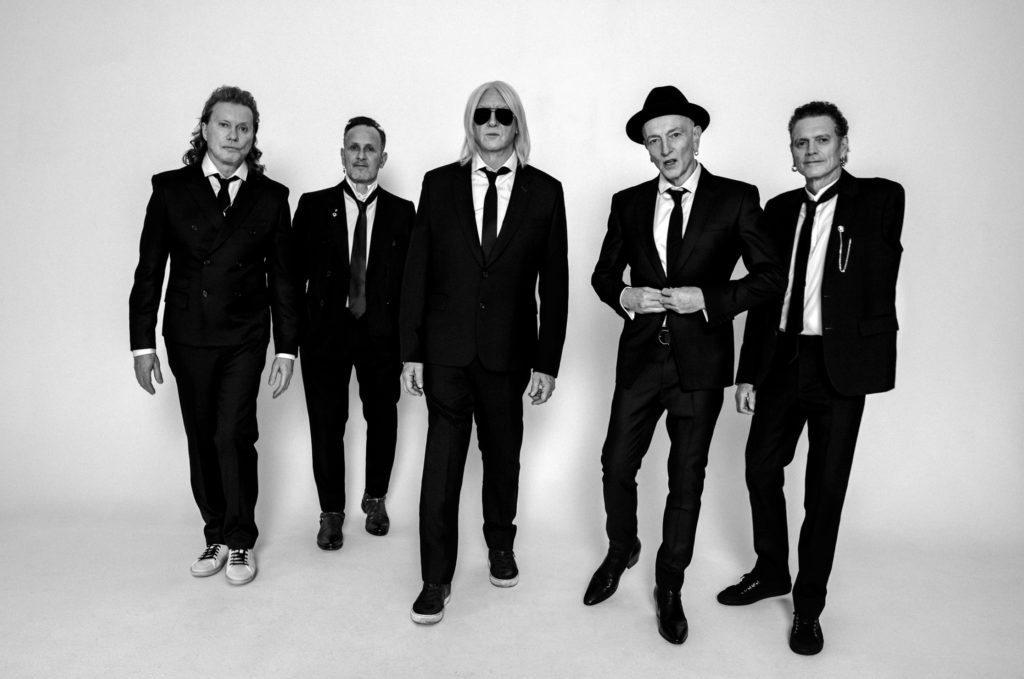 There's so much going on with the 80s coming back like Ghost, for example. The singer even said that he channeled some of your songs to compose the new record.
Joe: Yeah, he loves Def Leppard and I love it. The New Ghost album is fantastic. He's my favorite singer. It's brilliant, it's more than goth metal. That's got that keyboard that sounds like "Hold The Line" or "Jane" by Jefferson Starship.
I knew exactly what song it was talking about "Gods Of War", but it's got a bridge. And then it's got a second bridge that everybody thought was the chorus until the chorus came in. After the second time we didn't one and two bridges and then he said: "Oh my God, there's a different section that's not a middle age". And I was. I was actually quite flattered that he mentioned us because a lot of musicians don't name check Def Leppard everyday. We have a lot of funds, not that many in the music industry. They would admit to it. Brian May from Queen Alice Cooper has said many times that when he mixes his albums, they often refer back to Hysteria for sounds and stuff like that, but it's not something that gets said every day. So for him to come out and say that was very kind.
Last question: as we are RockUrLife, what rocks your life, Joe?
Joe: What rocks my life is new blood. I have absolutely no problems playing old songs. When I go to see The Who I wanna hear "My Generation", when I go and see Paul McCartney I want to hear: "Let It Be" or "Love Me Do". But I like to hear the new stuff as well.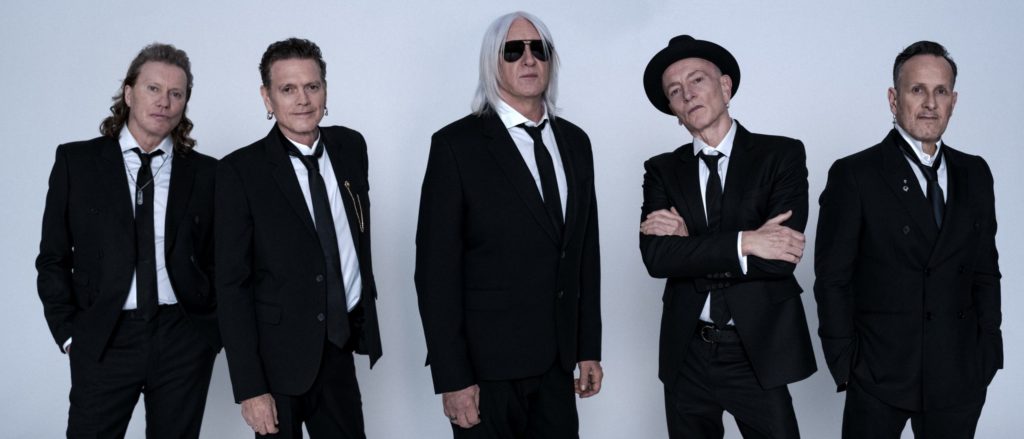 Website: defleppard.com