BULLET FOR MY VALENTINE (26/03/18)
During a promotional day in Paris, Matt Tuck, singer of Bullet For My Valentine, came to chat with us about the new album" Gravity", the new band's new line up and what he's been through since his divorce with his wife.
Hi Matt! To start, you're about to release a new album with Bullet For My Valentine. It's been a while since the last one, how are you feeling? Nervous, anxious?
Matt Tuck (vocals): No, it's really exciting we spent the last year recording it until Christmas so I'm just glad it's all set up, we're getting feedbacks and we can release titles from time to time so yeah it's very exciting!
At the end of 2017 you have part ways with your long time drummer, but we do not really know how it happened and with his departure and the bass player in 2015 there are only 2 original members of the band.
Matt: It's always 50%. Two out of four is not the end of the world. If they want to comment on the details of why it ended and why things have changed like that, it's up to them, it's not up to me to do it or to worry about it. Sorry, I dodge that one a bit. (laughs)
No worries, but we want to know what do the new members bring. Do they take part in the writing and recording sessions?
Matt: Yeah, writing and recording, but not so much, because our producer wanted me to record guitars and bass. But they bring something new to our life. Spending more than 20 years in a band with the same people is amazing, but it's also heavy. And having two new people who are hungry and who were fans of the band, it allows in addition to realize how the band is perceived from outside. So it's really good to have new visions of things, new energies, and to approach creativity in another way without living in the past. So it's only positive.
And what's the biggest difference between them and the old members of Bullet For My Valentine?
Matt: Oh! Their personalities first, after, anyone can learn how to play a song on guitar, but they are really very different people for good or bad reasons, but at least they are different. And it's very refreshing!
And it helps the band to evolve.
Matt: Exactly, that gives us other perspectives from where we want to go.
The new album is very different from the old ones! You said in an interview that you did not want to do something similar to Bring Me The Horizon, but after listening to "Gravity" we could not help but see a lot of similarities. Is it because you changed your mind or it is on purpose?
Matt: I do not know. What music did you think looks like Bring Me The Horizon?
Well, there is "Don't Need You" who sounds like "Shadow Moses".
Matt: Yeah, but it was 2016 this one, it's old now.
But there are others, it is especially with the "catchy" and electronic side. The album remains good we reassure you!
Matt: Yeah, I'm just curious, but I see what you mean, but we've always had some electronic sounds in Bullet For My Valentine. We can do a lot of things with guitars and drums, but added these elements is also part of the reinvention of the group we are less limited and we open to other horizons. We looked for our influences everywhere, not only Bring Me The Horizon, there is also Deftones, but the main idea was mainly how not to freak people with these changes, always talking to them, but showing something new.
And how do you take it when you are compared to these bands, somewhere you take it well or it gets on your nerves?
Matt: Oh it depends on whether the band is good or not! (laughs) But Bring Me The Horizon is a great band, Linkin Park too. Groups will inevitably one day look like a moment in their career and it's hard not to do it. For "Scream Aim Fire" we were compared to Metallica and Slayer. Times are changing and that's what I was listening to at the time.
About a year ago, you released the song "Don't Need You". At that moment, did you already knew what the album was going to look like?
Matt: No, this music was apart, a "one shot" for fun. It was not even part of the writing process of the album. We did not start writing the album until April 2017 and we made this music in September 2016 if I remember correctly. But we had a lot of good feedbacks and our label loved it and wanted to put it on the album. We were not especially for but we remixed it and we made it feel a little better.
Who do you work with on an album? Do you work with the same person?
Matt: It depends on how it went on previous albums. I think there is something good about change, because when I look at previous albums I see a lot of things differently, a lot of things that I would like to change. But for "Gravity" it went very well.
How did you choose the name "Gravity" for this album? What is the message behind this title? What are you talking about in this album?
Matt: In a word, it's an album of break up. My marriage ended around December 2015. I fell into depression because of that, so a lot of music talks about how I felt and how I went through this moment. It's a very personal album that shows a part of me that I have never shown before, someone vulnerable and even in backstage I did not show it I had to play the "rockstar" and it was very heavy. I could not talk about it so why not sing about it?
And what music in the album best represents your state of mind and what the album is about? If you had to take one.
Matt: One is complicated, you do not understand everything with only one music, I guess.
Let's go on a top 3 in this case!
Matt: Oh cool! Much simpler (laughs) "Piece Of Me", "Under Again" and "Not Dead Yet" so "Fuck You" "I'm Fucking Angry" and "Hopes"! (laughs) The album goes through a lot of time in my life, good and bad, it's full of feelings. It's a rollercoaster of emotions if you know what I mean.
And now, how could you convince someone to listen to this album?
Matt: I will not try to convince anyone to listen to anything! If they want to listen to it is good, if they do not want it is good. I put my heart and my soul in this album the other members did not. If people like Bullet, or the rock metal let's give it a shot, I'm sure everyone can find it musically.
So you're not afraid of people's reaction when the will listen to this album?
Matt: I wrote this album for me, I hope they'll like it, but if they do not like it I cannot do anything about it. I do not write for them, I write for me.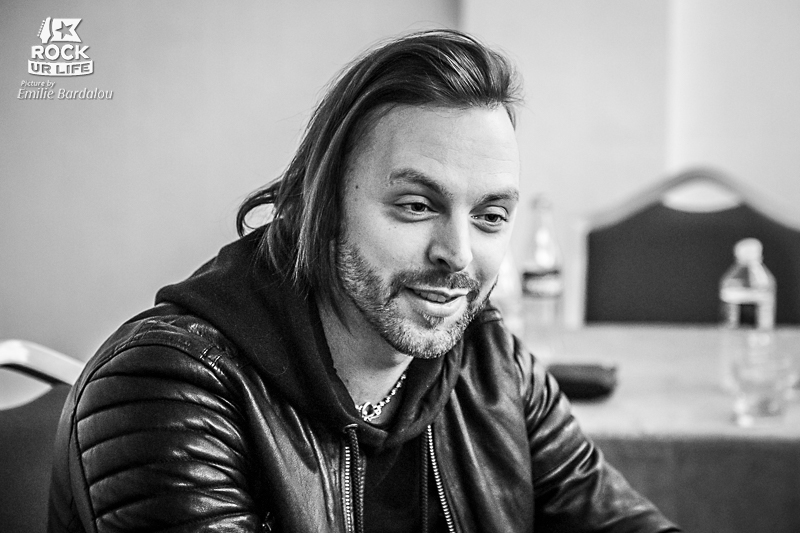 How do you prepare for this tour? Will it be as usual or as your style you seek to evolve the experience in concert?
Matt: Until the release of the album, it will be something that people are used to see. Most of the time it will be promo on different festivals like the Hellfest, Graspop or the Download. We are very limited in festivals. And once we come back in Winter, we can show the full potential of this album without restriction.
So you do not like playing in a festival? Or is it really just two different things for you?
Matt: The biggest difference is that during a headline show you can play absolutely what you want and do what you want. And it's something great. And festivals give you the opportunity to do "mega shows" in front of 60 000 people and more and bring people around the band's table. Both choices have a lot of charm, but the festivals are more stressful, you have no soundcheck, you have to trust the staffs and as soon as you hear the sound of your guitar on stage you are like: "oh fuck off!" Or everything works, you just have to pass the first song.
How do you see the future for the Bullet camp? What are the plans?
Matt: I really see this new album as a new chapter. This is really the best album we could do to move forward and evolve. More people will appreciate what they are offered. We did not do "Venom 2" that would certainly have been appreciated by our current fanbase, but we wanted our music to be more reachable. So I hope it will give us the opportunity to make bigger headline shows, that's what I hope. But it's not on my hands.
And if you had the choice?
Matt: In a way I've already accomplished what I wanted, it would be crazy to want more. (laughs) As long as I'm in people's ears, it suits me.
Can you tell us more about your AxeWound project?
Matt: It's getting cold, because now Jay' (Jason Bold) is in Bullet! So it has a lot less impact!
Do you think you can drop this project? And maybe make another one?
Matt: No I don't think so. Bullet is really a full time job and I do not think I have the patience to do it again. Bullet's schedule is just crazy, we just finished the album we are already promoting everywhere. I can not really take care of anything else.
And why not stop Bullet for a year or two to take a real break? Even just to take care of you, not necessarily to remake a band. Have you already thought about it?
Matt: Yeah! I've already thought about it, but I still have a lot of motivation and passion in the tank for Bullet. So it's my priority, but maybe later! Where I could explore new styles. It's definitely something I'd like to do, but the time has to be right.
To finish, as our website is called "RockUrLife", what rocks your life Matt?
Matt: I'll show you! (he takes out his phone and shows the picture of his son) he was 8 years old yesterday. And it's him who rocks my life every day.
Website: bulletformyvalentine.com