BRING ME THE HORIZON (03/09/15)
A week before the release of "That's The Spirit", we had the chance to talk with Jordan Fish, the new architect of the Bring Me The Horizon's sound. We talked about the last record but not only.
Hi! Well, less than 10 days before the release of "That's The Spirit", how do you feel?
Jordan Fish (keyboards): Excited! And please that it doesn't leaked yet. We were expecting to be talking about a leak today so… It's a miracle. So yeah, very excited and I can't wait for people to hear it.
Yeah, we heard that some stores around Paris started to sell the CD.
J: It was two days ago. So we were expecting a leak around today. Usually, they tend to leak like one week before the release. So it didn't happen. But they sold 13 copies. I'm amazed that no one put it on the Internet.
You spoke with one of these customers.
J: Yeah I spoke with one of the guy. He is a journalist for a website so I just said "Please, just don't load it."
it's pretty logical because, if we had the chance to have the record before its release, we just wanted to keep it only for ourselves!
J: Yeah me too but some people don't think like that, unfortunately.
It's pretty obvious that "That's The Spirit" is even more anticipated than "Sempiternal". How could you explain that people are considering you now as a bigger band then ever?
J: I think our last album is a big part of it. It was a little bit more melodic and we toured a lot with a good live show so, I guess this help things a bit. Who knows? I guess it's just a graduate thing. We didn't realize how much the anticipation around this album is big.
You saw that your label is giving to you more means, more money for this record.
J: Yes we supposed that, but we don't see the money, we don't touch money from the label for our record. But yeah, I know they are a bit more behind us then the last one. I guess the last one did more then expected so for this one they hope to make more money with it. But I don't know how much label put on us for this record.
In France we're talking about "That's The Spirit" for months now. We had the chance to listen some songs this early summer so we saw that your label wanted to make bigger then before. Your show at Reading were hugely awaited and it feels like you became bigger in just one hour of show. How did you prepare this concert?
J: It was quite scary because we hadn't play live for nine months. We did a lot of rehearsals and we had two warm up shows. One in Liverpool which is near where the is band from and one in Oxford which is near where I am from. We just tried to figure out what to play. Yeah it was weird because we did not play for so long and you have to play for a huge festival, supporting Metallica. It was mental. I just stopped just before the show and thought "wow… What are we doing?!". Usually, we just come back just before the summer festivals. But this time, we just took an extra time to make a bigger show for a special occasion. I think it went well so I'm excited to play in festivals again.
We could see a lot of videos and fire effects in Reading. Is that something that you're gonna do at all of your next shows or it was just for this time?
J: This show was especially for Reading. We've got a different set for our next tours. Something very cool that we never done before. We're gonna have a lot of L.E.D tubes all across the stage. It's not quite finished yet but it's very cool and very different from what we've done before. We usually had CO2, some confettis, huge backdrop. But now we just have one crazy idea and it will be amazing. This is the set I am the most excited about. Just a shame it's not coming to France.
Bring Me The Horizon were pretty criticized few years ago for their live performances, but now it's like you're a safe bet both on CD and on stage. Did you work this angle of your band?
J: We're still criticized. We can't be loved by everyone. I think a lot of people are hating our band but, I'm cool with that. I think it's a good thing. The fact that people are loving us and other people hating us makes us a big band. The only reason that we're huge is because people care. The worst thing would that people don't have an opinion on us. It's like Metallica. A lot of people are fucking hating Metallica but… They're Metallica!
Let's talk about the record now. Finally, even if many people will be surprised by its sound and by some songs, we think it's the logical consequence of "Sempiternal". With more confidence.
J: Yes. That's exactly what we think about it. When we started to write this album we felt very confident. So we wanted to try to put it across the music. We worked hard on guitars and vocals, especially. We tried to not hide behind anything. I think you have to forget what people could think. We know that, as a lot of people criticized our live shows, many people will say that this record is just a big shit. That's just the way it goes. But, we didn't want to make the same album as the last one. I think we just worked with what we felt excited about. It's like one of the last thing that you could trust in the end of the day: what you like and what make you feel something when you write music.
"Happy Song", "Throne" and "True Friends" are the three songs that are looking like "Sempiternal" the most. Did you choose to reveal these songs to make your fans confortable with this new record or you just wanted to keep the surprise for the rest of the record?
J: I think It's hard when you listen the whole album to pick just one of these songs and to make it as the reflection of the whole record. For exemple, if you just listen "Throne", you might think that it sounds a little bit like Linkin Park but, when you listen the rest of the record, you don't find that it sounds like Linkin Park. "Happy Song" could sound like Bring Me The Horizon but, in the whole record, it doesn't sounds like the rest of the album. So, it's hard to just pick one of the songs so, it's more logical to reveal those are sounding more like what people could expect from us. But, "Avalanche" could be one of the first single too! To be honest, at this point I just want that people hear the whole album.
We really want to know who came in studio and said "Guys, we're gonna put some saxophone on "Oh no"!
J: (laughs) It was Oli! Everybody in the band wanted to sound like "oldschool" for the end of that song. We all wanted a brass section or something. And Oli just proposed to put this saxophone thing and… it was very cool! It was just one of that thing… I guess that first, I was a bit like "Oh… Can we do it?, but at the end we all liked it and that was it. We don't care. We already gone this far so… fuck it!
You plan to play it on stage?
J: (laughs) Yeah I hope we're gonna play it on stage ! I can't play saxophone but… I think we're gonna probably end to play that song live so… Fuck we're gonna have to find someone who knows how to play saxophone!
Being producer of the record is the strong message to the world : first you're very proud of what the record is and, of course, this is the best statement of what Bring Me The Horizon is today.
J: That's it. Honestly that wasn't the reason behind it because we wanted to produce it anyway. We were aware of what would be the direction of this record and yes, that was the mentality, we wanted to do it by ourselves. But, I agree of what you say. Good analyse, thank you! (laughs)
Were you scared about producing the record yourself?
J: It was more a little bit of pressure. I wouldn't say that I was scared. I was confident that we can do it. It sounded mental even before we went to the studio so I was confident. To be fair, we almost produced the last one too. But I just joined the band before the recording of "Sempiternal" so it was a bit complicated to produce it. But for this one I just felt more responsibility. But I was involved in the mixing of the record. I was with the guy all the time so… It was pretty natural to do "That's The Spirit" by my own.
Except "Doomed" , which is our favourite song, all the other song are very positive and pretty radiant. So this is it, you accept depression and decide to make something beautiful with it?
J: Yeah totally. That's what we wanted to say through this record, through the sound and through the lyrics. But, I don't think it was accepting the depression. It was more like… find a positive way to deal with it. We're all in the same boat so… Yeah I think there is many ways to understand the message. But for me, this record is less angry that "Sempiternal" and more positive and euphoric.
Do you think that is something that you're only able to do with age, to see positive things when your mind is a bit fucked up?
J: I think we're just happy! I think it's something that you can feel through the music. We're just all happy and… settled. Things are going very well for all of us. I think that is why things are getting more positive. We just doing well.
Are you aware that a song like "Happy Song" could help a lot of your fans with his message? Is that something that you're looking for through your music? Help people?
J: I think there's a line between using a feeling to touch our fanbase to sell a song and to write a song about something that you're aware that someone can relate to. There's a difference between writing a song cynically, something that doesn't mean anything to you but you know that kids are going to relate to. But Oli didn't write those songs in that state of mind. He wrote about him and after, he saw that people could be touched by what he said. But, we don't want to be too preachy.
"Drown" is a big corner in your musical style and your career. Do you think this song is the "Chelsea Smile" of your new fans?
J: Yeah, it feels like a bit a classic now. I think it's because it's a good song and because it's a big change for BMTH. It was a lot played on radio so it's our well known song. It's funny because yeah, it's a bit like a classic for us now but the song isn't even out for a year. That's why we decided to put it on the album because musically and lyrically it fits.
You're now totally away from metal core scene. Guess we're not gonna see you at Warped Tour this year.
J: Probably not. Maybe we're gonna do one or two shows but we're not in that scene anymore. We just want to be our own band, not a scene-band.
Obviously, with fame, there will be haters. Are you more scared by fame or by haters?
J: I don't know… I don't think that I'm worried about being hated. If a band was worried about being hated, it would be difficult to release an album. And about the fame… I'm not personally famous but, as a band… I don't know. We don't want to be famous, we just want to be good. When we wrote this album we just wanted to as good as we could be, and come out with the feeling that we done our best. That's the same with the live shows. We don't want to make more money because, we don't see the difference. It's not because we're gonna sell a thousand more copies of it that we're gonna be rich. I just want to be proud of me.
What are the next steps for BMTH and, what could stop this band to become the biggest rock band in the world?
J: Nothing. Every band could be the biggest band in the world if they work hard enough and care enough. And then our projects… I don't know. I'm so excited about the album so we're gonna release it and probably tour for the next two years I guess. And… Who knows?
Our website is called "RockUrLife" so, what's rocking your life?
J: "East Side Burgers" rocks my life mate! Best burgers I ate, they're so good.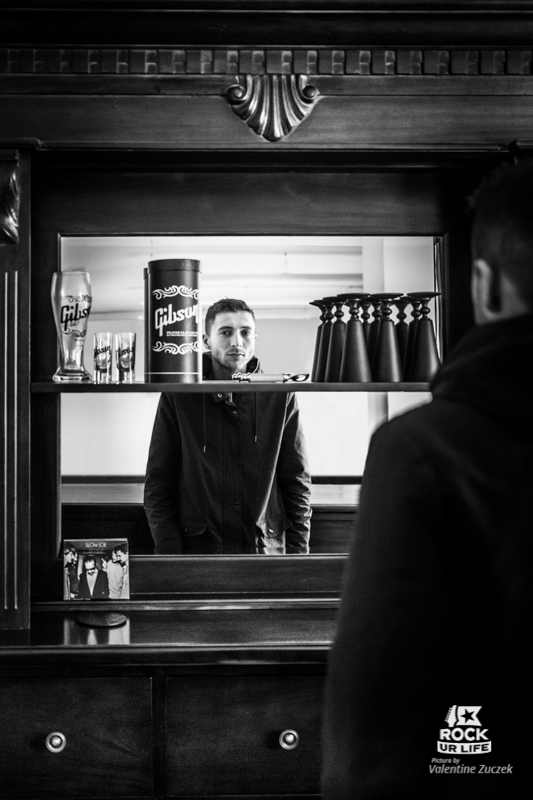 Website: bmthofficial.com