BLACK STONE CHERRY (08/09/20)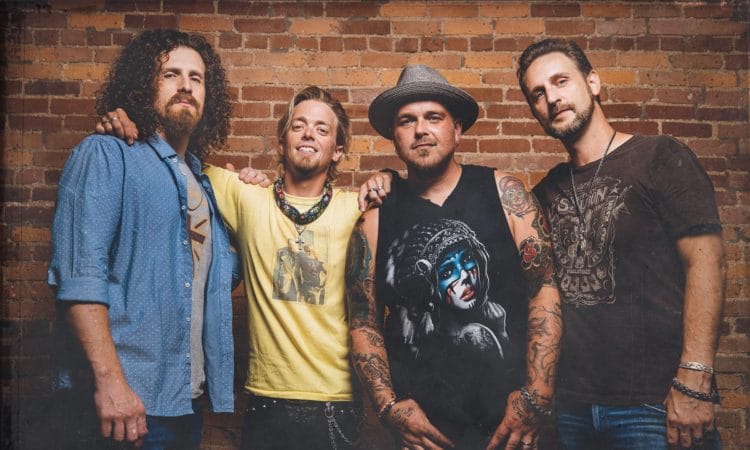 Black Stone Cherry is back with "The Human Condition", an album completed mere days before the COVID-19 lockdown. Bass player Jon Lawhon talks with RockUrLife about the context surrounding the new release and the relevance of the lyrics.
You've recorded "The Human Condition" at your place just before the lockdown. In what state of mind were you?
Jon Lawhon (bass): We were in my studio in February and we wrapped up in March. We were just the six of us in the studio. We were feeling the world around us getting darker and darker and I think everything we felt back then is on this record.
Do you think this experience got you closer? Your friendship is the heart of your music.
Jon: Black Stone Cherry is all about family. We met when we were teens and have always been friends before being bandmates. Our lives have taken their course, we changed but our connection as friends remained stronger than ever. I love being home and spend time with my family, but I miss the road. We live to play on stage. We are generally out on the road. We've been with the same members from the very beginning.
With songs like "Live This Way" and "Push Down & Turn" you really succeeded in mixing heavy and groove with a sense of urgency that sounds new for the band. Would you agree with that?
Jon: The album was recorded prior to the lockdown and all this shit. When we wrote it, we could already feel a change in the balance of the world. There was some sense of urgency that we needed to convey through our music. "Live This Way" is clearly the song where it stands out the most. It's scary to see that everything we talked about in the album came true few weeks after we finished recording it. "Family Tree" (2018) is almost all about classic rock. With this record we wanted to bring a heavier energy back. It came out naturally but the choice to make it heavier was a conscious one.
Chris said few words about "Push Down & Turn". Saying that it deals with depression and mental health. Could you tell us more about the lyrics?
Jon: The lyrics are very personal for Chris. It's like a therapy and I'm very proud of him for being able to write with an open heart. Chris suffers from depression and severe anxiety and is under treatment. He wanted to talk about it in an open matter. When Chris puts the lyrics out there it became something that each people receives in a different manner. If it can help someone dealing with the similar issues, then it's great. I truly believe that music is a therapy and can help people. Every song on this album tells a story of the experiences we all go through, our lives, our struggles, it's all about us.
"The Chain" particularly stands out in the album. The solos are quite different from what we're used to with you. It catches the ear. How do you feel about the song?
Jon: I agree with you. "The Chain" is part of the new songs. We felt quite inspired and the song and its experimentations came out so naturally. Some people thought that the song was a cover, but it's just a brand news Black Stone Cherry song.
You changed your way of recording your music. What made you want to experiment and how happy are you with the result?
Jon: We were used to record our album in live conditions. But this time, we wanted to fully use our gear to make it more powerful. We worked on several tracks to highlight each detail. The record is heavier, and we wanted to increase this sense of power. It is a new way for us to work and I'm very happy with the way it sounds.
We must admit we're not fan of your latest release of blues covers but we surely enjoyed "Don't Bring Me Down". We liked the groove and the way you kept it simple while make it modern and rock.
Jon: To be honest, what we did with "Black To Blues" did very well with the charts. We reached #1 on US Billboard, which was very surprising to us. We covered the songs to please our fans and are happy with the success it got. What we did not really do with "Black To Blues" was to put a Black Stone Cherry stamp on each song. With "Don't Bring Me Down" we did it in a very Black Stone Cherry manner. Of course, we couldn't touch the chorus, otherwise it wouldn't be the same song, but we added some rock and heavier vibes. We're all huge Jeff Lynne fans, whether he's with ELO, The Traveling Wilburys, or his solo stuff. He's just one of the greatest. We took so much pleasure in covering the song, I'm happy you like the result.
You are currently unable to support your new record on stage, how you do you manage the current situation? does it make you think about other ways to engage with your public?
Jon: It is really hard to promote a record without touring. We make music to play it live. It's the reason why we exist as a band. Not playing is a nightmare and I hope we will be back on stage very soon. When the situation got worse and worse, we asked ourselves: "what do we do?". We weigh the though of delaying the release, but we thought that people needed music in their life to help them through the situation. So, we decided to stay on schedule. And we do think about other ways to create some experience for our audience and our fans. We have some ideas and you will hear about it very soon, but I can't talk about it for the moment.
Finally, we are "RockUrLife" so what rocks your life Jon?
Jon: My kids and my being in a band.
Website: blackstonecherry.com