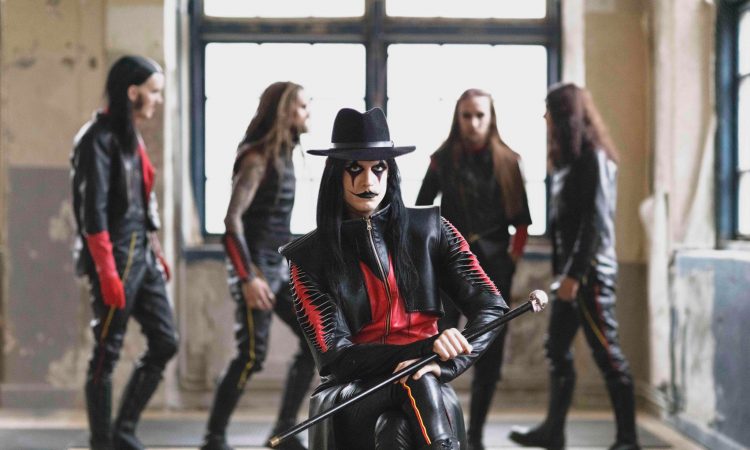 Ahead of the release of their 8th album during the current worldwide health crisis, we got to Skype with Avatar's singer and leader Johannes Eckerström about "Hunter Gatherer". A much darker and more aggressive record wanted just as humanity!
Isn't it complicated to promote the new album under these conditions?
Johannes Eckerström (vocals): No it's okay, there have always been times when we were doing things over the phone, Zoom, Skype or other platforms. The only difference is that now everything is done this way! (laughs) Which suits me perfectly, even though I would have liked to take the trips we were supposed to do. But doing the interviews from the comfort of my home with my wife and my dog ​​really has its good sides. I can't complain much, it could have been worse.
And isn't it a little odd to be forced to stay at home when you're on the road half the year, when a tour is planned. We're living a complicated time, but as an artist, as a performer isn't it too complicated? Even if apparently you're living it well!
Johannes: Yes, it hasn't been difficult yet. We spent a lot of time on the road last year and we had to spend the spring anyway with us. We are entering this week in the period where shows have been canceled for us. We did all the concerts originally planned, until this week. So I don't feel it yet even if yes, I miss the trips to promote the album and again there are good sides and bad sides.
But the funny thing is that I'm used to traveling with the weather. (laughs) For example in winter we will go to Canada and when summer arrives we will favor Spain or Texas and it has become a routine. Now things have slowed down and I spent the whole spring and most certainly all summer at home. You could say that I travel back in time now. (laughs) Sounds stupid to say it, because a lot of people live like that, but when you have a job which makes traveling, suddenly a "Monday" for someone becomes something fascinating for others in my position and I don't hate that at all. I'm getting really familiar with the bird life around our apartment. (laughs) I was also fortunate to have no one around me severely impacted by the virus.
Have you already managed to meet the other members of the band or not yet? Perhaps you prefer Zoom or Skype for now?
Johannes: The fact that they live in Sweden and I in England doesn't help anyway and I don't travel there much either. We made several points about how we were going to be able to promote the album or continued to communicate with our fans. For example for the release of "Colossus" my wife filmed me in our living room and it became some very fun projects! So even here it could have been worse, but when we go back on stage it is sure that it will feel really good.
Did you took advantage of this free time at home to do something you were not used to, like other projects or, on the contrary, get ahead of some pieces already in preparation or staging ideas or other?
Johannes: To tell you the truth, a very large part was linked to "work" and linked to music, the release of the album and in my spare time I wrote a few texts, much more than I could have done in another situation, I guess. But other than that it was home life. I kept my training schedule, I was very disciplined on that. (laughs) It was also a chance for me and my wife to spend more time together even though we each worked a lot, but we are used to it because I always went on tour the rest of the time.
We had to come to this question but where did the King go? What did you do to him?
Johannes: The King lives his new life on avatarcountry.com. (laughs) We kept this fan club, so that those who are interested can continue in this project. But artistically in terms of writing, album, tour and all that goes around it is completely finished! It was only what it was intended to be at the time.
We've been thinking for years that being in a group can be seen as conceptual art. And when we asked ourselves these questions we started to think about what kind of images we could have, what would be cool and how to mix it with music and "Avatar Country" (2018) was a very good idea for that . Comedy is something great. For those who have never tried it, it is a truly underrated art form. We wondered if we could do that and be willfully funny. Apparently it made people laugh so I guess it worked. But we could only do it once. In the end, it's up to you to decide if it was funny or not, but what I am sure of is that if it was funny it will only be once. A second album like this would be like beating a dead corps, so no point in doing it.
Besides, as soon as "Avatar Country" was finished, we almost all looked at each other and said: "The next album will be darker and more aggressive, right?" We were sure. Fortunately it wasn't just: "Let's do something heavy" we really worked on it, but it was the starting point.
Precisely, this time it's not a "concept album", no protagonist, or story to follow. So what's the story behind this one?
Johannes: The thing is that all music in one way or another speaks to our way of being. Whether it is what I am, what you are, like accomplishing one thing or another. Depending on the music it is treated on a different scale and when you understand this aspect of the album, you have understood everything. For example even the title of the album "Hunter Gatherer" is what we were as human beings for most of our existence.
Homosapiens have evolved and "optimized" with evolution to become these "hunter gatherer" creatures and from what I could see, read and say it was not that bad. It was our natural habitat and little by little we created an increasingly complex world and detached from this existence, which in itself was a great success for our species, because we are more "human" than ever. We understand the role of flowers, insects and we have managed to reproduce a lot.
On an individual level, we have changed everything we are and would never have evolved like this if we had remained nomad like in the Stone Age. Everything started to change with agriculture and when we started to live closer to each other, develop our food and work.
When agriculture came, this is also where we started to get more violent towards each other, because from the moment you produce and store food, someone can steal it from you. In addition, agriculture makes you dependent on certain places and certain lands which have different values ​​from each other and this creates even more reason to fight. It was then that we started to build higher walls, sharper weapons, guards, soldiers, kings and possession.
So many things that become real problems. But collectively we managed to take the upper hand, with the Industrial revolution for example, but it also created more diseases, and lives of misery as individuals for factory workers. More pollution and more machines that have been fed with even more people. Much has come of this industrialization and it was not until WWI or WWII that we began to look behind us and question ourselves as an individual and our place on this planet and tried to be better in most areas. Not only European countries, but also the poorest countries who are wondering how to move forward in the right way, especially on climate issues and this is our biggest challenge today!
So the album is really in the "here and now" where we feel that we are in this paradigm shift to choose which future we want to have, if it looks like "Mad Max", "Terminator 2" or whatever what kind of future comes to mind, but it could also become like "Star Trek" where we solve all the problems we have here and leave for space and I would love to see that happen. The album tries to address all aspects of "what does it mean to be human today?".
Avatar is a very visual band, wasn't it a bit of a puzzle to work this aspect around this album theme? In fact, the "Colossus" music video is between "Mad Max" and "Terminator". But how do you do the rest? We would think with "Avatar Country" that maybe the visual aspect and the universe of the album were ready before starting the very writing of this one?
Johannes: It's kind of funny, because I understand why you think we were ready before writing "Avatar Country". But whatever we do, we start with music. It caused us some problems precisely. We had to solve the visual aspect problem much longer than the music problem. Because even if it was a concept album, it must stick with the work that we have already done.
We never had an album cover before recording it until today or we had the cover for the first time before going into the studio. But it's like video clips, we need a good story to tell through the clip before thinking about its visual aspect and it is only then that we try to find out how to raise the subject and imitate and interpret it.

Earlier we talked about the different cancelled shows, but one day, maybe soon you will go back on stage. But are you serene about this idea?
Johannes: To be completely honest, I am not qualified to answer this question and we are not in a position or it is we who decide. We are the least essential people. We are neither doctors nor nurses, we do not make food, nor infrastructure, we're just a product that people consume in their spare time.
So the artists will be the last to find a "normal life". Obviously we want to get back on stage as quickly as possible, but we just cancelled everything this year. We put our hopes on next spring to have enough perspective and confidence to say that we can play again and when it will be responsible for doing so. We have to be responsible, because terrible things can happen between now and then.
We're going to see sporting events, public meetings open to an audience and we'll see how it goes and only then will we hit the road again. But yes! I hope as soon as possible, like a vaccine! But it takes time, science is made that way. (laughs)
You will undoubtedly be able to refine the details of the tour a little more, but you are a group of performers, you live on stage! What can we expect this time for the upcoming tour? What are you going to replace this whole universe of "Avatar Country", its throne, its king and its followers. It's a challenge!
Johannes: Bringing this album on stage will be like bringing all this darkness and all that is serious about this album and bringing it into the circus that is Avatar on stage! There will most certainly be horror and ways to portray darkness.
If I were to describe it to you in a more philosophical way, tell yourself that on stage "Avatar Country" was like pornography, with no room for imagination, everything was visible. For this tour we want something closer to eroticism.
We want to make the public's imagination work and by suggestion create something that requires a little more work, but that will have a deeper impact. And if done right, I think it is much more powerful, it affects you more like a smaller, but sharper tool. There is a surgical side to the way this album was made. He's probably the best artistically articulated. He says exactly what he is supposed to say.
If we compare it to the beginnings of Avatar, if "Schlacht" (2007) was a horror film, the murderer would have a hammer and it would squirt in all directions, very dark and very aggressive. With time we take more wisdom, and this new album always compare to a horror movie this one would be more like Hannibal Lecter, where the killer knows exactly what he is doing, he hypnotizes you and seduces you and knows exactly where to stab and kill you on the first stab and knows how to use surgical tools. But it's a real headache for us to build the show, we have to buy a lot of lamps.(laughs) And we have moved on that and are putting our resources into something more immediate like music videos.
You look pretty proud of this album! Do you think it's the best you've done so far?
Johannes: Yes! In the sense that we did exactly what we wanted to do. This journey makes me very satisfied, because it is harder and harder and we are more demanding with ourselves. The sound recordings were all live, it's also my best vocal performance, without a doubt. So there is reason to be very proud of what we have done. But our best album will be the next one and the second demo. The album demos are masterpieces. (laughs)
To finish, as our website is called "RockUrLife", what rocks your life Johannes? Last time you answered: "My King".
Johannes: Without a doubt, my wife. (laughs) It seems obvious to me! It was a difficult time we spent it together. I can't imagine it any other way.
Perfect answer! Thank you very much for your time!
Johannes: Thank you.
We hope to see you back on stage soon.
Johannes: Me too! (laughs)
Website: avatarmetal.com
"Hunter Gatherer" to be released on August 4. Preorder here.