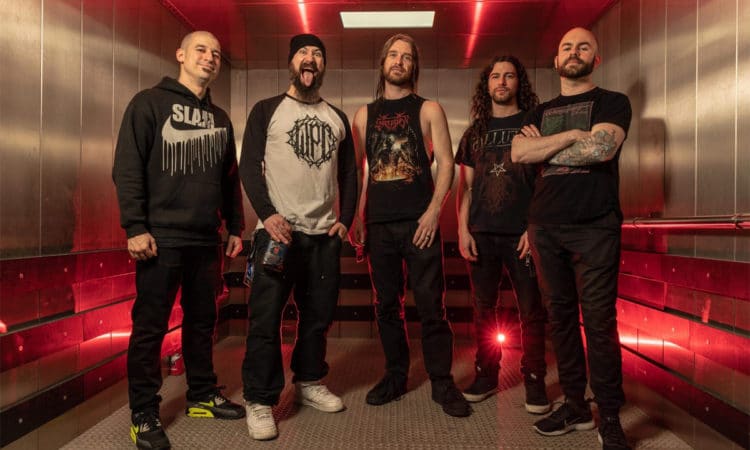 A day after their great performance on the Altar stage at Hellfest, we got to chat with one of Archspire's guitar player. Tobi Morelli told us more about their latest record, their next plans but also artificial intelligence!
Could you tell us a little bit about yesterday's show? Were you expecting such a good reaction from the audience?
Tobi Morelli (guitar): We didn't really know what to expect. I mean, being on Season Of Mist which is a French label and having their support, and the time we were able to play at. Of course, we were hoping that it would be a good crowd response, or at least a full tent. But we didn't know what to expect. We've never played at a festival like this, so. When we came onstage to play and saw how many people were there, it was pretty overwhelming. Myself, I couldn't stop laughing, just like: "this is insane". And when we start playing and seeing that there was a response, a circle pit going right away, people were throwing the horn sign, like I said, it was pretty overwhelming. It well exceeded our expectations.
A word about the feedback on your latest album "Relentless Mutation" (2017) so far?
Tobi: So far, the feedback has been great, we had a lot of tours opportunities since this album came out. We basically been touring since for almost two years now, almost straight, since the release of this record. It's something that we always wanted to do, a pretty intensive touring, so. This album definitely helped us, pushed us to the next level. We wanted every element to be better than the previous album. Better recording, better production, better music, push ourselves to our limits. Do a faster, and more technical thing but still listenable at the same time. So with all of these ingredients and having a release at the right time, the response was pretty overwhelming. We're very satisfied.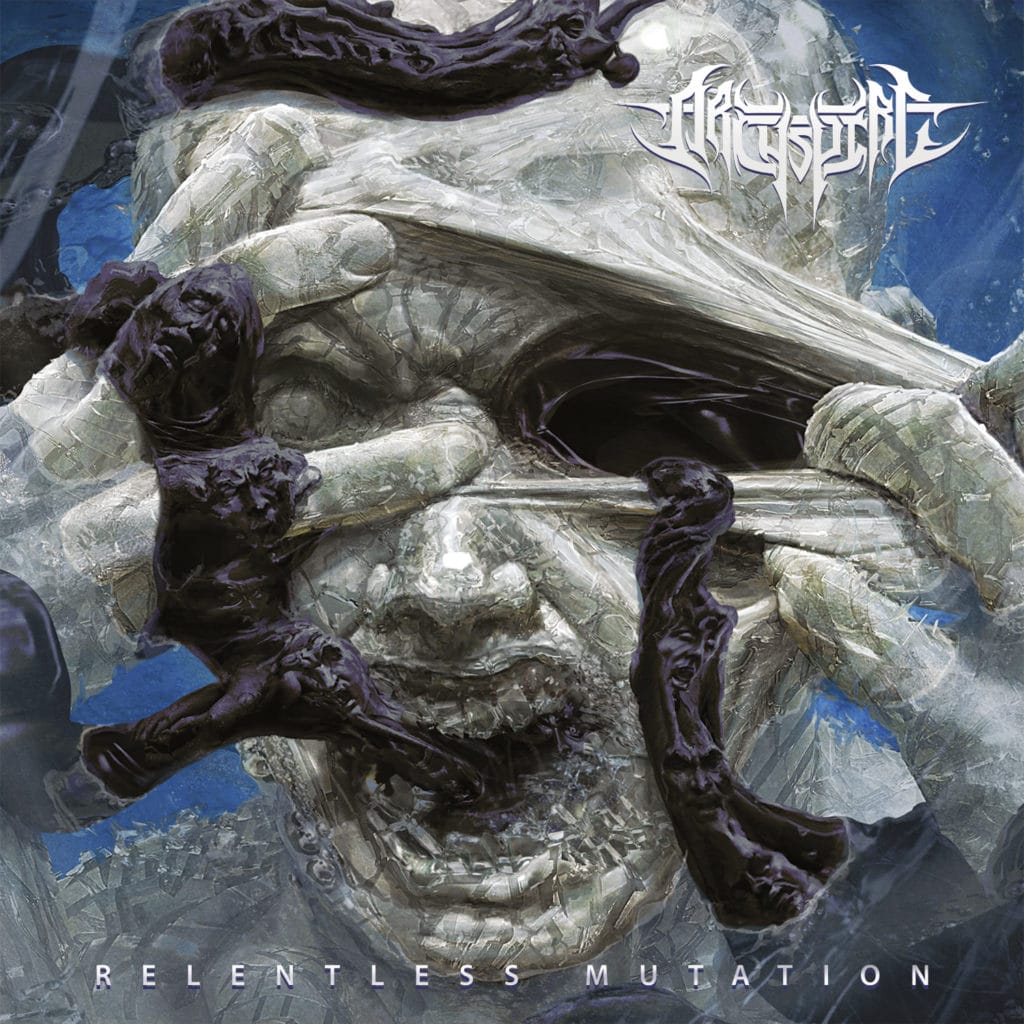 This album has something very particular. You're playing fast songs but with a very progressive structure, and very technical touches to it, but overall, the album is very short, which is something very rare in this kind of music where songs tends to last 10-15 minutes.
Tobi: Yes, it clocks as pretty much 30 minutes. Obviously in this style of music, having a 8-minute long song is ok, but for a special kind of music, I think it's a lot. The listeners can eventually get a bit exhausted, maybe not bored but exhausted. There's a lot going on, so it can be hard to focus and maintain your attention. We didn't plan it that way, we just have to make the album long enough so it's an album, and not an E.P., and as long as it hits that mark, which luckily it did, it was perfect, we didn't had to record another song. It takes also a lot of time to write songs. We don't like fillers and stuff, and we spent a long time writing, and we're very particular. Everything goes through a filter, we all have to agree and like it, so, every little part, as we go along, has to be kind of satisfying for everyone. It kinda helps too. Short and sweet, that's what we wanted as well, we didn't wanted a long album because we want to people to listen to it and be like: "oh, it went over quick! I want to listen to it again!". If it's too long, people are gonna say: "I'm gonna be good for a while, that's OK".
You play on a 7-string guitar and Dean on a 8-string guitar. Was it this way since the beginning? If not, how happened the transition from a 6 strings to more?
Tobi: Since the very beginning actually. Dean joined the band a few months before myself, and between him and our former bass player, they were already writing riffs with a 7-string. And when I joined the band (in 2009), I was like: "oh, I'm gonna need a 7-string guitar", which I did.
And was the transition from a 6-string guitar easy?
Tobi: Actually it was. I always wanted an excuse to have a 7-string, for a long time, because I always tune down my guitars, and it was always kind of a pain in the ass to do this, to make them playable. So, perfect excuse now. Any excuse to get more gear is fine. (laughs) At that time, when I got my guitar, Dean's buddy was selling his 8-string, so Dean took it for a very good deal and I was "damn". (laughs) But like I said, a lot of the riffs were already written with a 7-string so we kind of just adapted to that and started writing. But the 8-string is not too prominent, I think it's utilized in a smart way, and I accept the fact that I will get an 8-string to maybe write for the next album, to make things a lot heavier and experiment. Again, another excuse to get more gear. (laughs)
Talking about that, any news for the next album?
Tobi: We haven't try work on writing for the new album, it's just taking time because we keep going on tour.
But your music is so simple to write! (laughs)
Tobi: Oh, yeah, yeah. (laughs) Once we get just ten minutes, we can write anything, we can do it on a day, recording and stuff. It's been hard scheduling any writing because we haven't been home for a while. But after these festivals we're going to be home pretty much until late November, so we'll be writing pretty intensively I think. Kind of treating it like a job, you know? That's the next step. We have a lot of material written, like parts and stuff, maybe parts of two or three songs, so, once we get back.
Who got the idea for the karaoke video for "Calamus Will Animate"? Instead of a more usual video?
Tobi: I think it was Oli (Rae Aleron, vocals). We like to do playthrough videos, and so, the idea was very funny to do one for vocals, because you don't see too many of vocals playthrough videos, I guess because it can be boring to see just a guy sitting and singing. But we made this one like a karaoke, so it's fun. Try to keep up with Oli, because the vocals are so fast, right? It's kind of silly too.
A word about Databots (programmers duo who created a neural network trained on their music)? More explanations maybe?
Tobi: Right. I guess what these guys have been doing, they've been doing it with a few different artists and they created an A.I. that they feed music, and then the A.I. tries to learn the music, from the music and then tries to interpret what it is hearing and creates its own version of that music. So, I guess, because, obviously A.I. it's a machine, and machine don't have feelings or anything, and being human is such a huge part in creating music, here it's like a genetic make-up, it doesn't understand that. So, these guys tried it with pop songs and it didn't really work because of the tempos because the computer reads stuff so fast, and it wouldn't really speed up anything. And then they tried I think with some Dillinger Escape Plan music, and they actually saw a little bit of results with that, because their music is pretty chaotic, and there's so much going on.

And then they tried with us, because our death metal is very fast, they wanted to see what could happen, and it sort of worked. It was the only music that the A.I. really seems to understand. Which is hilarious, I guess our music is only understandable for computers and machines. Pretty sweet, hey? (laughs) Maybe we'll be out of a job in the next year or too because the A.I. will do everything. But it's interesting, they have a 24-hour channel on YouTube where you can actually listen to our music through the A.I., and it's really crazy, spastic, chaotic because you can hear at times our melodies, mixed with other melodies, I mean, it's really trying to make its own version of what it's hearing which is pretty incredible. For the next album, we'll maybe get inspiration from that. (laughs)
As Canadian, are you proud of Toronto's victory in the NBA finals? (which is the first time a Canadian team won the big prize)
Tobi: None of us are really sports fans per se, none of us really watch hockey, which is weird for Canadians, I know. I was when I was younger, sports, skateboarding, but it was not really my thing you know. But having said that, hearing what the Raptors had done, a part or me was a little bit proud because that's amazing, there was only two Canadian teams, one was from Vancouver, and now there's only one left. It's funny because basically, basketball was invented in Canada. (ed: James Naismith was indeed Canadian, but obtained American citizenship and invented basketball in 1891, in Masachusetts)
Do you get inspired from movies? Tv shows?
Tobi: That would be more a question for Oli but I'll do my best. I'd obviously say that sci-fi and horror influence a lot our lyrics. We all like that stuff too. I know that from the start, since our first album, every record is a concept. Every album has a story and each album kind of continues the story. And I think that some lyrics for "Relentless Mutation" came from weird dreams he was having. Very bizarre dreams, and then he started using that, mixing it with the novels that he reads. I think it's very cool to spend so much time in it, to make them more intelligent than just zombies stories, as fun as it could be.
Are you guys coming back in France soon?
Tobi: It's not yet announced officially, so I can't really say. Maybe potentially this year. You'll hear more details soon.
Any musical guilty pleasure?
Tobi: (laughs) Old-eighties pop music, old Dire Straits songs, the guys would kill me if I put a Dire Straits song. That wouldn't go over so well. Stuff like a-ha, I mean "Take One Me"?
Is there a non-musician person who is (or was) an inspiration to you?
Tobi: Oh, that's tough. That's a good one. I'm a huge horror movie fan, so I really love/like John Carpenter.
No, no, he's also a musician! (laughs)
Tobi: (laughs) Yes, he's also composing. Horror movies. Anyway, it's a good question.
Finally, we're "RockUrLife", so, what rocks your life Tobi?
Tobi: Hellfest right now rocks my life! Definitely Hellfest, one of the sickest experience for a band that will help us grow and do more festivals and stuff.
Website: facebook.com/Archspireband