We had a little chat with Ryan O'Keeffe from Airbourne about their new record "Breakin' Outta Hell" !

Your new record "Breakin' Outta Hell" is about to be released. How do you feel? 
Ryan O'Keeffe (drums): Very good. We're extremely proud of what we've done and we already getting feedbacks and it's all been positive. We couldn't be happier and we're just excited to get out there and play the songs.
It's been 3 years since "Black Dog Barking". In which mood were you after that touring cycle?
Ryan: Great. The tour was absolutely successful and we did a lot of shows around the world, all growing and getting better. It's was a little bit daunting coming off the road and looking at "Black Dog Barking" and having to make a new album that we have to basically top it. And that's where as a band you approach a record. You're only judged by your last works so. It was a daunting task but we took in on and we feel we've done a good job.
What's the process around an Airbourne record? How things happen?
Ryan: We always work on ideas on the road. We gather riffs and lyrics, recording stuff. Then when we get back home we work together and put all together. The band is a good time band and we really wanted to have a party record something you can but during a barbecue and stuff like that. We knew all that and we just approached it the best we could. Then we pushed ourselves during preproduction putting out better stuff.
Which topics are you dealing with? Is it always about rock, booze and girls?
Ryan: Yeah. (laughs) Whatever we want to write it's positive, fun. We touch by some things like on "It's Never Too Loud For Me" which is about noise pollution. But yeah generally it's about drinking and having a good time.
Your records are often around 40/45 minutes. Is it a choice to have short albums in order to keep it catchy or it just came out like that?
Ryan: I think it just came out like that for me. The songs goes through a rigorous sort of system with filter. A song can be 5 or 7 minutes as long as it's interesting. Bob Marlette (producer) said: "it doesn't matter how long the song is" because it used to be a 3.30 norm in the past. If at any point it's getting boring well you'll have to cut it or change it.
Top 3 tracks
Ryan: I'll pick 3 others from the ones already out. First one "Thin The Blood" because the song is very energetic, very Airbourne. It was almost the first one we were getting released. Second one "Down On You" because it is what it is, says what it says and it's a fun song with a great rock n'roll riff. The last one "It's All For Rock N'Roll" because it was written about Lemmy and it's a special song for this record.
It's also the first one with Spinefarm Records why that change? Some bands say that they were artistically more free quitting Roadrunner Records, was it your case?
Ryan: Spinefarm definitely allowed us to do this record the way we wanted to it. They basically asked us "tell us what you want". We never did a record in Australia, we'd like to do that. We always wanted to work with Bob Marlette, we'd like that too. We wanted Mike Fraser to engineer the record so we asked if it was possible and they said yes. We never asked that things with RR or put in the position to ask stuff like that. Generally it was like "well there's a good studio in LA" but I guess we never questioned that. From "Runnin' Wild" we used to make record in the States. We were never asked what we'd like to do.
The album cover features once again someone of the band, apart from the last one. Aren't you searching for a visual identity instead of that?
Ryan: Yeah we worked on a bunch of ideas and when "Breakin' Outta Hell" came out we sent the single artwork we were working on for this tour. A guy in Australia drew something with Joel's actual face and we liked it and tried to not overthink and just get along with this great idea. It came out very well.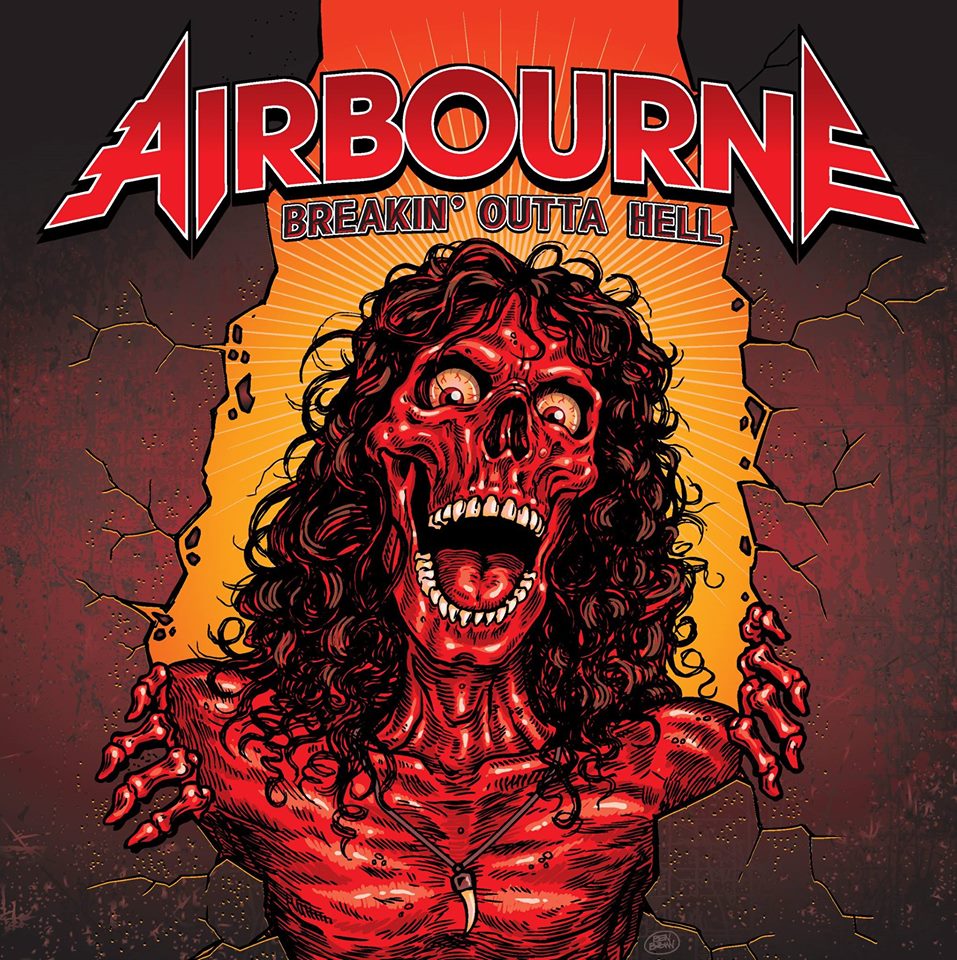 We often hear about the "no ballads no bullshit". But are you okay with the fans saying "it's Airbourne making an Airbourne album". Some bands can be upset about that kind of comments.
Ryan: Absolutely. Two things. What's your favourite fast-food? What if one day you're going for a meal and they don't do what you liked anymore? How pissed off would you be? (laughs) One of the things with rock n'roll and the band is: I don't personally understand why bands need to change their works. We play this rock n'roll for two things: it works for us, we feel amazing playing it live and it also works for the crowds because we always see on their faces they've been loving it. Loving drinking, jumping, crowdsurfing, get involved. We love all of that. 
So if one day someone says "Airbourne is not doing Airbourne" we'll be extremely worried and concerned. You can take a risk and success. But it's only when you take a risk and fuck up that's… (laughs) but you rarely hear that a risk worked.
Is it sometimes hard to work with your brother? 
Ryan: Yes and no, we get along with. We're both angry dogs working on the same thing. We're very much on the same page. It's just about how's getting the bigger hotel room and that's when you got serious problems. (laughs)
What are you listening nowadays?
Ryan: Yes of few bands from Australia: Desecrator, Dead City Ruins, Palace Of The King. But there's also many bands coming up from everywhere. We're touring Canada with a band called The Wild.
What do you think of the live/hologram experience? Dio Disciples did it at Wacken this year. Is it something you'd like to see?
Ryan: Interesting as long as it doesn't make band lazy. We love touring and will always be. It's pretty hard to hologram Joel jumping up (laughs) but with that kind of technology there's always stuff you can do so who knows? If used in the right way, it can be exciting. If used in the wrong way… meh.
What's your opinion on the current hard rock scene?
Ryan: I think it's getting healthier. There's a lot more bands coming up. I think it's a little bit better for them and the industry. When we were recording "Runnin' Wild" I think Youtube just came in (laughs) so Facebook didn't exist. Those aspects plus I think there's a bit more money coming in the industry and it's easier to the genres to expand and people be out to play. There's definitely more going on.
Finally we are "RockUrLife" so what rock your life Ryan?
Ryan: It's cliché but every time we get on stage. Without that I don't know what I would do.
And apart from music?
Ryan: Women. (laughs) Having beers with my mates!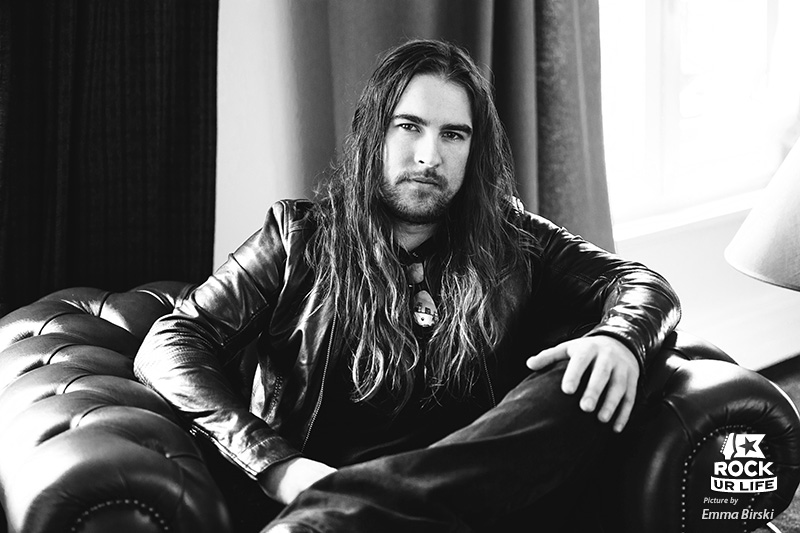 Website: airbournerock.com