A WILHELM SCREAM (21/02/14)
A Wilhelm Scream are back on tour and few days before their show in Paris, Trevor answered to our questions!
First of all, how are you guys?
Trevor Reilly (guitar/vocals): Fantastic! Chilling backstage right now with the guys after the show tonight in Bochum Germany. To be honest I'm pretty drunk. Tonight's show was great, we're all on a high right now gonna dip out in a minute we're all going back in the club to dance our asses off.
By releasing your last full length, "Career Suicide" in 2007, and your new album "Partycrasher", last November 5th, with No Idea Records and December 20th with Effervescence Records -within over six years later- you definitely showed us that it's not necessary in the music industry, to release a new collection of songs every two years or so to stay relevant and keep a place into the hardcore scene… However, what took you guys so long to finally release this album?
T: You know, we just feel super lucky and fortunate that people still feel that we are relevant and still care! We are beyond psyched. It was not our plan to take so long between full lengths, we just had tours to do faces to rock, babies to make, songs to write, and we knew when the time was right it would be super fuckin' A right! We certainly were not gonna take so long and disappoint people this had to be a banger and the feedback has been awesome so we are thrilled!
After these four long years since the release of your latest EP "A Wilhelm Scream EP" in 2009, weren't you a bit worried about the faithfulness of your audience and its reaction towards the new album?
T: To be honest I wasn't worried one bit because we have the best fans in the world we know we can count on them as much as they can count on us to never let them down. Never will.
Now let's talk about the creation process of this new record. You kind of recorded "Partycrasher" by yourself, why did you choose self-producing and how was the process in engineering this record?
T: Yes we recorded it ourselves produced it engineered it. It was time to take the reigns. Personally it has been my path all along, I grew up in it, as my father has always had a recording studio in our house growing up, recorded all our early records and its definitely sort of a legacy thing and I got the bug big time, Mike and I have been having a great time recording other bands as well and we can't wait to have my dad to join in the fun again now that he is retired and raring to go!
How can you describe "Partycrasher" and what are the major issues raised in this album? Any differences with your other LPs?
T: I see it as the next chapter, the next evolution. We always write about what is going on in our lives at the time. Speaking for myself, when I write its kind of my therapy. Gets me through a tough day, makes me stand a little straighter you know? We all write what is in our hearts. When I read Nuno's lyrics I don't need to ask him what a line is is about, what he is referring to. I am in tune with how he rolls poetry wise. He has a distinct style that I love. He writes about what is relevant to him, as did Mike on his songs. Gotta go with what you know, you know?
The cover of your latest album is a tribute to your hometown (New Bedford, Massachusetts), can you tell us more about this artwork?
T: The art was done by our artist friend Dave Kloc. It was pretty shocking seeing the finished product in terms of the violent aspect. Our hometown's history has its roots a hundred or so years ago as a whaling town. "Moby Dick" was written in New Bedford. The idea was we see ourselves as the whale crashing the party, it's about never giving up because everything is gonna work out. The whale on the cover is the hero. He killed the hunting party that was after him, the artwork is the middle of the battle, fairly ambiguous, but that's the story.
Moving on to some questions a bit harder to answer… If you had to choose a song among this new album which would it be and why?
T: Right now we have been playing "The Last Laugh" a lot now to add it to the set, so I'll choose that one for now. It always changes I love them all.
How does it feel to get back to rehearsals of a new album for the UK/European tour after playing the same songs for so long? Have you lost the habit?
T: We didn't really rehearse (laughs) we just grip it and rip it man. We're right back at it and it feels great!
Talking about Europe, why did you sign with Effervescence Records? Is it because you have certain affinities with this French label?
T: Those guys have always been super nice coming out to the shows and they loved the band for a long while so we are stoked to finally get to work with them! To be represented by a French label is exciting!
You'll be playing the 9th of March at the Batofar, but especially at the Xtreme Fest (beginning of August). Impatient? What do you like most particularly about the French?
T: Love France! I particularly like most how the people are so care free and do whatever they want. The French are punk rock for sure.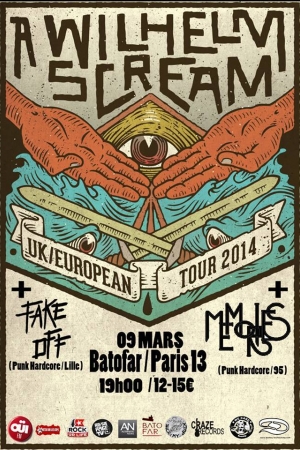 Your last visit in the capital goes back to April 29th 2013, when you played alongside the French band Straightaway at the Petit Bain, which is a venue much more intimate than your U.S. concert hall. What memories you have kept of the French crowd?  If you had to choose a European country for the vivacity of its crowds in concerts, which one would you choose?
T: That show went off!! The French really rock the fuck out. Also the Italians rock out hard as well!! Great shows in both countries awesome crowds! Don't make me choose!!!
With constantly being on tour, you should now have a slight preference between festivals and just simple gigs, what is the best atmosphere for you between these two types of live shows?
T: I guess we are more of a club band, but festivals are so fucking fun too, running around the stage. We definitely like adapting to different environments I think we do that really well, always stoked to play anywhere, like Nuno says: 5 or 5,000 people, doesn't matter we will all have a great time.
Finally, our website is called "RockUrLife", so what rocks your lives guys?
T: Family, friends and fans. We are nothing without any of them, they all rock our lives!
 
Website: https://www.facebook.com/awilhelmscream